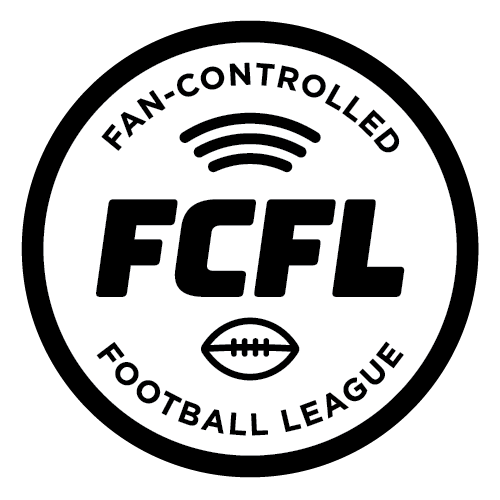 The First Fan-Controlled Professional Sports League
The Fan Controlled Football League (FCFL) is the first professional sports league truly designed for the digital blockchain age – putting fans in control of their sports entertainment experience.

Over $5 Million raised in the public presale
Read the White Paper and Investment Documents
A Disruptive New Model - Fans in Control
Expected to kick off in 2018, the Fan-Controlled Football League (FCFL) reimagines American football – and the experience of being a die-hard fan – for the digital age. The FCFL will seek to deliver a compelling football product that captivates a broader digital audience. It will feature fast-paced, high-scoring action that embraces the spread-football evolution of the NCAA football and NFL games while enabling a diverse set of styles and strategies on both offense and defense ─ all controlled by the fans.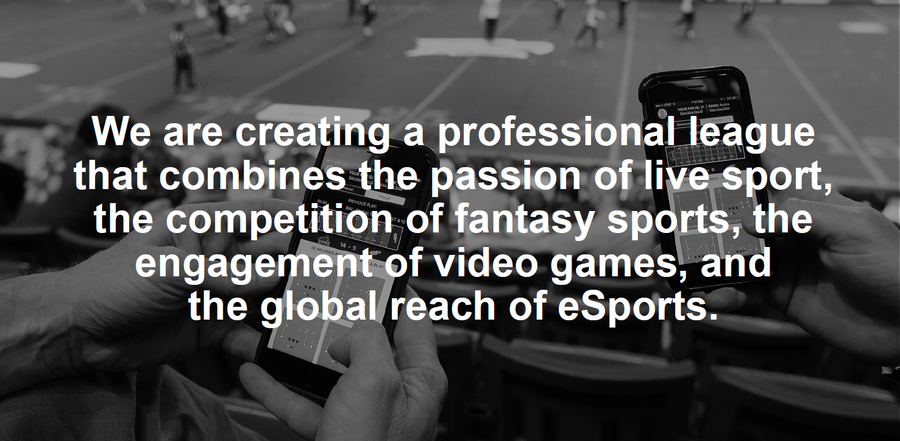 As Seen In

Fans are the Owner, GM, and Coach
Player personnel and real-time play calling decisions are all made by fans via the league's blockchain platform, making fans the coach and general manager for their team. Fans will no longer be just viewers; rather, they will be active contributors to the games they are watching. This is a transformational shift in the way sports fans engage and interact: no more sitting back and passively watching as a team's roster takes shape or a game unfolds. They will be essential to the league's product both on the field and off. This is the democratization of sports, and it's about to be realized through the most innovative sports league ever created, thanks to decentralized blockchain technology.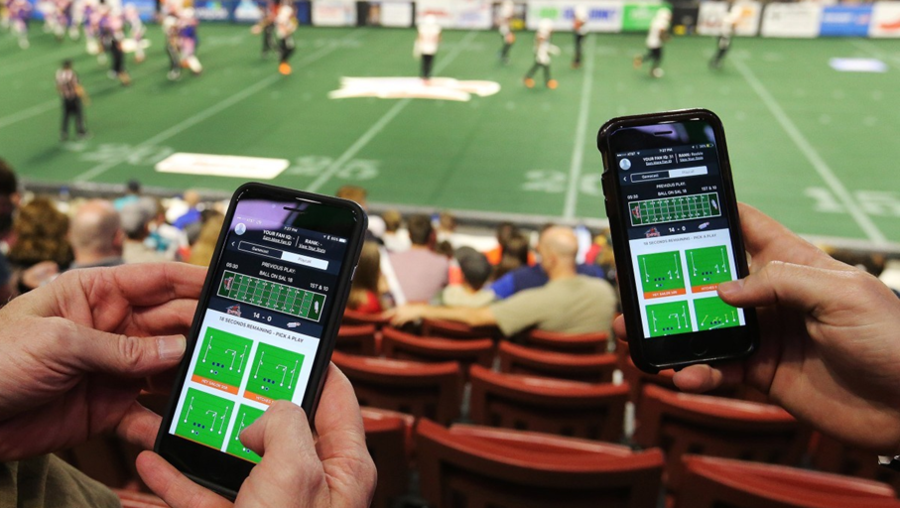 Draft the Players, Hire the Coach, Call Plays in Real Time!
The league will begin with eight franchises, each with a roster of 18 players selected by fans. There will be two divisions of four teams each. The top team in each division will make the playoffs along with two wildcard teams that can be from either division. The season will consist of a 16-game regular season with two playoff games and a championship game. With the league adopting a one-hour game format, teams will have the opportunity to play more frequently than once per week. This in turn will shorten the length of the overall season, potentially allowing for two full seasons per year in the future.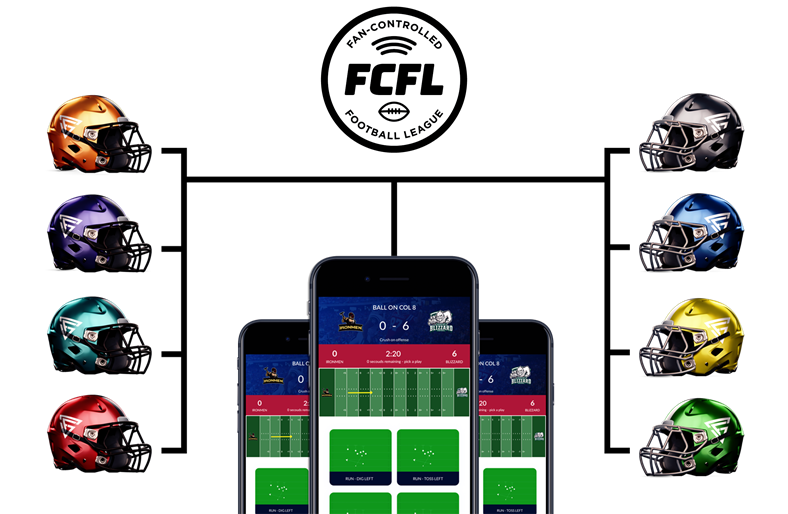 Introducing FAN Tokens
FAN tokens are the power behind fan interactivity and engagement in the FCFL. All activity in the league relies on FAN tokens, from voting on which coach to hire to real-time play calling during the games. Each fan's level of control will be directly proportional to their ownership of FAN tokens, and the skill and volume with which they engage with the FCFL will add to their collection of tokens.
Initial benefits of owning FAN token will include the following:
Increased Coaching Power: Each team will have a FAN token leaderboard that will rank fans from first to last. Coaching power for each team will be distributed across the team's respective leaderboard, with the fans in the top spots having the greatest amount of influence and the fans at the bottom having the least. Leaderboard rankings will be determined based on a number of factors, including, but not limited to, the total amount of FAN tokens owned, total amount of FAN tokens earned in a specified time period, and offensive and defensive statistics accumulated when fans call successful plays for their team.
Individual Play Calling: During multiple times per game, individuals and small groups of FAN token holders will be selected to call a play – providing an opportunity to be the team's sole Offensive Coordinator for that play.
VIP Tiers: VIP tiers based on FAN token ownership will get complimentary VIP tickets to games, special seating and in-venue access for FAN token holders, free Virtual Front Office subscriptions, unique in-app avatars, invites to exclusive events, first access to breaking news, and more.
eSports Industry Has Seen Impressive Growth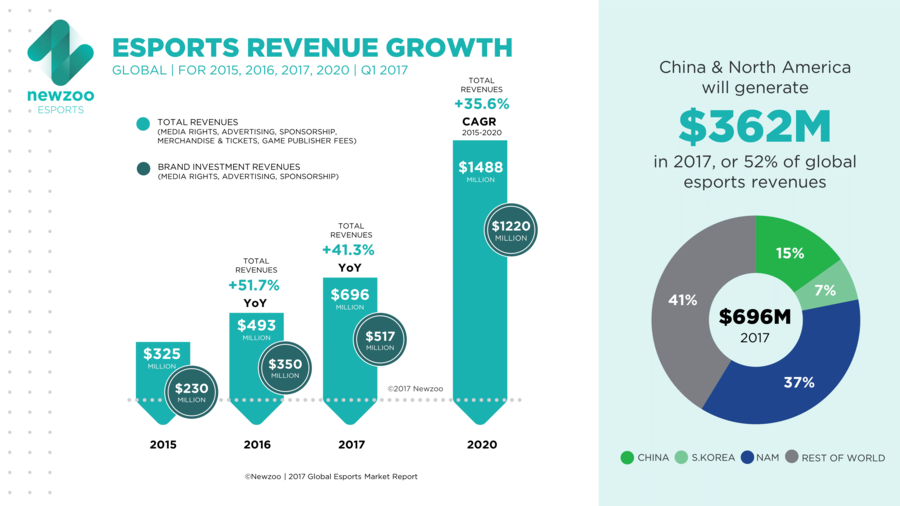 Proof-of-Concept: Salt Lake Screaming Eagles
In 2015, Project Franchise Team, Inc. (PFTI), a proof-of-concept company, began developing a platform to put sports fans in control of team decisions on and off the field while also allowing top fans to directly benefit from their team's success. In February 2017, the world's first fan-controlled professional sports team, the Salt Lake Screaming Eagles, made its debut in the Indoor Football League. The debut attracted over 8,000 fans and sold out the Maverik Center in Salt Lake City. Almost 200,000 additional fans from over 100 different countries streamed the game while calling the offensive plays via a mobile app. The team generated media coverage from top publications, including The Wall Street Journal and The New York Times, and helped yield partnerships with both Sports Illustrated and Amazon's Twitch.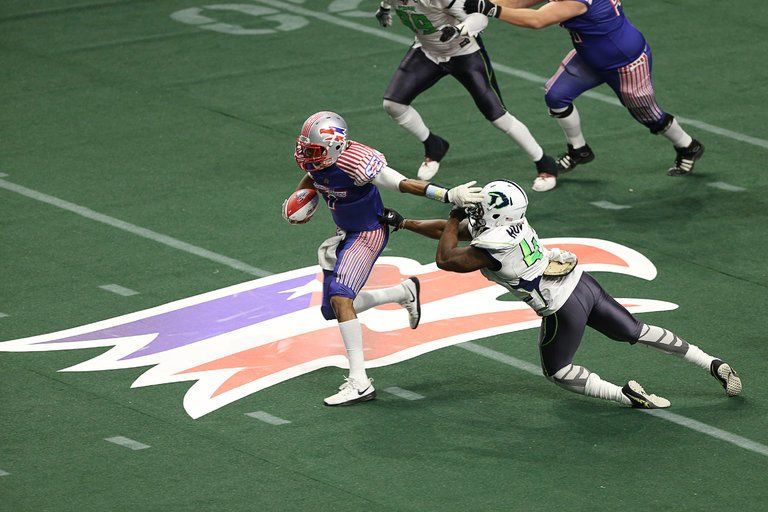 Milestones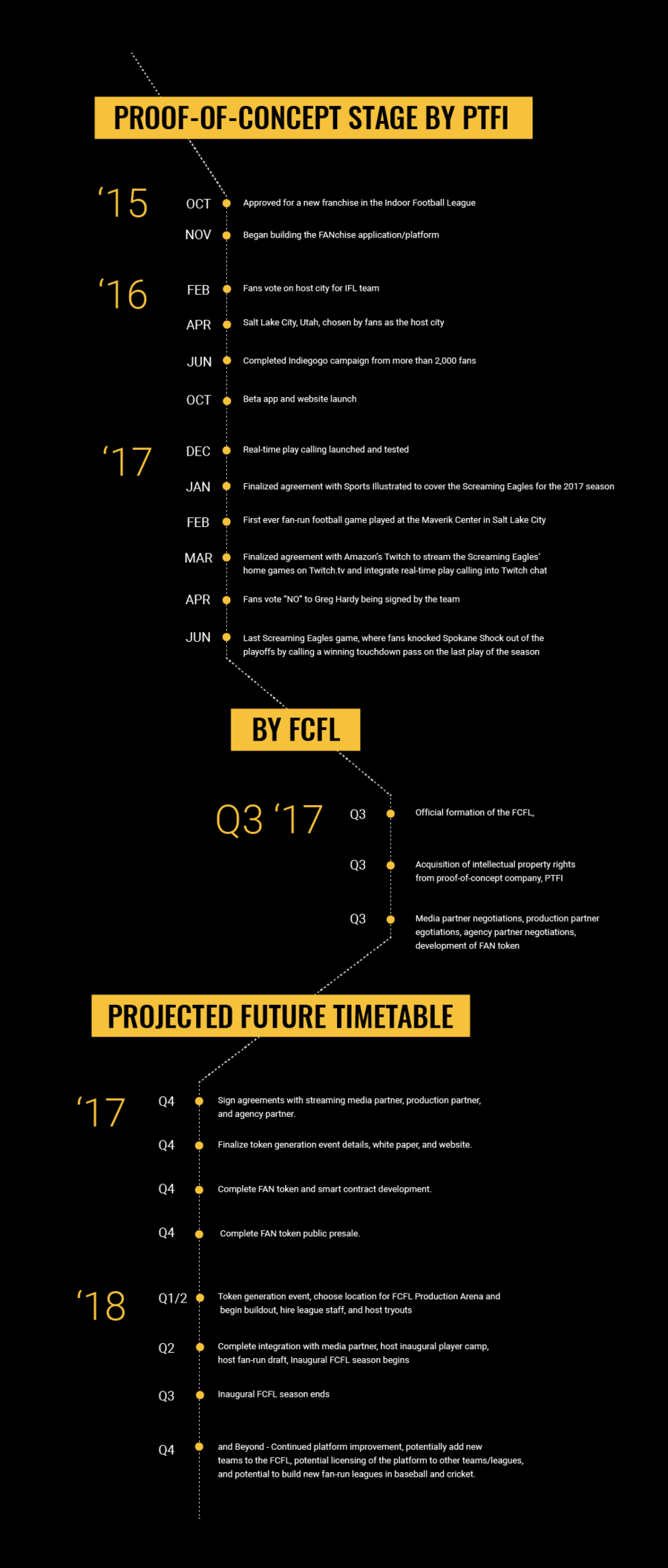 The FCFL is Being Built by a Group of Accomplished Entrepreneurs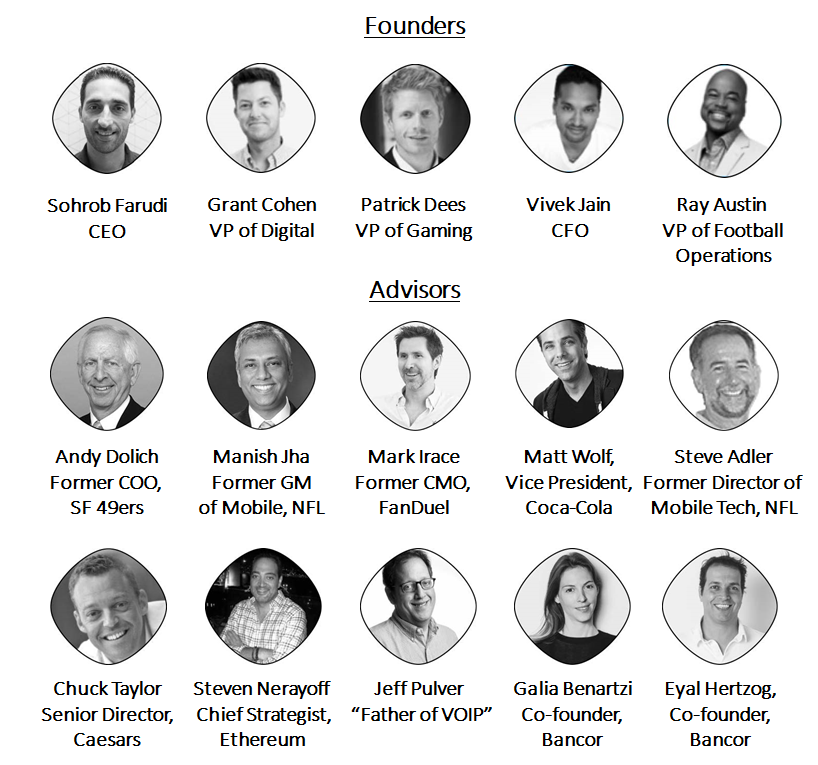 Investment Terms
Security Type: SAFT (Simple Agreement for Future Tokens)
Round Size: Min: $50,000 Max: $1,070,000
Bonus Percentage: 25% (0.25)
Conversion Provisions: Purchasers have the right to receive certain units of FAN Tokens sold by Company in its Token Sale (as described in Company's Offering Documents). Company will issue to Purchaser a number of units of the FAN Token equal to the (The Purchase Amount divided by the ETH Exchange Rate) multiplied by The Bonus Percentage (0.25 plus 1.00) divided by the Token Price. The Token Price is the price per FAN Token set by Company for the Token Sale, the price will be set at the time of the token sale but will not exceed $0.10 = 1 FAN token. Company shall issue the FAN Tokens to Purchaser as soon as reasonably possible following the closing of the Token Sale, but no later than ten weeks after the closing of the Token Sale. If there is a Dissolution Event (e.g. liquidation) before this SAFT expires or terminates, Company will pay an amount equal to the Purchase Amount, due and payable to Purchaser immediately prior to, or concurrent with, the consummation of the Dissolution Event.

Please refer to the SAFT Form and Offering Document for a complete description of the terms of the SAFT, including the conversion provisions, and description of FAN Tokens.
Risks
The Company, Fanchise League Company LLC, and the Offering are subject to a number of risks related to the development and operation of the FCFL, the Rights and the SAFT, along with the risks related to the FAN Tokens and the FAN Token Sale. These risks include, but are not limited to, the following:
Risks Related to Company's Business and Industry
To date, The Company has not generated revenue, do not foresee generating enough revenue in the near future to finance operations and therefore rely on external financing. The Company is a startup and its business model currently focuses on development and build out of the FCFL rather than generating significant revenue in year one. While the Company intends to generate revenue in the future, it cannot assure you when or if it will be able to do so.
The Company relies on external financing to fund our operations. The Company anticipates, based on our current proposed plans and assumptions relating to our operations (including the timetable of, and costs associated with, development and roll out of the FCFL) that, if the planned amount is raised in the Offering, it will be sufficient to satisfy our contemplated cash requirements to launch the FAN Token Sale in the first half of 2018, assuming that the Company does not accelerate the development of FCFL related opportunities available to it, engage in an extraordinary transaction or otherwise face unexpected events, costs or contingencies, any of which could affect its cash requirements.
The Company expects capital outlays and operating expenditures to increase over the next several years as it expands its infrastructure, commercial operations, development activities and the FCFL in general.
The Company's future funding requirements will depend on many factors, including but not limited to the following:
The cost of expanding operations;
The financial terms and timing of any collaborations, licensing or other arrangements into which the Company may enter;
The rate of progress and cost of development activities;
The need to respond to technological changes and increased competition;
The costs of filing, prosecuting, defending and enforcing any patent claims and other intellectual property rights;
The cost and delays in product development that may result from changes in regulatory requirements applicable to the Company's products;
Sales and marketing efforts to bring these new product candidates to market;
Unforeseen difficulties in establishing and maintaining an effective sales and distribution network; and
Lack of demand for and market acceptance of the Company's products and technologies.
If adequate funds are not available, The Company may have to delay, scale back, or eliminate some of its operations or its commercialization activities. Under these circumstances, if the Company is unable to acquire additional capital or is required to raise it on terms that are less satisfactory than desired, it may have a material adverse effect on its financial condition.
The Company has little operating history upon which you can evaluate our performance, and accordingly, its prospects must be considered in light of the risks that any new company encounters. In October 2017, Project FANchise Holdings, LLC (the "Holding Company") was formed as a Delaware limited liability company, with two subsidiaries, FANchise League Company, LLC ("Company") and Project FANchise Technology, LLC (the "Technology Company"). Company is the operating company that will operate the league, FCFL Platform and the FAN Token, and the Technology Company is the research and development arm and will hold all intellectual property, which is licensed exclusively to Company through an intercompany license agreement. In November 2017, the Technology Company acquired certain intellectual property rights from a "proof-of-concept" company that had held a pilot test in 2017 with the Indoor Football League using application technology rather than blockchain technology for a platform that allowed fans to control certain aspects of the Salt Lake Screaming Eagles. Accordingly, we have little history upon which an evaluation of our prospects and future performance can be made. Our proposed operations are subject to all business risks associated with new enterprises. The likelihood of our creation of a viable business must be considered in light of the problems, expenses, difficulties, complications, and delays frequently encountered in connection with the inception of a business, operation in a competitive industry, use of blockchain technology and the continued development of advertising, promotions, and a corresponding fan base. We anticipate that our operating expenses will increase for the near future. There can be no assurances that we will ever operate profitably. You should consider Company's business, operations and prospects in light of the risks, expenses and challenges faced as an early-stage company, in particular as a company utilizing blockchain technology and a utility token model.
Company's success depends on the experience and skill of the board of directors, its executive officers and key employees. In particular, Company is dependent on Sohrob Farudi who is Founder & CEO of Company. Company has or intends to enter into an employment agreement with Sohrob Farudi although there can be no assurance that it will do so or that he will continue to be employed by Company for a particular period of time. The loss of Sohrob Farudi or any member of the board of directors or executive officer could harm Company's business, financial condition, cash flow and results of operations.
The amount of capital Company is attempting to raise in the Offering is not enough to sustain Company's current business plan. Company is raising money in the Offering in order to launch the FCFL Platform using blockchain technology and the Ethereum protocol and sell its utility token, FAN Tokens, which fans will need to interact with the FCFL Platform. In order to achieve Company's near and long-term goals, Company will need to be successful in selling its FAN Tokens. Company has targeted the public launch of its sale of FAN Tokens for the first half of 2018. There is no guarantee Company will be able to sell sufficient FAN Tokens. If we are not able to sell sufficient FAN Tokens, we will not be able to execute our business plan, our continued operations will be in jeopardy and we may be forced to cease operations and sell or otherwise transfer all or substantially all of our remaining assets, which could cause a Purchaser to lose all or a portion of his or her investment.
Although dependent on certain key personnel, Company does not have any key man life insurance policies on any such people. Company is dependent on Sohrob Farudi in order to conduct its operations and execute its business plan, however, Company has not purchased any insurance policies with respect to those individuals in the event of their death or disability. Therefore, in any of Sohrob Farudi die or become disabled, Company will not receive any compensation to assist with such person's absence. The loss of such person could negatively affect Company and its operations.
We have not prepared any audited financial statements. Therefore, you have no audited financial information regarding Company's capitalization or assets or liabilities on which to make your investment decision. If you feel the information provided is insufficient, you should not invest in Company.
The Company faces risks relating to competition for the leisure time and discretionary spending of audiences, which has intensified in part due to advances in technology and changes in consumer expectations and behavior. The Company's business is subject to risks relating to increasing competition for the leisure time and discretionary spending of consumers. It competes with all other sources of entertainment and information delivery. Technological advancements, such as new video formats and Internet streaming and downloading of programming that can be viewed on televisions, computers and mobile devices have increased the number of entertainment and information delivery choices available to consumers and intensified the challenges posed by audience fragmentation. The increasing number of choices available to audiences, including low-cost or free choices, could negatively impact not only consumer demand for the Companys products and services, but also advertisers' willingness to purchase advertising from the Company. The Company's failure to effectively anticipate or adapt to new technologies and changes in consumer expectations and behavior could significantly adversely affect its competitive position and its business and results of operations.
The Company's business could be negatively impacted by cyber security threats, attacks and other disruptions. Like others in its industry, the Company continues to face advanced and persistent attacks on its information infrastructure where it manages and stores various proprietary information and sensitive/confidential data relating to its operations. These attacks may include sophisticated malware (viruses, worms, and other malicious software programs) and phishing emails that attack the Company's products or otherwise exploit any security vulnerabilities. These intrusions sometimes may be zero-day malware that are difficult to identify because they are not included in the signature set of commercially available antivirus scanning programs. Experienced computer programmers and hackers may be able to penetrate the Company's network security and misappropriate or compromise its confidential information or that of its customers or other third-parties, create system disruptions, or cause shutdowns. Additionally, sophisticated software and applications that the Company produces or procures from third-parties may contain defects in design or manufacture, including "bugs" and other problems that could unexpectedly interfere with the operation of the information infrastructure. A disruption, infiltration or failure of the Company's information infrastructure systems or any of its data centers as a result of software or hardware malfunctions, computer viruses, cyberattacks, employee theft or misuse, power disruptions, natural disasters or accidents could cause breaches of data security, loss of critical data and performance delays, which in turn could adversely affect our business.
Risks Related to the Rights and to the Offering
Risk of Unfavorable Tax Treatment in One or More Jurisdictions. The U.S. Internal Revenue Service and other similar regulatory bodies have not yet issued definitive guidance on the tax treatment for securities similar to the Rights. Purchasers should consult their own tax advisors for guidance on tax treatment of the Rights.
Risk of Failure of the Offering. Company has sole discretion to accept or reject subscriptions and may terminate the Offering prior to the closing. If Company determines that the amount that Company raises is not sufficient to pursue the intended uses of the proceeds of the Offering, Company may decide to return the investments received (to the extent funds remain available for return) and abandon the Offering. Alternatively, Company may determine to close the Offering although less than the expected amount is raised. Raising less than the expected amount may require Company to delay or scale down some of Company's plans until further financing becomes available, and Company's projected results of operations and financial condition may be less likely to meet Company's original expectations than had Company raised the maximum amount sought in the Offering. Additionally, it is possible that, due to any number of reasons, including an unfavorable fluctuation in the value of Ethereum, development issues with the FCFL Platform (as defined in the White Paper), the failure of business relationships or competing intellectual property claims, FCFL may no longer be viable as a business or otherwise and may dissolve or fail to launch.
Restriction on Transfer of the Rights. There are substantial restrictions on the transferability of the Rights. A Purchaser may not assign or transfer its SAFT (including by operation of law, by merger or otherwise) or sell, delegate or sublicense its Right without compliance with applicable securities laws. Any such assignment, sale, delegation or sublicense without compliance with applicable securities laws shall be null and void, shall confer no rights on the purported assignee and may be a violation of applicable securities laws. The Offering has not been registered under the Securities Act or under the securities laws of any other jurisdiction, and the Rights are being offered in reliance upon exemptions from registration in the United States under the Securities Act. Accordingly, the Rights may only be transferred within the United States or to "U.S. person" (as defined in Regulation S promulgated under the Securities Act) pursuant to either an effective registration statement registering the Rights or pursuant to an exemption under the Securities Act; the Rights may be subject to transfer restrictions under the securities laws of other jurisdictions; the Rights may be subject to holding period requirements; and there is no public market for the Rights.
Availability of Information. No governmental agency has reviewed or passed upon the Offering, Company or the Rights. Purchasers of the Rights, therefore, will not receive any of the benefits that such registration would otherwise provide. Additionally, Company is not subject to the reporting requirements of the Securities Exchange Act of 1934, as amended (the "Exchange Act"). Therefore, investors may not have access to information to which they would have access if the Offering was registered under the Securities Act and if Company were subject to the reporting regulations promulgated under the Exchange Act. Investors must therefore assess the adequacy of disclosure and the fairness of the terms of the Offering on their own or in conjunction with their personal advisors.
Lack of Control. Purchasers of the Rights will not have a vote or influence on Company's management. Substantially all decisions with respect to the management of Company will be made exclusively by Company's officers, managers and employees. Purchasers will have no right to vote on issues of, or otherwise participate in, Company management. Accordingly, no person should purchase a Right unless he/she/it is willing to entrust all aspects of Company management to Company's management. See the White Paper for more information about management.
Company Discretion on Use of Proceeds. Company has ultimate discretion to use the proceeds of the Offering as it sees fit and has chosen not to set forth any specific uses for investors to evaluate. The net proceeds from the Offering will be used for such purposes as Company's management deems to be in Company's best interests in order to address changed circumstances or opportunities. As a result of the foregoing, Company's success will be substantially dependent upon Company's discretion and judgment with respect to application and allocation of the net proceeds of the Offering. Company may choose to use the proceeds in a manner with which investors do not agree and investors will have no recourse. A use of proceeds that does not further Company's business and goals could harm Company and its operations and ultimately cause a Purchaser of the Rights to lose all or a portion of his/her/its investment.
High Degree of Risk. Investing in the Rights involves a high degree of risk. The Rights are not publicly traded and, therefore, are less liquid. Additionally, Purchasers of the Rights are subject to holding period requirements. Additionally, Company is in an earlier stage of development and does not have historical results upon which investors can make their decisions regarding whether and how much to purchase. If Company is unsuccessful, Purchasers will not receive any FAN Tokens, and there is a possibility that there may be insufficient funds to reimburse Purchasers for their investments. Accordingly, investing in the Rights requires high risk tolerance, low liquidity concerns and long-term commitment. The Rights are not FDIC-insured; may lose value; and there is no bank guaranty. Purchasers must be able to afford to lose the entire amount paid for the Rights.
No Guarantee of Return on Investment. There is no assurance that the Rights will be exchanged for a specific number of FAN Tokens in the FAN Token Sale or that the FAN Token Sale will take place, that any Purchaser will realize a return on his/her/its investment or that any Purchaser will not lose his/her/its entire investment. For this reason, each Purchaser should read the SAFT and all exhibits carefully and should consult with his/her/its own attorney and business advisor prior to making a decision to enter into the SAFT and purchase a Right.
Unanticipated Risks. Agreements for the sale of future cryptographic tokens are a new and untested area. In addition to the risks discussed, there are risks that Company cannot anticipate. Further risks may materialize as unanticipated combinations or variations of the discussed risks or the emergence of new risks.
Risks Related to the FAN Tokens and to the FAN Token Sale
Risks Associated with Blockchain Technology and the Ethereum Protocol. The FCFL Platform, the Rights and the FAN Tokens are based upon blockchain technology and the Ethereum protocol. As such, any malfunction, unintended function, unexpected functioning of or attack of blockchain technology and/or the Ethereum protocol or the Bitcoin protocol may cause the FCFL Platform to malfunction or function in an unexpected or unintended manner. Ethereum, the native unit of account of the Ethereum protocol, may itself lose value in ways similar to the FAN Tokens, and in other ways. More information about the Ethereum protocol is available at https://www.ethereum.org/ to assist Purchasers in understanding this new technology.
Risks Associated with Buyer Credentials. Any person that gains access to or learns of a Purchaser's login credentials or private keys may be able to dispose of the Purchaser's FCFL Account and the Purchaser's FAN Tokens. To minimize this risk, Purchasers should guard against unauthorized access to their electronic devices.
Risk of Unfavorable Regulatory Action in One or More Jurisdictions. Blockchain technologies have been the subject of scrutiny by various regulatory bodies around the world. The functioning of the FCFL Platform and the FAN Tokens could be impacted by one or more regulatory inquiries or actions, including the licensing of or restrictions on the use, sale, or possession of digital tokens like the FAN Tokens, which could impede, limit or end the development of the FCFL Platform. In addition, the sweepstakes developed by Company may not be allowed in certain jurisdictions and Company may be unable to award a randomly selected prize if Purchasers reside in a jurisdiction that does not permit the type of sweepstakes designed by FCFL.
Risk of Alternative Platforms. Following the Offering of the Rights and the development of the initial version of the FCFL Platform, it is possible that alternative applications could be established, which use the same open source code and protocol underlying the FCFL Platform. Such competitors may have greater resources or experience and could potentially negatively impact the FCFL Platform, including its value and the value of FAN Tokens.
Risk of Insufficient Interest in the FCFL Platform. It is possible that there will be limited public interest in the creation and development of the FCFL Platform and the FAN Tokens. Such a lack of interest could negatively impact the Rights and the FAN Tokens.
Risk that the FCFL Platform, as Developed, Will Not Meet the Expectations of FCFL Fans or Purchasers. The FCFL Platform is presently under development and may undergo significant changes before release. Any expectations or assumptions regarding the form and functionality of the FCFL Platform or FAN Tokens (including token behavior) held by a Purchaser, may not be met upon release, for any number of reasons, including mistaken assumptions or analysis, a change in the design and implementation plans, and execution of the FCFL Platform.
Risk of Theft and Hacking. Hackers or other groups or organizations or countries may attempt to interfere with the FCFL Platform, the Rights or the FAN Tokens in any number of ways, including service attacks, Sybil attacks, spoofing, smurfing, malware attacks, or consensus-based attacks.
Risk of Adverse Tax Consequences. Significant aspects of the tax treatment of digital tokens have not yet been addressed, both for U.S. federal income tax purposes and under the tax laws of non-U.S. jurisdictions, and jurisdictions could impose onerous tax burdens on the purchasers and holders of digital tokens. Such onerous tax burdens could subject purchasers and holders of FAN Tokens to adverse tax consequences and could decrease demand for and impede, limit or end the development of the FCFL Platform. Participants in the Offering and the FAN Token Sale are urged to consult their tax advisers regarding the substantial uncertainty regarding the tax consequences involved with the FAN Token Sale and with the use, sale, or possession of digital tokens such as FAN Tokens.
Risk of Security Weaknesses in the FCFL Platform Application Core Infrastructure Software. The FCFL Platform consists of open source software that is based on open source software. There is a risk that the fans, or other persons may introduce weaknesses or bugs into the core infrastructural elements of the FCFL Platform interfering with the use of or causing the loss of FCFL Platform, the Rights or the FAN Tokens.
Risk of Weaknesses or Exploitable Breakthroughs in the Field of Cryptography. Advances in cryptography, or technical advances such as the development of quantum computers, could present risks to the FCFL Platform, the Rights and the FAN Tokens, such as theft or loss.
Risk of Lack of Adoption or Use of the FCFL Platform. While the FCFL Platform and FAN Tokens should not be viewed as an investment, each may have value over time. That value may be limited if the FCFL Platform lacks use and adoption or is unable to successfully implement its real-time play calling features. If this becomes the case, there may be few or no markets following the launch of the application, potentially having an adverse impact on the FCFL Platform.
Risk of an Illiquid Token Exchange for FAN Tokens. While Company hopes that all buyers of FAN Tokens remain active in the FCFL community and hold their FAN Tokens forever, some buyers may desire to sell their FAN Tokens to others at various points in time. Company cannot guarantee that a secondary token exchange for the FAN Tokens will develop.
Risk of Uninsured Losses. Unlike bank accounts or accounts at some other financial institutions, funds held using the FCFL Platform or Ethereum network are generally uninsured. In the event of any loss, there is no public insurer, such as the Federal Deposit Insurance Corporation, or private insurer, to offer recourse to Purchasers.
Risk of Dissolution of FCFL. It is possible that, due to any number of reasons, including an unfavorable fluctuation in the value of Ethereum, development issues with the FCFL Platform, the failure of business relationships, or competing intellectual property claims, FCFL may no longer be viable as a business or otherwise and may dissolve or fail to launch.
Risk of Malfunction in the FCFL Platform or the FAN Token. It is possible that the FCFL Platform or the FAN Token malfunctions, including one that results in the loss of the Rights or eventual FAN Tokens.
Risk of Losing Access to FCFL Account Due to Loss of Credentials. An FCFL FAN Token account can only be accessed with login credentials selected by a Purchaser. The loss of these credentials will result in the loss of the FCFL FAN Token account. Best practices dictate that Purchasers safely store credentials in one or more backup locations geographically separated from the working location.
Unanticipated Risks. Cryptographic tokens are a new and untested technology. In addition to the risks discussed, there are risks that the FCFL team cannot anticipate. Further risks may materialize as unanticipated combinations or variations of the discussed risks or the emergence of new risks.
Information provided by MicroVenture Marketplace, Inc. about the company discussed in this summary (the "Company") is not intended to be, nor should it be construed or used as, investment, tax or legal advice, a recommendation, or an offer to sell, or a solicitation of an offer to buy, an interest, directly or indirectly, in the Company. Any offer or solicitation of an investment in the Company may be made only by delivery to qualified investors of the confidential private offering memorandum and documents attached as exhibits to the offering memorandum. You should rely solely on those offering documents in making any investment decision. An investment in the Company is not suitable for all investors.