Overview
Opportunity
According to the Urban Institute, Americans have aggregated a tremendous amount of untapped equity in their homes. Unfortunately, given its illiquid nature, it is not easily accessible for homeowners looking for cash.ii To do so, homeowners typically go to a home loan lender and must fill out a great deal of paperwork to qualify.iii Further, for individuals looking to buy a home, they can be priced out of the market due to high prices and/or rising interest rates.iv Millennial renters may also have an especially hard time coming up with the down payment required.v At the same time, purchasing an investment property not only requires a significant down payment, but purchasers must also go through a potentially complex mortgage approval and closing process, and must provide property maintenance if they intend to lease it out, along with high selling costs in the future.

Zeehaus is developing a real estate marketplace that seeks to connect existing homeowners and homebuyers with real estate investors. By combining trust agreements with blockchain, Zeehaus aims to fractionalize equity ownership and facilitate real estate transactions through a digitized buying process. Existing homeowners will be able to access cash by selling equity in their home and new homebuyers — by sharing homeownership with investors— will be able to purchase a home at a lower cost both in terms of upfront and monthly payments. Investors will be given the opportunity to have fractional ownership in properties, monthly cash flow, and potential appreciation.
Product
Zeehaus aims to be a digitalized and automated end-to-end platform where investors, buyers, and sellers can connect to buy, sell, and invest in real estate at a fractional level and co-own property. Zeehaus also aims to become a rewards-based community to connect homeowners and homebuyers with advertisers by leveraging secured property ownership and verified user data stored on blockchain while offering users the opportunity to maintain control of personal data.
Phase One: Homeowners
The first phase of the Zeehaus platform is geared toward homeowners. Homeowners will be able to receive cash by selling a share of their future home equity (the value of a homeowner's interest in their home) to an investor while still retaining sole ownership.
The homeowner and investor will enter a contract for a future purchase. A future purchase is a contract that gives the investor a claim for future potential appreciation, either through selling the contract or purchasing a share of equity in the home at a future date. This is a type of Memorandum of Contract for Sale of Real Property. The future contract is recorded by the County Recorder office under the name of Trustee, who will be an independent financial firm, its representative, or a licensed attorney. The price of the future contract will fluctuate based on property value.
Potential Homeowner Benefits:
Homeowners keep their existing mortgage
Homeowners retain full tax deduction from mortgage interest and property tax
Homeowners can get access to cash without selling their home
Homeowners retain sole ownership
For most homeowners, there is no monthly payment required under the future purchase cash out. Zeehaus plans to offer an option to homeowners to reduce investors' equity share in exchange for making a monthly interest payment.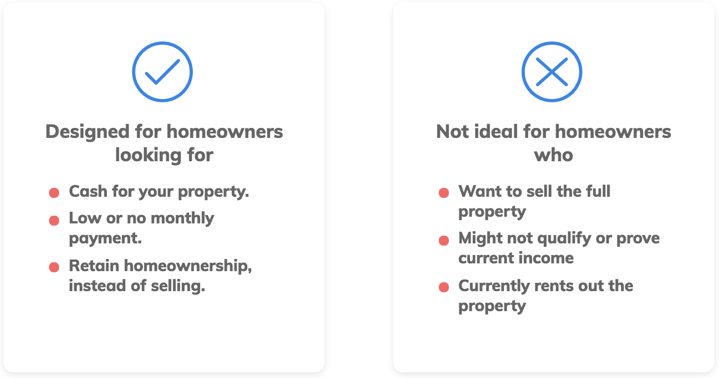 Homeowners are eligible to receive up to 20% of their property's appraised value. The owner is required to maintain a minimum home equity value of 10%.
Steps for Funding:
Homeowner applies for cash-out.
Homeowner passes pre-screening and decides the percentage of equity to share. Zeehaus verifies the homeowner owns more than 10% equity.
Order appraisal. Owner and investor agree on property value.
Investors review qualifications, property metrics, and commit funds.
Complete closing process. Memorandum of Contract and Deed of Trust are recorded. Owner and trustee sign contract, with the investors as owners of the Trust.
Hypothetical Example
A homeowner with a home that is appraised for $500,000 and put 20% down ($100,000) could request up to $50,000 in cash (10%). Say the homeowner requests $25,000 in cash, that would leave the owner with $75,000 remaining in equity. The homeowner would receive 75% of future appreciation and the investor would receive the other 25%. This calculation excludes any future mortgage payments made by the homeowner.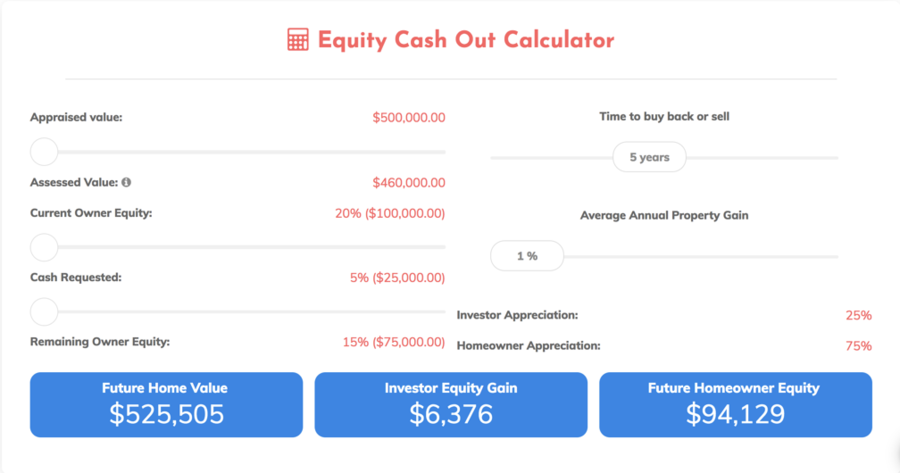 *Assessed Value is a risk-adjusted value based on the appraised value, typically at a 5% to 8% discount, to account for the risk that investors take on. Principal reduction from mortgage payments is excluded from Investor Equity Gain calculation.
Investing with Homeowners
Potential Investor Benefits:
Reduce risk: Diversify your real estate investment portfolio across multiple properties, as purchase starts from 1% ownership
Liquidity: Equity sharing marketplace offers investors liquid and tradable contract, recorded on blockchain and backed by a real asset.
Security and transparency: Manage your portfolio with complete control and the security of blockchain.
Community and Advertising
During the first phase of the platform, Zeehaus plans to roll out the community for homeowners and buyers to opt-in and receive advertising. Verified users who sign up as a member of the community will be able to indicate their preferences and get paid by opting into selected email advertising, without exposing certain personal information. Consumers will get paid in cash or utility tokens based on emails opened, click-throughs, and direct responses.
Phase Two: Homebuyers
Potential Homebuyer Benefits:
Homebuyer needs a smaller amount of capital for down payment, starting at 5% of property value
Lower monthly payment than mortgage loan, by sharing the cost of property taxes, HOA (if applicable), and insurance
Eliminate closing costs through partnerships and reimbursements from real estate agents
Eligible for refinance to a traditional mortgage in three years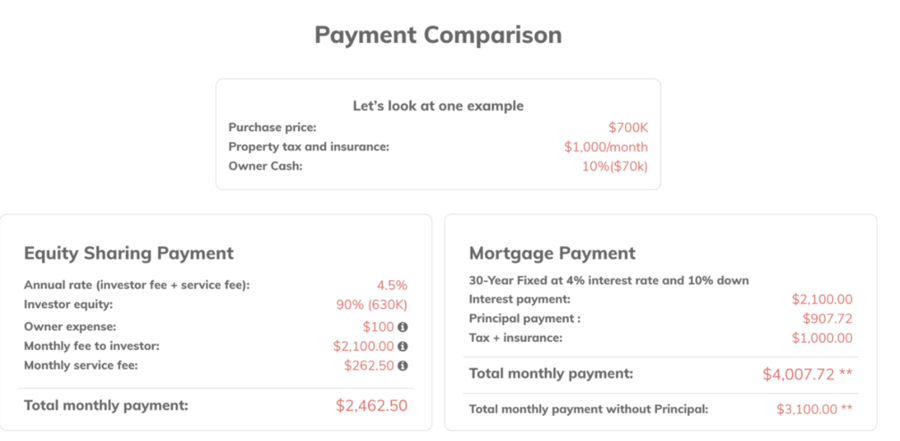 Investing with Homebuyers
Potential Investor Benefits:
Diversification: Low minimum investments allow investors to potentially diversify across multiple properties and locations
Transparency: High degree of transparency into real estate ownership compared to typical real estate funds
Tax benefits: No transfer tax when transferring fractional ownership
Automated 1031 Exchange: Automatic matching between selling (relinquished) properties and buying (replacement) properties
Liquidity: Investors could transfer fractional ownership by trading it on the Zeehaus platform without having to sell the whole property
Investor Dashboard

Safety and Security
Zeehaus plans to use blockchain to store data on the property, buyer, and seller, and use it to document proof of fractional ownership. Transfers of ownership will also require updating the blockchain and providing a private key to provide safe and secure ownership. In addition, no personal information will be accessible without the private key.
The Zeehaus blockchain for tokens will be built on top of the Stellar network. Zeehaus chose Stellar because of its customizable Know Your Customer (KYC) and Anti-Money Laundering (AML) capabilities and its simplified fund transfer process. The Zeehaus ownership and property blockchain will be built on top of the Hyperledger network. Zeehaus chose Hyperledger because it is permission-based, allows groups of users to create separate transaction ledgers called channels, and data can be stored in multiple formats, along with property history and ownership changes.

Secured ownership and data
With the property, buyer, and seller's data on the blockchain, Zeehaus' goal is for the marketplace to become the system of record or 'hub' for property ownership transfer. The technology will aim to offer efficient and digital processing with multi-step verifications, such as requiring a private key and two-factor authentication before ownership can be traded. This digital transformation is designed to enable faster ownership transfer and reduce the cost of manual verification and title review. This flexibility should enable Zeehaus to customize Zeehaus Smart Contract workflows for different approval requirements for ownership transfer for different government jurisdictions.
Intellectual Property
In March 2018, Zeehaus filed a patent for its method and system for equity sharing of a real estate property.
Zeehaus Technology

Use of Proceeds and Product Roadmap

Zeehaus' patent-pending technology has been under development since the winter of 2016. The platform is expected to launch for properties in the San Francisco Bay Area and Los Angeles within 60 days after this offering is completed. Expansion is planned to Dallas in early 2019, the Phoenix and Seattle areas in mid 2019, and Arizona, Oregon, Nevada, and Colorado in late 2019. Zeehaus also has plans to expand into international markets in 2020.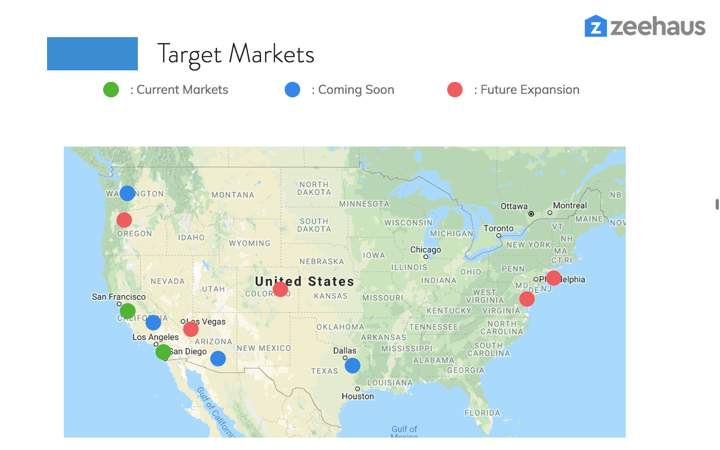 The Zeehaus Property Equity Sharing platform will be rolled out in four phases:
1) Phase One: Homeowners – Launch equity sharing marketplace for homeowners looking to get cash out of their houses by selling contracts on the equity in their homes. Future Purchase contracts are expected to be recorded in Trust Agreement and on verifiable blockchain. During this phase, Zeehaus will be using Blockchain as proof of fractional ownership as well as rewards-based advertising marketplace.
2) Phase Two: Homebuyers – Launch funding platform to help buyers purchase homes by connecting them with investors interested in equity shares. Allow investors to exchange fractional ownership without having to sell entire properties. Record property ownership in Trust Agreement and on verifiable blockchain. Collaborate with builders to build equity sharing communities and help achieve homeownership.
3) Phase Three: Blockchain Ownership – Record property deeds and full ownership exchange on blockchain, if governments start to recognize blockchain as legal way to hold real asset. Obtain money exchange licenses and start accepting Zeehaus tokens as payment tools for real estate transactions on the Zeehaus marketplace.
4) Phase Four: Mortgage marketplace – Launch a mortgage referral marketplace for investors and homebuyers who completed an equity sharing purchase. These co-owners are eligible to buy out the investor's fractional ownership by qualifying for a mortgage after three years. The mortgage referral marketplace will seek to allow mortgage brokers to join and get referrals. Zeehaus plans to partner with mortgage brokers to provide them a free platform and free tool and charge the brokers flat referral fees when a transaction closes.
Zeehaus plans to launch a custom utility token in early 2019 as a payment tool for real estate transactions on its platform. The goal of the utility token is to facilitate these transactions, to reward community users, and to pay for advertising, real estate commissions, and various transaction fees on the marketplace.
Phase 1 service for homeowners is expected to be launched 60 days after this offering is completed, while the rewards-based advertising marketplace is expected to be rolled out 90 days after the utility token is launched. Phase Two is projected for late 2019 with tokens being accepted on the platform, while Phase Three is targeted for 2020. Timing for Phase 3 launch is subject to legalization of blockchain by state and local governments, as we work on the application and adoption of blockchain as legal way to hold title and asset ownership.
If the minimum $50,000 is raised, Zeehaus plans to use over half of the proceeds on future wages for the COO and CMO. If the maximum $1,070,000 is raised, Zeehaus plans to use just over one-third of the funds on future wages to hire on the CEO, COO, and CMO full time. The next two largest categories will be for purchasing a Software-as-a-Service subscription for cloud-based servers and storage, blockchain network, Banking API, KYC/AML API, Email Automation API, Marketing and Customer Support software, e-Signature API, Messaging API, and Property metrics API, as well as general working capital.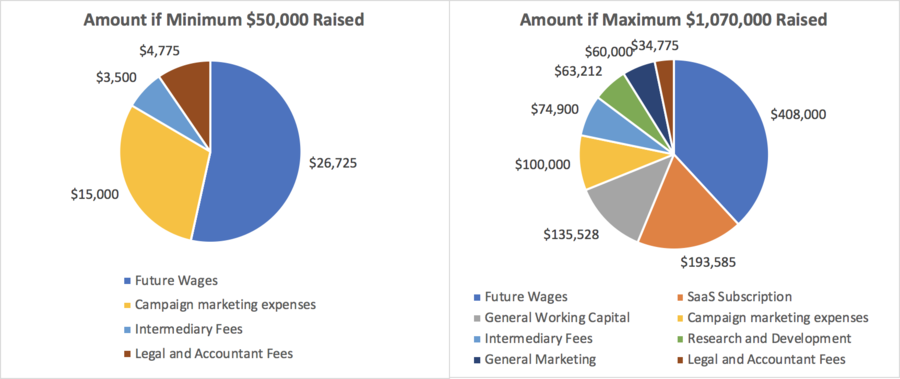 Business Model
Zeehaus plans to initially focus on homeowner, investor and advertising capabilities and later roll out buyer and seller capabilities. Zeehaus plans to roll out the first service for existing homeowners to get cash out. Homeowners exchange home's fractional equity for cash by selling a share of their home, while investor receives a share of the home's potential future appreciation, through a 'future purchase'. The company will seek to generate revenue by charging homeowners a percentage (expected to be 2% to 3%) of the property value funded as well as advertising fees. Zeehaus plans to receive a percentage (10% to 15%) of the fee paid by advertisers to consumers who opt-in to receive advertising. The consumers are paid the remaining 85% to 90% of the advertising fee.
Historical Financials
Zeehaus plans to launch its platform to the public within 60 days after this offering is completed. The company does not plan to begin generating revenue until then. In 2018, Zeehaus has had approximately $108,000 in expenses through July, nearly 80% of which came from development work to build out the platform. In 2017, Zeehaus had approximately $103,000 in total expenses for the year, two-thirds of which came from development work.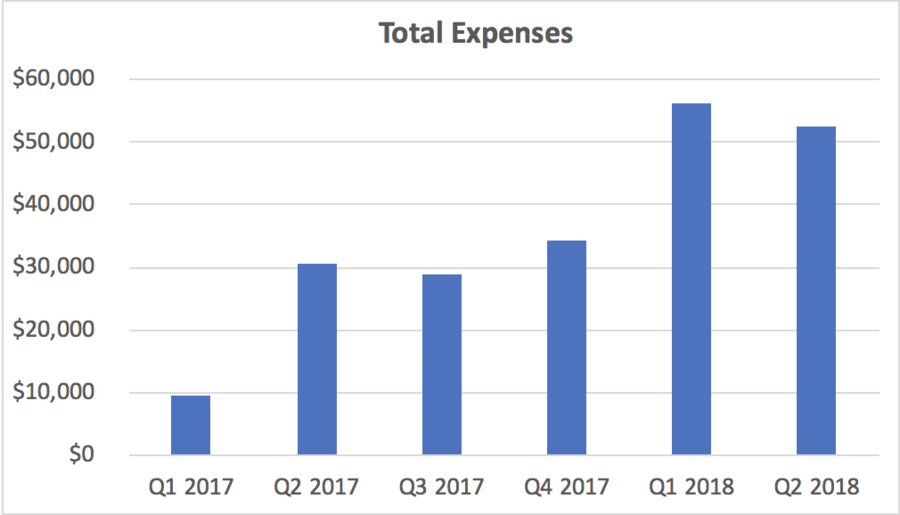 Press
TechCrunch: Announcing the TC Top Picks for Disrupt SF 2018
Markets Insider: Top 20 Blockchain Startups Announced for Founder World Championship 2018