---
Company Highlights
Exclusive rights to Halycon Coffee + Bar + Lounge and Stella Public House brands in Texas
Currently has two locations that averaged $2.3 million in revenue in 2015 with plans to launch two new locations in 2017
Plans to launch Halcyon Dallas on Greenville Avenue in February 2017 and flagship Halcyon and Stella Public House in Austin at the landmark Mueller Town Center in April 2017
Over $4.6 million in sales in 2015, a 16% year-over-year increase from around $4 million in sales in 2014
Over $431,000 net operating income year-to-date as of October 2016, a 14% year-over-year increase from the same period in 2015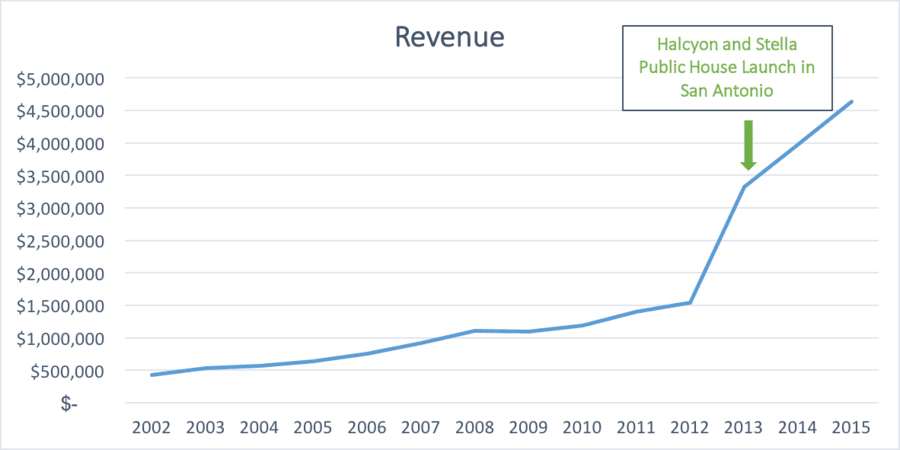 Perks
$250+ Investors will be invited to special private parties, happy hours, and new tastings
$500+ Investors will receive a Halcyon Travel Mug with 10% off refills, plus $250 level perks
$2,500+ Investors will have their portrait done as latte art by our master barista artist and published out on social media channels (examples: Sherlock, C3PO, Prince, John Lennon, and Customer), a $25 gift card, plus $500 level and below perks
$5,000+ Investors will can get a cocktail named in their honor or name a drink on the seasonal drink menus, an additional $25 gift card (total of $50), plus the other $2,500 level and below perks
$10,000+ Investors will receive a Private Pizza Party with Exec Chef that includes a make-your-own wood-fired pizza session for up to 12 guests, a $50 gift card (total of $100), plus the other $5,000 level and below perks
$25,000+ Investors will receive a VIP Card for 20% off all food and beverage for life, plus a $100 gift card (total of $200), plus the other $10,000 level and below perks
Investor Coupon
In case you want to try out Halcyon or Stella before you invest, print out this coupon below and present it to them at a Texas location for a free coffee and 20% off one item.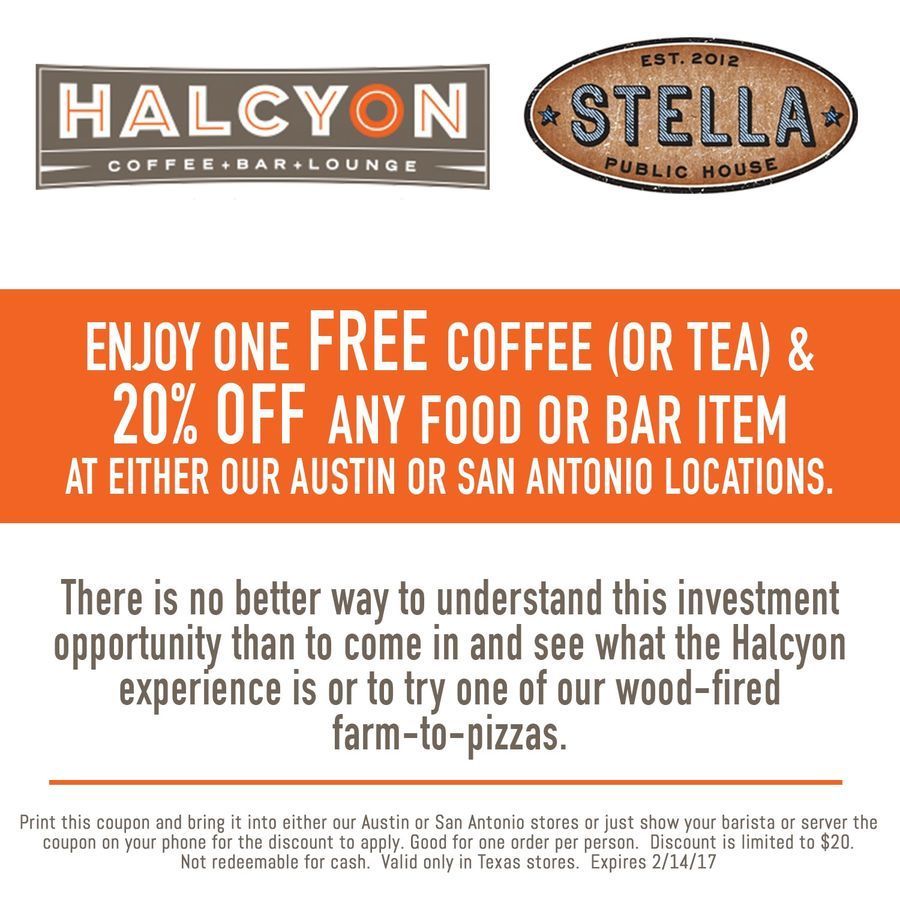 Company Summary
Opportunity
Since 2002, Zebo LLC has successfully operated and grown Halcyon Coffee + Bar + Lounge concept, in Austin, Texas. The first 10 years were formative as the concept was established and operationally proven in Austin's premier entertainment area, the warehouse district. After more than 14 years serving coffee and spirits to Austinites, Halcyon has become a landmark known throughout Texas for its caffeinated cocktails, table-side s'mores and relaxed vibe.
In 2013, Halcyon expanded to another warehouse district redevelopment project in Southtown San Antonio, the Blue Star Arts Complex. Halcyon quickly became a local favorite and exceeded all sales projections. Along with Halcyon's expansion into San Antonio, Zebo launched a new concept called Stella Public House, an Artisan wood-fired pizzeria serving local farm-to-table fare and craft beer. Stella opened to wide acclaim and was recognized as one of the "Best New Restaurants" by San Antonio magazine.
Halcyon and Stella Public House have grown steadily and successfully in each location they've opened. The company intends to build on this growth by adding new stores across Texas. Specifically, in 2017 Texas Zebo has secured leases in Dallas's Greenville Avenue neighborhood and Austin's Mueller Town Center Development. Additionally, discussions have begun for future Houston openings. Each of these architecturally-driven locations are within communities that have favorable demographics for both Halcyon and Stella Public House and topline revenue is forecast to double between 2016 and 2019 with the addition of the three new locations in Austin, Dallas, and Houston.
Product
Texas Zebo manages two restaurant concepts. The first concept, Halcyon Coffee + Bar + Lounge, is a unique urban hangout that combines the comfort and convenience of a coffeehouse by day with a laid-back bar and lounge atmosphere at night. Halcyon, which means peaceful and carefree is the ideal place to meet up with friends or to get some work done away from the office. Halcyon offers fast casual gourmet food for breakfast, brunch, and lunch, and snacks in the evening, alongside a comprehensive coffee program and a full bar with signature cocktails (e.g. Chocolate Espresso Martini), craft cocktails, and a curated wine and beer selection.

Stella Public House has the perfect combination of rustic charm and urban sensibility. Stella, which means star in Italian, is a place customers can go anytime of the week to experience a high-quality meal without needing reservations or fancy attire. Stella offers Artisan-style wood-fired pizzas made from locally sourced organic ingredients and a well curated selection of rotating craft beers from breweries across the nation. Stella's Napolitano style pizzas are smaller, softer, and puffier than typical American pizza with carefully blistered crusts from the wood-fired oven. Additionally, there are farm-to-table sharable small plates and a wood-fired brunch offered every Saturday and Sunday.


Halcyon's interior design is modified to give it a unique character tailored to each neighborhood in which it is located. In Austin's warehouse district, the original location, the interior is rougher around the edges and has more bar seating. In San Antonio, Halcyon has more designed touches, reflecting the art community in which it sits. There is also more café seating which matches the broader food menu offered out of their full kitchen.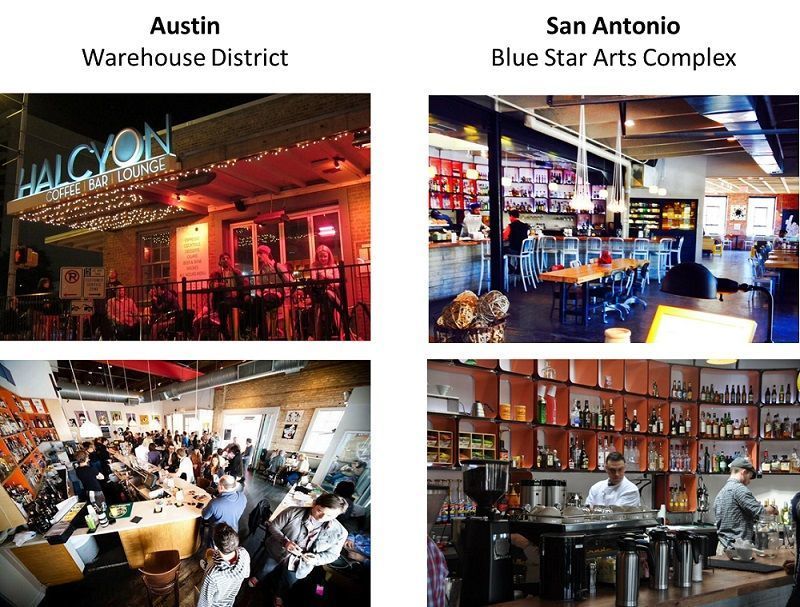 The Stella Public House in San Antonio is punctuated with several communal tables that encourage large groups, sharing, and meeting new people. Salvaged rustic woods are matched with exposed brick and natural fabrics that warm up the space. There is also an open kitchen so customers can enjoy the artistry up close and absorb every element of the experience.


Use of Proceeds and Product Roadmap
With the success of Halcyon and Stella Public House in Austin and San Antonio, Zebo is continuing its Texas roll-out with new locations being planned in Dallas, Austin and ultimately Houston. As Halcyon has proven after 14 years in operation, both concepts are long-lasting neighborhood restaurants that can grow and evolve over time to serve the local community for decades. Halcyon Dallas is slated to launch in 2017 in the old Café Brazil building (pictured below) on Greenville Avenue, a high-traffic food and beverage street. The building is 3,600 square feet with a large patio in the front.


The flagships for Halcyon and Stella Public House are slated to launch in Austin's landmark Mueller Town Center (pictured below) in the spring of 2017. The Mueller Town Center District is a planned 1.2 million square foot mixed-use lifestyle district that will include retail, dining, and entertainment options as well as offices, apartments, and condominiums. Halcyon and Stella Public House will have 5,600-square feet of space located in the anchor corner of the new entertainment district facing the park and adjacent to The Thinkery Children's Museum. The lease has been executed, the design is complete, and engineering is underway. Construction will begin in January 2017.

Further down the line, Texas Zebo expects to open a Houston location in 2019-2020. Texas Zebo is already in talks with the developer of Rice Village, a shopping district that offers a mix of retailers, restaurants, and nightlife just minutes from Rice University. Plans are to build another landmark Halcyon and Stella Public House in the new Phase II development of that district.
Business Model
In 2015, Halcyon Austin drove 41% of Texas Zebo's revenue, generating over $1.8 million in sales. The largest sales category was coffee and non-alcoholic beverages, followed by bar sales, and then food. Halcyon Austin's net operating income was about $293,500 in 2015 - resulting in an operating margin of 15.6%.
San Antonio's Halcyon and Stella Public House each contributed about 30% to Texas Zebo's revenue, generating a combined $2.75 million in sales in 2015. The focus on menu and competitive pricing has driven significant growth in food revenue at the San Antonio Halcyon. While bar sales were still the largest revenue source in 2015 (over $550,000), food sales were a close second (over $450,000). Stella Public House's brunch launch at the end of 2015 was a notable contributor towards generating morning/lunch business. In 2015, food generated roughly two-thirds of sales at Stella and bar sales made up the remaining one-third. In total, the San Antonio location earned net operating income of over $358,000 in 2015, resulting in an operating margin of 13.1%.

Historical Financials
In 2015, Texas Zebo's revenue was over $4.6 million, a 16% year-over-year increase from nearly $4 million in 2014. Sales more than doubled in 2013, the year Halcyon and Stella Public House opened in San Antonio.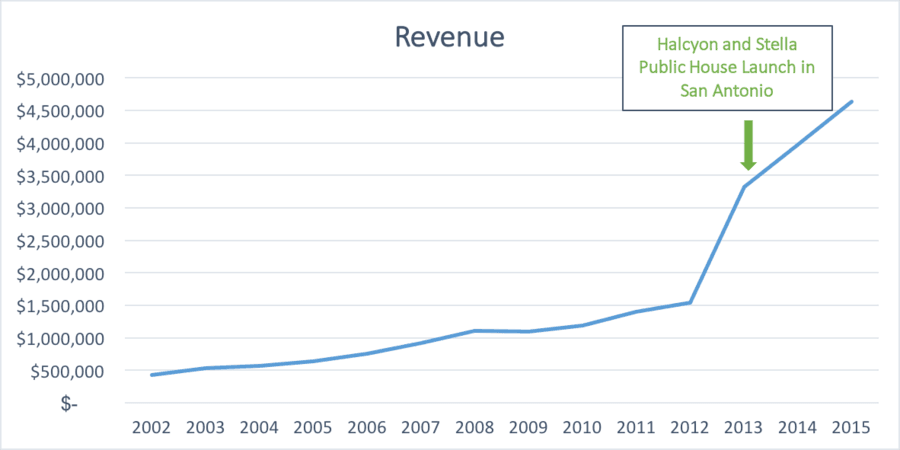 Year-to-date as of October 2016, Texas Zebo has generated over $4 million in revenue, a 5.4% year-over-year increase. Over the same time period in 2015, the company made nearly $3.85 million in revenue.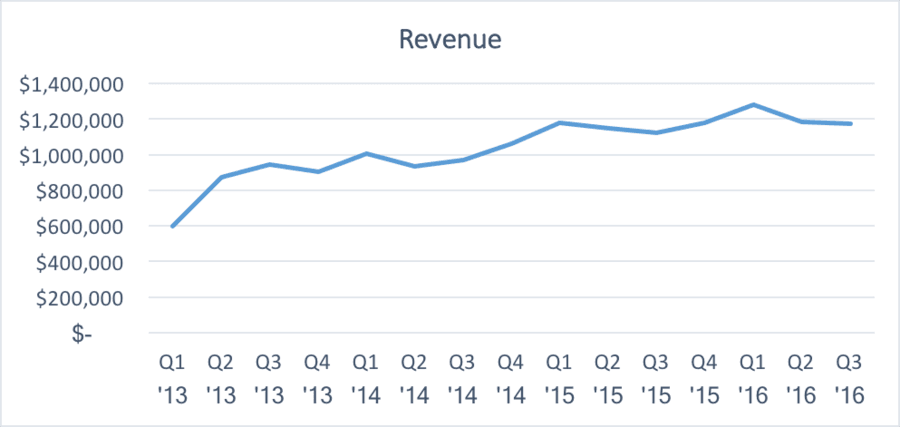 Note: Only 2014 and 2015 financials have been subject to a financial review
Year-to-date as of October 2016, Texas Zebo's operating expenses have totaled more than $2.20 million compared to around $1.97 million over the same period in 2015.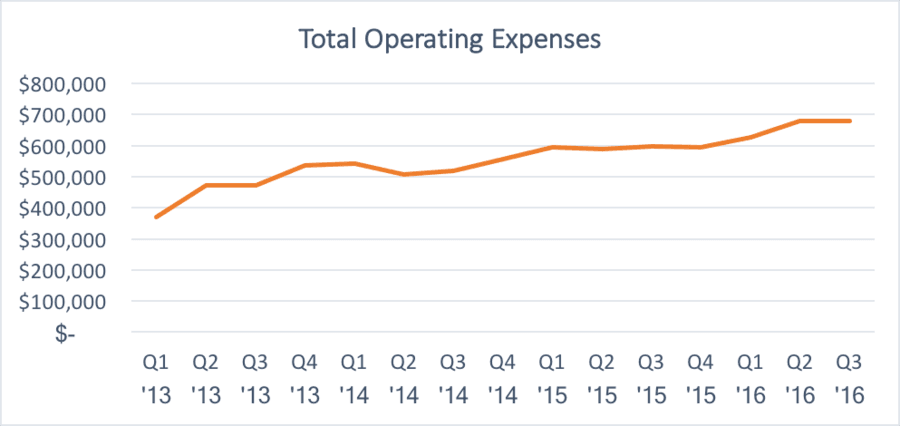 Note: Only 2014 and 2014 financials have been subject to a financial review
Texas Zebo is profitable and has generated over $431,000 of net operating income thus far in 2016. Net income is up 14% year-over-year from 2015 when the company generated nearly $378,000 of net income through October 2015.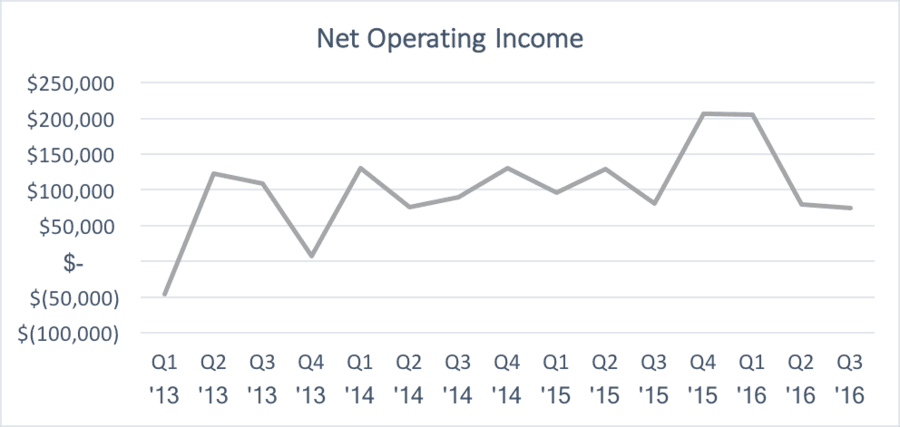 Note: Only 2014 and 2015 financials have been subject to a financial review
Industry and Market Analysis
The U.S. coffee and snack shops industry is expected to generate $39.6 billion in revenue in 2016 and grow at an annualized rate of 2.7% over the next five years to reach $45.4 billion in 2021.i The industry continues to benefit from rising household incomes which contributes to increased spending on food prepared outside of the home. Coffee and snack shops have strategically shifted to provide healthier, gourmet menu items. Since these gourmet items typically come with higher price tags, it has resulted in an increase in industry profit.
To attract health-conscious consumers, high-end pizza restaurants have also begun offering more entrée salads, flatbreads, whole-wheat and gluten-free crusts, locally grown produce, and organic ingredients. Pizza restaurants in the U.S. brought in revenues totaling $40.3 billion in 2015. By 2020, industry revenue is expected to increase to $43.7 billion. Pizza chains currently experiencing the greatest growth are those targeting consumers from higher income brackets. The number of households earning over $100,000 is expected to increase 0.8% over the next few years. This combination of an increase in high-income households and the push towards local foods is expected to create higher demand for higher-end pizza restaurants and gourmet pizza.ii
Today, more people want to know where their food comes from. This has driven the popularity of local foods, including locally grown produce and locally sourced meats, seafood, and even beer and wine. Local and regional food sales in the U.S. totaled more than $12 billion in 2014, and it is estimated sales could grow to $20 billion by 2019.iii Consumers are willing to pay more for locally grown foods. In a 2015 survey, nearly half said they were willing to pay up to 10% more for locally grown or produced foods, and almost one-third said they were willing to pay up to 25% more.iv
Competitors
Jo's Coffee: Jo's Coffee opened in Austin on South Congress Avenue in 1999. The coffee shop now has three locations in Austin including one downtown in the Second Street District and one on the St. Edward's University campus. The shop serves pastries, tacos, sandwiches, and coffee roasted by Portland-based Stumptown. The Second Street location serves full breakfast, lunch, dinner, and weekend brunch as well as alcohol.
Houndstooth Coffee: In 2010, Houndstooth Coffee opened its first location in Austin on North Lamar. Serving coffee, tea, beer, wine and pastries, the café now has a second Austin location and two Dallas locations. The locally owned and operated café is known for its seasonal offerings such as summertime specialties such as the coffee juleps and the Nine Iron, a drink made with cold brew, fresh lemonade, and turbinado syrup. Houndstooth is working on adding kitchen and cocktail bar in its newest Dallas location in Sylvan Thirty, a mixed-use development in West Dallas.v Houndstooth also plans to open a third Austin location on the East Side in 2017.vi
Pinthouse Pizza: Founded in 2012, Pinthouse Pizza is a brewpub located in Austin, TX that offers unique handcrafted pizzas and beers. The company makes its own hop-forward craft beers, brewed in-house, and also features a selection of guest craft beers on its 45 taps. The menu is made up of its classic and specialty pizzas, as well as its signature "Off the Map Pies" and an array of salads, appetizers, and desserts. Where possible, they source locally and organic. Pinthouse Pizza was named "Austin's Best Brewpub" in the Austin Monthly Readers' Choice poll and won a Great American Beer Festival Bronze Medal for its Blind Jake Porter in 2013, and a Bronze Medal for its Jaguar Shark Bourbon Barrel Age Stout in 2014.vii
Unit-D Pizzeria: Unit-D Pizzeria is a wood-fired pizzeria located in East Austin that offers an ingredient-driven menu of wood-fired pizzas, salads, sides, beer, and wine. Opened in 2015, the restaurant bakes Neapolitan-style pies in an Acunto Mario pizza oven imported from Naples. All of their products and ingredients are either crafted in house (including their dough, mozzarella, sauces, mustards, and desserts) or carefully selected from high-quality farms and purveyors. Unit-D Pizzeria offers a range of draft beers with many local selections and features winemakers primarily from Europe and California who are focused on small production and committed to natural, biodynamic and/or sustainable practices.
Executive Team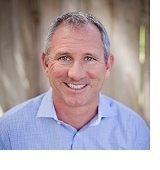 John Long, Co-Founder and Managing Partner: John Long is currently the Managing Partner of Zebo LLC, a restaurant holding company, and Managing Director of Equity Residences, a private equity real estate fund manager. John was previously a Principal at Airvision, a retail- and restaurant-focused strategy, operations, and branding consulting firm. He has assisted numerous small-market, mid-market, and Fortune 1000 companies with new venture launch, marketing strategy, growth strategies, and M&A strategy and execution. He began his consulting career at McKinsey & Company after graduating with an MBA from The Wharton School of Business. He also holds a B.S. in Mechanical Engineering from Rice University.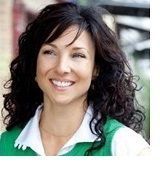 Kris Hardy, Co-Founder and Managing Partner: Kris is currently the President of Texas Zebo and a Managing Partner of Zebo LLC. She has worked in strategy, marketing and sales with Dell for the past 10 years where she was a Director of Marketing & Merchandising for the North America Consumer organization. Prior to Dell, she worked with the Boston Consulting Group (BCG) and UBS PaineWebber Investment Banking Group. She has spent 20 years assisting Fortune 100 companies with strategic growth opportunities and executing sales, marketing, and brand initiatives. She holds an MBA from The Wharton School of Business and a B.A. in Economics and Psychology from Rice University.
Investment Terms
The Fund anticipates investing in the Company at the following terms:
Security Type: Promissory Note
Round Size: Min: $100,000 Max: $500,000
Interest Rate: Revenue sharing agreement which provides the investors 1% of the Company's gross revenue, up to the repayment amount of 1.5x of their investment
Length of Term: Until the repayment amount of 1.5x investment is repaid
Conversion Provisions: None