---
Company Highlights
Has raised over $2.5 million on Kickstarter to fund 26 individual hobby board gaming projects

Has sold over 400,000 games since inception

Has generated over $5 million in gross sales since inception

Generated over $1.2 million in revenue in 2016

Gross profit increased 33% in 2016 to over $475,000 from over $350,000 in 2015

TMG Gamer Email List has 25,912 subscribers with a 40.7% average open rate
Perks
*You are investing in equity in this offering. Perks are meant to be a thank you from the company for investing. All perks are inclusive of previous perks. Physical items include shipping within the U.S. For international deliveries, shipping fees will need to be paid to TMG.
$150: TMG Certificate of Stock Ownership (Cardboard with embedded metal coin, not used for legal purposes)
$400: Two copies of Flip City and Harbour to share with friends (One of the benefits of owning a game company is easily giving gifts to your gamer friends, and TMG wants you to experience this)
$700: Hoodie featuring company mascot, Dargon
$1,000: One in-stock large box game of your choice
$1,500: An additional in-stock large box game of your choice
$2,500: One Deluxified copy of Crusaders after Kickstarter campaign
$5,000: Name included in a thank you with all investors at this level in the first game launched after the fundraise
$10,000: Producer credit on one future game of your choosing
$25,000: Executive Producer credit on three future games of your choosing, a copy of every game currently in the warehouse, and each game released for the next three years
Company Summary
Opportunity
Tabletop games date as far back as 3500 BC with an ancient Egyptian game called Seneti, and their popularity has grown ever since. Even with today's influx of video games and mobile games, games and puzzles saw the largest increase in sales (18%) for 2016 relative to all other toy categories.ii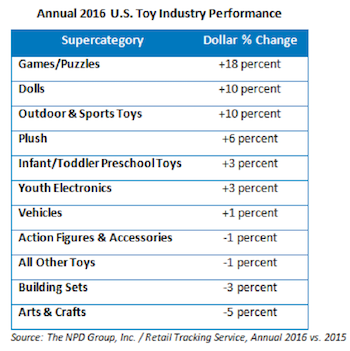 Board games in particular have seen substantial growth, and both children and adults are jumping on the bandwagon.iii With more gamers come the opportunity for more innovative, creative games, which is what Tasty Minstrel Games (TMG) seeks to deliver. With 60 published games, TMG strives to provide diverse games that strengthen family unity, communication, and love.
Product
TMG produces both co-published and original games. The company's best-selling game of all time is Eminent Domain. A selection of TMG's best-selling games is featured below.
Eminent Domain
Eminent Domain is a civilization-building game for two to four players. Players must build a space empire by colonizing nearby planets or by taking them by force. Each player's abilities are based on a deck of Role cards. At the beginning of the game, each player has the same deck of cards, including two cards for each Role. Each turn, players must choose a Role from the communal deck to execute, and in doing so they will add that Role card to their deck. When executing a Role, players can boost its effect by playing cards out of their own deck that match the Role they have chosen. Over the course of the game, players choose to specialize in their own combination of Roles, allowing them to take over planets, harvest and trade resources, or research for points and upgraded abilities.

Dungeon Roll
Dungeon Roll allows players to step into the shoes of one Hero—such as a Mercenary or Enchantress—and battle monsters, vanquish a dragon, and gather treasure. Intended for one to four players ages 14 and up, each player takes turns acting as the Adventurer. The game begins with the Adventurer rolling seven dice to assemble a party of clerics, fighters, mages, thieves, and champions. A second player acts as the Dungeon Lord and rolls Dungeon Dice corresponding to the Adventurer's progress throughout the game. Only a roll of the dice determines an Adventurer's success, from selecting a token from the treasure chest-shaped game box to defeating skeleton monsters. After three rounds, the players add up their experience points to determine the ultimate champion. While Dungeon Roll incorporates the chance of a dice game, it also has the choice and strategy of a more traditional fantasy-based game. Three expansion packs with additional Hero avatars are also available.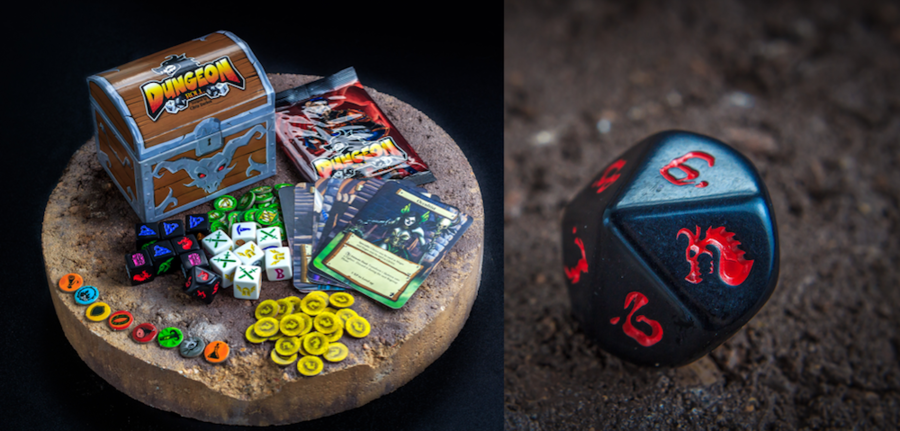 Orléans
Set in medieval France in the city of Orléans, players must gather followers, collect goods and money, and establish trading posts to grow their economic reach. Orléans is a bag-building game, which means each player has a bag of resources to add to. Knights expand players' scope of action and secure their mercantile expeditions, craftsmen build trading stations and tools to facilitate work, scholars make progress in science, and monks reduce the chance of players falling prey to fate. The game is for two to four players ages 12 and up.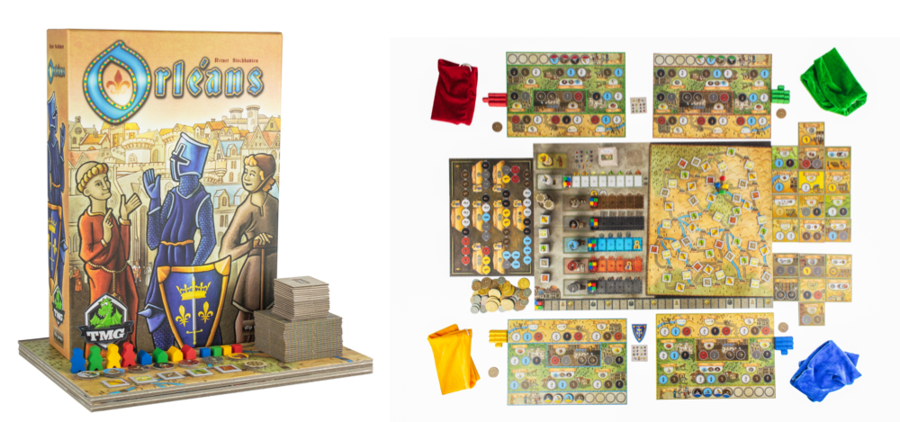 The Orléans Deluxe Edition has metal coins and wooden tokens instead of cardboard. Orléans: Invasion is an expansion pack with six new scenarios, new buildings, and new event cards. The expansion includes a cooperative scenario in which players have to fend off an invasion as well as three solo challenges.
Guilds of London
Set in Medieval times, Guilds of London lets players experience life as a wealthy investor trying to become the influential Lord Mayor of London. Tiles are placed on the board to represent different areas of the city, and each tile has several associated Guilds. Players choose and play cards each round to determine who controls each tile and, therefore, each Guild. Tiles are scored at the end of the round based on how many Liverymen players have placed on the tile. Players select as many cards from their hand as they wish to play to place or move Liverymen or to perform an action. Players also have the opportunity to spread their power into the Ulster or Virginia plantations. Control of each Guild provides victory points and additional actions so that successful players can control the future development of the city. Recommended for one to four players ages 10 and up.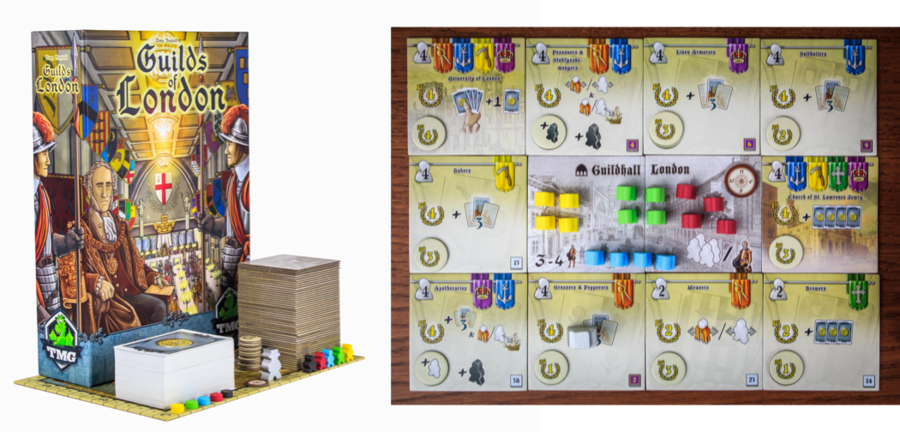 Scoville and Scoville: Labs
Scoville: Labs builds upon the success of Scoville, a strategy-auction game that encourages players to plant, crossbreed, and harvest the hottest peppers possible. Each round, players plant peppers in the fields. Throughout the game, crossbreeding opportunities increase as more peppers are planted. Players move their pawn through the fields to harvest. Scoville: Labs adds to the fun by giving players a 3x3 tab where additional peppers can be raised—ones opponents cannot touch. Those peppers can then be planted and harvested on the shared board for additional crossbreeding opportunities. Both games are for two to six players ages 13 and up.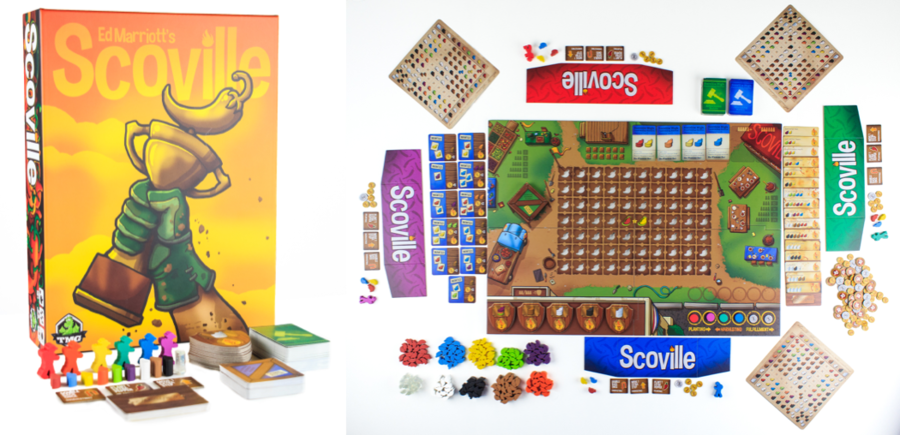 Use of Proceeds and Product Roadmap
TMG plans to use the proceeds from this raise for marketing to build up the brand of TMG, manufacturing, and new hires. TMG has a number of different games in its pipeline. There are three games currently in development, including the title Trading on the Tigris. There are 15 games currently in artwork production including Downfall, Exodus Fleet, Samara, Orléans: 5th Player, Okey Dokey, Eminent Domain: Oblivion, Harvest, Crusaders, Pioneer Days, and Homesteaders: New Beginnings, among others.
Business Model
TMG sells both co-published and original games. The company's original games generated the majority (67%) of sales in 2016. TMG's biggest selling game of all time is Eminent Domain; Dungeon Roll is a close second. The games typically retail for $15 to $50. The company's gross profit margin was 38% in 2016.
User Traction
In 2016, TMG sold over 82,000 games. Since its inception in 2010, TMG has sold over 400,000 games. Unit sales spiked in 2015 as the company started releasing more small box games such as Flip City and Cthulhu Realms, which sold about 15,000 units combined.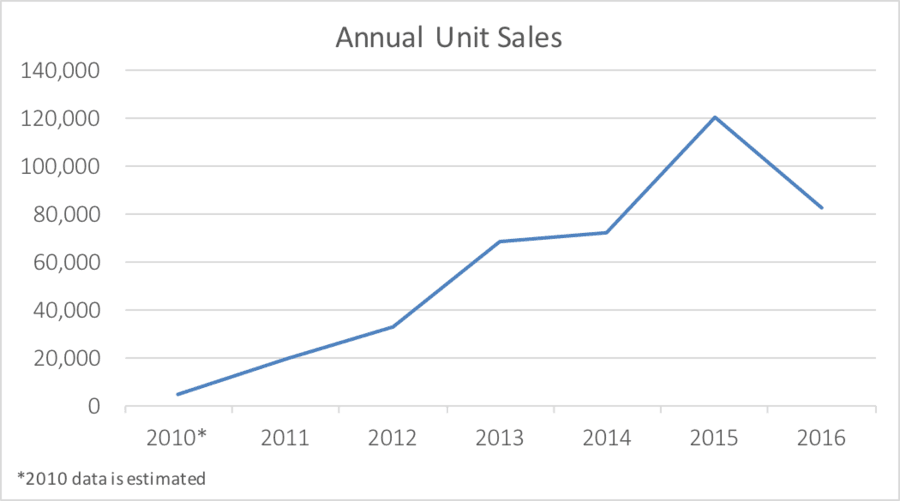 Historical Financials
TMG generated over $1.2 million in revenue in 2016 and over $1.4 million in revenue in 2015. Revenue spiked in January 2015 due to the launch of Scoville, Village Port, and Captains of Industry. Revenue spiked in November 2015 due to the shipment of the Orléans Deluxe Edition Kickstarter sales. Revenue also increased in May 2016 due to the Colosseum Kickstarter project and in November 2016 due to the launch (or import back in) of Guilds of London, Orleans Invasion, and Ponzi Scheme. Although annual revenue declined 15% in 2016, cost of goods sold declined 30%, dropping from over $1.1 million in 2015 to nearly $800,000 in 2016.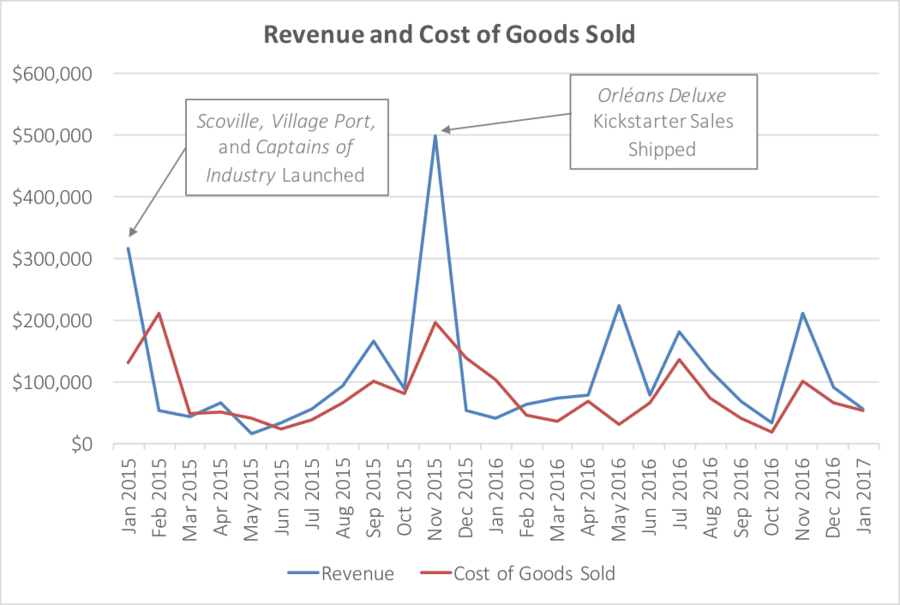 As a result, TMG increased gross profit by 33% in 2016 from over $350,000 in 2015 to over $475,000 in 2016. Operating expenses totaled over $510,000 in 2016 and over $360,000 in 2015. The increase in expenses was due to the expansion of the TMG team from five employees in 2015 to nine employees in 2016.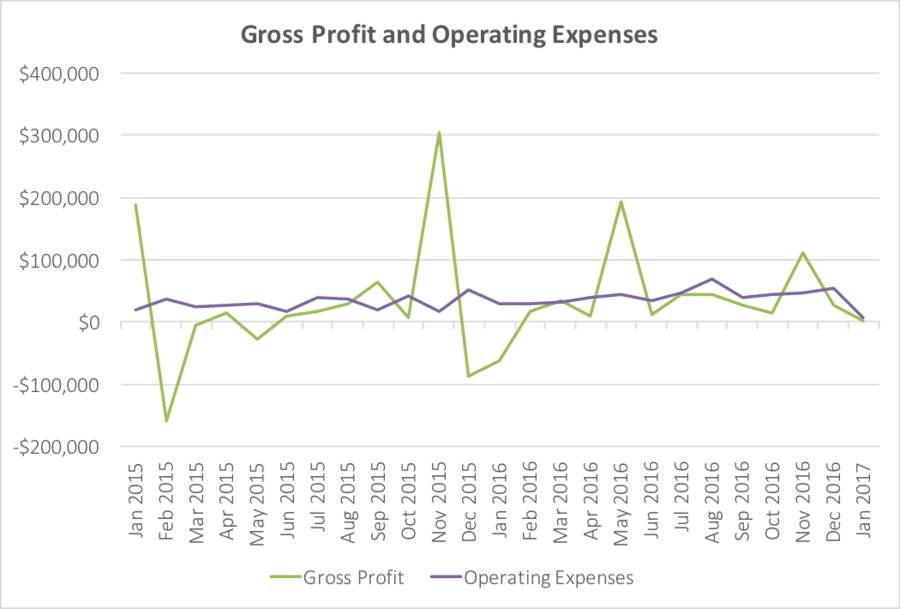 TMG had a net loss of $4,868 in 2015 and $41,597 in 2016.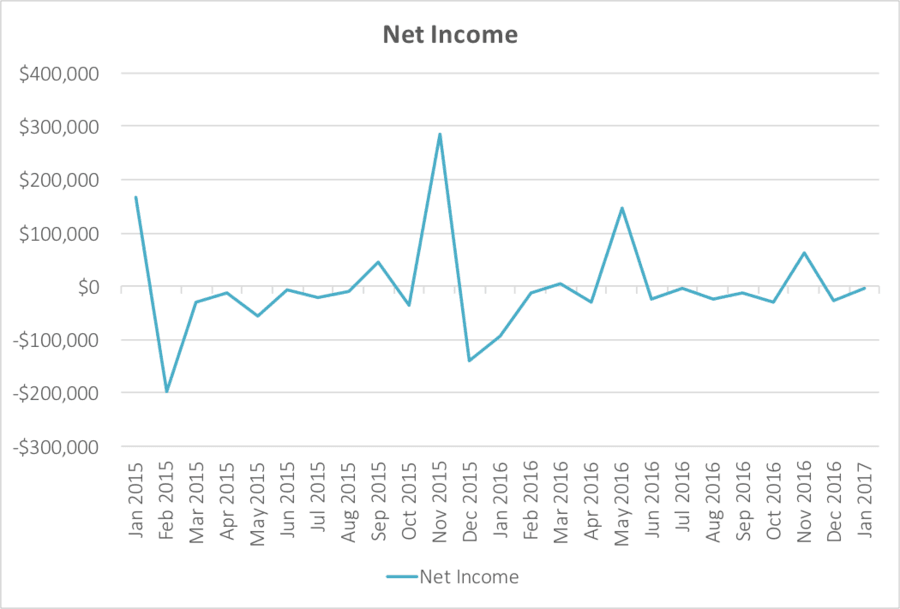 Industry and Market Analysis
The board game market has grown rapidly in recent years. The NPD Group reports that the U.S. board game market grew from $794 million in 2008 to $1.6 billion in 2015.iv Game sales—including tabletop games, card and dice games, role-playing games, and strategy games—grew by 21% in 2016.v According to Euromonitor International, global sales of games and puzzles have grown from $9.3 billion in 2013 to $9.6 billion in 2016.vi
This growth may be spurred in part by Millennials; around 30% of Millennials say they are interested in visiting a board-game themed café or bar, and they find the reusability and travel-friendly nature of board games offsets the initial purchase cost.vii Sales in the adult party games, a popular segment that includes edgy and risqué content, jumped 138% through November 2016 from the same period last year.viii This market growth may also be attributed to a lower cost barrier for new games as technological advances allow manufacturers to affordably create and distribute their products.ix Tabletop game developers have also branched into collaborating with mobile and video game systems by providing electronic versions of popular games for further expansion.x
Crowdfunding campaigns through Kickstarter or Indiegogo have led to large capital raises for indie board game developers, such as the largest crowdfunded tabletop game, Kingdom Death: Monster 1.5, which had pledges totaling $12,393,139.xi The Games category on Kickstarter attracted $495 million from 2009 to May 2016, with only about a quarter of those funds going toward video games in 2015.xii
Competitors
Asmodee: Founded in 1995, Asmodee is a French publisher of board games, card games, and role-playing games (RPGs). The company has published games ranging from best-selling family board games to hobby games.xiii In 2014, the company acquired independent U.S. publisher Fantasy Flight Games and California game publisher Days of Wonder.xiv In 2016, Asmodee acquired the rights to license the English language publishing and sales of Catan™ from Mayfair Games, Inc®.xv
Stronghold Games: Founded in late 2009 by game industry veterans, Stronghold Games is a North American game publishing company. The company publishes reprinted older games, new games from known and new designers, and co-published games with publishers from around the world.xvi The company has reproduced a few notable lines such as Survive!, which has sold over 1.25 million copies since its original release 30 years ago.xvii Although the company traditionally uses its own capital to produce new gamesxviii, it successfully raised funding for Space Cadets: Away Missions via Kickstarter in 2015.xix
AEG: Founded in 1993, AEG (Alderac Entertainment Group) is a publisher of role-playing games, board games, and collectible card game products. AEG has used Kickstarter several times. To date, the company's latest Kickstarter Campaign, Thunderstone Quest, one of its most popular games, has raised over $278,000, which exceeds the goal of $50,000 by over 500%.xx AEG sells its games through two channels: online retailing and a three-tiered distribution system that includes distributors and physical retailers.xxi
CMON Limited: CMON (CoolMiniOrNot) Limited was founded in 2001 as a niche community site for posting images of painted miniatures. However in 2011, the company entered the board game market with the release of Zombicide, which raised over $750,000 on Kickstarter. As of January 2016, the company had raised over $20 millionxxii through 25 Kickstarter campaigns.xxiii In December 2016, the company became a publicly traded entity on the Hong Kong Growth Enterprise Exchange (HKG).xxiv In 2015, the company generated $17 million in revenue.xxv
Executive Team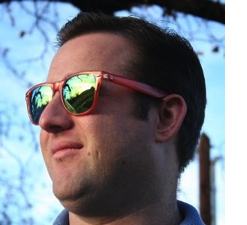 Michael Mindes, CEO and Co-founder: Before founding TMG, Michael worked as a retail financial advisor for over eight years. He began working at A.G. Edwards, which was then bought by Wachovia, which was then bought by Wells Fargo. During his time as a financial advisor, Michael earned his Certified Financial Planner™ (CFP®) certification. Michael started TMG as a side business and it was more than five years before he hired the first employee of TMG. Thus, Michael has done everything associated with building and running TMG, including but not limited to, game development, financial management, product design, artwork coordination, manufacturing management, talent scouting (HR), training, logistics, customer service, marketing, sales, and (of course) janitorial duties. As CEO, Michael concentrates on further enabling and assisting the team at TMG. He holds a bachelor's degree in Philosophy with a minor in Economics from Northern Arizona University.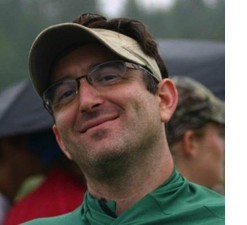 Seth Jaffee, Co-Head of Games and Co-founder: Seth was a behind-the-scenes supporter of TMG from the very beginning, always striving to discover games, develop games, and do pre-product development. Now an official member of the TMG team, Seth discovers games, develops them, and helps usher them through the production process. Seth's structural engineering career has taken a back seat since TMG launched in 2009 with Seth's first game, Terra Prime. His most popular title, Eminent Domain, was TMG's first crowdfunded game. In addition to the games he's designed, Seth has also done extensive development work on many of the TMG titles. Seth graduated from the University of Arizona.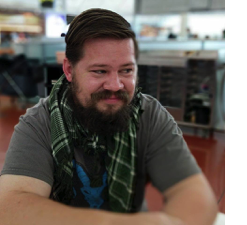 Daniel Hadlock, President: Daniel became the President of TMG due to his commitment to communication, team building, friendship, and customers, along with his experience throughout the company. As President of TMG, Daniel assists all TMG employees in their areas of responsibility, including game scouting, game development, product design, manufacturing management, logistics, customer service, sales, and marketing. Daniel loves the games TMG makes almost as much as he loves the people that play them.
Investment Terms
Security Type: Series Seed Interests
Round Size: Min: $50,000 Max: $1,000,000
Pre-Money Valuation: $3.3 million
Price per Interest: $1.00
Liquidation Preference: 1x
Conversion Provisions: Convertible into one unit of Common (subject to proportional adjustments for interest splits, interest dividends and the like) at any time at the option of the holder.