---
Company Highlights
Founded by five professional athletes to create a makeup specifically for women with an active lifestyle
Sold through Anthropologie, Revolve, and Soft Surroundings and has partnered with Fabletics
Over 25,000 Twist-Brushes and 10,000 refills sold
Over $1,000,000 in revenue since June 2015
Perks
*You are investing in equity in this offering. Perks are meant to be a thank you from the company for investing. The perks below are NOT inclusive of lower dollar amount perks.
$250: Sweat T-Shirt (men) or Tank (women)
$500: Sweat T-Shirt or Tank + $50 Gift Card
$1,000: Sweat T-Shirt or Tank +$100 Gift Card
$5,000: Sweat T-Shirt or Tank + a year of free Sweat Cosmetics (up to $500 value)
$10,000: Two round-trip tickets to visit the Sweat team + $5,000 level perks
$15,000: The Sweat team will come to YOU! Host a Sweat party at your house for 10 people + $5,000 level perks
Company Summary
Opportunity
Sweat Cosmetics was designed by a group of professional athletes who wanted to create a product for women with an active lifestyle. The founders had been unable to find cosmetics on the market that had the right amount of coverage, didn't cause breakouts, and were strong enough to last through competitions and workouts. They also disliked wearing greasy sunscreen while being active because it left a white residue and ran into their eyes. Through research and development, Sweat Cosmetics tested numerous variations of makeup to create products that could survive their active lifestyle ─ that could last through a 90-minute soccer game, be applied seamlessly while walking out of the gym without needing a mirror, or even stay on through lunchtime yoga during a day at the office.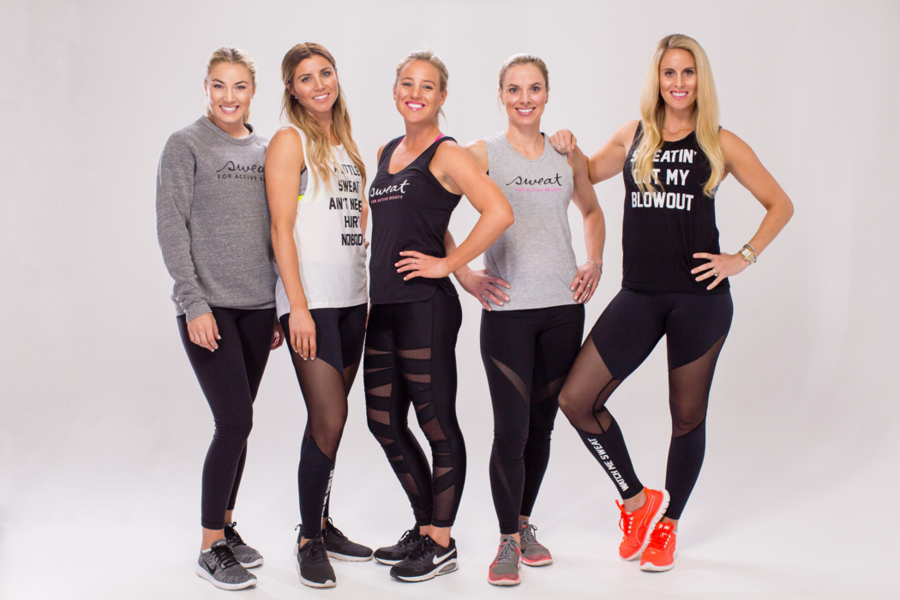 Sweat Team
Unlike traditional makeup, Sweat Cosmetics' products are all natural, hypoallergenic, and do not contain any toxic or harmful ingredients. The sunblock is water and sweat resistant and, because it is a powder, won't run or bleed into eyes or onto clothing during workouts. Sweat Cosmetics' breathable, dermatologist-approved formulation won't clog pores and is packed with skin-loving ingredients like antioxidants and vitamin E. The mineral foundation is water resistant and sweat resistant for up to 80 minutes. In clinical tests, after one hour of workout activity, 84% of women felt that the product was still intact. The makeup even comes in a convenient all-in-one compact Twist-Brush that can be used on the go.
Product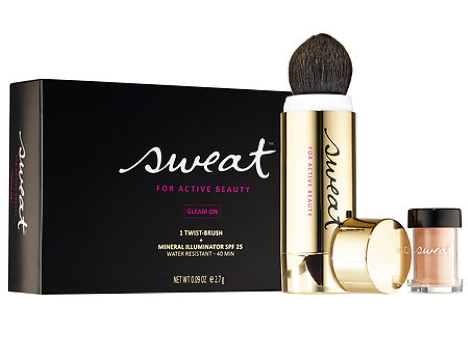 Sweat Cosmetics has four different products: mineral foundation, translucent mineral powder, illuminator, and bronzer, which are all applied through a Twist-Brush. The company also sells refill jars of each product and has recently released a powder jar version of its mineral foundation for additional coverage.The mineral foundation powder combines makeup, skincare, and sunscreen in a convenient, tactical-grip Twist-Brush for light to medium coverage that protects and repairs active skin. The synthetic, antibacterial, soft buffing brush head on the Twist-Brush is magnetic and detachable for easy cleaning.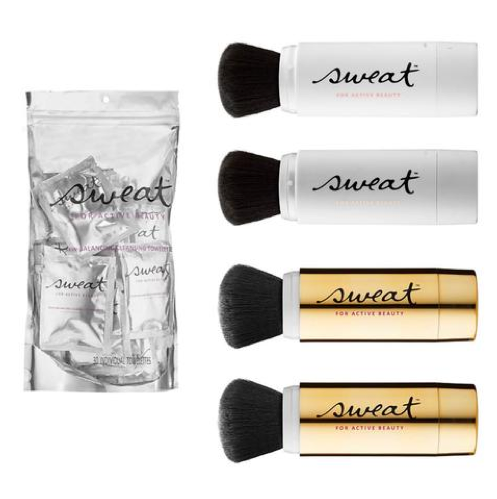 Sweat Cosmetics products are all natural, hypoallergenic, and do not contain any toxic or harmful ingredients that can be found in traditional makeup. The mineral powder is oil free and fragrance free; two big factors in clogged pores and breakouts. Sweat Cosmetics is also silicone free, which allows the skin to breathe and not trap any unwanted bacteria or sebum under makeup.

Further, Sweat Cosmetics' mineral foundation and translucent powder both offer broad-spectrum SPF 30 that protects against both UVB and UVA radiation. The illuminator and bronzer have SPF 25. By using the powdered form of titanium, Sweat Cosmetics also allows for strong sun protection without a thick and heavy cream that can clog pores and leave white residue on the skin.

The company does not test on animals and has vegan-friendly packaging.
The foundation comes in five different shades.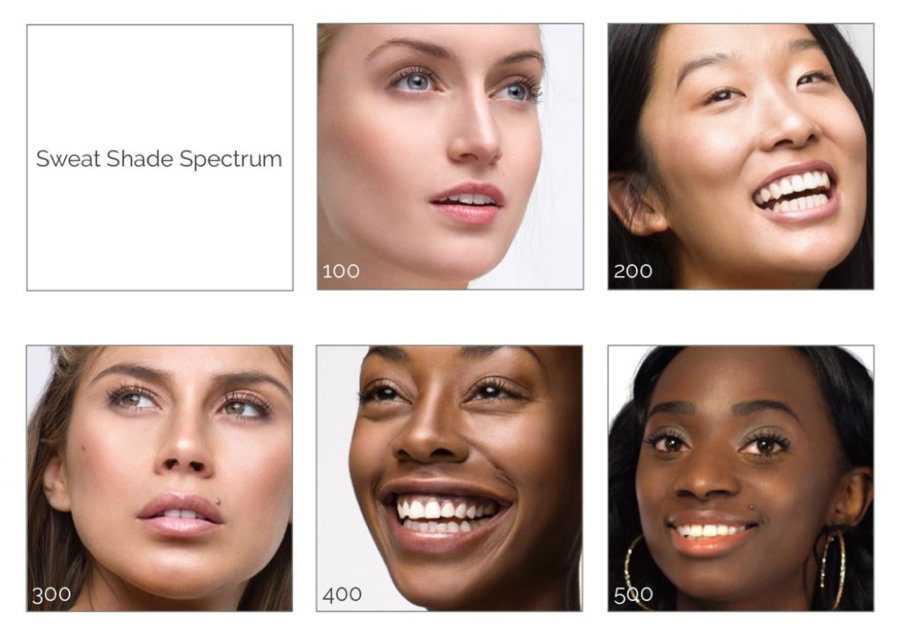 Key ingredients in the powder include:
Zinc Oxide: All-natural sunscreen that is known to be one of the most broadly effective and safe sun blocking ingredients available.i
Vitamin E: Super antioxidant that increases the efficacy of active sunscreen ingredients, retains moisture, and strengthens the skin's barrier.
Milk Thistle: Anti-inflammatory and antioxidant that aids in DNA repair after skin has been exposed to the sun.
Rhodiola Rosea: Antioxidant and anti-aging ingredient that helps skin resist stress and remain strong when faced with pollution, UV rays, and hot and cold weather. It also has the ability to assist with the production of elastin, which can help reduce the appearance of fine lines and wrinkles.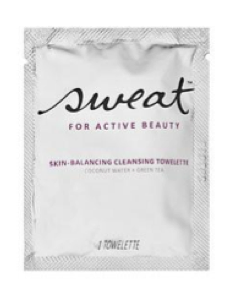 Sweat Cosmetics also has a vitamin- and mineral-enriched, cleansing and balancing towelette with coconut water for the face and body. These oil-free towelettes balance and hydrate the skin with all-natural coconut water, vitamin E, green tea extract, and provitamin B5. The individually wrapped towelettes can also be used as makeup remover or to cool down after a workout. These individually packaged towelettes are vegan, gluten free, and free of synthetic fragrances. The towelettes use natural extracts that provide a light, refreshing scent.
Key ingredients in the towelette include:
Coconut Water: Packed with nutrients, minerals, amino acids, and enzymes to support hydration and skin health.
Green Tea Extract: A strong anti-inflammatory that will naturally purify and detox the skin.
Vitamin E: Antioxidant that increases effectiveness of sunscreen ingredients, retains moisture, and aids in skin strengthening
Provitamin B5: Hydrates and calms skin.
Use of Proceeds and Product Roadmap
If the minimum $50,000 is raised, the majority of proceeds will be used launch of the new product ($46,500). If the maximum $800,000 is raised, the majority of proceeds will be used on the launch of the new product ($400,00), general marketing ($150,000), and direct-to-consumer (D2C) strategy ($150,000).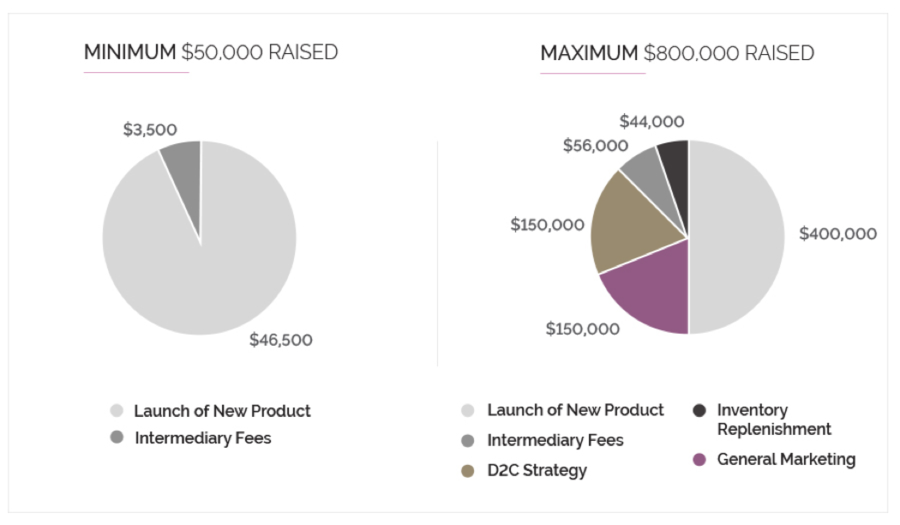 Sweat Cosmetics plans to do the following:
Launch new products and upgrade current products: Offer customers an extended line of beauty necessities such as body-sized cleansing towelettes, lip balm with SPF in four shades, blush powder, mascara, concealer stick, dry shampoo, recovery sheet mask, and recovery skin care.
Direct-to-consumer focus while still expanding retail relationships: Add 1) a subscription/reorder option and 2) a customization option.
Build a Sweat Cosmetics culture and establish the Sweat Cosmetics brand: Increase digital marketing spend to raise brand awareness.
Business Model
Sweat Cosmetics sells its makeup through its online website.
Twist-Brush: The mineral foundation, translucent foundation, illuminator, and bronzer all sell for $42 each and include a washable Twist-Brush and the pot of makeup. Makeup refills cost $24.
Powder Jar: The newly released powder jar for extra coverage costs $48.
Towelettes: The individually packaged towelettes sell for $7 for a 10 pack.
Traction
Sweat Cosmetics' products are currently sold through Anthropologie, Revolve, and Soft Surroundings.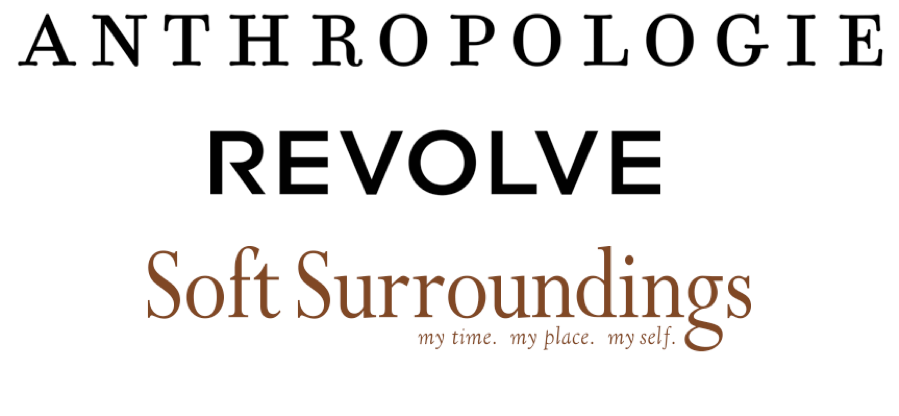 Sweat Cosmetics has held cross-promotional events with Lululemon and Soul Cylce, and has also partnered with Fabletics.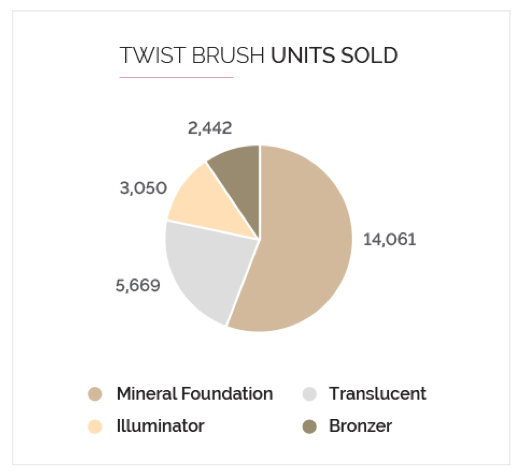 In 2016 and 2017, Sweat Cosmetics sold more than 25,000 twist brushes. The majority (14,000) were mineral foundation twist brushes, followed by translucent twist brushes (more than 5,600), illuminator twist brushes (more than 3,000), and bronzer twist brushes (more than 2,400). More than 10,100 refills were sold, the majority of which were mineral foundation refills (more than 6,600). The company also sold more than 4,800 skin-balancing towelettes in 10 or 30 packs.
Historical Financials
In 2017, Sweat Cosmetics generated over $338,000 in revenue, compared to over $488,000 in 2016. Revenue spiked in Q2 and Q3 2016 due to a large warehouse order from Sephora. Near the end of 2016, Sweat Cosmetics starting pulling away from Sephora to focus on its direct-to-consumer strategy.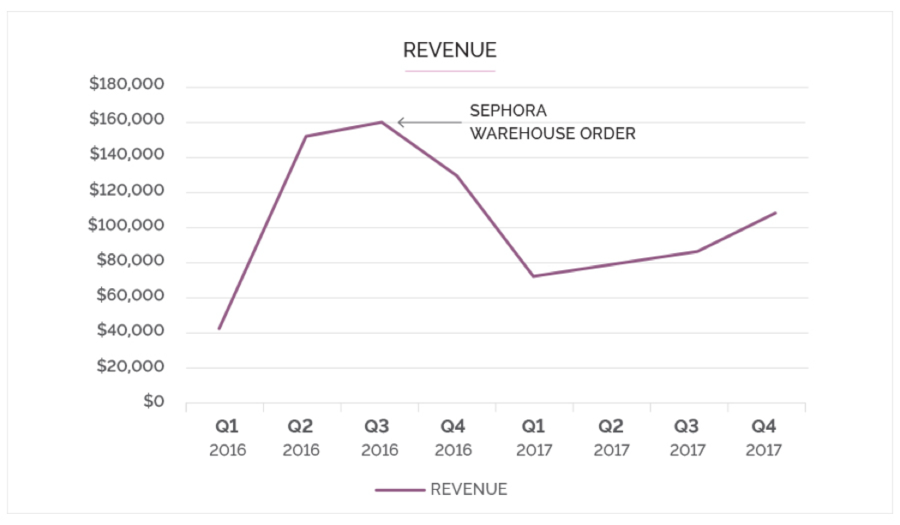 In 2017, Sweat Cosmetics' expenses totaled approximately $400,000, about 51% lower than 2016's expenses, which totaled approximately $808,000. Expenses decreased as in 2016 as the company focused on decreasing operating expenses and bringing most of operations in-house. In 2017, operating expenses accounted for the 84% of total expenses, compared to 2016 when operating expenses accounted for 62% of total expenses. Cost of goods sold spiked in Q4 2016 as the company accounted for inventory sold throughout the year in December 2016.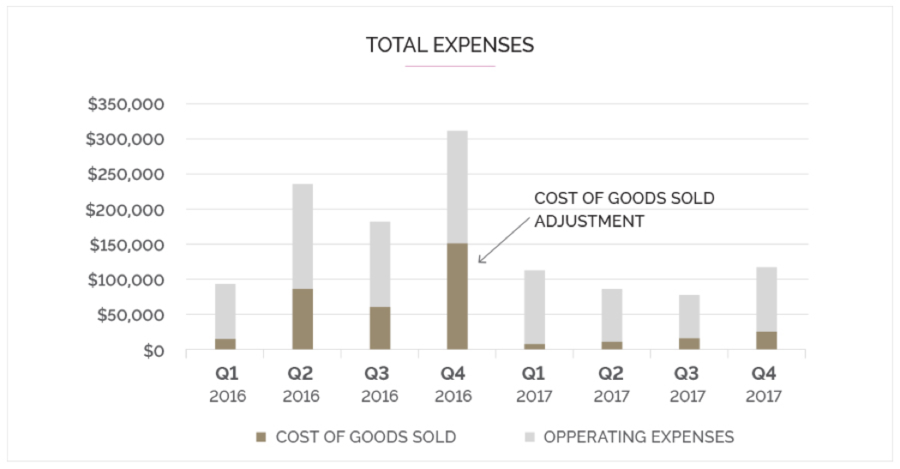 In 2017, the company had a net loss of approximately $62,000, compared to a net loss of approximately $319,000 in 2016.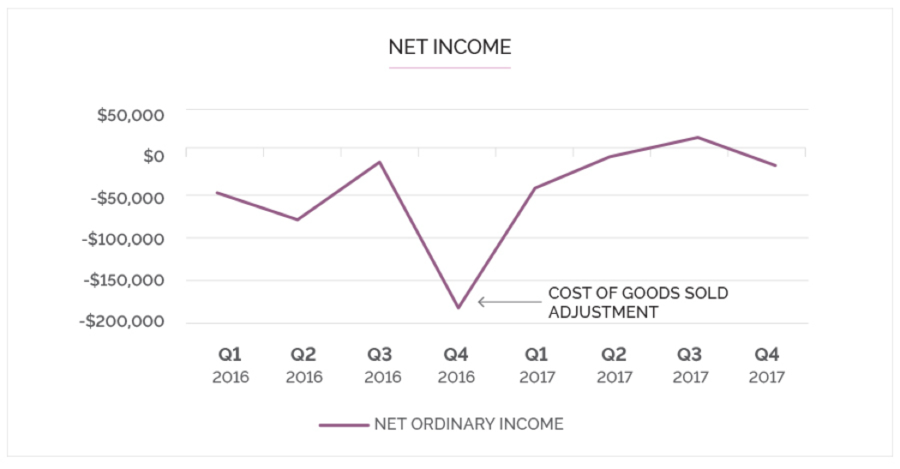 Industry and Market Analysis
Consumers' desire for both comfort and style has driven growth in the athleisure movement over the last few years. Heavily driven by Millennials but appealing to all age groups, athleisure continues to rank as a top growing apparel segment, growing 11% in 2016, which made it a $45.9 billion market.ii Activewear is not just exclusive to athletic apparel, as growth in key makeup segments coincides with the increasing popularity of makeup as a workout essential. U.S. prestige (higher-end) makeup sales increased by 11% year over year as of February 2017 to $7.6 billion, driving more than 80% of industry gains, according to the NPD Group. The industry is experiencing increasing demand in foundation, primers, eye brow, and lip color products, along with makeup formulated to be long lasting and waterproof.iii
In today's society, there is increased focus on maintaining a perfected natural appearance at all times, which has driven the need for beauty products that can hold up to the rigors of active life – including looking good before, during, and after working out. Over the 12 months to February 2017, foundation sales increased 8%, driven by long-wear foundation sales, which grew 13%. Moreover, demand for products designed specifically to help makeup last longer increased, with primer sales for the face, eyes, and lips growing 16%, 6%, and 23%, respectively. Waterproof mascara and eyeliner increased 16% and 7%, respectively. Sales of dry shampoo, which can be used to help freshen up after a workout, increased 66%.iv
Eight in 10 U.S. beauty consumers purchase beauty products because they make them feel their best, according to the NPD Group.v The beauty industry has continued to achieve strong and consistent growth over the last few years. Prestige beauty sales in the U.S. reached $17.7 billion in 2017, up 6% year over year according to the NPD Group. Skincare accounted for 45% of the growth with sales increasing 9%, followed by makeup, which grew 6%, and fragrance, which climbed 4%. Makeup is the largest category in the beauty industry, with sales reaching $8.1 billion in 2017. This growth was driven by eye shadow, foundation, and other face products, including bronzers, highlighters, and glow products.vi
Women are also moving towards more natural ingredients in their skincare products while simultaneously using more products, more frequently. According to The NPD Group's Women's Facial Skincare Consumer Report 2017, U.S. women have become increasingly selective about the ingredients in their facial skincare products. Half of facial skincare users typically use skincare products that are hypoallergenic or formulated for sensitive skin and fragrance free; 48% usually search for products that are made from natural or organic ingredients; and 40% usually purchase products that are free of parabens, phthalates, sulfates, and/or gluten.vii
In 2017, there was a wave of mergers and acquisitions in the beauty industry.viii Further, financing deals for beauty and grooming startups have grown steadily since 2012. Deals for early-stage companies, in particular, are rising as trends toward plant-based ingredients and customized products drives growth in the industry. In the first half of 2017, there were 73 beauty and grooming deals valued at $202 million, compared to 68 deals in the first half of 2016 that were valued at $134 million.ix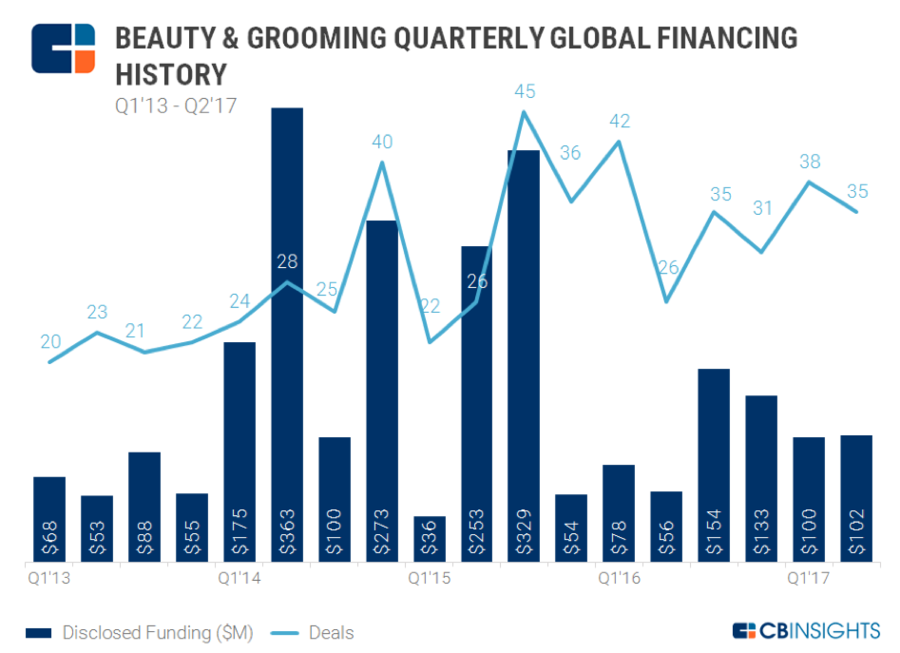 Competitors
e.l.f. Beauty (NYSE: ELF): Founded in 2004, Eye Lips Face (e.l.f.) Beauty launched a new ACTIVE collection in October 2017 that is designed to be worn while working out. The formulas are sweat resistant, hydrating, lightweight, and designed to not clog pores. The collection includes moisturizer, a mascara and brow duo, sponge blender, mist, hydration stick, body wipes, eyeliner, and a lip and cheek palette. The makeup and skincare collection ranges in price from $3 to $8.x e.l.f. Beauty generated nearly $230 million in revenue in 2016.xi
tarte: Founded in 2000, cosmetics company tarte debuted an athleisure collection in December 2016.xii The collection includes a sweatproof mascara, mattifier, bronzer set, and athleisure essential sets. The line has an oil-free tinted moisturizer with SPF that is available in three shades and costs $36.xiii Other products include a teeth-whitening pen, dry shampoo, deodorant, self-tanner, and travel-sized products. In 2016, tarte generated an estimated $91.6 million in online sales.xiv
Clinique: Founded in 1968, Clinique is an American manufacturer of skincare, cosmetics, toiletries, and fragrances and is a subsidiary of the Estée Lauder Companies. Clinique recently came out with a new athleisure collection called CliniqueFIT. The collection includes several makeup and skincare products, including a lip and cheek flush, mascara, face and body cleansing wipes, hydrating spray, neutralizing face powders, and a mattifying moisturizer. The company also offers an oil-free, sweat- and humidity-proof liquid foundation with SPF 40 in four shades for $29.50.xv Estée Lauder generated net sales of approximately $5 billion in the makeup segment for the year ended June 30, 2017.xvi
High Endurance Cosmetics: Launched in October 2016, High Endurance Cosmetics was founded by a mother and marathon runner who was looking for makeup that would stay on during long distance runs. The line includes foundation, BB cream, concealer, mineral powder, bronzing powder, setting spray, mascara, and lipstick. The brand is certified cruelty free by PETA (People for the Ethical Treatment of Animals), and all products are talc free. The All Day Active Foundation sells for $35, comes in nine different shades, and is non-comedogenic (non pore clogging).xviii The foundation pairs with the Mineral Powderpuff, which sells for $25, comes in three shades, and has a removable brush head.xviii
ARROW: In January 2016, beauty and grooming retailer Birchbox launched its second in-house brand, ARROW, which specializes in lightweight, long-wearing makeup and refreshing skincare and is designed to keep up with an active lifestyle. ARROW's products include a skin tint, cheek tint, eye brightener, mascara, and lip balm as well as aluminum-free deodorant and on-the-go cleansing clothes. The ARROW ENERGIZE Skin Tint sells for $22 for a 1-ounce tube and comes in one shade. All products are vegan, paraben free, cruelty free, and gluten free.xix
Rae Cosmetics®: Founded in 2005, Rae Cosmetics is a line of mineral-based makeup designed by a makeup artist specifically for women with active lifestyles. The company has a range of products such as primer, mineral tint, mineral powder, concealer, blush, bronzer, eyeshadow, eyeliner, mascara, brow makeup, lipsticks, highlighters, and brushes. The mineral formulas are sweat resistant, hypoallergenic, oil free, fragrance free, and non-comedogenic. The Climate Control Mineral Tint is an all-in-one oil-free foundation, non-chemical sunscreen, and antioxidant moisturizer. The company also has mineral powder that comes in a compact case. The mineral tint and mineral powder each sell for $42 and come in eight different shades.xx xxi
Executive Team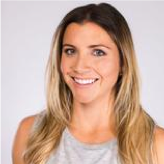 Taryn Hemmings, Co-founder and COO: Taryn's career has meant a lot of sweat and even more time in the sun. As a professional soccer player for the Boston Breakers, the Chicago Red Stars, and teams abroad, Taryn dreamed of creating a product to answer the questions she had been asking since playing Division I soccer at the University of Denver: Why isn't there a makeup product designed to hold on through a workout? Why isn't there a quick, easy way to look good during and after a sweat session? Why does my makeup keep making a mess in my gym bag? And why do I keep getting sunburns? With Taryn's vision, Sweat Cosmetics was born. With her passion for product development and brand promotion, and a steady hand at the helm of its operations, the company continues to grow.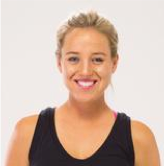 Emily Hines, Co-founder and CFO: Emily is a Certified Public Accountant with a degree from the University of Denver, where she played Division I college soccer with Co-founder Taryn Hemmings. In founding Sweat Cosmetics, Emily brought her financial acumen from the corporate accounting world to run Sweat Cosmetics' accounts, investments, and fulfillment. Emily also puts in work from the ground up: fulfilling orders, connecting with customers, and going all in for Team Sweat. When she isn't working, Emily stays committed to her active lifestyle, squeezing in workouts at odd hours, and, in so doing, providing a personal angle on how Sweat Cosmetics' products ease the lives of today's professional women.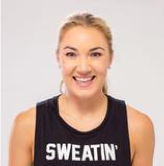 Courtney Jones, Co-founder and CEO: Courtney is a former professional soccer player for the Boston Breakers and Kansas City Blues. She graduated in 2010 with a degree in Management and Society from the University of North Carolina (UNC) at Chapel Hill. Since her collegiate career as a four-year starter, captain, and two-time national champion, Courtney still breaks a daily sweat, whether grinding through an early SoulCycle class or hitting weights in the afternoon. A skincare and makeup enthusiast, she leads Sweat Cosmetics' operations with expertise in products, pricing, ingredients, and product performance.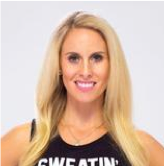 Leslie Osborne, Co-founder and Chief Communications Officer: As a sponsored professional athlete for 10 years, as well as model, trainer, spokeswoman, and ambassador for Puma®, Co- founder Leslie has ample experience in the sports and lifestyle arenas. She made 62 international appearances during her seven years on the U.S. Women's National Soccer Team, including the 2007 Women's World Cup Team. A Hall of Famer for the West Coast Conference, Boston Breakers, and Santa Clara University, Leslie currently serves as a soccer commentator and analyst for Fox Sports. As Chief Communications Officer, she aims to solidify Sweat Cosmetics as the preferred cosmetic brand for professional female athletes and other influential women.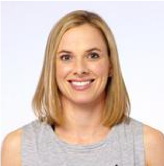 Lindsay Tarpley, Chief Strategy Officer: Sweat Cosmetics' most decorated athlete, Lindsay is a two-time Olympic gold medalist (Athens '04 and Beijing '08) and has 125 international appearances for the U.S. Women's National Soccer Team. A UNC graduate with a degree in Communications and a mom of two, Lindsay understands the value of clear communication to the everyday woman and provides valuable insights to ensure Sweat Cosmetics' products are tailored to the lives of busy women. As Chief Strategy Officer, she bridges the gap between beauty and fitness.
Investment Terms
Security Type: Series B Preferred Stock
Round Size: Min: $50,000 Max: $800,000
Price per share: $0.42
Pre-money valuation: ~$6,000,000
Liquidation preference: 1x
Conversion Provisions: Convertible into one share of Common Stock (subject to proportional adjustments for stock splits, stock dividends and the like) at any time at the option of the holder.
Press
Endnotes