---
Company Highlights
Has generated almost $115,000 in sales since opening its doors to the public in May 2016

Over 3,500 bottles of CIVIC Vodka have been sold, more than 1,000 people have paid for ticketed tours, and over 10,000 cocktails have been ordered

Has hosted over 30 private events, including corporate receptions, private dinners, engagement parties, and the birthday of D.C. Mayor Muriel Bowser, and has had so many additional inquiries (close to 100) that the company hired an event manager to speed up the booking process
Perks
**Early Investor Special** Investors who participate in the first $25k raised gets their name hand painted on distillery foundation or walls.
$100+ Investors will be periodically invited to special parties, happy hours and previews
$250+ Investors receive a founders signed bottle of CIVIC Vodka redeemable at the tasting room, plus $100 level perks
$500+ Investors receive a founders signed bottle of Borough Bourbon redeemable at the tasting room, plus $250 level perks and below
$2000+ Invite to annual Duty Dinner in the barrel room. Plus $250 level perks and below
$5000+ Investors will receive a "Duty Card" which entitles you to 20% off all RR items (cocktails, merchandise, product) Plus $2,000 level perks and below
$10,000+ Investor will receive a barrel with your name on it and a case of the whiskey that comes from it, redeemable at the tasting room. Plus $5,000 level perks and below
$25,000+ Each time you come to the tasting room bar your first drink is free for you and one guest. Exclusive access to our reserve product lines before they run out plus $10,000 level perks and below
Company Summary
Opportunity
The growing popularity of premium spirits and craft cocktails has led to a significant increase in the number of craft distilleries in the U.S. In 2015, craft distillers generated roughly $2.4 billion in revenue, and, as of August 2016, there were 1,315 craft distillers active in the U.S.i Yet, in Washington D.C., there are only a handful of craft distilleries producing premium spirits. Washington D.C. is a prime target market for local distilleries – it has the 2nd highest alcohol consumption per capita in the entire country,ii and the D.C. metro area has the highest median household income amongst the country's 25 most populous metro areas.iii
Founded in 2013, Republic Restoratives is an urban, small batch distillery and craft cocktail bar in the heart of Washington, D.C. In 2015, the company raised over $119,000 on Indiegogo, exceeding its initial target of $75,000, and making it the largest crowd-funded distillery in the U.S.iv The distillery opened its doors in May 2016 and was the first, and currently the only, women-owned distillery in D.C. In its first five months of operation, Republic Restoratives was voted "Best Distillery in D.C." by a reader's poll in the Washington Post.v
Republic Restoratives Distillery
Republic Restoratives' 8,000 square-foot main floor hosts a tasting room and cocktail bar called the Ivy Room. The space was designed by New York-based architecture and design firm Mapos.

Headed by experienced bartender David Strauss, the Ivy Room features a rotating list of seasonal mix drinks and specialty cocktails such as a Moscow Mule with homemade ginger beer, a Tuxedo Martini, a Vodka Tonic, and a Bloody Mary.

The main floor fits up to 130 people and is available for private events and tastings. Distillery tours are offered to the public on the weekends and are available by appointment Monday through Friday. With the help of master distiller Berle "Rusty" Figgins Jr., Republic Restoratives locally distills spirits, such as vodka and bourbon. Rusty also designs distillation systems, including the one-of-a-kind dual-kettle spirits still found at Republic Restoratives (pictured below on the left), which is the largest in the D.C., Maryland, and Virginia region.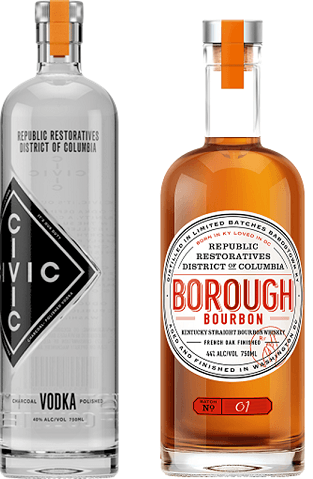 CIVIC Vodka: CIVIC Vodka is the first craft spirit from Republic Restoratives. It is distilled exclusively from North American corn and is finished using a proprietary charcoal-polish process for a crisp, clean finish. CIVIC Vodka is produced and bottled locally.

In addition to the Ivy Room, where bottles or cases can be purchased on-site, CIVIC Vodka is available at 86 locations (bars, restaurants, and bottle shops) throughout the Washington, D.C. area.vi

Bourbon: On November 12, 2016, Republic Restoratives released their Borough Bourbon, sourced from a four-year-old Kentucky bourbon, and matured for three months in French oak barrels located at the distillery. In May 2016, the company also began distilling their classically-aged House bourbon in May 2016, which will take at least 18 months to age. The House bourbon will be aged from start to finish in 153-gallon, New American oak puncheon barrels, which are typically used for wine.

Republic Restoratives also plans to produce a rye blend, cordials (e.g. apple brandy), and gin in the future.
Location
Republic Restoratives Distillery is located in the historic Ivy City district of Washington, D.C. Ivy City is an up-and-coming neighborhood that will soon be home to 335 luxury apartment units for rent and feature restaurants, bars, craft liquor distillers, a coffee shop, an organic market, clothing stores, CrossFit, and Bikram yoga.vii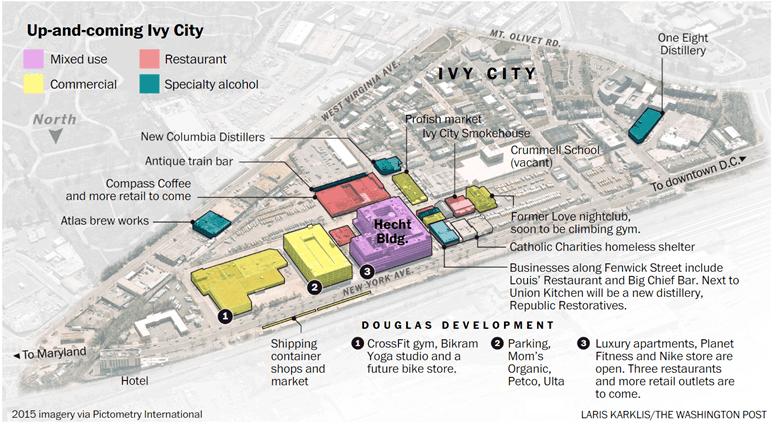 Republic Restoratives is on the corner of New York Avenue, where over 80,000 commuters pass each day on their way to downtown Washington, D.C.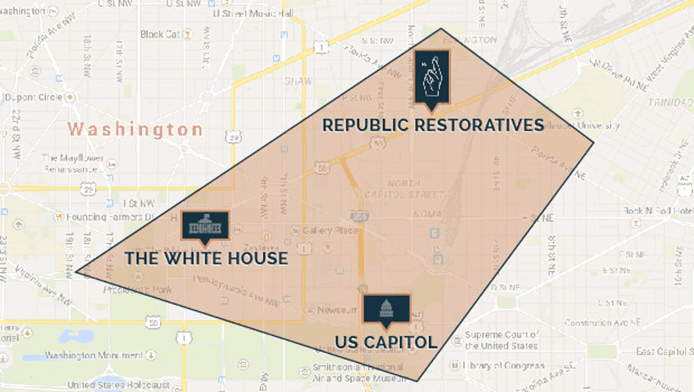 Business Model
The wholesale price for CIVIC Vodka is $19.50 per bottle, or $117 for a case of six bottles. The vodka retails for $29 per bottle, or $174 per case. Cocktails at the Ivy Room cost $9 each. Tours of the distillery are $10 per person and include sample tastings.
User Traction
Ivy Room (Tasting Room & Cocktail Bar): At the Ivy Room, over 10,000 cocktails have been ordered since the bar opened in May 2016.
CIVIC Vodka: Over 3,500 bottles of CIVIC Vodka have been sold since April 2016.
Private Events: Republic Restoratives has hosted over 30 private events, including corporate receptions, private dinners ranging from 15 to 75 guests, engagement parties, and the birthday of D.C. Mayor Muriel Bowser. The company has also had close to 100 additional inquiries. In October 2016, they hired an event manager to speed up the booking process.
Tours: Over 1,000 people have paid for ticketed tours. Additionally, the company has hosted nearly twice that amount through informal tours, at no charge, for members of the local business community, neighborhood residents, interested patrons, and restaurant/bar clients who want to bring their staffs for educational trips.
Historical Financials
Republic Restoratives' distillery opened its doors to the public in May 2016. That month, they generated nearly $25,000 in revenue, primarily through cocktail sales at the tasting room. In October 2016, the company recorded its highest monthly revenue to date (over $52,000), with more than $26,000 coming from cocktails sales and private event bookings, and over $9,000 coming from wholesale CIVIC Vodka sales to third-party bottle shops (liquor stores).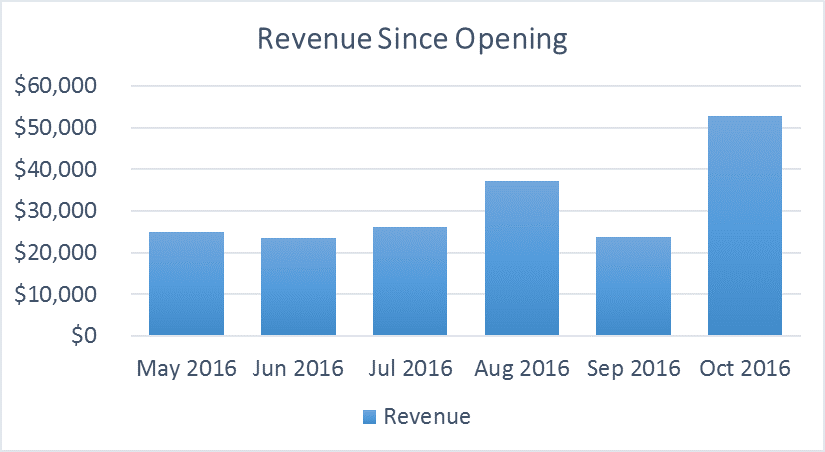 Based on unaudited financials not subjected to financial review
From January 2016 to October 2016, the company's monthly burn rate has averaged just over $31,000. Year-to-date, as of October, the Company had a net operating loss of $315,380. Past performance is not indicative of future results.
Industry and Market Analysis
The boom in craft distilling has been fueled by the demand for high-end North American spirits, particularly whiskeys such as bourbon and rye. Sales of high-end and super premium spirits (defined as spirits that retail for over $20 per bottle) generated $12.5 billion in 2015, over half of all U.S. spirits sales. Driven by growth in the high-end and super premium products, American whiskey sales in 2015 topped all other spirits, selling 59.4 million cases worth $8.1 billion. Vodka sales were second, at $5.8 billion in total revenue.viii
Between 2010 and 2015 the number of craft spirit distillers has increased at a compound annual growth rate of 41.6%. In 2015, they generated roughly $2.4 billion in retail sales, up from $1.8 billion in 2014. As of August 2016, there were 1,315 craft distillers active in the U.S, with the largest concentrations in the West (mostly in California, Washington, Colorado), and the South (mostly in Texas).ix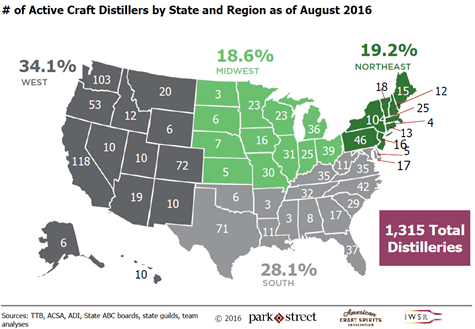 Out of those 1,315 craft distillers, 91.7% are defined as small producers. Yet, because small distilleries produce limited quantity of spirits, usually single batches at a time, they accounted for just 12.1% of the craft spirit cases sold in 2015. For these small distillers, generating revenue on premise (at the distillery) is especially important, as on-site sales make up 25% of their revenue on average. 67% of small craft producers' revenue is generated within the distillery's state of operation.x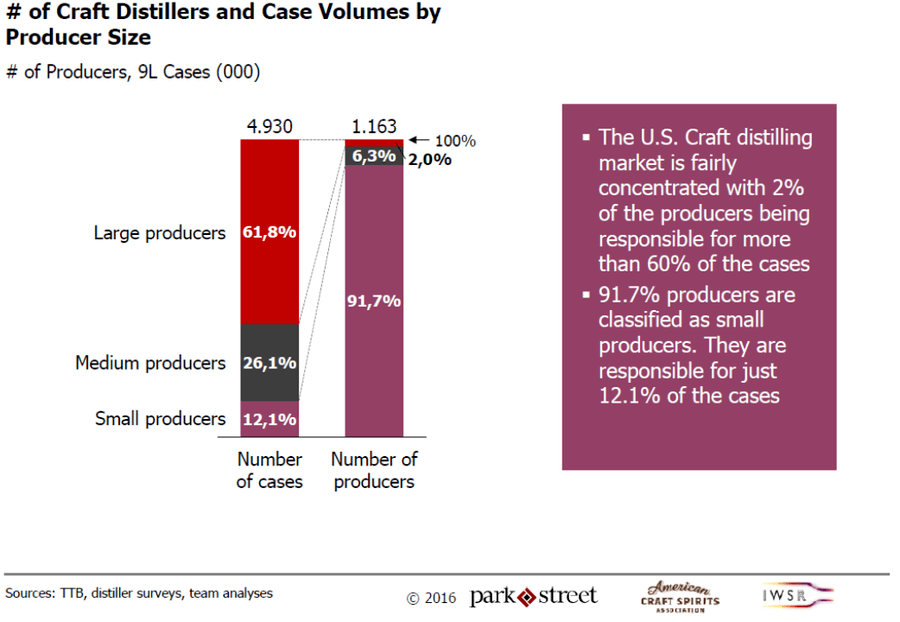 Comparables
Tuthilltown Spirits Distillery: Tuthilltown Spirits became New York's first whiskey distillery since Prohibition,xi when it released its Hudson Baby Bourbon in 2005. As one of the largest craft distilleries in the U.S.,xii Tuthilltown employs over 50 people, and features an on-site restaurant and distillery tours. The distillery uses locally grown grains and apples to produce whiskeys, vodkas, gins, and other spirits. Over the years Tuthilltown has added additional whiskeys to their Hudson label, including Hudson Single Malt Whiskey, Hudson Four Grain Bourbon, Hudson New York Corn Whiskey, Hudson Manhattan Rye Whiskey, and Hudson Maple Cask Rye Whiskey. In 2010, William Grant & Sons (the largest family-owned scotch maker in the U.K.) bought the Hudson Whiskey brand, however, the whiskey is still made and bottled at the Tuthilltown distillery.xiii
One Eight Distilling: One Eight Distilling is an urban distillery located in the Ivy City neighborhood of Washington, D.C. The distillery opened in January 2015, and currently produces whiskey, gin, and vodka. One Eight Distilling's primary spirits are its "District Made Vodka", "Rock Creek White Whiskey", and "Ivy City Gin". The company offers free tours of their 15,000 square-foot production space and customers can visit One Eight's tasting room for cocktails and a sample selection of spirits. There is also a merchandise shop for branded flasks, hats, t-shirts, and other items. One Eight Distilling's spirits are currently available in multiple retailers and restaurants across Washington, D.C. and Maryland. The spirts are self-distributed within Washington, D.C., and distributed by Legends Limited/Blueprint Brands in Maryland.
Jos. A. Magnus & Co.: Opened in 2015, Jos. A. Magnus & Co. is an urban distillery that produces bourbon, gin, and vodka in the Ivy City neighborhood of Washington, D.C. The distillery was started by the great-grandson of Joseph A. Magnus, a bourbon distiller in the 1800s who closed his business during Prohibition. There are two bars at the distillery, The Murray Hill Club, a 50-seat cocktail bar, and the Magnus Room, which features pre-batched cocktails offered in pitchers and also seats up to 50 customers.xiv The distillery was awarded Gold, Best in Category, and Best in Class for its triple-cask finished Joseph Magnus Bourbon at the American Distilling Institute's 2016 Spirits Competition.xv
District Distilling Company: District Distilling Company is an 8,000 square-foot distillery, bar, and kitchen, located in Northwest Washington, D.C. Opened in August 2016, the distillery produces whiskey, vodka, gin, and rum. The restaurant is open for brunch and dinner and features seasonal cuisine,xvi while the bar offers specialty cocktails and bar food. Tours of the distillery are offered each day within certain hours, for $10 per person. There's a private event space and a retail shop where guests can buy spirits, books, and District Distilling-branded merchandise.xvii
Executive Team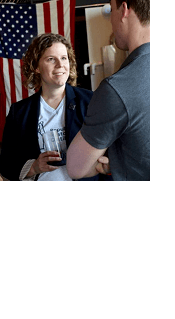 Pia Carusone, Co-Founder: Before starting Republic Restoratives, Pia was the youngest female Chief of Staff in the U.S. House of Representatives, when she joined U.S. Congresswoman Gabrielle Giffords' team in 2009. She was recognized on the floor of Congress for her leadership role in the aftermath of the Arizona shooting in January 2011 that left six dead and injured 13, including the Congresswoman. When Gabby resigned, Pia joined the Obama Administration as the Assistant Secretary for Public Affairs at the Department of Homeland Security (DHS). In that role, she advised on all public affairs matters, served as lead U.S. Government Federal Communicator during crises, managed hundreds of staff members, and coordinated all strategic and internal communications, and all press for the seven operational components of the DHS. After the Sandy Hook school shooting in 2012, Pia joined Gabby Giffords and her husband Mark Kelly in forming the gun violence prevention organization, Americans for Responsible Solutions, and served as its first Executive Director. Pia was recently named one of Politico's "50 Politicos to Watch." Originally from Saratoga Springs, NY, Pia is a graduate of Bard College and now resides in Washington, D.C. with her partner Leanne and their two dachshunds Sauce and Magoo.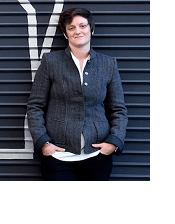 Rachel Gardner, Co-Founder: Rachel has more than a decade of experience in integrated natural resource management and stewardship of family enterprises. Formerly an advocate for abandoned mine reclamation in California, Rachel worked to improve waste management practices in the extractive industries. She co-founded a Minnesota-based mine waste diversion brokerage as well as a pilot project for carbon capture solutions in underground mines. Her commitment to building strategic partnerships led to a U.S.-Canadian byproduct synergy program in the refractory industry, and she has over nine years of experience working with indigenous communities affected by mining in both the U.S. and Canada. Rachel holds an MBA in Sustainable Management from the Presidio Graduate School in San Francisco, and a B.A. in Environmental Economic Policy from Mills College. She currently resides in Washington, D.C.
Investment Terms
The Fund anticipates investing in the Company at the following terms:
Security Type: Secured Promissory Notes
Round Size: Min: $50,000; Max: $300,000
Interest Rate: Revenue sharing agreement which provides the investors 10% of the Company's gross revenue, up to the repayment amount of 1.5x of their investment
Length of Term: Until the repayment amount of 1.5x investment is repaid
Conversion Provisions: None
Risk Factors
THE SECURITIES OFFERED INVOLVE A HIGH DEGREE OF RISK AND MAY RESULT IN THE LOSS OF YOUR ENTIRE INVESTMENT. ANY PERSON CONSIDERING THE PURCHASE OF THESE SECURITIES SHOULD BE AWARE OF THESE AND OTHER FACTORS SET FORTH IN THE COMPANY'S FORM C OFFERING STATEMENT AND SHOULD CONSULT WITH HIS OR HER LEGAL, TAX AND FINANCIAL ADVISORS PRIOR TO MAKING AN INVESTMENT IN THE SECURITIES. THE SECURITIES SHOULD ONLY BE PURCHASED BY PERSONS WHO CAN AFFORD TO LOSE ALL OF THEIR INVESTMENT.
The risks associated with our company include the following. Potential inability to attract, recruit and retain and develop necessary personnel, high level of competition, government regulation of use of individually identifiable data and issues relating to loss or theft of customer data, potential for security breaches and disruptions, the company's success depends on board and executive officers who may leave the employ of the company, the capital being raised is not enough to sustain the company's current business plan, lack of key man life insurance on executives and other key personnel, lack of audited financial statements, risks associated with properly calculating the company's tax liability, the fact that the company is not subject to Sarbanes-Oxley regulations and related controls and safeguards required of public companies, changes in employment laws or regulation could harm the company's performance, fluctuations in customer mix could impact financial performance, potential fluctuation of operating results, need to attract qualified customer service and technical support personnel, effect of cyclical, volatility or extended downturn in the United States or worldwide economy, ability to stay ahead of rapid technological change and dependence on new product development, failure to obtain new clients or renew existing clients on favorable terms, reliance on subcontractors, potential impact of military actions, global terrorism, natural disasters and potential political unrest.
The risks associated with the securities the company is offering include the following. Restricted nature of the securities and lack of liquidity, the fact that the offering is not registered under federal or state securities laws, there is no guarantee of return on an investor's investment, the majority of the company owned by a small number of owners, the company's ability to extend the offering deadline, potential dilution of your ownership interest in the company, the fact that the security is an equity security and not a debt security, and the potential that the warrants may expire worthless.