---
Investment Terms
Security Type: Crowd Note
Round Size: Min: $50,000 Max: $1,070,000
Interest Rate: 4%
Discount: 20%
Valuation Cap: $10 million
Maturity Date: December 31, 2021
Conversion Provisions: Please refer to the Crowd Note Form for a complete description of the terms of the Crowd Note, including the conversion provisions.
Company Highlights
Exclusive commercial license for patent-pending processing technology co-developed with the USDA that renders post-production ("spent") brewers' grains into nutrient-dense SuperGrain+™ flour
Patent pending tech enables utilization of an overlooked, nutrient dense, and plentiful latent supply chain
"Upcycled" SuperGrain+ is high in protein, fiber, and micronutrients, and lower in sugar and calories
Thought leadership garnered mass media exposure including a TEDx talki and being named to Forbes' 2018 "30 under 30"ii
Combatting waste doesn't stop at food ─ innovative packaging is 100% backyard compostable
Mission doesn't stop at waste ─ partners with several nonprofit groups, including 1% for the Planetiii, to donate a portion of sales to environmental conservation and pursuing B-Corp certification
Strategic investors include Barilla's BLU1877, Telluric Foods, Shake It Up! Brands, and Accelerator of Trillions
Perks
*You are investing in convertible debt in this offering. Perks are meant to be a thank you from the company for investing. The perks below are not inclusive of lower dollar amount perks. Shipping, where applicable, is included for domestic and international addresses.
$100+: Shoutout on company website, exclusive notification of pending releases, and receive pre-market buying opportunities
$250+: Mixed 12-Pack of SuperGrain+ bars, 10% off all future orders, exclusive notification of pending releases, and receive pre-market buying opportunities
$500+: Mixed 36-Pack of SuperGrain+ bars, 10% off all future orders, exclusive notification of pending releases, and receive pre-market buying opportunities
$1,000+: Mixed 36-Pack of SuperGrain+ bars, t-shirt, 10% off all future orders, exclusive notification of pending releases, and receive pre-market buying opportunities
$3,000+: Mixed 36-Pack of SuperGrain+ bars, t-shirt, hat, 15% off all future orders, exclusive notification of pending releases, and receive pre-market buying opportunities
$5,000+: 20% off all future orders, mixed 36-Pack of SuperGrain+ bars, t-shirt, hat, exclusive notification of pending releases, and receive pre-market buying opportunities
$10,000+: Be the first to taste next SuperGrain+ product, 20% off all future orders, mixed 36-Pack of SuperGrain+ bars, t-shirt, hat, exclusive notification of pending releases, and receive pre-market buying opportunities
Company Summary
Opportunity
Food Manufacturers increasingly seek opportunity to utilize nutrient dense and sustainable ingredients for products their consumers demand.iv That focus has created a robust marketplace for specialtyv , functionalvi , and other value-added ingredients. ReGrained SuperGrain+™ delivers with a versatile, economical, and nutrient-dense grain blend that capitalizes on the potential of an overlooked, undervalued, and readily available latent supply chain.
In partnership with the USDA, ReGrained has developed patent-pending technology to rescue, process, and stabilize wet food manufacturing byproducts and create ingredients for use in its own products and in co-branded partnerships with others. SuperGrain+, produced from brewery byproduct ("brewers' spent grain" or BSG), is the company's initial development focus before moving onto additional food and beverage industry byproduct streams. As a comparative analog, ReGrained's initial ingredient seeks to do for the brewing industry what whey did for cheese; once a valueless waste stream, whey protein is now a $6 billion ingredient industry.vii
On average, one pound of BSG is created for every six-pack of brewed beer.viii This adds up to tens of billions of pounds per annum, in the United States alone. Traditionally, breweries sell or donate this grain to farmers for use as animal feed, because despite its impressive nutritional profileix , it spoils quickly. ReGrained's technology solution enables food-grade commercialization of this resource as an ingredient.
The company calls the product SuperGrain+ because it is about 35% dietary fiber and 20% protein, ratios higher in comparison to other plain grain, with additional prebiotics and micronutrients. ReGrained entered the market with a line of snack bars infused with SuperGrain+. The company plans to expand into pretzels next, and are in partnership with global ingredient companies and brands to use branded SuperGrain+ in doughs, coatings, sauces and many other applications. ReGrained describes its waste-to-value closed loop model as "edible upcycling," an opportunity it believes is an economically viable and environmentally sound component of a more sustainable food future.
Current Product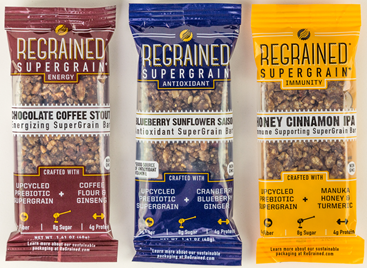 ReGrained SuperGrain+ bars are baked with upcycled brewer's malt that has been rescued from craft breweries. ReGrained initially came to market with two flavors ─ Honey Cinnamon IPA and Chocolate Coffee Stout. ReGrained recently launched a third flavor ─ Blueberry Sunflower Saison. Upcycled grains are paired with other simple, wholesome, and thoughtfully sourced ingredients like puffed quinoa, organic oats, and almonds along with functional value-added ingredients like Manuka honey, ginseng, and ginger.

ReGrained's commitment to sustainability does not end with its ingredients. Each bar is wrapped in a backyard compostable wrapper, the boxes are made from recycled paperboard, and all printing is done using soy- or water-based inks.
"Powered By ReGrained" Branded Ingredient Sales
The ReGrained brand is not limited to the market for snack bars; it is just a point of entry to build brand equity for their ingredient platform. ReGrained is currently pursuing co-branded ingredient/product development with several consumer packaged goods (CPG) brands and manufacturers such as Barilla and Givaudan. ReGrained provides CPG companies with an ingredient (SuperGrain+) that is low cost and more versatile when compared to other "specialty" or "adjunct" ingredients like pulse flour made from beans, peas, or chickpeas. In addition, ReGrained's sustainability focus appeals to a wide range of consumers, especially Millennial shoppers.
Intellectual Property
ReGrained's patent-pending technology helps transform nutritious saturated solid food manufacturing byproduct and surplus into versatile food-grade ingredients. The prior absence of this energy efficient and economical processing technology is one of the primary reasons for the gap between nutritional science and commercial application of BSG.x
Through a cooperative research and development agreement (CRADA), ReGrained has co-developed its technology with the USDA through its Agricultural Research Services department. The process provides a more energy efficient way to dry BSG to make it safe for storage, distribution, and human consumption. It also results in increased crispiness and stronger, more pleasant aromas – all at a reduced price compared to the more energy-intensive traditional processing methods.
The invention disclosure has been filed and is moving through the USDA's patent filing process in which the USDA pays all legal fees and ReGrained owns the exclusive patent rights for commercial use in perpetuity.
Use of Proceeds and Product Roadmap
ReGrained is seeking additional capital to commercialize its technology, invest in research and development, and fund operations. The breakdown below is a projected use of proceeds from the capital raised. ReGrained has discretion over the actual use of proceeds depending upon prevailing business requirements. Both at the minimum level of $50,000 raised and maximum level of $1,070,000 raised, the company plans to use the proceeds on sales/marketing/brand development, to fund the rollout of its new savory pretzel product line. Manufacturing activity will be scaled via additional debt financing.

In addition to its pretzel line, the company is pursuing several co-branded products through co-development and ingredient sales.
Business Model
ReGrained currently generates revenue through the sale of its snack bars, which are sold in 12 packs, primarily in bulk, through brokers and are distributed nationally through distributors (UNFI and KEHE). Both UNFI and KEHE distribute ReGrained's product to a network of retailers (such as natural and organic grocery stores) and food service providers (such as Blue Star Vending). ReGrained also sells direct to consumer through its own website and Amazon, as well as through Thrive Market, GoodEggs, and online box subscriptions companies like Mancrates and Imperfect Produce. On its own website, a 12-pack of ReGrained bars retails for $24.99. Once launched, ReGrained will generate revenue by selling its savory snack product through similar sales channel. Revenue for co-branded products will be generated through ingredient sales and brand licensing.
Traction
In addition to its online distribution channels mentioned above, ReGrained is sold in approximately 100 natural and organic grocery stores across the U.S. ReGrained bars have also been sold through various corporate foods service providers, including at the corporate campuses of Google (San Francisco), Twitter, and Facebook, as well as at several colleges and hospitals in San Francisco. Key distributor relationships include UNFI and KeHe. Now out of trial, with the January 2018 launch of a third-generation of bars and new flavor, the company has initiated a comprehensive go-to-market strategy and is actively entering the retail trade. The press ReGrained has generated has driven inbound leads, and in 2018 the company will be investing in two of the industry's key tradeshows (Winter Fancy Food and Natural Products Expo East) and hiring brokers. Early traction also includes active product review by Whole Foods, Sprouts, and Safeway.
Historical Financials
As described above ReGrained entered the market with a few local retail and food service accounts in early 2017 to validate demand and perfect its offering. Prior to 2017, the company generated revenue primarily from online sales of first generation product prototypes. In 2016, it generated roughly $59,000 in sales. In 2017, ReGrained generated over $120,000 in revenue in its trial market for the second generation of the bar product. Retail distribution was the leading revenue generator (~$33,000), followed by direct-to-consumer online sales (~$26,000), which includes sales on the company's website and through Amazon.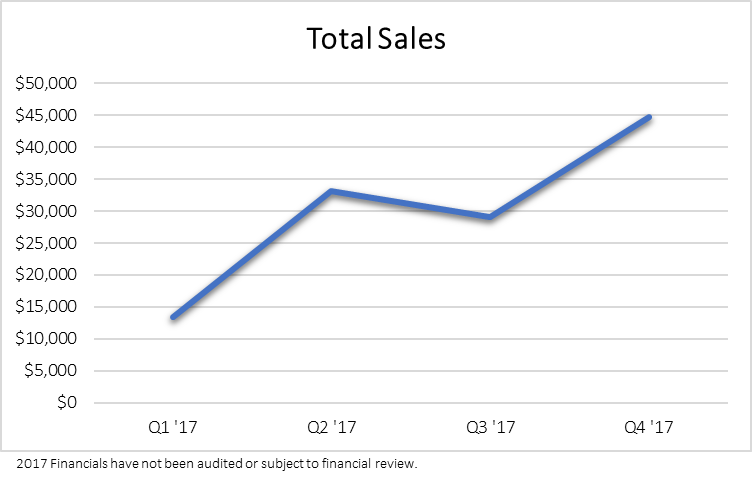 In 2016, ReGrained's expenses (including cost of goods sold and operating costs) totaled $143,583. In 2017, the company's expenses totaled $685,481. During the first three quarters of 2017, the company's operating expenses averaged roughly $37,500 per month. Operating expenses rose in Q4 2017 due to increases in payroll, marketing expenses, and Research and Development. In Q4 2017, marketing expenses totaled $63,867 and salaries and wages totaled $85,443.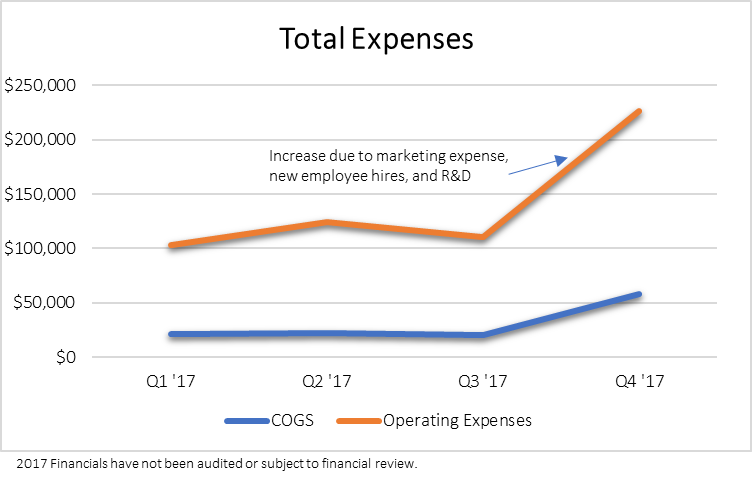 In 2016, ReGrained had a net operating loss of $84,335. In 2017, the company had generated a net operating loss of $562,894. As of November 2017, ReGrained had roughly $113,000 in cash.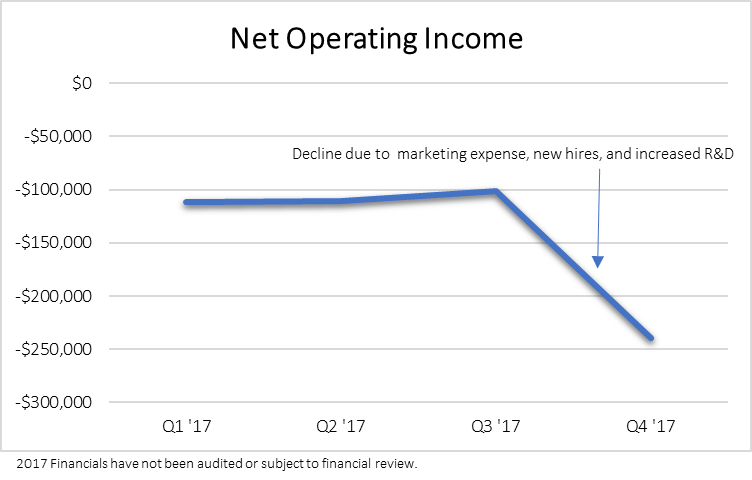 Industry and Market Analysis
Each year, roughly one third of the food produced in the world – approximately 1.3 billion tons – gets lost or wasted. Food losses and waste add up to roughly $680 billion in developed countries and $310 billion in emerging countries.xi Consumers are starting to take notice and have become increasingly critical of how their food is made ─ not only looking for products that are healthier and organic but also seeking out products that are produced using sustainable methods. In a 2017 survey, roughly half (56% of women and 42% of men) of those surveyed said they cared that their food was being produced in a sustainable way. Sustainability was listed as one of the top five purchase influencers behind taste, price, healthfulness, and convenience.xii Consumers are also more willing to pay a premium for and be more frequent purchasers of a given product if they know the company producing it promotes sustainable practices.xiii
The sustainability and food waste mitigation trend has affected the snack industry considerably.xiv The Specialty Food Association lists upcycled products (including snack bars made from spent grain from beer making) as No. 2 in its top 10 food trends for 2018.xv SPINS, a leading provider of retail consumer analytics and insights for this industry, listed "byproduct products" as a top 10 food trend for 2018.xvi A recent study done by Drexel University found potential for consumer acceptance of a new category of foods created from "discarded ingredients" such as spent grain from beer making, even indicating that some consumers may pay a premium for such products.xvii In the U.S. ─ the largest snack market ─ snack bar sales reached an estimated $4.29 billion in 2016 and is projected to grow at a compound annual growth rate of 6.7% through 2022. Within the industry, the nutrition bar segment has seen notable growth, reaching $2.2 billion sales in 2016, for a market share of almost 40%.xviii
Another industry that ReGrained's SuperGrain+ targets is the specialty food ingredients market. There are a wide range of applications for specialty ingredients, including increasing quality and/or taste, improving nutritional value, or extending shelf life. The global specialty food ingredients market size was valued at $27.73 billion in 2015xix and is projected to reach $116.5 billion by 2025.xx One specialty ingredient that is comparable to ReGrained's SuperGrain+ is pulse flour, which is made from the hulls of pulses (i.e. peas, lentils, chickpeas, and other legumes) and are high in fiber and protein. The global pulse flour market size was estimated at $17.02 billion in 2015xxi and is projected to reach $56.62 billion by 2024.xxii
Competitors
Currently, ReGrained's primary product competitors are other snack bar brands, notably CLIF Bar, KIND, and RXBAR. As the company moves into other product lines for its SuperGrain+, its competitive landscape will change to other incumbent products such as pulse flour. Anheuser-Busch InBev launched a brand called Canvas, a ready-to-drink non-dairy milk beverage made with upcycled spent grain.xxiii
Clif Bar & Company: Founded in 1992, Clif Bar & Company is a U.S.-based company that produces organic foods and drinks. Its flagship product is the CLIF Bar. According to Nielsen, it has more sales than any other energy bar. The company does not disclose its revenue figures, but estimates range between $500 million to $1 billion in annual revenue.xxiv In 2003, the CLIF Bar become organic USDA Certified, and the company switched its packaging to 100% recycled paperboard. In 2017, The U.S. EPA named Clif Bar & Company a 2017 Climate Leader for its efforts to promote climate action and green power across the supply chain.xxv
KIND: Founded in 2004, KIND produces snacks made from whole nuts, fruits, spices, and honey. It offers eight product lines: KIND Fruit & Nut, KIND PLUS, KIND Nuts & Spices, KIND Healthy Grains Bars, KIND Healthy Grains Clusters, STRONG & KIND, KIND Breakfast, and Pressed by KIND. In 2008, private equity firm VMG group bought a stake in the company. In 2014, it sold back its stake to KIND's founder in a deal that valued the company at $728.5 million. In November 2017, Mars Incorporated purchased a minority stake in KIND to help the company expand its international distribution. The deal gives Mars the option to fully acquire the company in the future and places KIND at an estimated valuation of between $3 billion to $4 billion.xxvi
RXBAR: Founded in 2013, RXBAR produces protein bars made from three core ingredients: egg whites for protein, dates to bind, and nuts for texture. The bars come in eight flavors: Chocolate Sea Salt, Coffee Chocolate, Blueberry, Chocolate Coconut, Maple Sea Salt, Peanut Butter, Mint Chocolate, and Apple Cinnamon. In October 2017, Kellogg (NYSE: K) agreed to acquire RXBAR for $600 million. At the time of the announcement, RXBAR expected it would generate net sales of $120 million for fiscal 2017.xxvii
Executive Team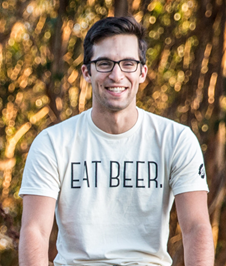 Daniel Kurzrock, Co-founder and CEO: Dan founded ReGrained out of his hobby for homebrewing beer, where he first discovered that "spent" grain could be given a delicious second life. He is passionate about the impact edible upcycling and closing nutrient loops can have on our food system. As CEO, Dan is "Mr. Outside" for ReGrained, handling all elements of growing the business. He holds an Economics degree from UCLA and an MBA in Sustainable Management from Presidio Graduate School.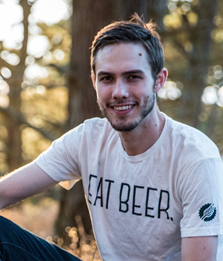 Jordan Schwartz, Co-founder and COO: Jordan is the alchemist behind transforming waste into taste. As "Mr. Inside," he leads innovation and operation at ReGrained and generally ensures its operations can keep up with growth. His purview ranges from product development to supply chain management, production, and HR. Jordan holds a Business Economics degree from UCLA.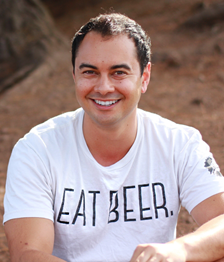 Phil Saneski, VP of Product: Philip has a culinary background, having worked in Michelin-Star and James Beard Award-finalist kitchens. More recently, he has worked with food entrepreneurs in helping them grow from concept to commercialization at a product development consultancy. His unique food background, involvement with nonprofit impact organizations, curiosity about ingredients historically considered "waste," and passion for formulating delicious products at scale make him a natural fit for ReGrained. As VP of Product, he oversees production, innovation, ingredient sourcing, and operations.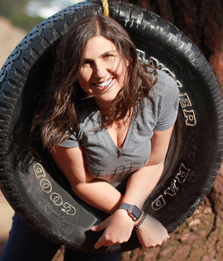 Sarah Nathan, VP of Business Development: Sarah has several years of experience working in sales with emerging businesses, managing finances at a top advertising agency, and working with sustainable nonprofit organizations. As a foodie and beer lover, Sarah loves to attend food shows and beer festivals, meet new people, and spread the word on ReGrained. As VP of Business Development, she brings a creative energy and out-of-the-box thinking to the team. Sarah holds an MBA in Nonprofit Management from The American Jewish University.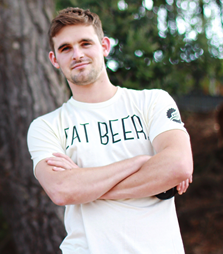 Harrison Laine, Operations Manager: Harrison is the human Swiss Army knife at ReGrained. His multipurpose role includes managing the relationships with ReGrained's brewery partners, baking delicious ReGrained products, and running fulfillment. Harrison holds a Business Management Degree from Northern Arizona University.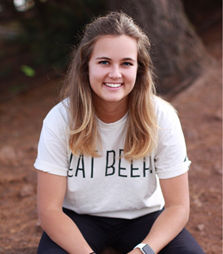 Cassidy Lundy, Community Manger: Cassidy weaves the voice of ReGrained through its website, social media, and email communication. She also dabbles in the ReGrained kitchen. She holds a Conservation and Resource Studies degree from UC Berkeley.
Investment Terms
Security Type: Crowd Note
Round Size: Min: $50,000 Max: $1,070,000
Interest Rate: 4%
Discount: 20%
Valuation Cap: $10 million
Maturity Date: December 31, 2021
Conversion Provisions: With respect to a conversion pursuant a Qualified Equity Financing, the Crowd Note shall convert into Conversion Shares at a price based on the lower of (A) the product of (1) one minus the Discount and (2) the price paid per share for Preferred Stock by the investors in the Qualified Equity Financing, or (B) the quotient resulting from dividing (1) the Valuation Cap by (2) the Fully-Diluted Capitalization immediately prior to the closing of the Qualified Equity Financing. Please refer to the Crowd Note Form for a complete description of the terms of the Crowd Note, including the conversion provisions.