Overview
Opportunity
Renewable energy's share of overall U.S. energy consumption has doubled since 2008, with 18% of all electricity in the U.S. produced by renewable sources in 2017 - up from 15% in 2016. This growth has been driven by new solar and wind projects, which accounted for roughly 62% of new power construction in 2017.ii Beyond the U.S., the decreasing costs of installation as well as advancements in technology have contributed to the rapid expansion of wind and solar projects worldwide.iii
Founded in 2012, Primo Wind designs and manufactures micro wind systems and hybrid wind and solar designs for off-grid power. Its systems provide power for areas with limited access to traditional power sources, or areas without electricity at all such as: off-grid housing, remote villages, remote research stations, and disaster relief areas. Primo Wind is dedicated to changing how the world uses wind energy, so it has designed products that are aesthetically pleasing but still produce the maximum amount of energy with the smallest environmental footprint possible.
Most small wind devices use lift blades and need fairly high winds to produce power. Lift blades may begin to turn at lower wind speeds but don't generate power. Primo Wind's system is different. Its patented technology utilizes a high-torque drag system that operates in very light wind speeds (5 to 15 mph) and can generate power through its custom generators as soon as they begin to spin.
Product
Primo Wind's Force Micro Turbines make up all of its wind systems. The turbines are well suited as stand-alone systems for both off-grid installations and micro-grid solutions. The Primo Wind turbine creates accelerated wind flow and is designed to provide power directly to the structure on which it is mounted. The rotor design is patented along with a proprietary generator and a pole that telescopes for compactness. The design is set to maximize ease of assembly and can also be lowered in the case of severe weather.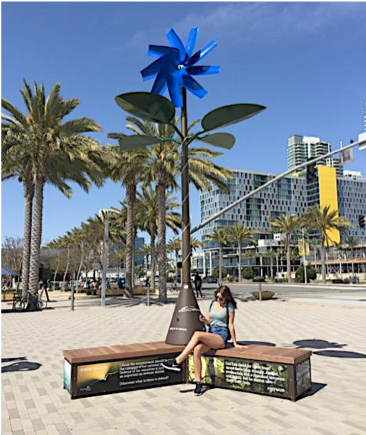 EnergiPlant

The EnergiPlant is a free-standing nano-grid power unit that combines wind, solar, and batteries. It can provide security, lighting, and more for schools, parks, transit ways, and other public areas. The flower-shaped wind turbine is equipped with bench seating, solar panels, lighting, and USB ports for charging phones or tablets. The self-charging EnergiPlant does not require electrical connections and can be installed anywhere. It also provides on-site security with an installed camera and dynamic streaming for up to a 50-foot radius. The three benches offer an opportunity for advertising along the bottom similar to benches at bus stops.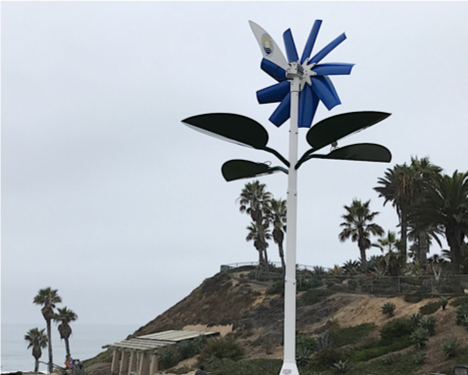 EnergiTree

The EnergiTree is a more powerful system than the Energiplant. It uses a 1,650-watt proprietary generator and Primo Wind's patented blade and rotor design. The solar unit is upgraded to 500 watts and includes additional battery storage.

The EnergiTree was designed to withstand Category 2 hurricanes and can easily be lowered in the event of more severe weather. It uses T-7071 aircraft aluminum, stainless steel powder-coated materials, and generators made to IP 66 and IP 67 standards, which means they are moisture proof and dustproof with a projected lifespan of 20 years. The blades are composed of a biomimetic thermoplastic for durability and efficiency.
Intellectual Property

Primo Wind currently has three patents for power-generating devices: a variable-wing venturi generator, a high-torque wind turbine system, and the rooftop exhaust collector power generator. Primo Wind also has patents pending for variations of the EnergiPlant design and patents in European countries.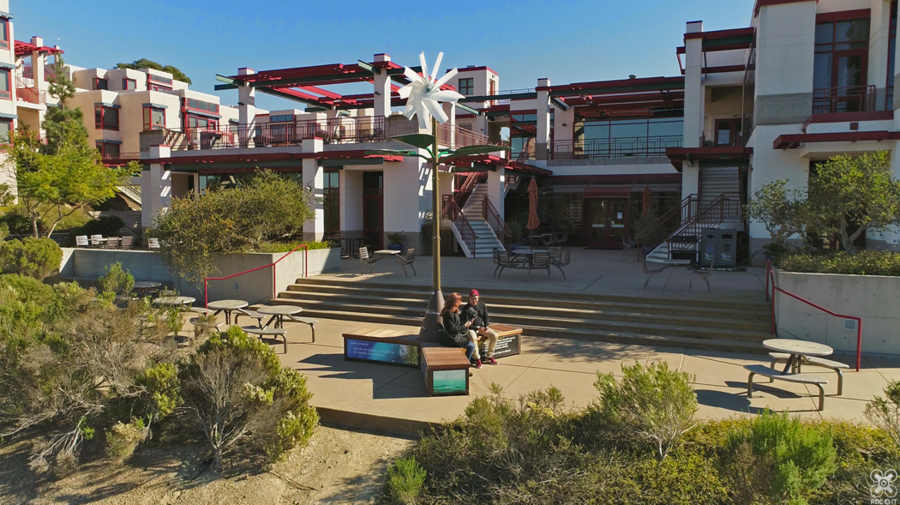 Use of Proceeds and Product Roadmap

If Primo Wind raises the maximum amount of $500,000, it estimates using the proceeds primarily for manufacturing ($150,000), marketing ($100,000), engineering ($90,000), and general working capital ($72,500). At the minimum raise of $50,000, most of the proceeds will go towards engineering costs ($46,500).

Business Model

Primo Wind will sell direct to customers through distributor channels and U.S. Government General Service Administration (GSA) contractors. Vendor agreements are in place with 3fficient and ADS, a GSA government contractor, to market to areas recently impacted by natural disasters and the military. Primo Wind may also license its technology to established industry leaders. Lastly, Primo Wind will continue to work with cities, universities, and parks where it already has market traction.
User Traction
Primo Wind began selling units in 2017. Customers range from the U.S. Navy and Marines to cities and universities.

Historical Financials
Primo Wind launched its product in 2017. In 2017, it generated $114,405 in revenue, with its largest sales coming in Q4. In 2016, the company generated $7,400 from a pilot installation for the City of Pittsburgh and the purchase of an installation kit by Creighton University.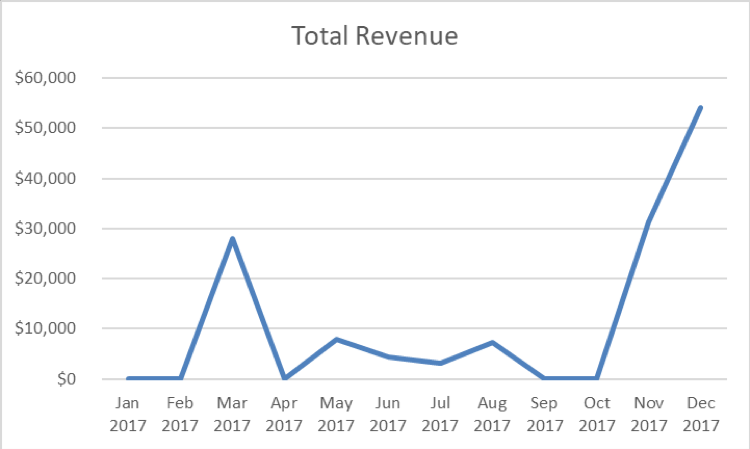 Note: Monthly financials have not been audited or subject to financial review
In 2017, total expenses including costs of goods sold increased by 49% year over year to $958,078. Costs of goods sold totaled $181,370, and operating expenses totaled $776,708. Payroll was the largest cost, totaling $250,781, followed by professional fees (general attorney and patent attorney fees), which totaled $191,766.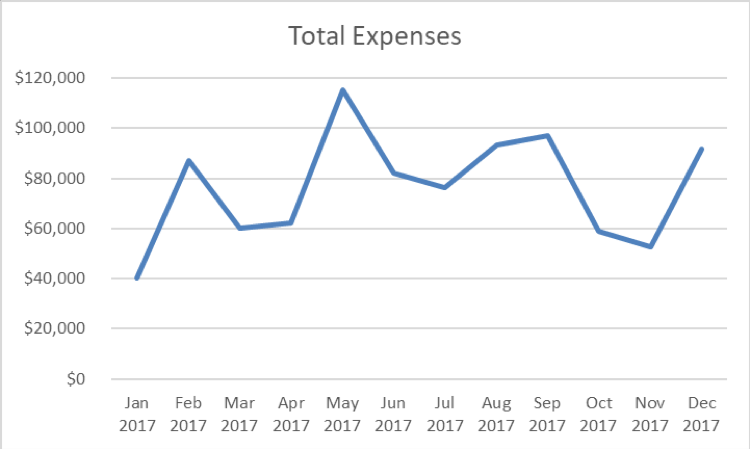 Note: Monthly financials have not been audited or subject to financial review
In 2017, Primo Wind had a net operating loss of $843,673, versus a net operating loss of $636,157 in 2016.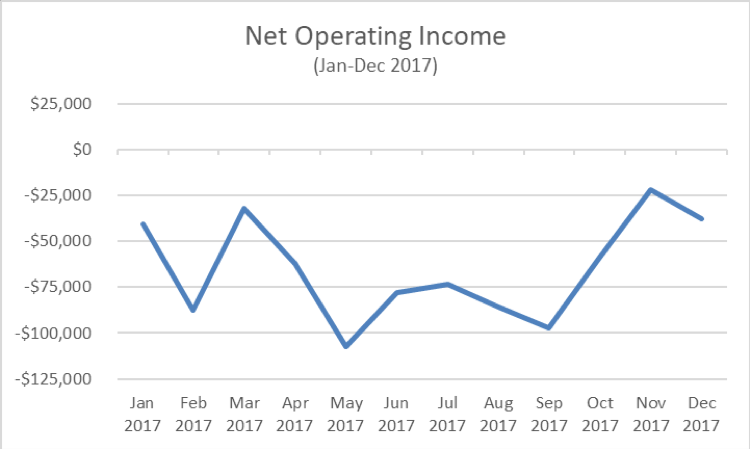 Note: Monthly financials have not been audited or subject to financial review
Press
UC San Diego:New EnergiPlant Wind Turbine Provides Power and Public Space
San Diego Business Journal:ENERGY: Co.'s Wind Turbine Design Fill Gaps In Renewable Energy
Smart Cities World:Free charging for US public
Linkedin:Primo Wind is headed into the Arctic again. . .and more
Forbes:Rooftop Wind Turbine, Solar-Powered Mobile Device Charger Win At VERGE
East Bay Times:Rooftop windmill generating clean energy for Pittsburg Library