---
Investment Documents
Investment Terms
Security Type: Crowd SAFE (Simple Agreement for Future Equity)
Round Size: Min: $50,000 Max: $500,000
Valuation Cap: $6,000,000
Discount: 20%
Conversion Provisions: In connection with an equity financing of at least $1,000,000, the Company has the option to convert the Crowd SAFE into shares of a series of non-voting preferred stock, at a discount of 20% of the price per share of the new preferred stock sold in the equity financing or a valuation cap of $6,000,000, whichever results in a lower conversion price. Please refer to the Crowd SAFE Form for a complete description of the terms of the Crowd SAFE, including the conversion provisions.
Company Highlights
Part of 500 Startups Batch 19 that concluded in February 2017
Chosen by Y Combinator as one of 32 from a pool of 6,600 applicants to participate in the first round of the YC Fellowship programi
Ranked first among pet health apps in the iTunes App Storeii
More than 45,000 app downloads as of November 2017 across iTunes App Store and Google Play
Over 581,000 pet records stored on the platform as of October 2017
Has sourced medical records from over 5,000 veterinarian practices across the U.S.
Actively piloting software as a service in over 15 clinics
In October 2017, Pawprint announced an integration with Vetter Software, a cloud practice management solution for animal healthcare that helps veterinarians care for over 3.25 million pets worldwideiii
Perks
*You are investing in equity in this offering. Perks are meant to be a thank you from the company for investing. The perks below are inclusive of lower dollar amount perks. Travel and related expenses are not included unless otherwise stated. Shipping, where applicable, is included for domestic and international addresses.
$500: Promo code for free health records retrieval for all of your pets (expires after one month)
$2,500: Hoodie for your pet
$5,000: Hoodie for you to match with your pet
$10,000: Outfit the whole fam – hoodies for up to five pets, plus a private online 30-minute session with the team to share your ideas on the app
$25,000: A photoshoot of your pet by a talented photographer; the results will be featured on Pawprint's social media
Company Summary
Opportunity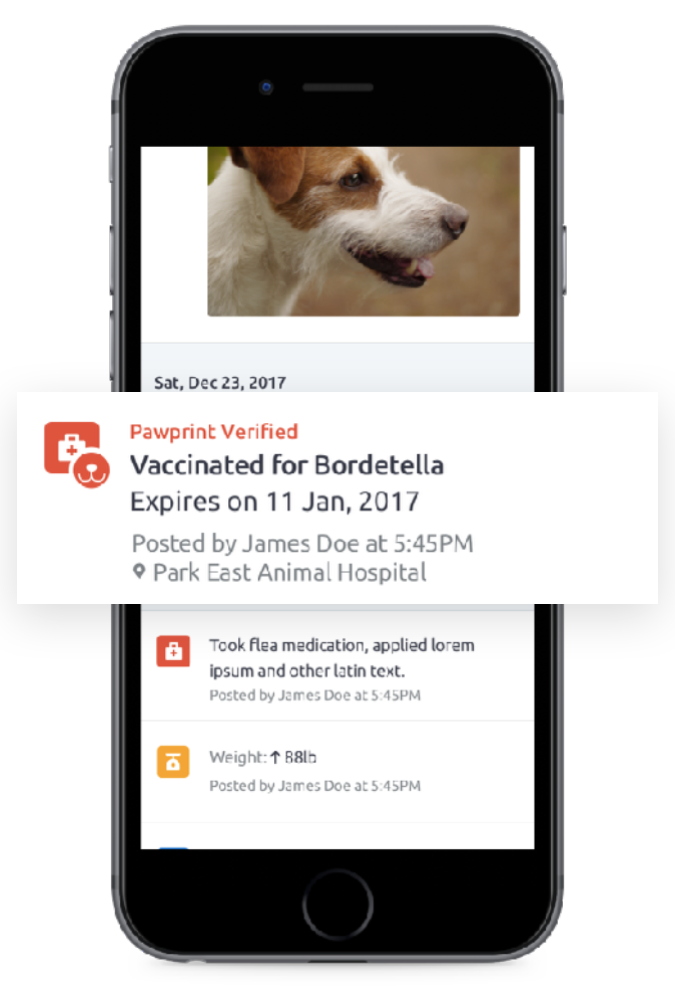 If you're a pet owner, you know that proof of vaccinations is required almost everywhere. Whether you need to get your puppy or kitty a haircut or drop them off for boarding, facilities often need to know your pet is safe to be around other animals. Pawprint founder Emily Dong discovered this firsthand when she had to get her dogs (Apple the Maltipoo and Bowser the Yorkie) a haircut and was turned down by five groomers because she didn't have their records. After trying to get in touch with her vet, she found out their vaccines were expired and thus had to update them before going to back the groomer. The total time from initial call to getting to her pets groomed ending up being two months.

Founded in 2014, Pawprint is a pet health platform that streamlines communication between veterinarians and pet owners. The mobile app allows pet owners to access their pet's official medical records from any veterinarian. Unlike other pet records apps that require users to manually input and maintain the records themselves, Pawprint goes directly to veterinarians and retrieves the records so they are official – all that is required is the pet owner's consent.
Product
Pawprint will retrieve a pet's official medical records from any vet, which can be used as proof of vaccination with groomers, hotels, and other service providers. Pet owners simply log into the Pawprint app and put in a request for a vaccination history from their vet. Pawprint retrieves the record, scans it, and stores it, allowing the pet owner to access the documents from their phone or computer anytime, anywhere.

The app also offers the following features:
Reminders: Users can set up notifications for anything from flea medication to daily walks
Co-owners and friends: Pet owners can add their co-owners and friends, giving them access to the pet's profile and stored information
Track important information: Users can keep a timeline of their pet's life from medical events to grooming dates
Pet insurance: Pet owners can explore pet health financing options from third parties such as insurance through the portal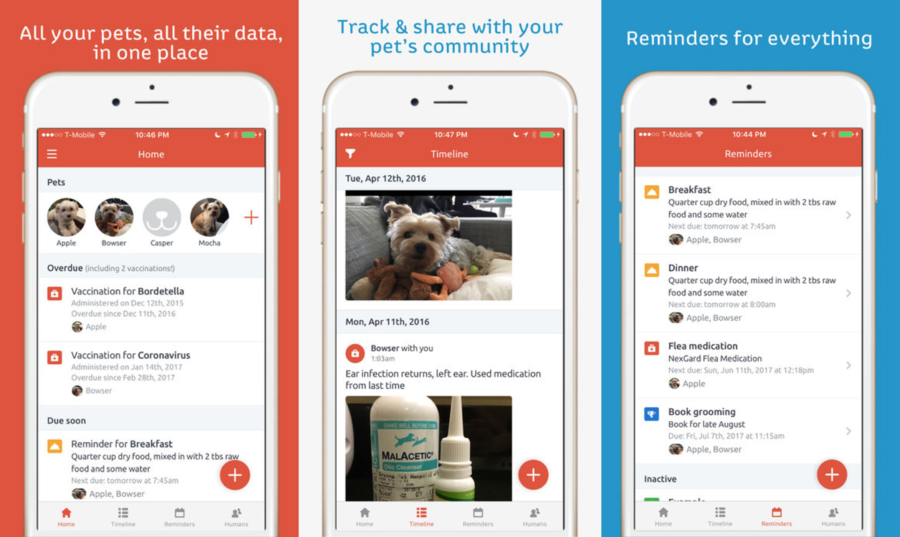 Veterinarians
Vets can use Pawprint as a pet portal solution, allowing them to send care reminders via text message or push notifications. The portal can help reduce no shows by reminding clients when they are due for a visit, as well as help save valuable staff time that had been wasted on e-mail or phone reminders, appointment confirmations, and service campaigns.
Pawprint offers a branded onboarding experience that is tailored to each vet clinic.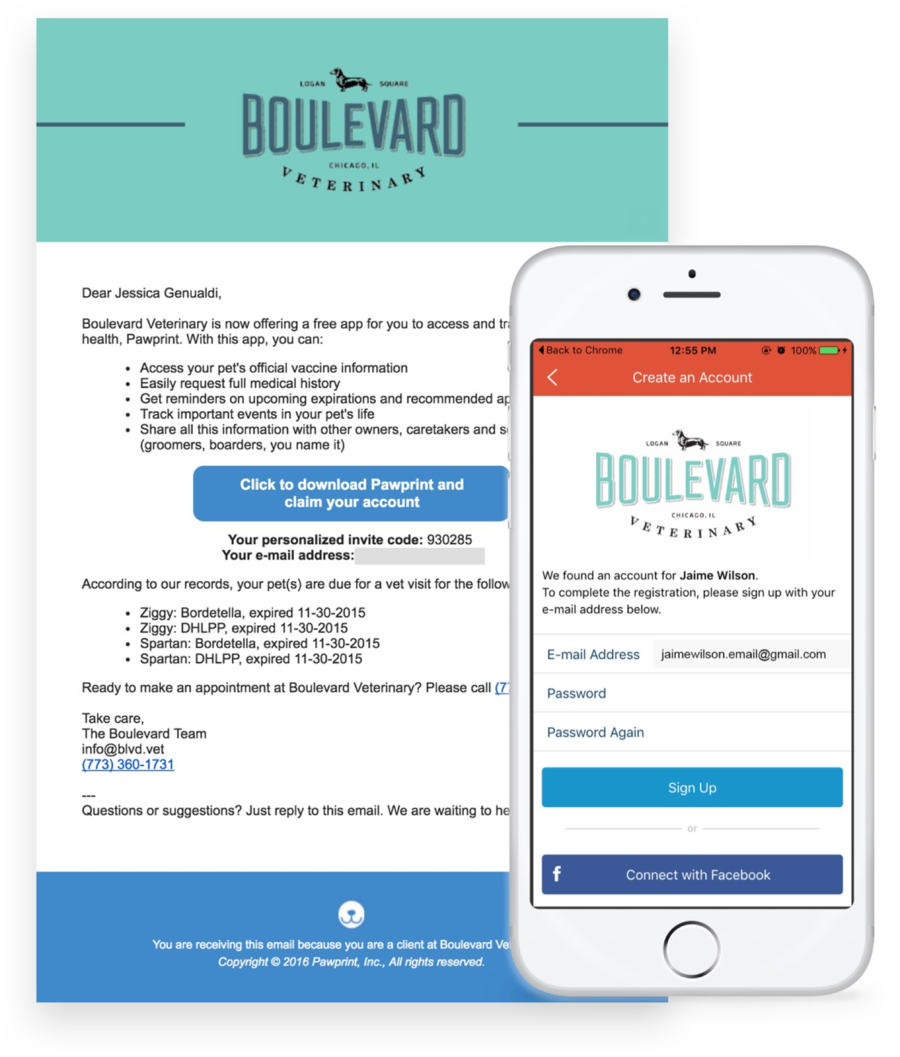 Use of Proceeds and Product Roadmap
If the minimum of $50,000 is raised, Pawprint plans to use the majority of proceeds from this round ($32,500) on future wages. If the minimum is raised, the company plans to hire an additional software engineer. If the maximum of $500,000 is raised, Pawprint also plans to the use the majority of proceeds ($300,000) on future wages. If the maximum is raised, the company plans to hire two additional software engineers and a marketer.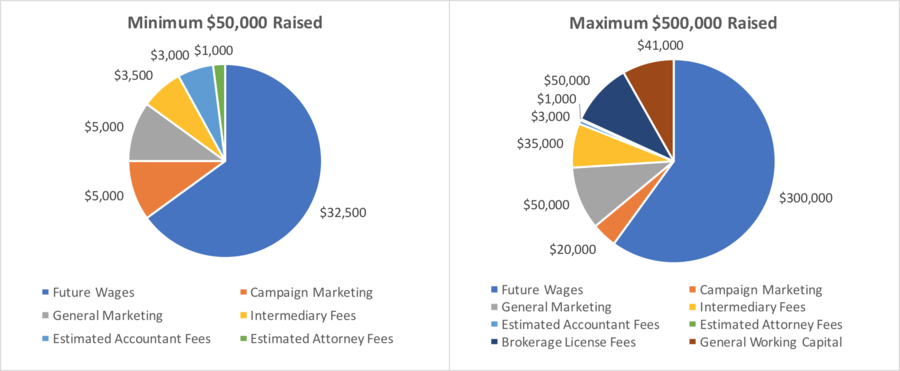 Business Model
Pawprint currently generates revenue through two channels:
Veterinary client communication software-as-a-service:

One-time setup fee: $500
Reminders and pet portal: no monthly charges
Appointment confirmation, two-way texting, etc.: $49+ per month

Insurance brokering

Referrals: receives $50 to $100 per conversion depending on the insurance provider
Brokering: with a license, the company would make a smaller amount on the sale and take roughly 10% of monthly premiums
User Traction
In October 2017, Pawprint announced an integration with Vetter Software, a cloud practice management solution for animal healthcare that helps vets care for over 3.25 million pets worldwide.iv This integration will synchronize patient and appointment records between the companies' products and enable veterinary clinics using Vetter's platform to more effectively engage with their clientele.
From July 2017 to October 2017, the number of records on Pawprint grew nearly 10x, from about 60,000 records to over 581,000 records. The increase was due to integrating the software-as-a-service solution with veterinary clinics.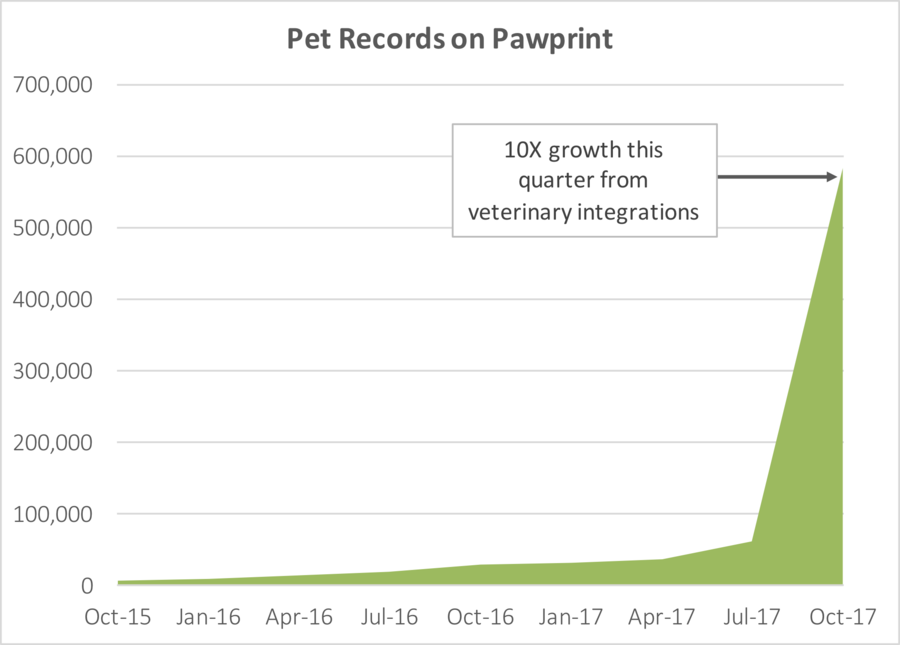 Historical Financials
Pawprint began generating revenue in August 2016, when the company started testing premium features on their app. Year to date as of August 2017, Pawprint has generated over $4,700 in revenue. A majority of revenue was generated from in-app purchases such as premium medical record retrieval.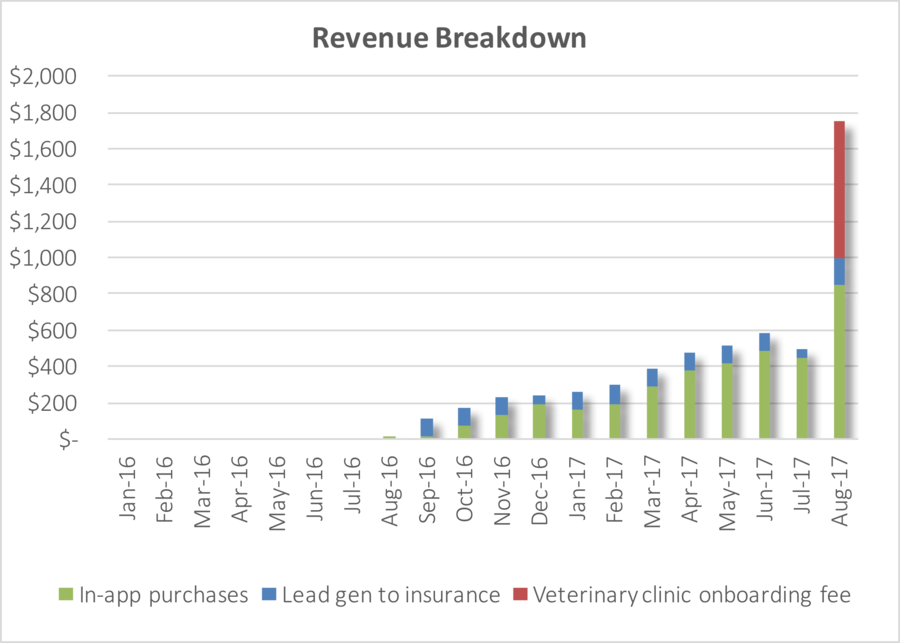 Year to date as of August 2017, operating expenses have totaled over $152,000. In 2016, operating expenses totaled approximately $159,000. Professional services expenses spiked in October 2016 due to a $37,500 program fee for 500 Startups.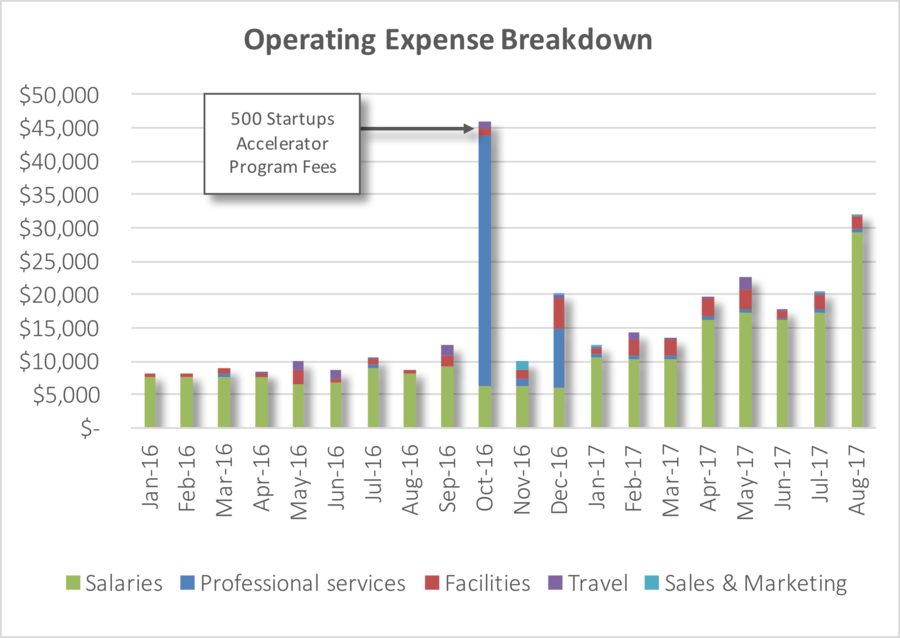 Year to date as of August 2017, the company had a net operating loss of approximately $148,000. In 2016, the net operating loss was approximately $159,000.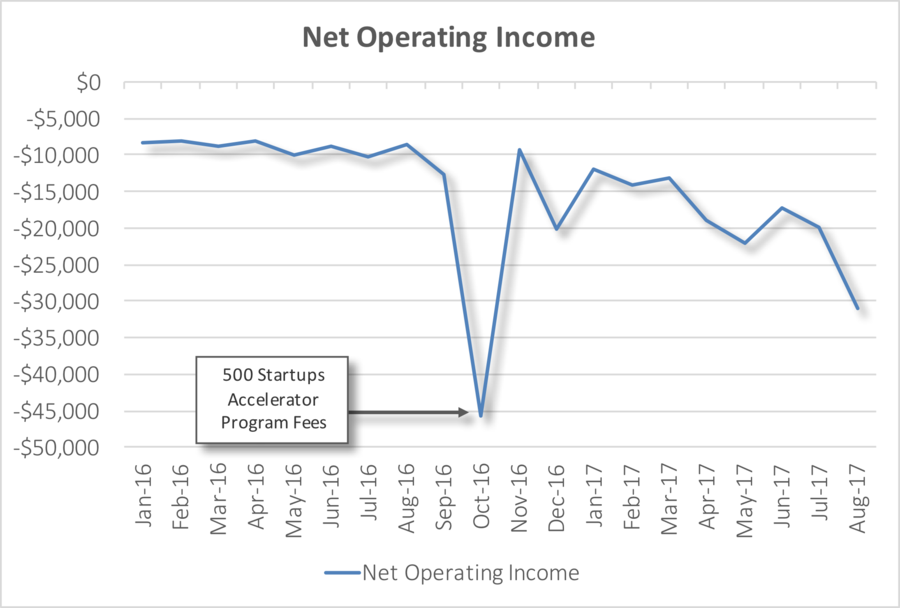 Industry and Market Analysis
According to the American Pet Products Association's (APPA) National Pet Owners Survey, 68% of American households owned a pet in 2016, equating to 84.6 million pet-owning households in the U.S. In 2016, pet industry spending hit a record high of $66.75 billion, up 10.7% from 2015. This growth is expected to continue, with pet industry revenue projected to reach $69.36 billion in 2017.v
Owners are spending more and more on their pets. As shown in the graph below, annual spending per pet has increased substantially from $220 to $230 in 2011 and from $270 to $280 in 2016.vi A big reason for this rise in spending is that more pet owners have begun viewing their pets as part of their family. Nearly all pet owners (95%) consider their pets to be members of the family. Almost half (45%) of pet owners frequently or occasionally buy birthday presents for their pets, nearly one-third (31%) cook for their pets, a majority (71%) of owners let their pets sleep with them in bed frequently or occasionally, and almost two-thirds (64%) buy their pets holiday presents.vii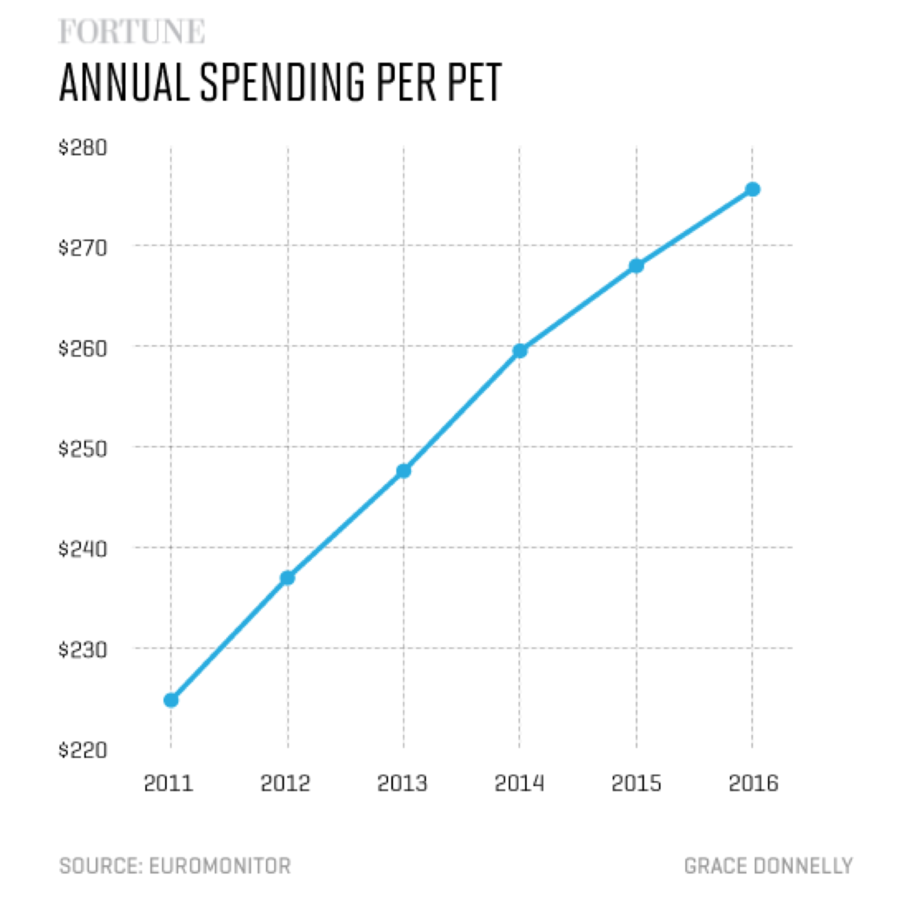 Since many owners view pets like family members, they may also be more likely to spend extra on healthcare for their pets. After pet food, veterinary care is the second largest source of spending in the pet industry. In 2016, veterinary care spending in the U.S. reached $15.95 billion, up from $15.42 billion in 2015, and is projected to grow to $16.62 billion in 2017. Increased spending is thought to be the result of advancements in healthcare and services available for pets.viii
Pet tech is defined as companies that use tech-enabled solutions to serve the pet owner. Pet tech startup funding has risen in each of the last five years, with $486 million invested in the space between 2012 and 2016 across 172 deals. In 2016, $154 million was invested in the pet tech space across 46 deals, up 10% from $140 million in 2015 across 44 deals.ix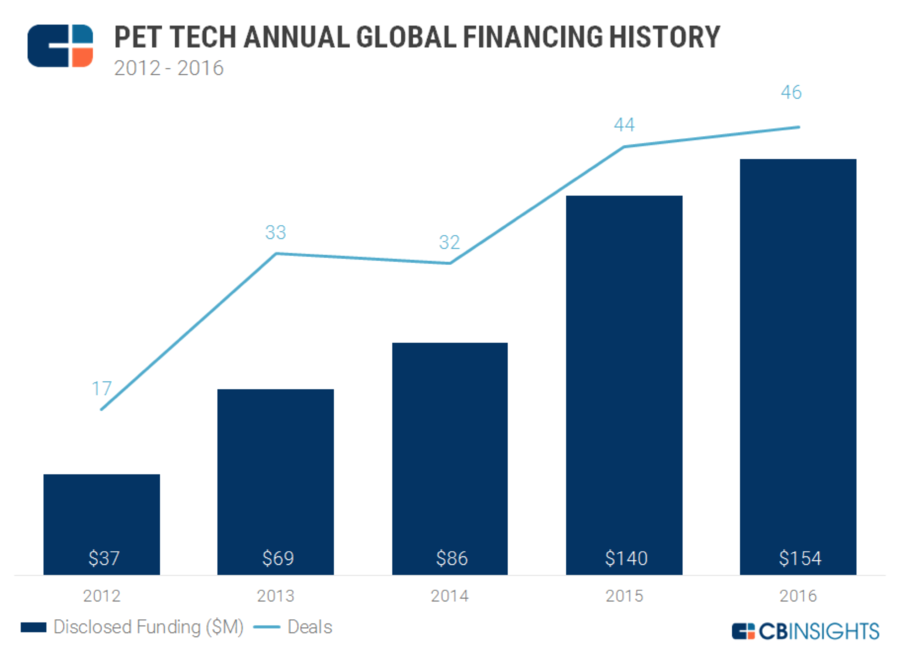 Competitors
VitusVet: Founded in 2013, VitusVet is a software platform that works with a veterinary practice's existing software system and stores a pet's complete medical record online where it's accessible anytime. VitusVet also has a mobile app that gives pet owners access to their pet's medical records, which can be shared with other veterinarians, family members, or boarding kennels. The app also allows owners to track major events and daily items like feeding, walk times, and medication reminders. The app provides appointment scheduling, refill requests, appointment reminders, and text and picture messaging. The mobile client app costs $99 per month and digital service reminders and appointment confirmations cost $139 per month. There is also a plan that costs $0.99 per prescription refill or per appointment that is capped at $199 per month.x VitusVet grossed $250,000 in revenue in 2016 and serves approximately 500 practices across 30 states.xi In January 2016, the company raised $1 million in funding.xii
PetDesk: Launched in 2014, PetDesk connects pet health providers with their pet parent clients through an app that manages their pet's health. Pet parents can use the PetDesk app to request appointments, coordinate prescriptions, remember to give medication, and contact all of their pet care providers. PetDesk also offers a range of goal-specific platforms to help vet clinics enhance their practices including the Reach Builder, Compliance Builder, Loyalty Builder, Engagement Builder, Reputation Builder, and Performance Builder. Vet clinics pay for the service and the app is free for pet parents.xiii PetDesk is currently available for iPhone, iOS devices, Android phones, and tablets. In June 2017, PetDesk raised $2.1 million in a Series A round led by Canal Partners to accelerate growth and increase market share.xiv
AllyDVM: Founded in 2011, AllyDVM provides client communications software and consulting services utilized by veterinary clinics and animal hospitals. ALLYDVM allows its customers to offer their clients (pet owners) an app that syncs directly to its practice management system. The app, called PetPage, gives pet owners access to electronic pet health records, AllyDVM's appointment request technology, and the ability to request refills. The company's software platform also includes a number of modules that serve a range of veterinary practice needs such as a retention calendar, a loyalty program, client communications, surveys, and the mobile app. In September 2017, the company announced a partnership with LifeLearn Animal Health that made ALLYDVM products available as part of LifeLearn's veterinary practice ECOsystem.xv
Petly: Petly is a cloud-based software solution for veterinary practices to customize, manage, and monitor a range of monthly payment preventive care plans for their pet owner clients. Pet owners can view their pet's exam summaries, lab results, and X-rays and access information from veterinarians. Users can also review upcoming vaccine recommendations, book appointments with veterinarians, and request prescription refills. Petly also provides information on a wide range of pet health topics and notifies owners of medical alerts and hospital news. Petly has a one-time setup fee of $495 that includes software configuration, advice on plan content and pricing, and training. There is a one-time enrollment of $30 for each pet as well as a plan administration fee of $3 per month for software upgrades, data storage, and cloud-based hosting of the Petly Plan application.xvi In September 2014, Petly was acquired by Idexx Laboratories, which provides practicing veterinarians a broad range of diagnostic and information technology-based products and services.xvii
Team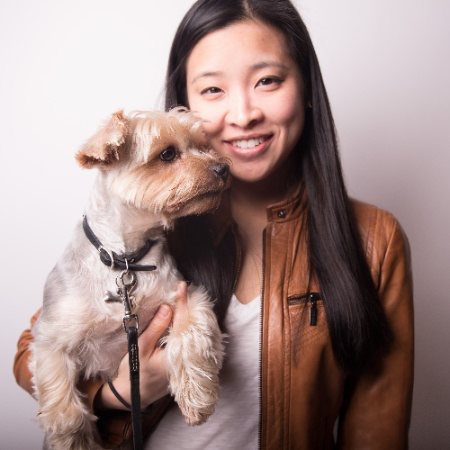 Emily Dong, Founder and CEO: Emily is a full-stack developer and YC fellow. She is a University of Southern California alumus and started her career in consulting as the first Product Manager at LearnSprout (acquired by Apple). At LearnSprout, she worked with big data in education. Emily is pet parent to Bowser the Yorkie and Apple the Maltipoo.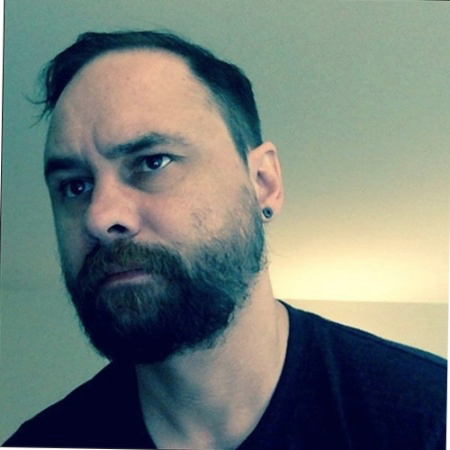 Byron Wright, Software Engineer (Mobile/Front-End): Byron is a full-stack software engineer with 20 years of experience creating web and mobile applications. He was formerly an iOS tech lead at The Walt Disney Company for one of the park experience mobile apps. Byron is passionate about open-source projects and is an avid gamer. He is parent to Guinness, a cheeky Terrier mix, and Baloo, a wonderful Blue Doberman.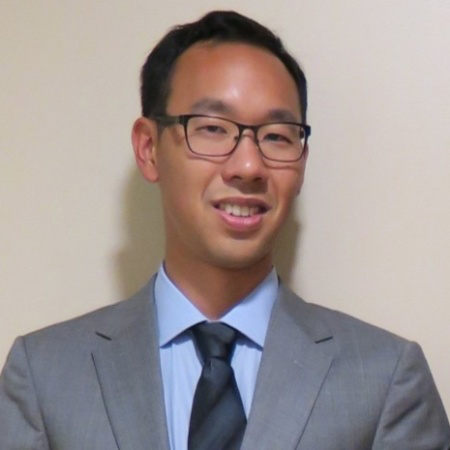 Eric Choi, Software Engineer (Backend/Infrastructure): Prior to joining Pawprint, Eric built and ran front-end web services and data pipelines on Microsoft's Window App Store team for seven years. He graduated from the University of Washington with a bachelor's degree in Computer Engineering and earned a Master in Computer Science from Stanford University. Eric also volunteers at the Seattle Humane Society in dog behavior and socialization.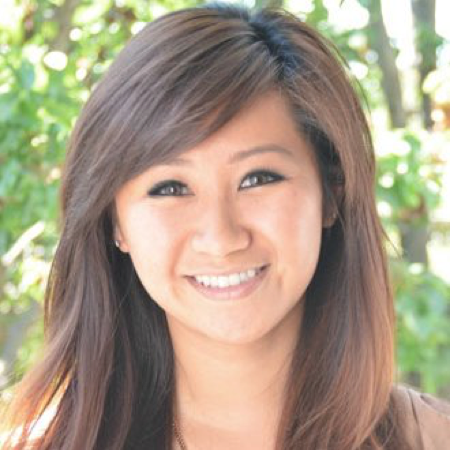 Mimi Tran, Operations Manager: Mimi has spent seven years executing new market launches and writing playbooks for venture-backed startups including Eat Club, Wedding Spot, and Zesty. She is pet parent to Roxy the Papillon and Alex the American Akita.
Investment Terms
Security Type: Crowd SAFE (Simple Agreement for Future Equity)
Round Size: Min: $50,000 Max: $500,000
Valuation Cap: $6,000,000
Discount: 20%
Conversion Provisions: In connection with an equity financing of at least $1,000,000, the Company has the option to convert the Crowd SAFE into shares of a series of non-voting preferred stock, at a discount of 20% of the price per share of the new preferred stock sold in the equity financing or a valuation cap of $6,000,000, whichever results in a lower conversion price. Please refer to the Crowd SAFE Form for a complete description of the terms of the Crowd SAFE, including the conversion provisions.
Endnotes