---
Investment Documents
Investment Terms
Security Type: Crowd SAFE (Simple Agreement for Future Equity)
Valuation Cap: $16,000,000
Company Highlights
Has received $3.2 million in financing from major venture investors including Founders Fund, Compound Ventures, and Gaingels
Has developed a tech addiction (screen time, social media, gambling, porn, video games, shopping, etc.) solution based on artificial intelligence that helped 88% of addicts reduce their overuse in one major study and stopped people from taking 95 unwanted actions per day in a second study
The founding team has successfully launched and exited venture-backed startups and led major tech teams at companies like Twitter
The company has developed complex, defensible technologies with a provisional patent pending
Perks
*You are investing in equity in this offering. Perks are meant to be a thank you from the company for investing. The perks below are inclusive of lower dollar amount perks.
$100: One free month of Onward Pro
$1,000: One free year of Onward Pro
$10,000: Lifetime Onward Pro
Company Summary
Opportunity
According to the American Society of Addiction Medicine, addiction "is a primary, chronic disease of brain reward, motivation, memory, and related circuitry." Addiction can cause individuals to become unable to abstain from certain activities, experience cravings towards certain substances or behaviors, not recognize harmful behaviors or problems, and experience dysfunctional emotional responses, among other characteristics.i
Over 21 million people in the U.S. suffered from an addiction to illicit drugs or alcohol in 2014 and 32.5 million were daily cigarette smokers. Substance abuse costs Americans an estimated $600 billion each year.ii However, while drug, alcohol, and tobacco addiction are some of the most recognized, addictive behaviors can also surface around food, gambling, shopping, sex, porn, games, and even technology – or a combination of the above – all of which can trigger dopamine to be released in certain areas of the brain.
New technologies help connect people and make life easier, but they are also increasingly designed to be addictive. Nearly half of U.S. smartphone users said they couldn't live without their phone.iii In fact, the average U.S. adult spends over 10 hours per day on screen timeiv, and a recent study has found a connection between compulsive internet/smartphone usage in teens and increased neurotransmitter activity in areas of the brain tied to systems of behavior reward.v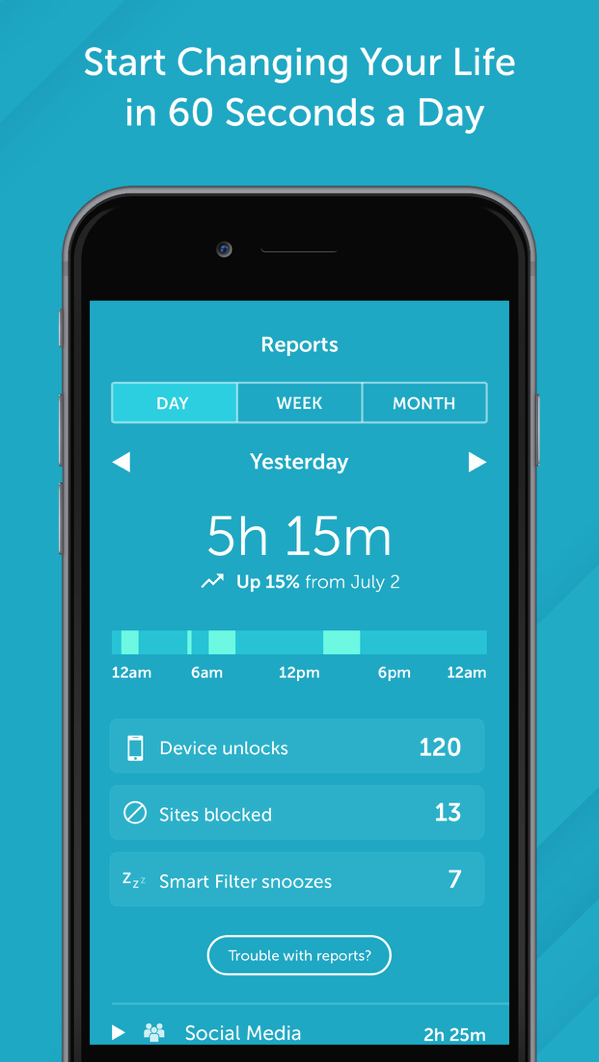 Onward leverages the latest behavior change research and data science to help people who have problems with screen time, gambling, or porn addiction regain control of their lives and achieve tech-life balance. Its treatment relies on behavioral and lifestyle changes spurred by digital habit tracking in combination with well-studied cognitive behavioral therapy and mindfulness practices. The Onward app collects and analyzes usage data to deliver both progress reports and interventions. By analyzing and interpreting online behavior, Onward continuously gains new insights into the symptoms and consequences of technology addiction.

The company also believes that its approach will be extensible to substance use disorders like drugs, alcohol, tobacco, and food. Preliminary research suggests that many of the precursors to acting out can be identified in your smartphone – even without knowing specifically that you're eating/smoking/drinking/etc. With this predictive model, Onward can intervene before the user goes to the bar or on a smoke break, reducing the craving to use and helping avert bad behavior.
Product
Onward uses artificial intelligence to help people change their behavior. This is primarily delivered through a coaching chatbot that is designed to be nonjudgmental and available 24/7. AI is important for mental health and addiction treatment because it allows Onward to deliver therapies that work at a scalable cost: no human therapists are involved in delivering treatment through Onward in order to ensure that everyone can use the product.
Based on your usage patterns, Onward attempts to predict when you're going to act out next and provides a just-in-time intervention before you do. These interventions can include mindfulness, Cognitive Behavioral Therapy (CBT), Motivational Interviewing (MI), physical exercise, connect with a friend, and blocking.
As you progress through Onward, the system uses AI to help optimize the program for you. This is designed to help ensure everyone receives the intervention they need at the right time. Each of us is different and Onward reflects that.
Onward has also developed a sophisticated site and app blocking tool, called Smart Filter. Working together with your goals, Smart Filter helps you set limits on your use in multiple ways. You can list specific sites and apps you want to control, set when and for how long, and Onward's Smart Filter automatically blocks it for you.
Once a day, the chatbot (named "O") will invite you to check in. During this check in, you can review your progress and make a commitment to improve and come back the next day. Once users reach major check in milestones, they receive achievements (badges) that provide positive reinforcement. If you feel triggered, you can come to the app anytime and launch an intervention that is optimized to reduce your craving to overuse. The Onward system is available on iOS, Windows, and Mac platforms, with plans to add Android next year.
Use of Proceeds and Product Roadmap
The company plans to use funds for the following:
Customer acquisition
Expansion to other behavioral addiction verticals (e.g. videogames, shopping)
Beginning the process of FDA approval for Randomized Control Trial research on Onward's efficacy
Improvement of core technologies: prediction, machine learning/AI
Developer APIs
If the minimum $50,000 is raised, the company plans to use the majority of the proceeds on research and development ($26,500). If the maximum $1,070,000 is raised, the company also plans to use the majority of the proceeds on research and development ($725,100), as well as $250,000 in general marketing.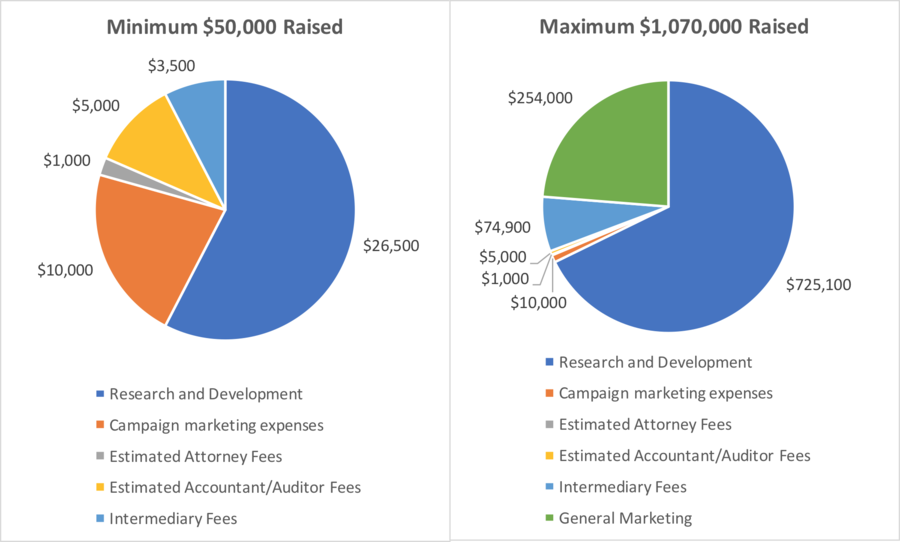 Business Model
Onward generates revenue through a freemium subscription model.
Onward Basic: Free tracking and reporting
Onward Pro: Basic tier plus application blocking, machine learning, AI chatbot, skills, education, and interventions

Paid monthly ($9.99 to $19.99 per month depending on the vertical)
Paid quarterly ($6.99 to $12.99 per month depending on the vertical)
Paid annually ($4.99 $12.99 per month depending on the vertical)
The company has designed its conversion funnel to increase users' motivation to convert to the Pro subscription model.
User Traction
Onward has partnered with researchers at UCLA Health, Columbia University Medical Center, and Stanford to conduct and publish research studies that highlight common patterns and evaluate the success of artificial intelligence on technology-based addictions (e.g. screen time, gambling, porn, shopping, etc.). In a 2017 study on porn addiction, Onward found that roughly 88% of users of its app experienced a reduction in usage of the time they spent watching porn. The app also stopped 62% of attempts by users to cross their self-imposed limits.
As of October 2017, Onward had nearly 10,000 monthly active users. Since January 2017, 528 paying subscribers have signed up through November 2017. These subscribers have generated over $38,000 in revenue for the company on an accrual basis.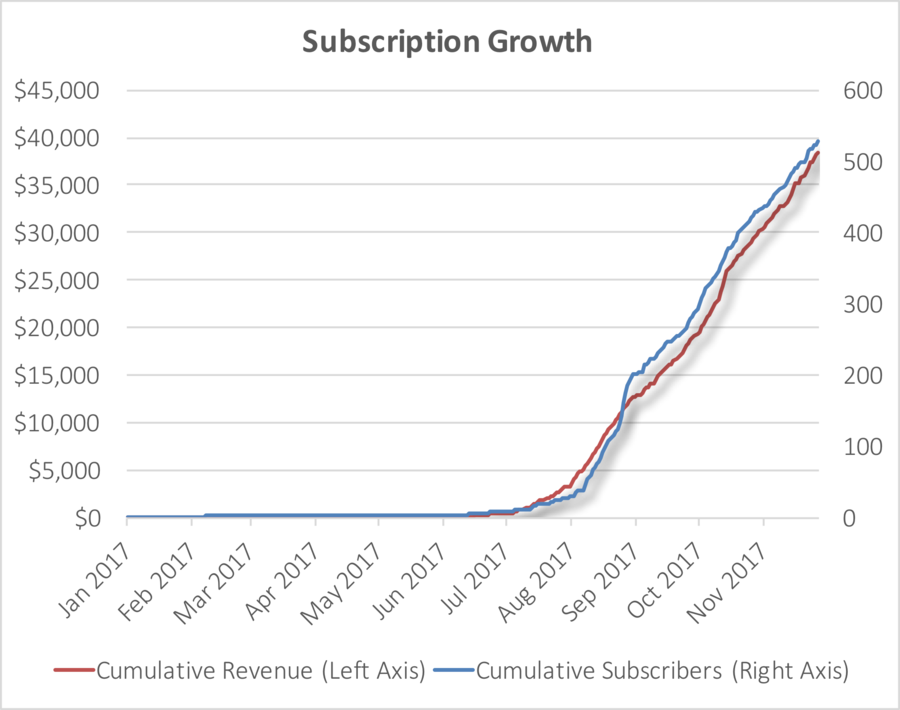 Historical Financials
Year to date as of September 2017, Onward generated over $3,000 in revenue. Prior to June of 2017, Onward primarily made its product available for free for research purposes.
Year to date as of September 2017, Onward had total operating expenses of approximately $1.2 million. In 2017, salary and wages accounted for 53% of operating expenses, or approximately $641,000. In 2016, operating expenses totaled about $996,000. In 2016, salary and wages accounted for 45% of operating expenses, or approximately $443,000.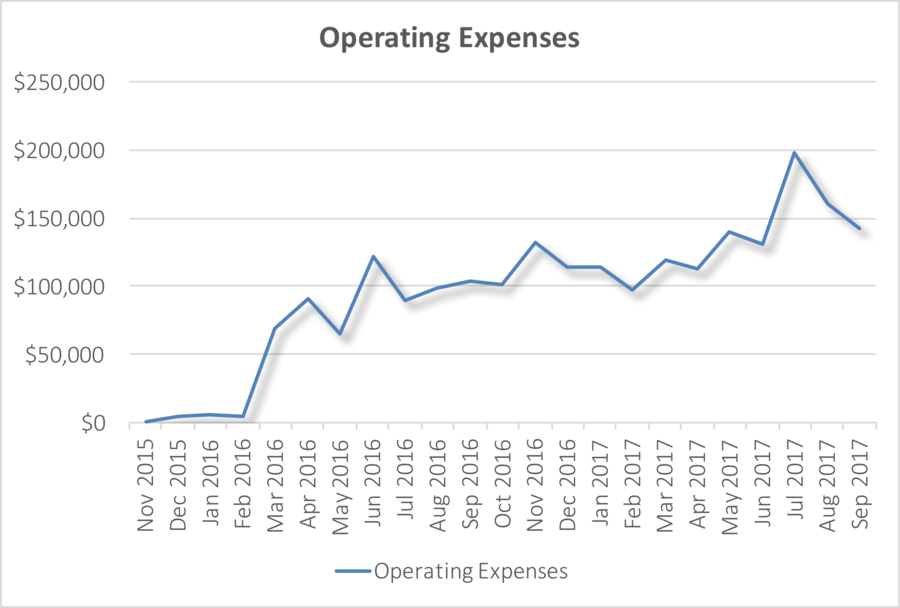 Year to date as of September 2017, Onward had a net operating loss of approximately $1.2 million. In 2016, the net operating loss totaled about $995,000.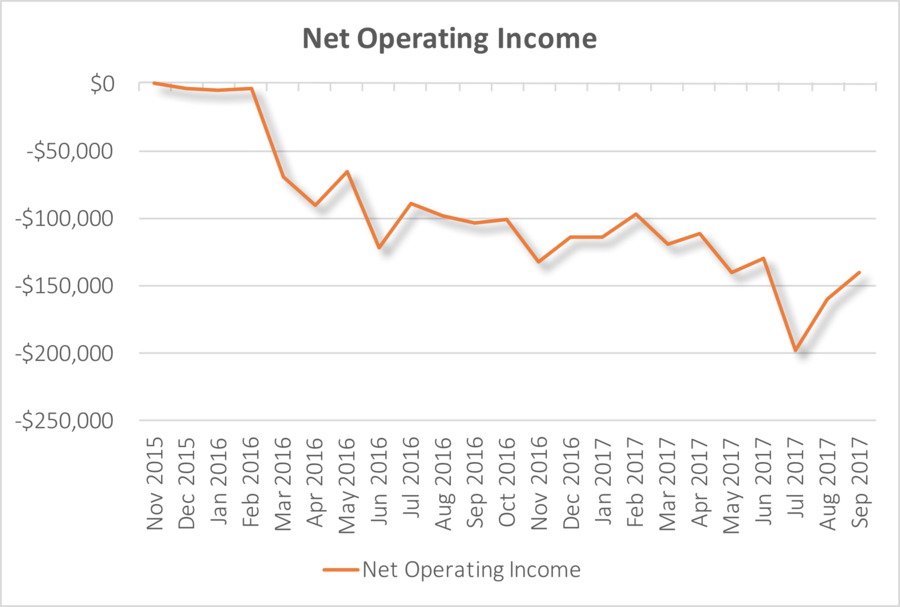 Industry and Market Analysis
While smartphones emerged into the mass market less than a decade ago, it is now estimated that 77% of U.S. adults own a smartphone and 51% own a smart tablet. This trend is also mirrored by a rise in social media penetration, as 69% of Americans now use some form of social media as opposed to just 5% using the platforms in 2005.vi On a wider scale, the number of active social media users globally increased 21% from January 2016 to January 2017 and has now reached approximately 2.8 billion.vii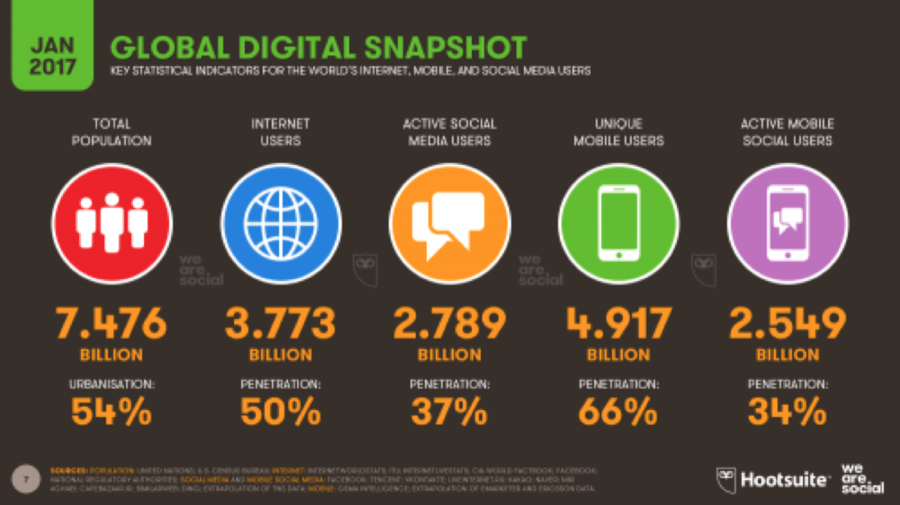 However, this rapid growth has not been entirely positive, as nearly half of those living within the U.S. today say they couldn't imagine living without their smartphone.viii Adoption rates among all types of new and emerging technologies and social media have climbed to significant proportions in recent years. In fact, survey findings suggest that more than eight in 10 Americans are attached to their gadgets on a typical day, frequently or constantly checking their emails, texts, and social media.ix The increased amount of time that people devote to using computers, watching TV, and playing video games ­­­­­­­­­­­­­– also known as screen time – is a significant factor in the rise of obesity around the globe.x While 65% of Americans somewhat or strongly agree that periodically "unplugging" from their devices and social media is important to their mental health, only 28% of those people actually report doing so.xi
https://www.apa.org/news/press/releases/stress/2017/technology-social-media.PDF
Importantly, behavioral overuse as a category is very underserved. Despite millions of people who feel they have a tech-based overuse problem,xii fewer than a dozen traditional solutions (e.g. rehabs or other outpatient providers) offer services to screen, porn, gambling, shopping, or gaming addicts. This has created tremendous demand in the market for a solution that is available and can scale.
At the same time, artificial intelligence (AI) is a field that has been experiencing rapid growth over the last few years. The overall AI market is projected to be worth $16.06 billion by 2022, growing at a compound annual growth rate of 62.9% from 2016 to 2022.xiii In essence, AI is the engineering of machines to understand human intelligence.xiv Within AI, chatbots are a rapidly growing innovation sophisticated enough to simulate conversational interactions with human users, and chatbots are projected to responsible for over $8 billion a year in cost savings by 2020.xv According to Microsoft CEO Satya Nadella, "Chatbots will fundamentally revolutionize how computing is experienced by everybody."xvi
Competitors
There are several traditional solutions for substance abuse, including rehab facilities, outpatient providers, and 12-step programs (e.g. Alcoholics Anonymous). However, there are a limited number of traditional solutions that offer services for screen, porn, gambling, shopping, or gaming addicts.
One nontraditional solution for porn addiction, is a web platform that monitors internet activity:
Covenant Eyes®: Covenant Eyes provides an internet accountability service that helps customers overcome porn addiction by monitoring internet activity and sending a report to trusted friends who then hold that customer accountable. The company provides its service to individuals, families, and communities on a subscription model. An individual account costs $10.99 per month and a family account costs $14.99 per month.xvii Covenant Eyes had reported revenue of $17.3 million in 2016.xviii
There are several apps that focus on screen time overuse:
Offtime: Offtime is an app that allows users to find digital balance in today's hyperconnected world. The app provides data analytics regarding phone usage to help users understand their habits and improve self-control. The app provides different plans with varying features on Android (Basic, Professional, Business) and iOS (Light, Business). The Basic, Light, and Professional platforms are meant for individuals while the Business platform is meant for companies to help boost employee productivity. The individual platforms cost $2.99 to downloadxix, while the Business platform is sold based on consultation.xx Its users have aggregated over 750 years of undistracted time and over 525,000 minutes each day.xxi
Moment: Moment is an iOS app that automatically tracks a user's iPhone and iPad usage each day. The app allows users to set daily limits for screen use and get notifications when the limit is passed. Moment also offers a family option that allows users to manage their family's screen time from their phone and set up screen-free times. The app also provides detailed statistics regarding user app usage and phone habits. The app has been featured on various notable sources including The New York Times, TechCrunch, TED, and BBC.xxii It is free to download but offers in-app purchases to users that start at $3.99 for Moment Premium.xxiii
Forest: Forest is a productivity app that helps people overcome smartphone addiction. The app allows users to earn credits by not using their cell phones. Credits are then spent to grow virtual forests and to plant real trees around the world. As a result, the app has helped plant over 200,000 trees around the world in conjunction with Trees for the Future.xxiv The app costs $1.99 to download and provides customizable tags and detailed statistics for users.xxv The app is available on the App Store, Google Play, and as a Chrome extension.
Dinner Mode: Dinner Mode is a free app that allows users to set a timer for 15 minutes, 30 minutes, or an hour to be off their phone. The users set the timer and face the phone screen down. If they fail to leave it face down for the duration of the timer, the app shows a red failure screen notifying users that they didn't complete the full time. The app is free to download on the App Storexxvi and is only available for iOS devices.
Executive Team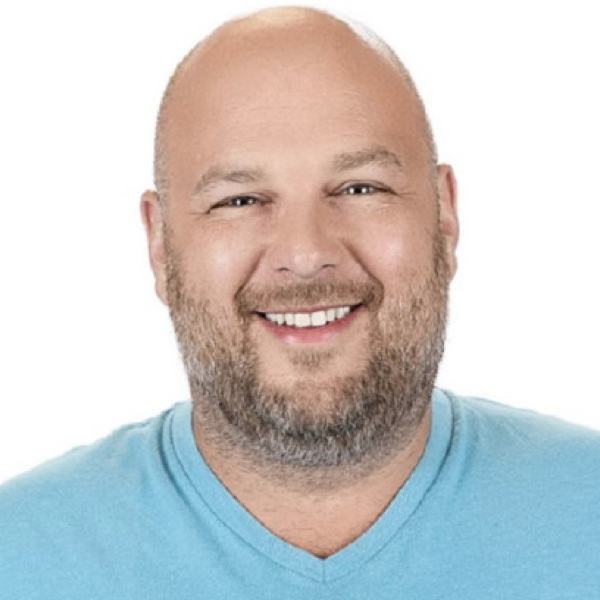 Gabe Zichermann, CEO and Co-founder: Gabe is the CEO and Co-founder of Onward and the principal experience architect of the company's scalable, AI-driven approach to conquering addiction. Gabe is a serial entrepreneur (including the sale of Trymedia to Macrovision for $34 millionxvii), author of three books, and public speaker with over a decade of experience building systems for behavior change. He is also an expert on creating engaging design and technology, and his work in the gamification movement has influenced government, large enterprise and startup workplaces, products, and business processes. After watching family and friends battle their addictions, Gabe's vision is to foster a world where balanced relationships between "real life" and technology make everyone healthier, happier, and more truly connected.
Adam Singer, CTO and Co-founder: Adam is a veteran software engineer who has previously held leadership roles at Posterous and Twitter. He has had close family members suffer from addiction, and he is dedicated to using technology to tackle this problem that has affected his family so dearly. Adam holds a bachelor's degree in Electrical Engineering and Computer Science from the University of California, Berkeley.
Investment Terms
Security Type: Crowd SAFE (Simple Agreement for Future Equity)
Round Size: Min: $50,000 Max: $1,070,000
Valuation Cap:$16,000,000
Conversion Provisions: In connection with an equity financing of at least $1,000,000, the Company has the option to convert the Crowd SAFE into shares of a series of non-voting preferred stock, at the price per share of the new preferred stock sold in the equity financing, or at a valuation cap of $16,000,000, whichever results in a lower conversion price. Please refer to the Crowd SAFE Form for a complete description of the terms of the Crowd SAFE, including the conversion provisions.
Endnotes