---
Investment Documents
Company Highlights
Perks
The Company will provide the following "perks" to investors in addition to the Crowd SAFE units purchased, at each level of investment defined below, after the Crowd SAFE units are issued to the investor.
$500+: Receive a Nude swag bag, which includes branded sticker, t-shirt, and sunglasses, plus personalized thank you note from founders
$1,000+: 50% lifetime discount on a monthly Nude app subscription
$5,000+: Lifetime subscription to Nude app
$50,000+: Private dinner with the founders in San Francisco for investor and two guests, a lifetime subscription to Nude, plus help choose the picture that will be the default photo for every user that downloads the Nude app for the first time (subject to discussion and approval, and the picture will be watermarked as sponsored content)
Company Summary
Opportunity
With countless celebrity scandals, iCloud hacks, and lawsuits that happen every year, the leaking of private photos has become a significant problem. Yet the security of private photos stored on personal smartphones affects everyone, not just the rich and famous. According to the latest survey results, over 97% of U.S. millennials ages 18 to 34 have smartphones.i According to a Cosmopolitan poll taken in 2014, nearly 9 out of 10 millennial women (89%) had taken naked photos, and roughly 73% said they didn't regret taking the photo. Further, over 81% of those surveyed said they would take nude photos again and about 56% said they would do so even if they were recognizable in the photo.ii
Founded in 2017 and based in Palo Alto, California, the Nude team is on a mission to build artificial intelligence (AI)-based technology that helps users secure their digital content locally and off the cloud. Nude was incubated at a Techstars accelerator program, SAP.iO Foundry, and at the UC Berkeley's SkyDeck accelerator, before being incorporated on September 29, 2017. The Nude App launched on the iTunes App Store on October 6, 2017.
Product
The Nude App is a completely serverless and cloudless photo vault app that scans a user's smartphone camera rolls and hides naked photos from intrusive eyes. The app is simple and intuitive to use. Once a user downloads the app, signs up for an account, and sets up a secure PIN (or enables Touch ID), the proprietary AI technology will scan through the camera roll to detect any sensitive material. Naked photos will be deleted from the camera roll, erased from the iCloud, and stored locally in the app. Analysis and storage of a user's images are done locally on the phone and nothing is transferred into the cloud. The app also features break-in alerts, tracking all break-in attempts and taking photos of any of intruders trying to log into the App. Additionally, its integrated camera feature allows users to take photos directly through the app.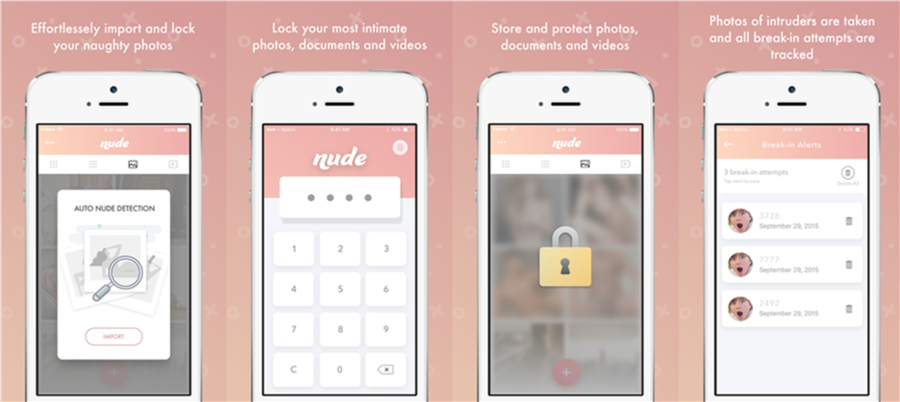 The images on a user's device are never sent to Nude itself. Nude utilizes Apple's new framework technology for iOS 11 devices called CoreML. CoreML allows Nude's developers to program machine learning algorithms, such as image recognition, directly onto the phone without transmitting images to a server. The machine learning libraries stored on the phone will scan the camera roll for nude photos and automatically move them to a private vault locally stored in the Nude app. For devices with iOS 10 and below, Nude uses Google's TensorFlow Lite, which also performs the image recognition directly on the phone. While the app is primarily intended to securely hide nude photos, users can also manually secure any type of sensitive material, including other photos (e.g. passport or driver's license photos), documents, and videos.
Use of Proceeds and Product Roadmap
The company plans on using proceeds to accelerate development of version 2.0 of the Nude App and add additional features such as image filters and time-sensitive sharing. The funds will also help the company increase marketing and customer acquisition strategies and expand into international markets. If the maximum goal of $200,000 is reached, the company also plans to expand the Nude team by hiring two more full-time developers, which will further accelerate the app development process.
Nude intends to focus on launching the Android version of the app by the end of the 2017 and launching version 2.0 of the software by Q2 2018.
Business Model
Nude is a subscription-based service that charges a monthly or yearly fee. The application itself is free to download and a user's first 30 days are free. The monthly plan is $0.99 per month and the annual plan is $9.99 per year.
User Traction
Nude began development on its app in July 2017 and in October 2017, it launched the iOS version. Through November 2017, Nude has been downloaded over 30,000 times and nearly 18,000 users have registered for an account.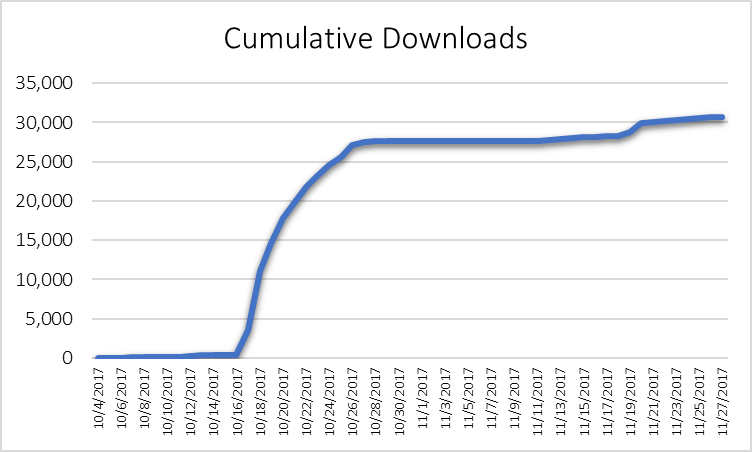 Historical Financials
Nude Inc. launched on September 29, 2017. Through November 2017, the company has generated roughly $2,300 in sales through the Apple Store, but has not yet received the net proceeds (~$1,500) from Apple; per Apple's policy, payments are distributed within 45 days of the last day of the month in which booked purchases were made. As of November 30, 2017, the only operating expenses incurred by Nude Inc. have been legal and accounting fees ($3,000) related to this raise.
Industry and Market Analysis
The increased popularity of smartphones in recent years has turned more people into prolific photographers. As of January 2017, 95% of Americans owned a cellphone of some kind, and 77% of Americans owned a smartphone, up from 35% in 2011.iii As most Americans are now carrying around a device that functions as a digital camera, many are taking more photos as a result. In 2017, it is estimated that 1.2 trillion photos will be taken around the world, up from 1.1 trillion in 2016. Of these 1.2 trillion photos, 85% will be taken with smartphones.iv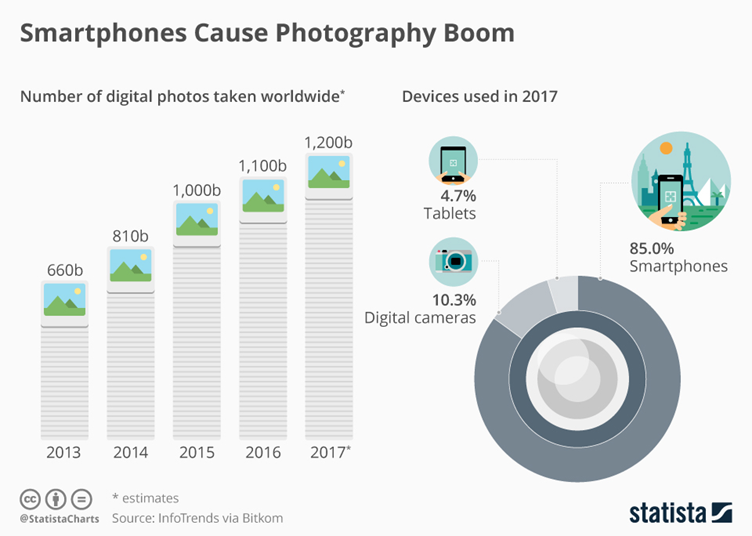 Many young women are also reported to have taken nude photos in the past. After surveying 850 women in 2014, Cosmopolitan found that nearly 9 out of 10 millennial women (89%) had taken naked photos, and roughly 73% said they didn't regret taking the photo. Further, over 81% of those surveyed said they would take more nude photos and 56% said they would do so even if they were recognizable in the photo. A large majority of the women surveyed had never had their photos leaked.v Yet, as shown by the 2014 "Celebgate" hack where over 100 celebrities had nude photos published online,vi photos stored online can be vulnerable to breaches, and entrepreneurs are looking to address this issue.vii
Competitors
Keepsafe: Keepsafe is a photo storage and vault application that currently has 50 million users and has stored billions of photos.viii The application allows users to make their photos and videos private by locking files down using PIN protection, fingerprint authentication, and military-grade encryption. Keepsafe backs up photos and videos for users and allows them to control how long the recipient sees photos that are sent. The application also doesn't show up on a phone's recently used apps list.ix Keepsafe also provides a premium plan that costs $4.99 per month or $23.99 for 12 months.x Keepsafe Premium allows a user to store 5,000 files instead of 200 and provides other features such as no ads, album locks, a disguise as a virus-scanning app, and the option to choose album cover photos.xi In 2013, Keepsafe raised $3.4 million in a funding round led by Floodgate just a year and a half after it launched.xii
GalleryVault: Published by ThinkYeah Mobile in August 2016, GalleryVault is an application that helps users hide and encrypt photos, videos, and other files.xiii The application has over 10 million installs on the Google Play store and is also available on Apple devices. GalleryVault encrypts all hidden applications and has the ability to hide its icon on a phone's home screen. There is also no storage limitation on the application. In addition, GalleryVault has a feature where a user can shake his/her phone to quickly hide photos and videos.xiv GalleryVault is free to download but offers additional professional features for $4.99.xv
Vault: Vault is a mobile application that was published by NQ Mobile Security (NYSE: NQ). The application hides private photos, videos, texts, call logs, and contacts on a phone through password security. There are currently 100 million users worldwide using Vault. Vault allows users to hide texts, set contacts as private, lock applications, use a private browser, and backup files on the Cloud. Vault also has some premium features, including the ability to automatically take a picture of anyone who attempts to access files with a wrong password.xvi
Gallery Lock: Gallery Lock is a photo and video protection application that has over 10 million downloads on the Google Play store for android devices. The application allows users to hide photos and videos with passcodes, create slideshows, backup on the cloud, and take photos of people trying to access the application.xvii Gallery Lock also has a premium application called Gallery Lock Pro that costs $4.25 and supports a feature called Stealth Mode.xviii This mode hides the launch icon and allows a user to launch the application by dialing a passcode into his/her device's phone application.xix
Executive Team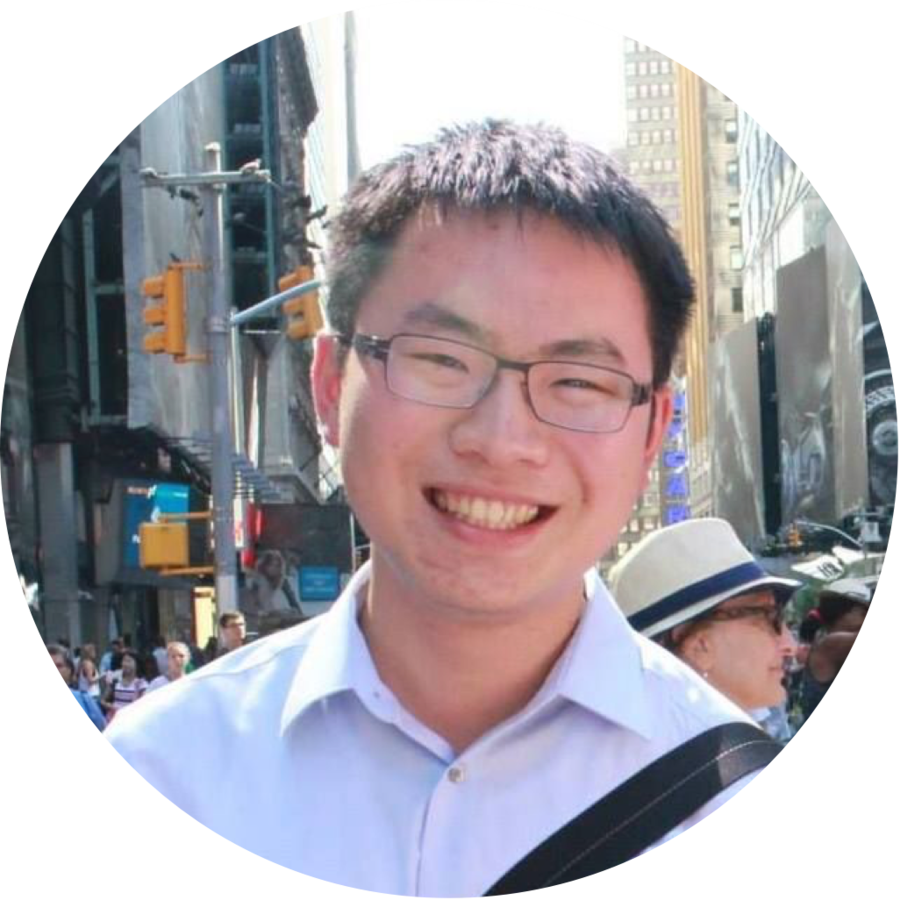 YC Chen, Co-founder: YC started his career when he interned at NASA at 16 years old and then joined IBM at age 18. At IBM, he worked with the team that commercialized Watson AI technology. At 19, he started his first company, Infinite Uptime, an enterprise SaaS company that offers predictive maintenance solutions for the manufacturing industry.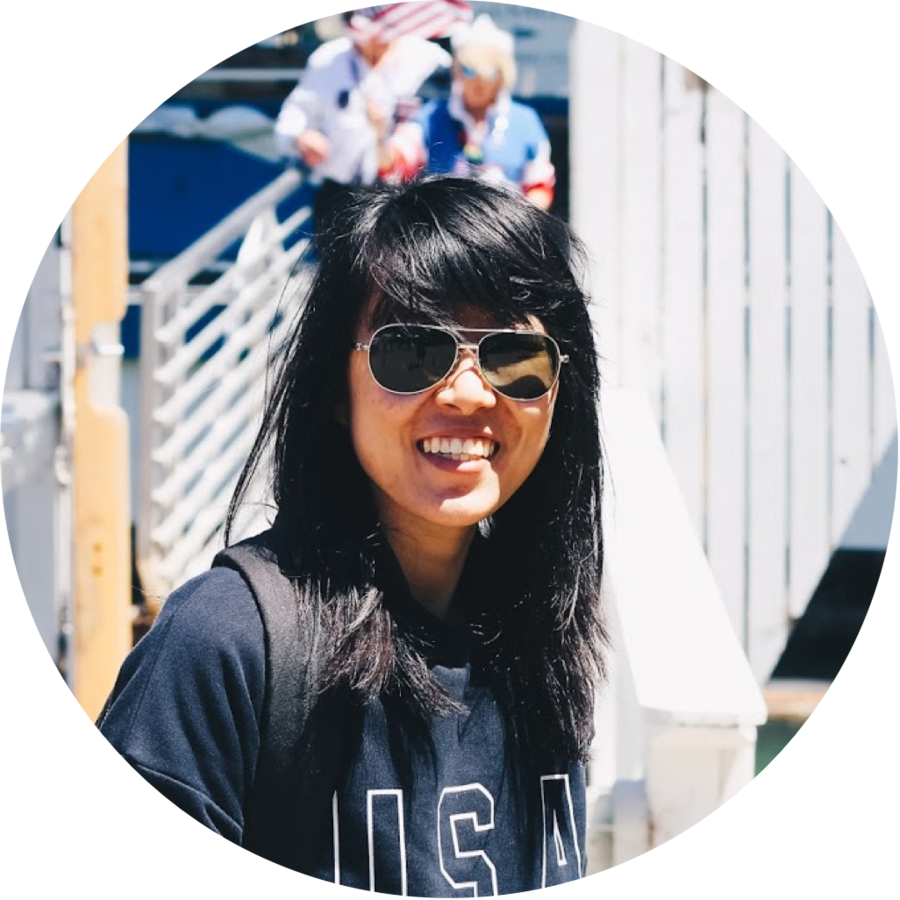 Jessica Chiu, Co-founder: Jessica has previously worked as an engineer intern at Mercedes Benz's Research and Development department and at Northrop Grumman. Her product designs have been featured in Popular Science, Yahoo Tech, and Fast Co. The Nude App was inspired during a conversation she had with an actress in Hollywood. Before founding the company, Jessica was pursuing her bachelor's degree in Mechanical Engineering from the University of California, Berkeley.
Investment Terms
Security Type: Crowd SAFE (Simple Agreement for Future Equity)
Round Size: Min: $50,000 Max: $200,000
Valuation Cap: $6,000,000
Conversion Provisions: In connection with an equity financing of at least $1,000,000, the Company has the option to convert the Crowd SAFE into shares of a series of non-voting preferred stock, at the price per share of the new preferred stock sold in the equity financing or a valuation cap of $6,000,000, whichever results in a lower conversion price. Please refer to the Crowd SAFE Form for a complete description of the terms of the Crowd SAFE, including the conversion provisions.
Endnotes