---
Investment Terms
Security Type: Series Seed Preferred Stock
Round Size: Min: $24,999.96 Max: $106,999.92
Price per Share: $0.12
Pre-money Valuation: $654,000
Liquidation Preference: 1x
Conversion Provisions: Convertible into one share of Common Stock (subject to proportional adjustments for stock splits, stock dividends and the like) at any time at the option of the holder.
Company Highlights
Material produces organic, non-GMO, grain vodka made in the U.S.
10% of all profits go to supporting the arts
Some of the artists and cultural institutions the company has worked with include Moma PS1, Solomon R. Guggenheim Foundation, Whitney Biennial, RxArt, EckhausLatta, Artist Space, Frieze, BOFFO, Interview Magazine, Black Contemporary Art, n+1, and Art Basel
Named among the 10 best vodkas in America by Food Republic in 2016i
Since January 2016, the company has sold more than 1,000 six-bottle cases and set up more than 60 accounts in New York and Los Angeles, including prestige accounts such as the Standard Hotels, Indochine, Odeon, Café Cluny, Bar Marmont, Mandrake, Mission Chinese Food, and others
Perks
*You are investing in equity in this offering. Perks are meant to be a thank you from the company for investing. The perks below are inclusive of lower dollar amount perks. Travel and related expenses are not included unless otherwise stated. Shipping, where applicable, is included for domestic and international addresses. For alcohol perks, shipping is included assuming that it is legal to ship to that destination.
$250: Become a Material VIP and receive invitations to Material events, talks, and updates on the art world
$500: 750ml bottle of Material Vodka
$1,000: Receive an editioned Material Vodka share certificate by artist Adam Pendleton
$2,000: Receive an invitation to a group cocktail lesson with famed Mixologist Arley Marks
$10,000: Receive an editioned artwork by artist Nikolas Gambaroff (not included in higher level perks)
$25,000: New York Art and Cocktail experience with the Material Team (the Material Team will take you and five of your friends for a day of gallery and cocktail lounge hopping with dinner) (not included in higher level perks)
$50,000: Private VIP tour and dinner in Mexico City with a local Mexican artist/curator as your guide and access to all the best events and happenings during the International Fair (does not include airfare, transportation, hotel, or food and beverage)
Company Summary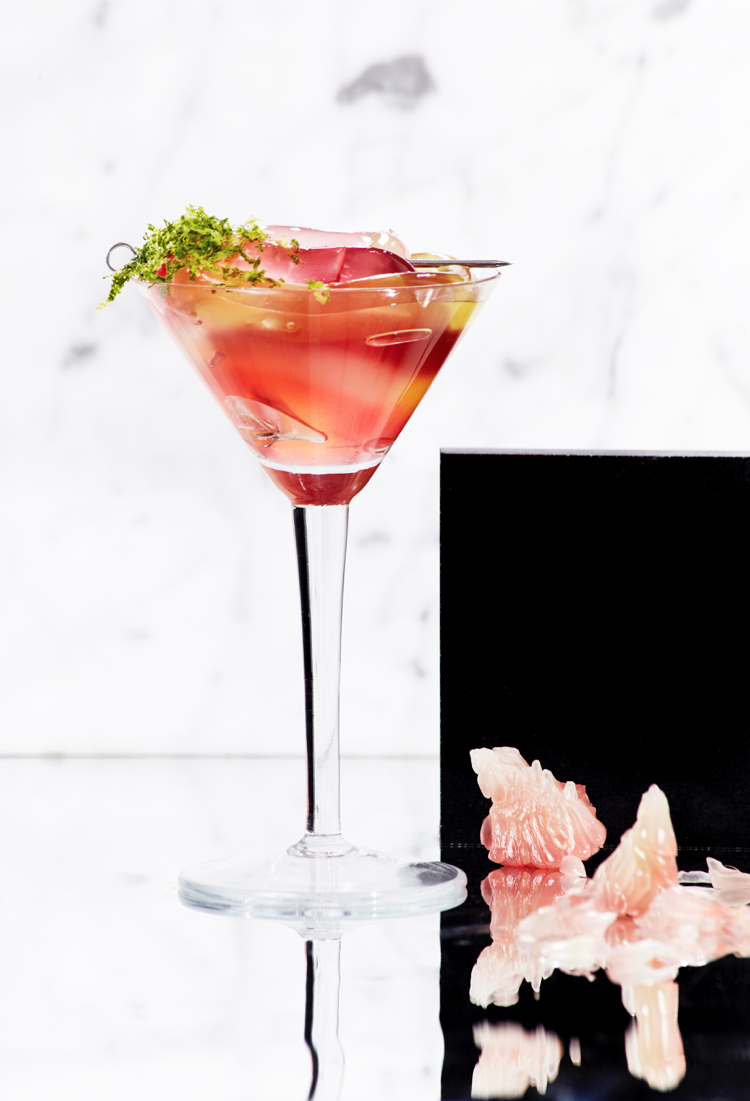 Opportunity

Material Vodka is the product of a small group of friends who asked the question: "What if we could take a product almost everyone enjoys, especially in the art world, and transform some of the profit from its sale into a force for change?" Specifically, the founders of Material Vodka strive to support art and artists who challenge norms and push the conversation forward. The result? A fresh reinvention of what a modern-day spirits company can be.

Launched in 2015, Material Vodka is a philanthro-capitalist initiative that uses sales from its vodka as a funding mechanism for alternative and radical art. The company is partnered with Redwood Spirits to create a simple, elegant formula for an organic vodka. With initial funding from friends and family, Material Vodka was able to produce eight batches of vodka, set up operations, hire independent contractors, and complete the bottle design.
The Story
Pati Hertling and Thymaya Payne, co-founders of Material Vodka, met while living in Berlin in the early 2000s. Pati is a lawyer and curator while Thymaya is a filmmaker. They saw a problem in the fundamental sustainability of nonprofit art spaces and the support of nonconforming artists. Fate intervened when Thymaya's college friend, Abe Stevens, informed him he had opened an organic vodka distillery in Humboldt County, California. The three spent a weekend in the Redwoods, where the idea behind Material Vodka was born. They partnered to create a simple, elegant formula for an organic vodka, with 10% of all profits going towards supporting the arts.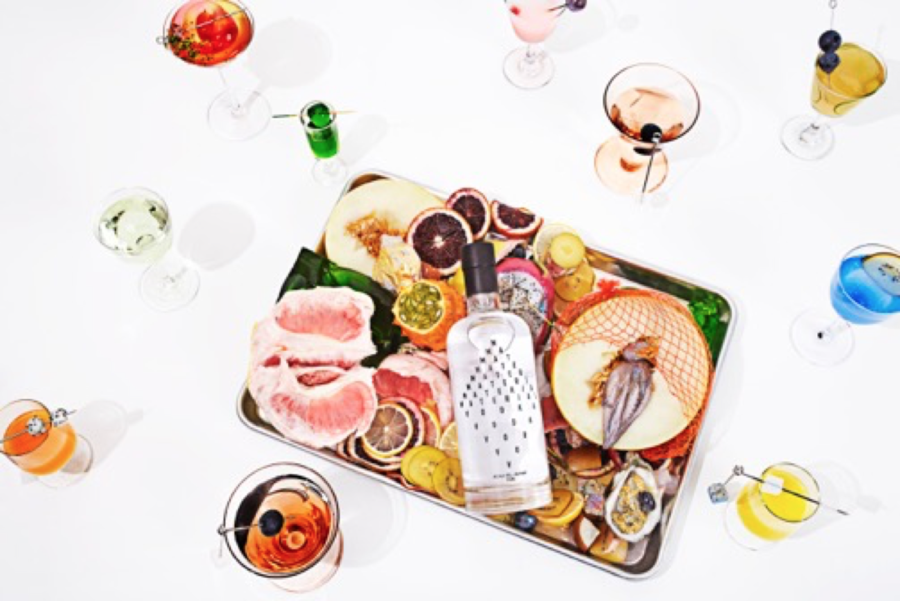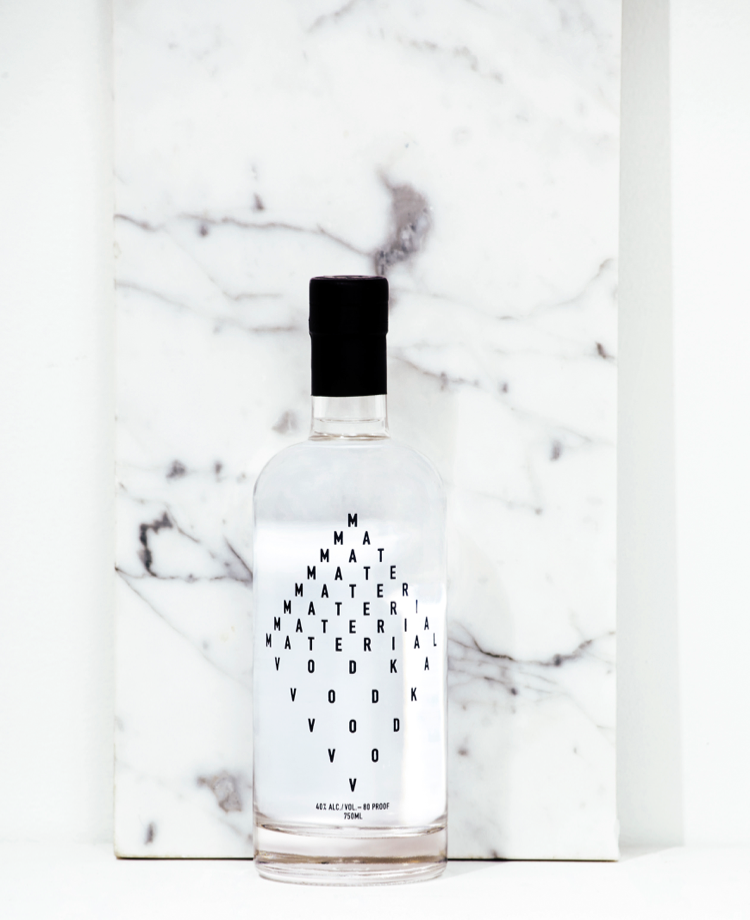 The Vodka

Material Vodka combines high-quality alcohol made from organic, non-GMO wheat and water from the pure, redwood-fed aquifers of Humboldt County. No sugars are added, and the vodka is filtered over virgin coconut carbon rather than charcoal, giving Material a clean, satisfying finish while still maintaining a 100%-organic process. The founders also enlisted the help of designer Patrick Li of Li Inc. to design a bottle in the same spirit of simplicity, elegance, and transparency upon which Material was founded.
Redwoods Spirits Partnership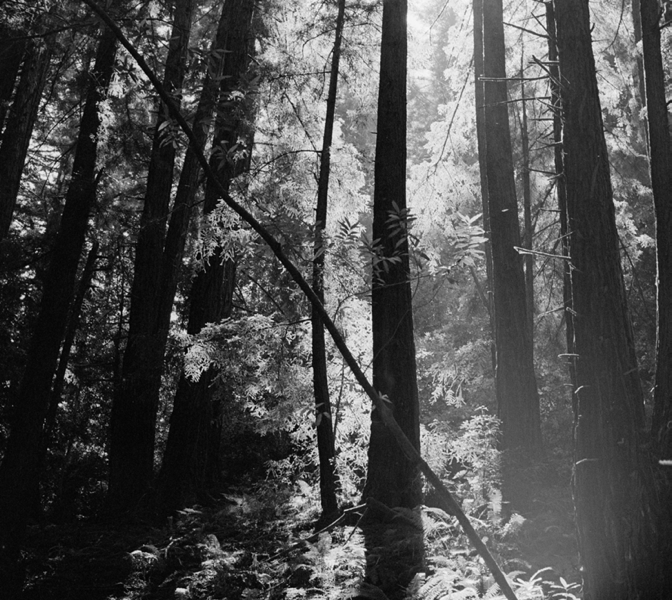 Abe Stevens, owner of Redwood Spirits, a craft distillery in Humboldt County, California, is a founding partner of Material Vodka. Redwood Spirit's vodka is sourced from boutique, organic grain alcohol pre-distilled and then shipped to Humboldt County for the actual finishing process. Redwood Spirits already has all the necessary equipment needed to produce the vodka; therefore, the partnership with Abe minimizes Material's initial investments and overhead. This arrangement with Redwood Spirits allows Material Vodka to control its output and procure the vodka at cost plus a minimal markup. Material Vodka can be produced and bottled at Redwood Distillery and be ready for delivery with minimal lead time.
Material Prize
Every year a no-strings-attached cash prize is awarded to a progressive creator by an independent board of artists and curators. Material Vodka sets aside 10% of all profits to go towards this prize.
| | |
| --- | --- |
| | |
| 2016 Prize: Colin Self | 2017 Prize: M Lamar |
| | |
| --- | --- |
| Colin Self is an artist currently based in New York City who composes and choreographs music, performance, and environments for expanding consciousness, troubling binaries and boundaries of perception and communication. Working with communities across disciplines and practices, Colin utilizes voice, bodies, and computers to interface with biological and technological software. Self taps in to radical forms of healing as a praxis of collective resistance. His elaborate operas, compositions, and performances are markers of a new generation of musical artists that promises to profoundly shape a bold era of musical expression not only in New York, but further afield. | M Lamar describes himself as a "Negrogothic, devil-worshipping, free black man in the blues tradition." His work merges the genius of his operatic voice with the gospel and blues tradition to explore the radical potentialities of blackness and the mythology of death and resurrection. He straddles in his work a combination of subjects such as the lynching tree, Mapplethorpe's problematic white gaze, the supernatural, Black Lives Matter, and American supremacy. Born in Mobile, Alabama, Lamar draws inspiration from Southern gothic traditions, the solemnity of blues, and the political radicalism of punk. Lamar addresses America's history of colonialism and slavery head-on and how it informs gender, class, and race in life today. |
Use of Proceeds and Product Roadmap
Material Vodka intends to focus on the following in 2018:
Partnerships: Material aims to solidify its relationships with existing partners as well as open new accounts in New York, Los Angeles, and Miami. The company wants to strengthen its brand through collaborations and outreach with the arts community. Material aims to be a major force within the arts community and thus will use this position to extend its brand message in a more organic and community-building manner. Material will also design events and collaborations with forward-thinking restaurants and bars in New York and Los Angeles. For example, it will seek to work with star chefs on exciting new recipes and concoctions that challenge the status quo. The company also plans to increase in-person meetings as well as participation in alcohol industry events where it hopes to garner business-to-business attention and traction.
Marketing goals: Material will engage in dynamic brand messaging and will explore methods such as subway sign saturation, collaborating with young, relevant fashion brands, and other creative ways to express its mission.
New flavors: Material plans to introduce new variations of vodka, designed by its creative team, including Tumeric.Material, Yuzu.Material, and Sea.Material.
If the minimum $25,000 is raised, Material plans to use the majority of proceeds on future wages ($9,250) and manufacturing costs ($5,000). If the maximum $107,000 is raised, the company also plans to use the majority of proceeds on future wages ($60,000) and manufacturing costs ($14,000).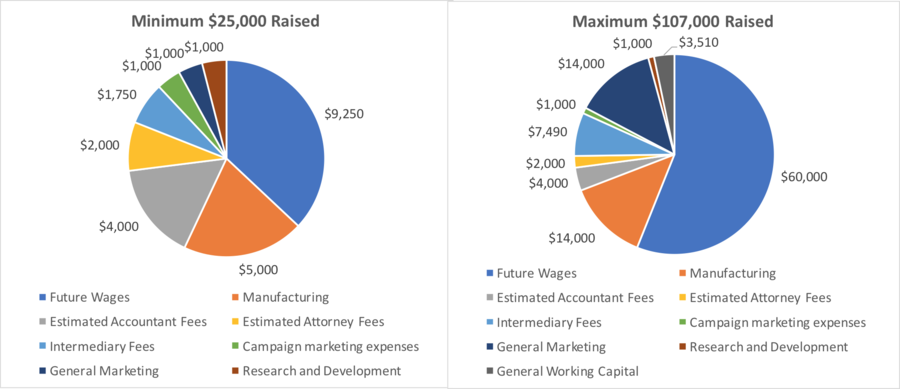 Business Model
Material Vodka generates revenue through wholesale distribution. One six-pack case is sold for $125, or $20.83 per bottle, and five or more cases are sold for $87 each, or $14.50 per bottle. The manufacturer's suggested retail price is $29 for a 750-ml bottle.
Material was co-founded with the owner of Humboldt Distillery to supply the vodka on demand and keep overhead costs low. Material works with Park Street Imports, a servicing company that holds Material Vodka's license and allows it to sell direct to retailers in New York, California, and Florida. This means that Material has a direct relationship with its customers and retailers while keeping back office expenses low. Material plans to update this model as new opportunities arise on a state-by-state basis.
Traction
Year to date as of September 2017, Material has sold nearly 400 cases of vodka. Since January 2015, Material has sold over 1,300 4.5l cases of vodka.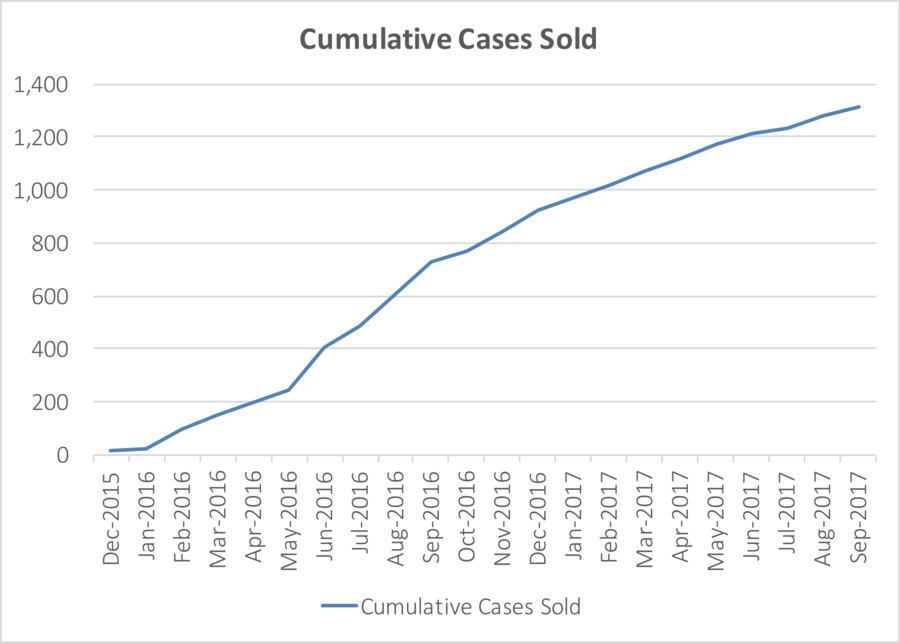 Material has garnered a customer base at over 60 restaurants, bars, hotels, and stores. In the coming year, Material aims to solidify its footprint in the New York, Los Angeles, and Miami markets.

Material sponsored its first event in 2015 in the Fire Island Pines. Since then, it has hosted, sponsored, or participated in over 100 events in Los Angeles and New York, including film premieres, museum openings, film festivals, fashion presentations, benefit events, and more. Below are some of the organizations and businesses with which Material has partnered.
| | | | |
| --- | --- | --- | --- |
| | | | |
| Material is the house vodka at Mission Chinese Food in New York and was featured on the Fall 2016 cocktail menu designed by Sam Anderson. | Material's Mixologist Arley Marks is the cocktail designer for the trendy downtown New York restaurant Dimes, and there are several cocktails featuring Material on the Dimes menu. | Launched in a similar timeframe to Material, White Girl Rosé became a natural partner for Material. The two companies plan to work on co-sponsored events and possibly marketing campaigns in the future. In a short time, White Girl Rosé has already amassed a strong social media following with over 64,000 Instagram followers.ii | As Material is a majority LGBTQ-owned company, Grindr became a natural partner to work with on marketing to the LGBTQ community. Material sponsored 10 artist-designed rooms at a New York Pride Event hosted by Grindr & Visionaire in June 2016 at the Standard Hotel, Highline. |
| | | | |
| Arley Marks' Honey's and Enlightenment Wine mead distillery opened in Summer 2016, and Material has since collaborated with Honey's on several events. Material is featured in all the house cocktails at Honey's, and the bar will become a major point of sale and promotion for Material as its clientele grows. | Material is stocked at all of the Standard Hotels in New York, Los Angeles, and Miami and has collaborated with the Standard on large-scale events in New York, including a Gay Pride party co-hosted by Visionaire and Grindr. | A nonprofit that supports performance art on Fire Island, BOFFO has been a close partner since Material's inception. Material will continue to work with BOFFO in supporting primarily queer performance artists and expanding Material's presence within the LGBTQ community. | Tenants of the Trees (TOT) is known by the young Hollywood crowd as one of the hottest spots in the Los Angeles nightlife scene. Material supports a popular Tuesday night party where Material is used for all vodka bottle service requests and is featured in cocktails on the menu inside at TOT and in the outdoor area known as Out of Order (OOO). |
| | | | |
| Material worked with the international art fair and influential art publication Frieze, co-hosting the closing party for the 2016 Frieze New York art fair. As the official vodka sponsor of Frieze, Material positioned itself as the vodka of the art world. | The cult brand that bridges the gap between art and fashion has become one of Material's strongest fashion partners. Material has sponsored several of Eckhaus Latta's shows and events. Eckhaus Latta was named as one of the top 10 brands to watch by Vogue in 2015 and was featured in the MOMA PS1 "Greater New York" retrospective. | Material works closely with Artists' Space as Stefan Kalmar, a member of the Material Prize committee, is the former director of the beloved Soho art nonprofit that has supported alternative artists since the 1970s. | Interview was founded in 1969 by artist Andy Warhol and journalist John Wilcock. Interview is known as the American magazine for arts and culture. Material partnered with Interview as an official sponsor for Art Basel Miami Beach events in 2016 and plans to launch its next art prize exclusively with Interview Magazine. |
Historical Financials
Year to date as of October 2017, Material Vodka has generated nearly $50,000 in revenue, with cost of goods sold totaling $1,600. In 2016, Material Vodka generated over $77,000 in revenue and cost of goods sold totaled approximately $55,000.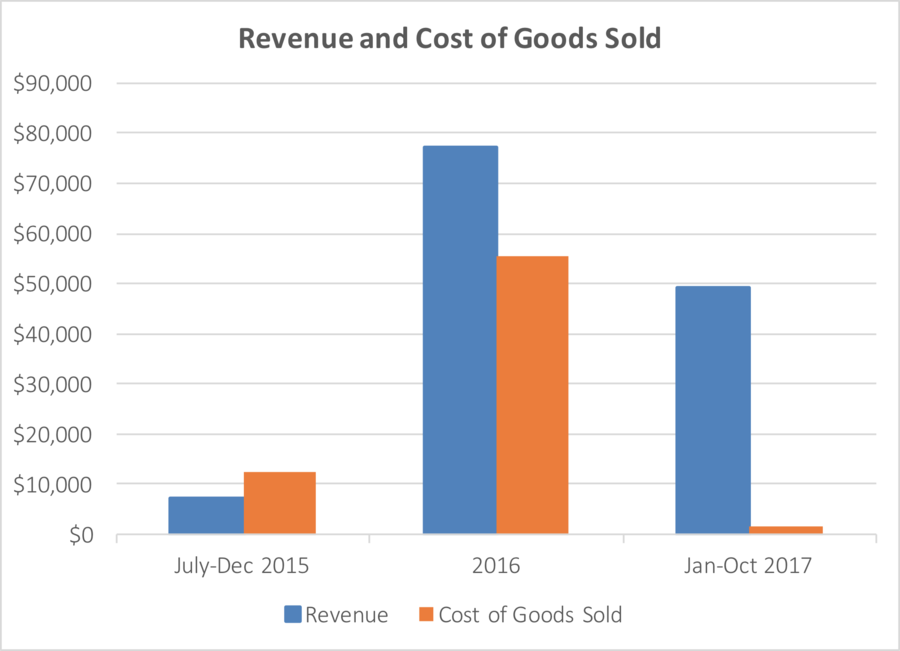 Financials have not been audited or subjected to financial review
Year to date as of October 2017, operating expenses totaled nearly $60,000 with distribution expenses making up over half of total operating expenses (~$33,000). In 2016, operating expenses totaled over $211,000. The largest expense category was promotional expenses, which totaled approximately $70,000, followed by independent contractor expenses (~$41,000) and distribution expenses (~$39,000).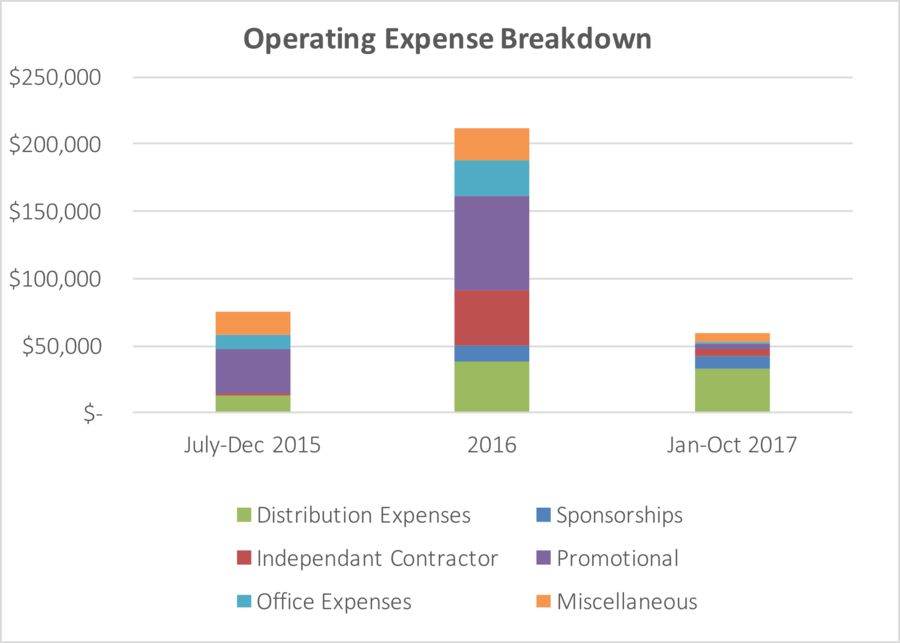 Financials have not been audited or subjected to financial review
Year to date as of October 2017, the company had a net operating loss of approximately $12,000. In 2016, the company had a net operating loss of approximately $190,000.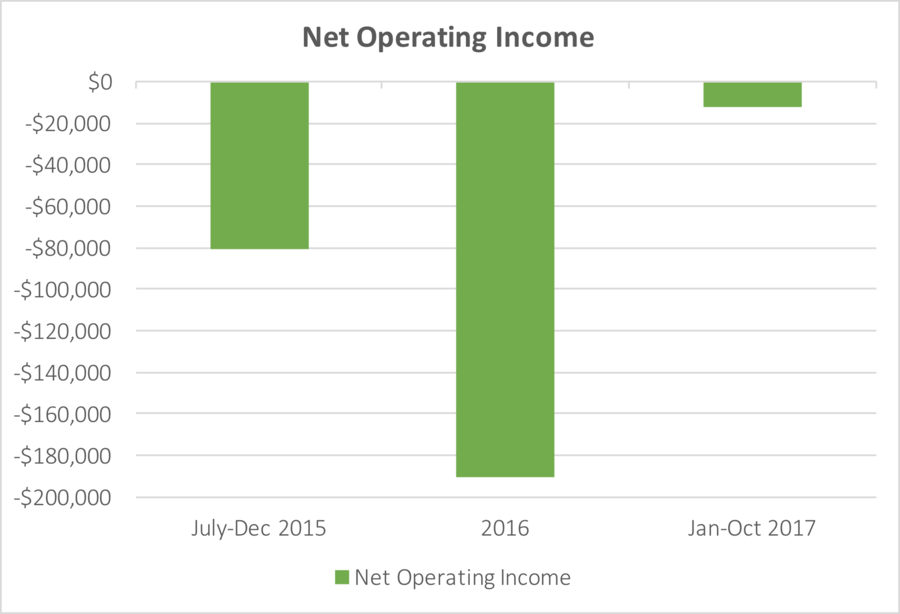 Financials have not been audited or subjected to financial review
Industry and Market Analysis
The U.S. alcoholic beverage industry is tightly regulated by a three-tier system. This means that manufacturers, distributors, and retailers are separate entities. Each tier is further required to obtain federal and state licenses, which can be very costly. Manufacturers, the first tier, include distilleries, wineries, and breweries that sell to licensed importers, distributors, and control boards ─ the second tier. The importers and distributors ensure that taxes are properly collected and then sell the alcohol to retailers, bars, and restaurants ─ the third tier.iii As a distributor, Material Vodka sits in the second tier. Also, since Co-founder Abe Stevens is an owner of Material, the company can rely on Redwood Spirits' manufacturing license, which simplifies the licensing process.
In 2016, retail sales of U.S. distilled spirits were estimated at nearly $78 billion. Supplier (wholesale) sales to retailers increased 2.4% year over year to reach 220 million cases in 2016, worth $25.2 billion. This marked the seventh consecutive year that distilled spirits had gained market share relative to beer.iv Furthermore, the distilled spirits market has been primarily driven by growth in high-end premium and super premium products – bottles that retail for at least $20.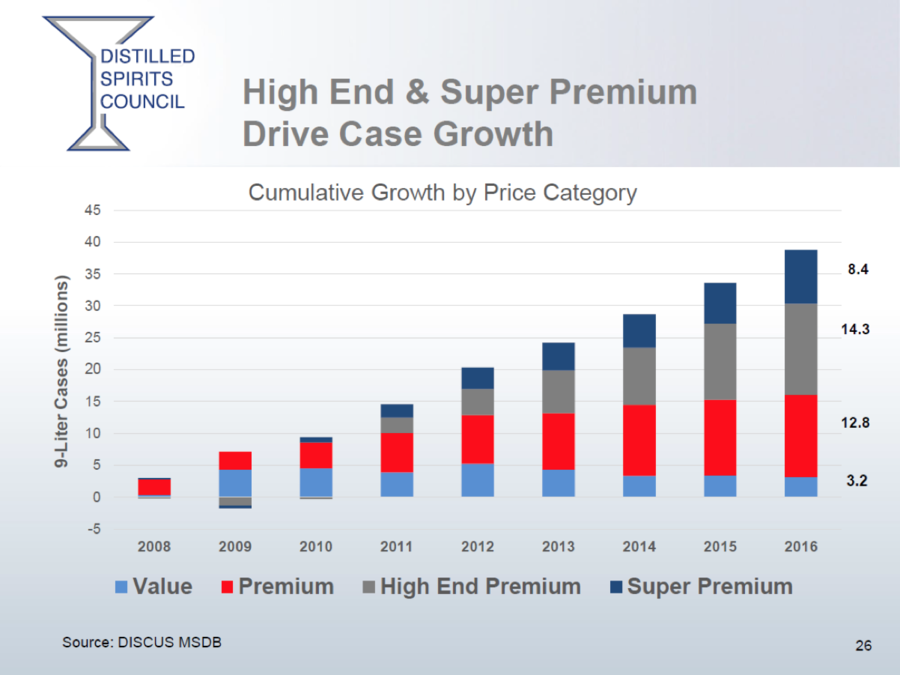 In 2016, vodka accounted for almost one-third of total spirits volume with 69.8 million cases sold, representing a volume increase of 2.4% from the year before. Total vodka sales were up 4.1% to $6 billion in revenue in 2016. Revenue from super premium vodka (bottles that retail for over $30) rose 13.1% year over year to reach $1.3 billion (6.3 million cases).v
Local distilleries have contributed to the overall growth in the distilled spirits market. In 2015, the craft spirits industry generated roughly $2.4 billion in retail sales, with volume growing at a compound annual growth rate of 27.4% between 2010 and 2015.vi From 2010 to 2015, the number of craft distillers grew at a compound annual growth rate of 41.6%. As of August 2016, there were 1,315 craft distillers active in the U.S., with the largest concentrations located in the West (mostly in California, Washington, and Colorado) and in the South (mostly in Texas). In Colorado, there were 72 craft distilleries, the fourth-most by state. Based on a compound annual growth rate of 19.6%, the number of craft distillers could surpass 2,800 by 2020.vii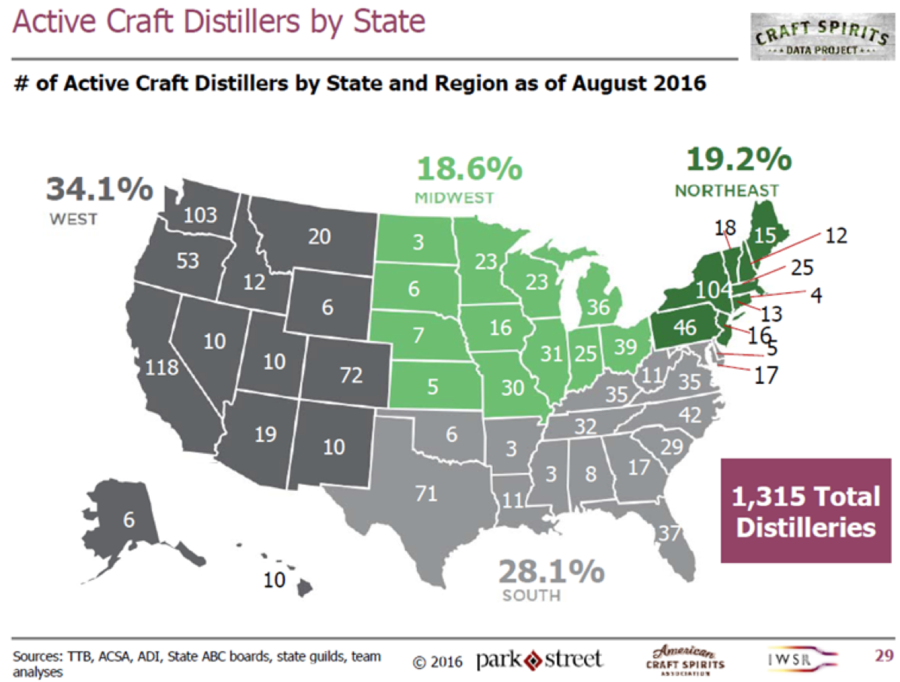 Out of those 1,315 craft distillers, 91.7% are defined as small producers. Yet because small distilleries produce a limited quantity of spirits – usually single batches at a time – they accounted for just 12.1% of the craft spirit cases sold in 2015. Of small craft producers' revenue, 67% is generated within the distillery's state of operation but outside the premise.viii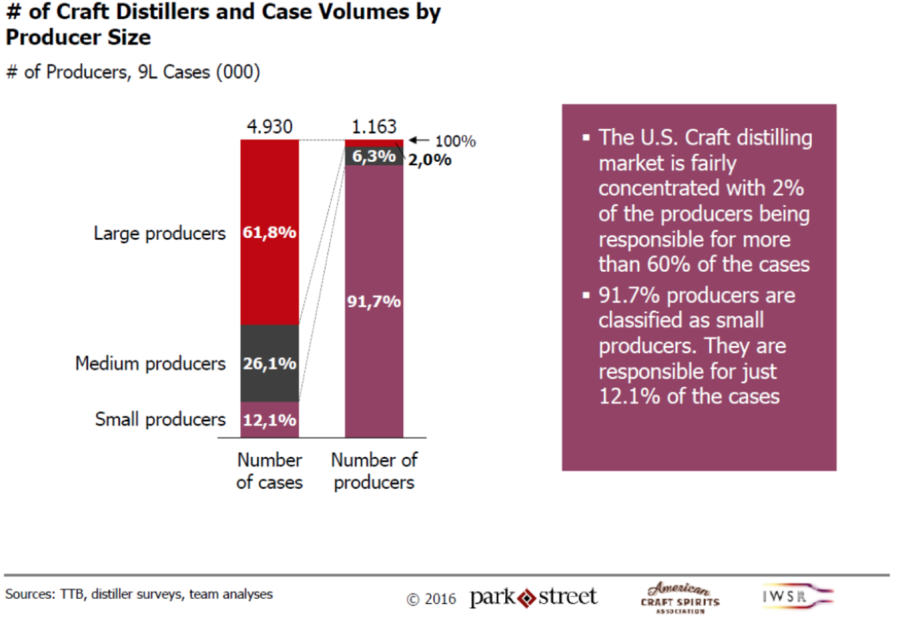 Competitors
Smirnoff (owned by Diageo): Smirnoff was founded in 1864 in Russia and is one of the best-selling vodka brands in the world. The average selling price of a bottle of Smirnoff's classic No. 21 vodka is $15.47 across five major retailers in the U.S.ix Smirnoff sells three different types of organic vodka: the Smirnoff No. 21 vodka, the Smirnoff Silver 90 Proof vodka, and the Smirnoff 100 Proof vodka. The brand also sells flavored vodkas and low-alcohol, ready-to-drink beverages under the label Smirnoff Ice. Smirnoff sold 25.5 million cases worldwide in 2016, which represented a 1.16% decline in sales from 2015.x The Smirnoff brand is owned by Diageo, a global leader in beverage alcohol that holds over 200 brands.xi
Absolut Vodka (owned by Pernod Ricard): Absolut Vodka's heritage goes back to the late 19th century in Sweden, but it started exporting its product in 1979.xii In 2016, Absolut sold 11 million cases worldwide, making it the second most popular vodka brand in the world.xiii Based on an average of three major retailers, a bottle of plain Absolut vodka costs around $21.65.xiv Absolut has a variety of offerings, ranging from its organic 80 proof vodka to its flavored vodkas, such as Absolut Hibiskus. In 2008, French spirits company Pernod Ricard bought Vin & Spirit AB, the parent company of Absolut Vodka, for $8.34 billion.xv
Tito's Handmade Vodka: Tito's Handmade Vodka is produced in Austin, Texas, at the oldest legal distillery in Texas.xvi The average price of a bottle of Tito's is $16.06, positioning the brand as an affordably priced vodka. Tito's vodka has created a craft-like identity, while still selling at a price significantly lower than traditional upscale vodka brands.xvii Tito's is the only liquor brand among the top 40 brands that isn't owned by any of the major alcohol conglomerates. In September 2017, Tito's became the top selling spirits brand in the U.S. Excluding bar sales, sales reached nearly $190 million between September 2016 and September 2017, up 44%.xviii
Bacardi Limited: Founded in 1862 as a small family-run distillery, Bacardi is the world's largest privately held spirits company.xix Bacardi has a portfolio of more than 200 brands that span a wide variety of spirit categories. Its portfolio includes Bacardi rum, Dewar's Blended Scotch whisky, Bombay Sapphire gin, Grey Goose vodka ($31.90 a bottle)xx, Eristoff vodka, Cazadores tequila, and many more.xxi Bacardi's Grey Goose vodka is the top-selling super premium vodka in the world and Eristoff vodka is one of the world's fastest-growing vodka brands.xxii
Hangar 1 Vodka: Hangar 1 Vodka is a brand of vodka distilled in Alameda, California. Hangar 1's vodkas are made from local ingredients to create seasonal flavors, including Chipotle Vodka, Pink Peppercorn Vodka, and Honeycomb Vodka. Hangar 1 also offers an organic vodka distilled from grains and grapes, which costs around $22.99 a bottle.xxiii Hangar 1 offers tours of its distillery in the Bay Area that allow visitors to learn about the ingredients and bottling process as well as try the various vodkas. The vodka is sold online at ReserveBar for $41.xxiv
Deep Eddy Vodka (owned by Heaven Hill Brands): Named after the Deep Eddy Pool in Austin, Texas, Deep Eddy Vodka is made from a distillery in Dripping Springs, Texas. Deep Eddy Vodka offers its original organic vodka, but also a wide range of flavored spirits including grapefruit, lemon, cranberry, peach, and orange vodkas. Deep Eddy's organic vodka costs around $14.99 per bottle.xxv The distillery's flavored vodkas are made only with juices, essential oils, natural sweeteners, and honey.xxvi Over the past four years, Deep Eddy's sales have increased 1,566% from 60,000 cases in 2012 to over one million cases in 2016. The Deep Eddy brand was acquired by Heaven Hill Brands for nearly $400 millionxxvii in 2015.xxviii
Pinnacle Vodka (owned by Beam Suntory): Pinnacle Vodka was founded in 2003. This spirit is distilled five times using wheat grain and is imported from France.xxix The Pinnacle brand includes both the original organic vodka and 30 different flavors that range from Salted Caramel Vodka to Tropical Punch Vodka.xxx At the 2013 International Wine & Spirit Competition (IWSC), Pinnacle Original won in the Vodka category, beating out more than 100 vodkas from around the world. Pinnacle Vodka also conquered the Best Vodka category at the About.com's 2014 Annual Reader's Choice Awards.xxxi Pinnacle's Original Vodka costs around $15.75 a bottle.xxxii In 2012, Beam Inc. acquired Pinnacle Vodka and rum brand Calico Jack from White Rock Distilleries for approximately $600 million.xxxiii
Executive Team
Pati Hertling, President and Co-founder: Pati is a lawyer and independent curator. She has been practicing law for 10 years, representing clients in the U.S., Germany, and France. Pati has built a visible and influential presence in the New York art community with various curatorial projects at the Swiss Institute and White Columns, as well as at salon events at Gavin Browns Enterprise, MoMA PS1, the New Museum, and others. At Material Vodka, she is responsible for building artist relationships, building sales partnerships, and organizing and managing the Material Art Prize, as well as day-to-day operations.
Thymaya Payne, Vice President and Co-founder: Thymaya is an award-winning film director and producer with extensive production and project management experience. His latest projects include "Stolen Seas," an in-depth documentary about Somali Piracy and its roots, which he produced and directed, as well as "Live Cargo," a film starring Dree Hemingway set in the Caribbean. Thymaya has also published art books and fashion magazines, thrown raves and club events, and coordinated large-scale art-related events on several continents. He is responsible for coordinating and overseeing Material's operations, marketing, sales, and production.
Abe Stevens, Co-founder and Chief Technology Officer: Abe is the owner of Redwood Spirits, Inc. and the creator of the international award-winning Humboldt Distillery Organic Vodka. Prior to founding Redwood Spirits, Abe was a formulation development scientist and a graduate of the University of Chicago with degrees in Chemistry and Biochemistry. Abe developed the formula for Material's own organic vodka. He manages anything related to product production.
Nikolas Gambaroff Moeller, Co-founder and Creative: Nikolas is an artist who has developed an idiosyncratic aesthetic, the result of a unique method of painting that involves collaging and arranging layers of newsprint on canvas or panel. He earned his MFA from Bard College's School of Visual Arts. His work has been shown at White Cube in London, Melbourne's Australian Center for Contemporary Art, the Orange County Museum of Art in Newport Beach, and the Museum of Modern Art in New York, among other institutions, galleries, and fairs across the globe. Nikolas is a creative consultant for the Material brand.
Arley Marks, Mixologist: Arley Marks has over 15 years of experience in the food and beverage industry. He is the co-owner of Honey's in Bushwick, a mead-focused tasting room and cocktail bar for the mead brand Enlightenment Wines. Marks is also collaborating with trendy New York restaurant Dimes and the forthcoming Bunk-Ker Vietnamese restaurant to design their cocktail programs. Mark's drinks have been featured in T magazine, Brutal, TIME, Vanity Fair, and the Fader. Previously, he designed and built the bar and cocktail menu at Mission Chinese Food in New York City. Marks has worked as a professional mixologist for clients such as Vanity Fair, MOMA PS1, Eckhaus Latta, Everlane, Bon Appetite Magazine, Khole, and the Standard Hotel. He will be designing and managing Material Vodka's cocktail menu.
Investment Terms
Security Type: Series Seed Preferred Stock
Round Size: Min: $24,999.96 Max: $106,999.92
Price per Share: $0.12
Pre-money Valuation: $654,000
Liquidation Preference: 1x
Conversion Provisions: Convertible into one share of Common Stock (subject to proportional adjustments for stock splits, stock dividends and the like) at any time at the option of the holder.