---
Investment Documents
Investment Terms
Security Type: Crowd SAFE (Simple Agreement for Future Equity)
Round Size: Min: $50,000 Max: $1,070,000
Valuation Cap: $26,500,000
Conversion Provisions: Please refer to the Crowd SAFE Form for a complete description of the terms of the Crowd SAFE, including the conversion provisions.
Company Highlights
Startups are changing the global economic landscape. While previously concentrated in places like Silicon Valley, entrepreneurship is now a worldwide phenomenon that seeks to address key issues and shape the future of business. As a global innovation platform, GSVlabs aims to help startups solve society's largest challenges through coaching, connectivity, and access to capital.
GSVlabs offers a highly curated, immersive experience that connects the brightest minds from all over Silicon Valley – and the world. GSVlabs provides startups with invaluable resources such as coworking space, education, networking, and venture capital. More than 150 industry veterans and thought leaders serve as mentors dedicated to entrepreneurs' unique needs.
Through accelerators, think tanks, and relationship consulting, GSVlabs opens a window to the innovation economy and provides global organizations access to technological innovations. GSVlabs also hosts over 80 events each year to facilitate conversation and collaboration, including its biggest event, the annual Pioneer Summit – a combination of keynote speakers, panel discussions, interactive workshops, pitch competitions, and networking.
Other Highlights:
In 2016, GSVlabs generated over $4 million in revenue
Monthly lab desk fees, the company's primary source of revenue, increased by over 60% between January 2015 and March 2017
Q1 2017 revenue is up 30% from Q1 2016 while operating expenses are down 9%
Corporate partners include IBM, JetBlue, 3M, Intel, AT&T, and The Times of India
GSVlabs startups have been acquired by leading tech companies such as Facebook (Privatecore, Nascent Objects) and WeWork (Welkio)
Previous GSV events drew over 3,000 attendees, with speakers such as Bill Gates, Sir Richard Branson, Guy Kawasaki, and Dr. Condoleezza Rice
Company Summary
Opportunity
Transformative businesses are increasingly coming out of startup ecosystems such as incubators, accelerators, and innovation centers. These types of programs support startups through education, mentorship, and financing. Top programs can speed up the time it takes companies to reach key milestones, such as raising venture capital and gaining customer traction.i The number of U.S.-based accelerators has increased significantly over the last decade, growing from 16 programs in 2008 to over 170 in 2015.ii
GSVlabs is part of a network of companies collectively known as Global Silicon Valley, or GSV. Founded in 2012, GSVlabs incubates, accelerates, and receives equity in transformative startups. It is home to over 185 startups that raised over $250 million in 2016. Major corporations like Cisco, IBM, JetBlue, 3M, Intel, AT&T, and The Times of India partner with GSVlabs to launch new initiatives, identify talent, and propel new business models. GSVlabs is focused on the following key technology verticals: Big Data, Education Technology (EdTech), Entertainment, Mobile, and Sustainability. The goal is to create a global network that connects Silicon Valley to the world and the world to Silicon Valley.
Product
GSVlabs is a global innovation center based in Silicon Valley that accelerates startups and connects corporations to exponential technologies, business models, and entrepreneurs. Utilizing GSVlabs' platform, founders and entrepreneurs join a global network of partners, including corporations, international agencies, mentors, universities, investors, thought leaders, and nonprofits.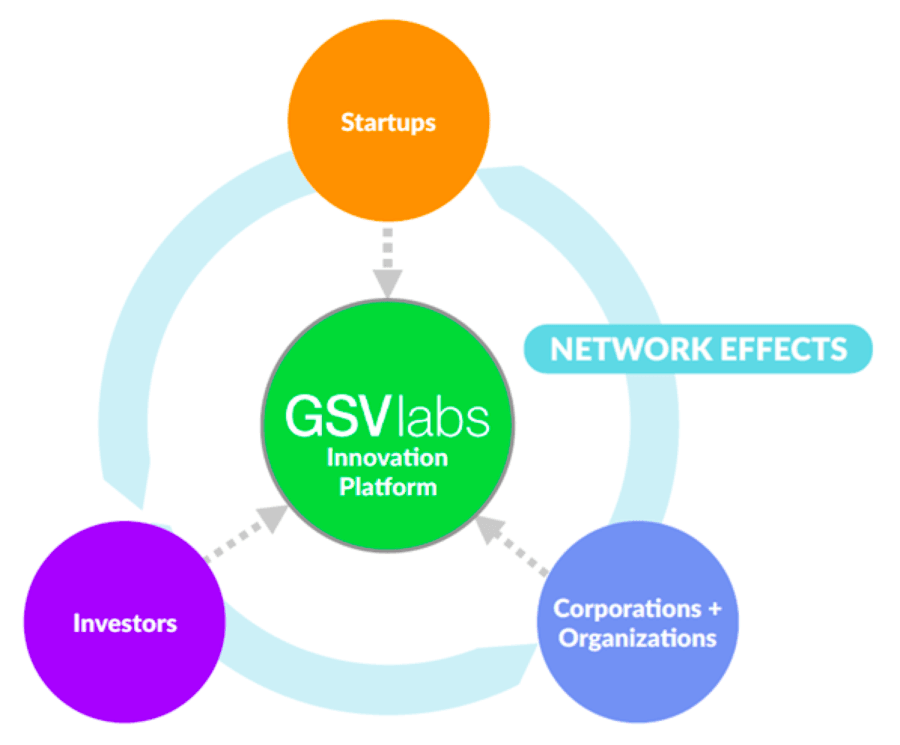 GSVlabs' platform is centered around three core services: 1) Incubate & Accelerate, 2) Education & Media, and 3) Strategic Services.
Incubate & Accelerate: Incubate, network, and accelerate a global ecosystem of game-changing startups with high-value services: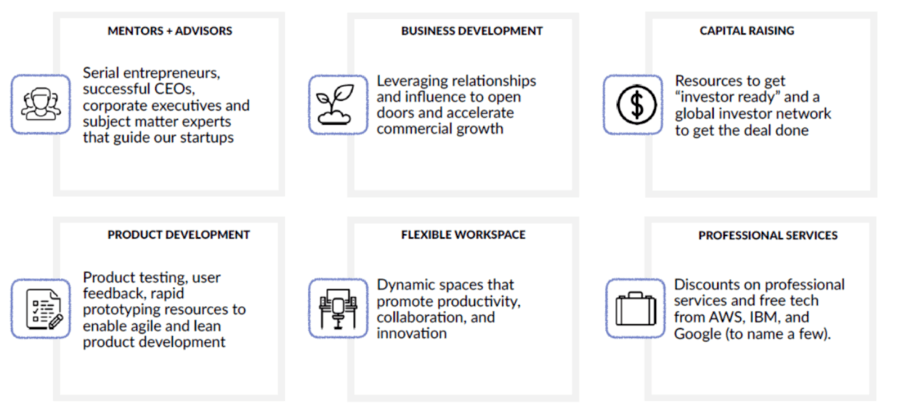 Education & Media: Live and digital education programs and events focused on exponential ideas, technologies, and the industries of tomorrow: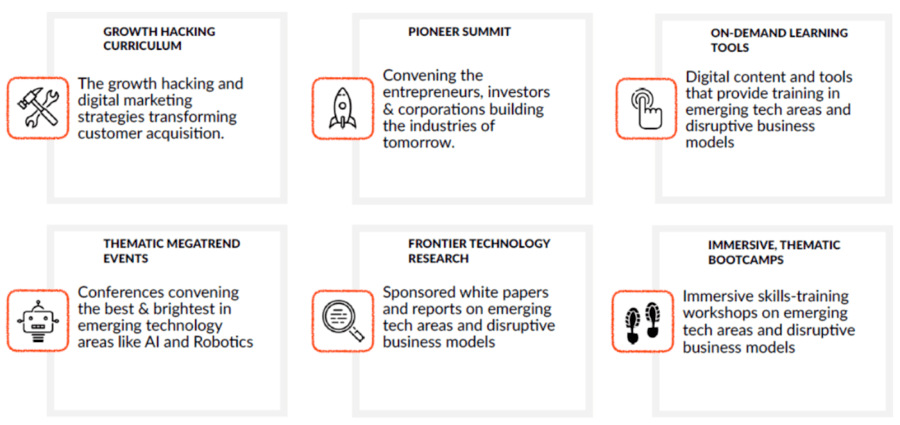 Strategic Services: Integrated innovation services that connect corporations, organizations, and universities with transformational technology, talent, and ideas: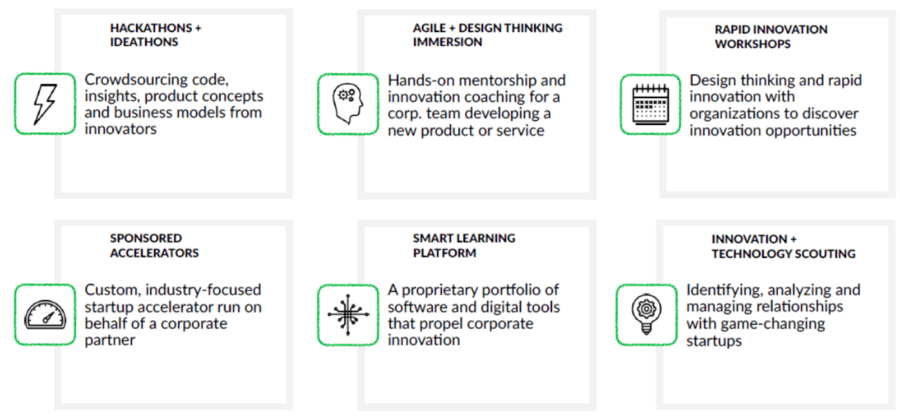 Startups can apply for one of five Innovation Labs, each based on a key technology vertical:
Big Data Innovation Lab: For big data startups focused on artificial intelligence, education, health, fintech, or security
EdTech Innovation Lab: For startups from the K-12 space to higher education and enterprise learning
GSVlabs also provides support to the following EdTech accelerator programs:
Intel Education Accelerator: GSVlabs houses and provides supporting services to the Intel Education Accelerator, a 12-week accelerator which invests $100,000 in eight companies across the education space. Companies have access to EdTech Lab programming, mentorship, and coaching.
AT&T Aspire Accelerator: GSVlabs provides supporting services to the virtual AT&T Aspire Accelerator, a 12-week accelerator which invests $100,000 in six education for-profit and nonprofit corporations around the U.S. Companies have access to EdTech Lab programming, mentorship, and coaching, as well as access to coworking space when they visit the Bay Area.
ASU-Draper-GSV Accelerator: The ASU-Draper-GSV Accelerator combines the resources and venture expertise of Draper Associates and Global Silicon Valley (GSV) with the real-world testing platform of Arizona State University, one of the nation's largest and most innovative public universities.
Entertainment Innovation Lab: For startups focused on gaming, video, audio, or sports, the Entertainment Lab has networks in Silicon Valley and in Los Angeles, as well as remote international connectivity
Mobile Innovation Lab: For mobile-first startups focused on consumer apps, IoT, VR/AR, and wearables
Sustainability Innovation Lab: For digital cleantech and sustainability entrepreneurs
In addition to the Innovation Labs, GSVlabs provides three in-house accelerators, including the ReBoot Career Accelerator for Women, the Core Labs Game Accelerator, and the GSVlabs Pioneer Accelerator, which is co-designed with Google Developers Launchpad.
GSVlabs houses startups in its 60,000-square-foot Silicon Valley campus with capacity to serve over 200 startups. It also hosts over 80 events per year, including the annual GSV Pioneer Summit.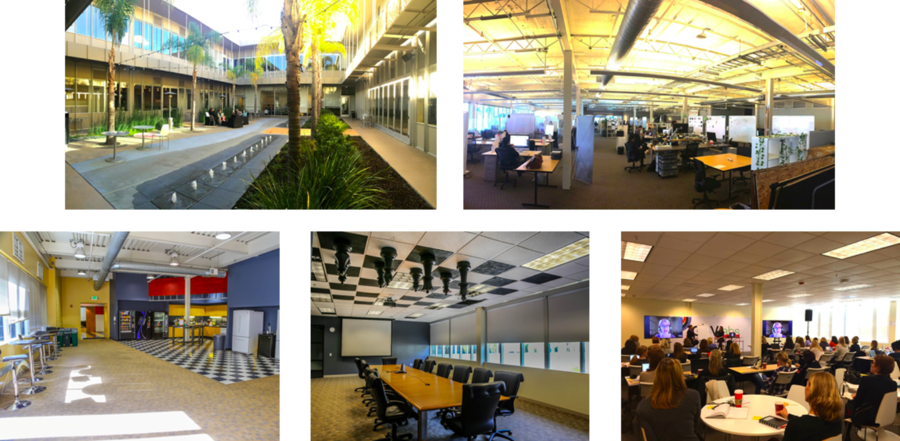 GSVlabs is a portfolio company of GSV Capital (NASDAQ: GSVC), a publicly traded venture capital firm that has invested in some of the most notable VC-backed private companies around the world. To see GSV Capital's full portfolio please visit: http://gsvlabs.com/our-startups/

About GSV
Global Silicon Valley (GSV) is a modern merchant bank that identifies, advises, invests in, and accelerates companies around the world. GSV's ecosystem of complementary investment-oriented businesses and media properties include the following portfolio companies (these are affiliated entities under the GSV umbrella and not part of an investment in GSVlabs):
GSV Asset Management: A multiproduct asset management firm focused on developing a range of growth-oriented strategies.
GSV Capital: Launched in 2011, GSV Capital (NASDAQ: GSVC) is a publicly traded investment fund that seeks to identify and invest in rapidly growing, late-stage, venture capital-backed private companies.
GSV Growth Credit: A growth lending platform that provides thoughtfully structured long-term loans to fast-growing small and medium-sized businesses.
GSV Shared-X: A sustainability initiative aimed at improving Latin American agricultural production through applied knowledge at scale through a shared revenue model.
GSV Sustainability Partners: A company focused on reducing the cost of energy and water for cities, schools, and businesses globally by purchasing sustainable upgrades on behalf of clients and, in exchange, sharing the measurable financial benefits of the given product for a period of time.
GSV Ventures: A specialized venture firm that leads or co-invests in mid- and late-stage financing for pre-IPO companies with a primary focus on biotech, cleantech, energy, and information technology.
BC-GSV: Powered by Brand Capital, the investment team at India's largest media conglomerate, and GSVlabs, BC-GSV accelerates startups in areas of EdTech, FinTech, HealthTech, and Retail Consumer by providing unique learning opportunities and connecting entrepreneurs to high-impact networks of talent, investors, and media partners.
GSV Advisors: Providing merger, strategic advisory, private placement services, and capital, GSV Advisors leverages deep domain expertise, relationships, and entrepreneurial experience to help education entrepreneurs and growth companies connect with valued-added, strategic investors and partners.
GSV Financial Group: Financial services platform for high net worth individuals, family offices, and institutions that offers products through GSV Ventures, GSV Securities, GSV Equity, and GSV investment Advisors.
GSV Studio: Professional, state-of-the-art video production facility within the Silicon Valley campus of GSVlabs that powers GSV Media properties as well as the video and content strategies of GSV Constellation members and many other clients.
GSV iQ: Providing research and insights into the world's fastest-growing companies and sectors, GSV iQ focuses on a handful of key innovation sectors: biotechnology, sustainability, internet/media/social, cloud computing, and education technology.
Use of Proceeds and Product Roadmap
GSVlabs will use proceeds from the current round to begin its global expansion by forming key local and regional partnerships. GSVlabs also plans to use funds to secure a new Silicon Valley flagship center, develop additional innovation services, and build a more robust corporate partnership pipeline for 2017 and 2018.
Opening an innovation center takes 12 months from the time an agreement is signed. In 2017, GSVlabs has plans to open centers in at least two of the top 10 innovation markets in the world. GSVlabs screens potential hubs for the city's year-over-year funding, deal, and exit growth as well as for the number of Fortune Global 2000 companies, accelerators, global universities, and corporate offices. Each new innovation center costs roughly $2 million to open. At 30,000 square feet per facility, each center can host up to 550 startups (400 physically in the center and an additional 150 startups hosted virtually).
Business Model
At the GSVlabs facility in Redwood City, California, the company generates monthly recurring revenue through renting office space, designated desks, and virtual desks, providing infrastructure and networking opportunities to startup companies and corporate entities. The Company supplements this base revenue through additional revenue generating activities including the creation of acceleration programs for partners, corporate sponsorship and strategic services, education programs, hosting events at its facility, and proceeds from sales of (or dividends on) equity in startups. The Company plans to expand and open facilities in strategic innovation hubs in both domestic and international locations.
User Traction
GSVlabs' network includes over 150 startups, over 150 mentors, and over 25 corporate and strategic partnerships. The company hosts over 80 events per year, including the annual Pioneer Summit, which had more than 1,700 attendees and over 125 presenting companies in 2016.
In 2016, GSVlabs launched accelerators in Bangalore and Delhi in partnership with The Times of India (India's largest media company). Through these programs, GSVlabs will receive equity in all participating startups.
Major Silicon Valley venture firms have invested in GSVlabs startups, including the following: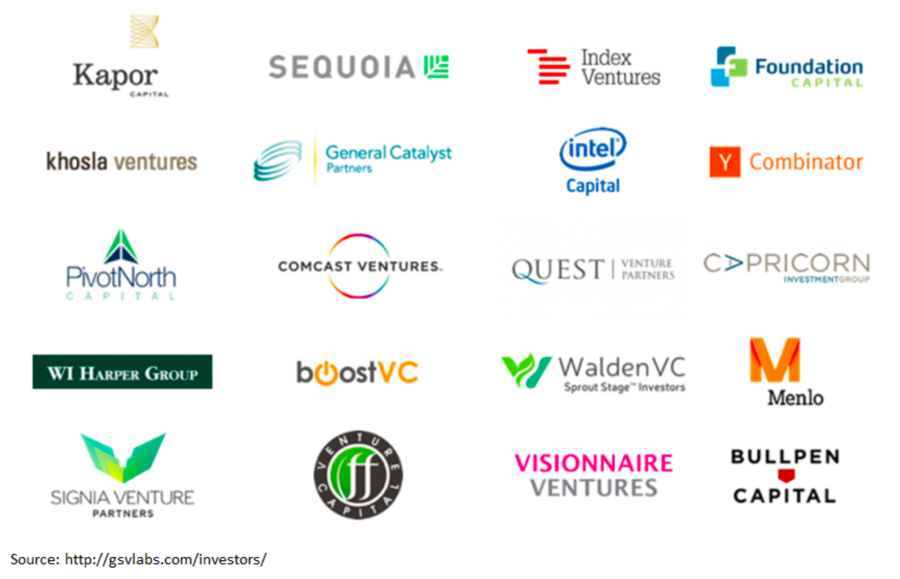 Historical Financials
In 2016, GSVlabs generated over $4 million in total income, up 44% from 2015. The primary source of revenue was payment for lab desk space, which generated over half (~60%) of total income. Monthly lab desk revenue has increased by nearly 70% between January 2015 and April 2017. Additional revenue largely came from four sources: 1) international accelerators and workshops (~$414K), 2) the Reboot Accelerator for Women (~$375K), 3) third-party and white-glove events (~$357K), and 4) signature events, specifically the Pioneer Summit (~312K). As of April 2017, GSVlabs has generated over $1.45 million in total income year to date, up 25% from the same period in 2016. The company had a gross profit of roughly $3.29 million in 2016 and has a gross profit of roughly $1.35 million year to date as of April 2017.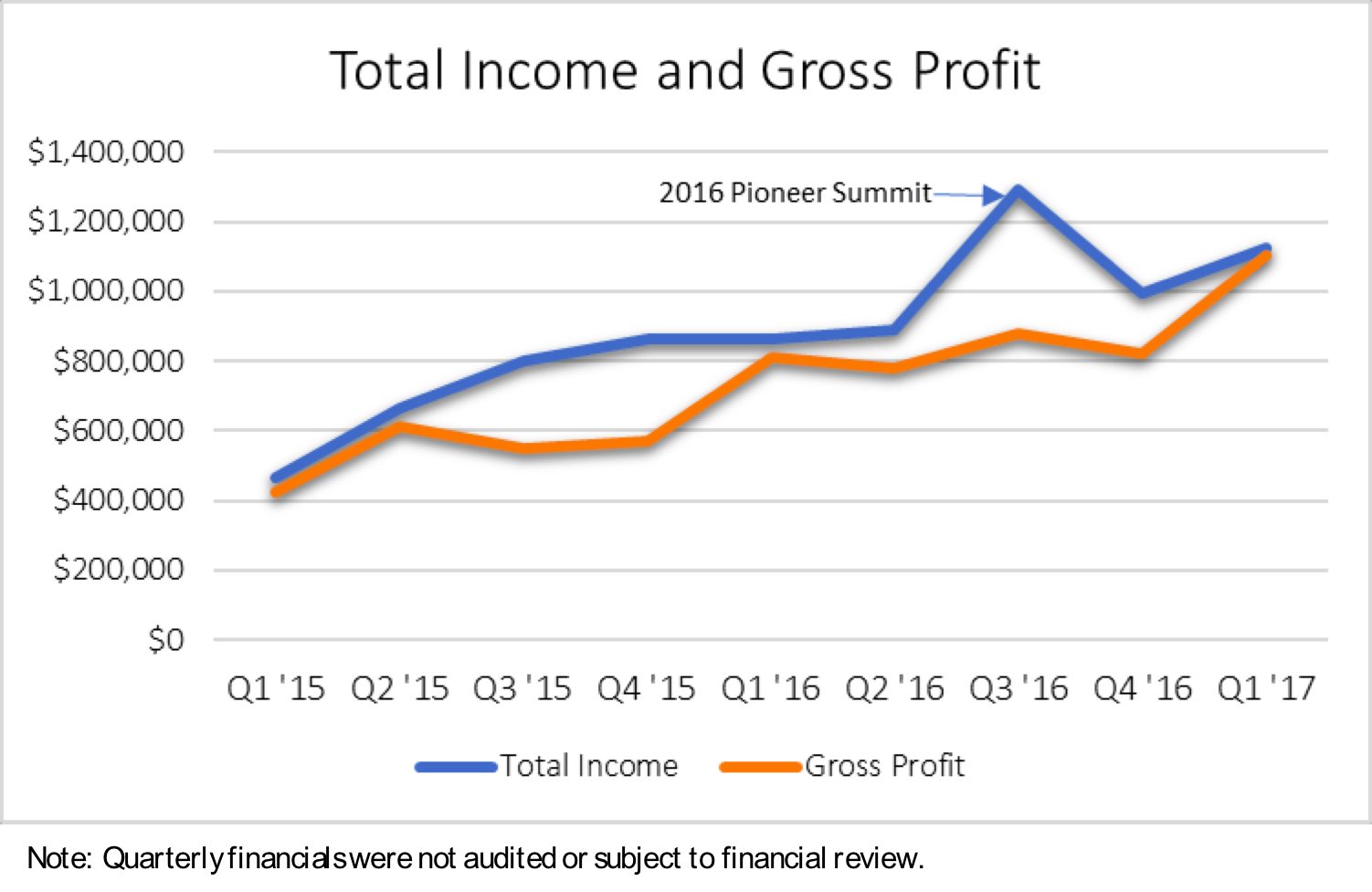 In 2016, total operating expenses were roughly $5.19 million, up less than 5% from 2015's operating expenses. Payroll has been the largest budget item followed by facility payments, which took up 36% and 35%, respectively, of total operating expenses in 2016. In the second half of 2016, operating expenses declined as the company received rent abatements in August, September, and November for upgrading its facility with state-of-the-art technology and amenities. GSVlabs also restructured payroll in November 2016, which further contributed to the decrease in that month's operating expenses. Year-to-date operating expenses as of April 2017 have totaled roughly $1.98 million, up 6% from the same period in 2016; the company had a $230,650 depreciation and amortization expense in April 2017, which was the primary cause of the increase.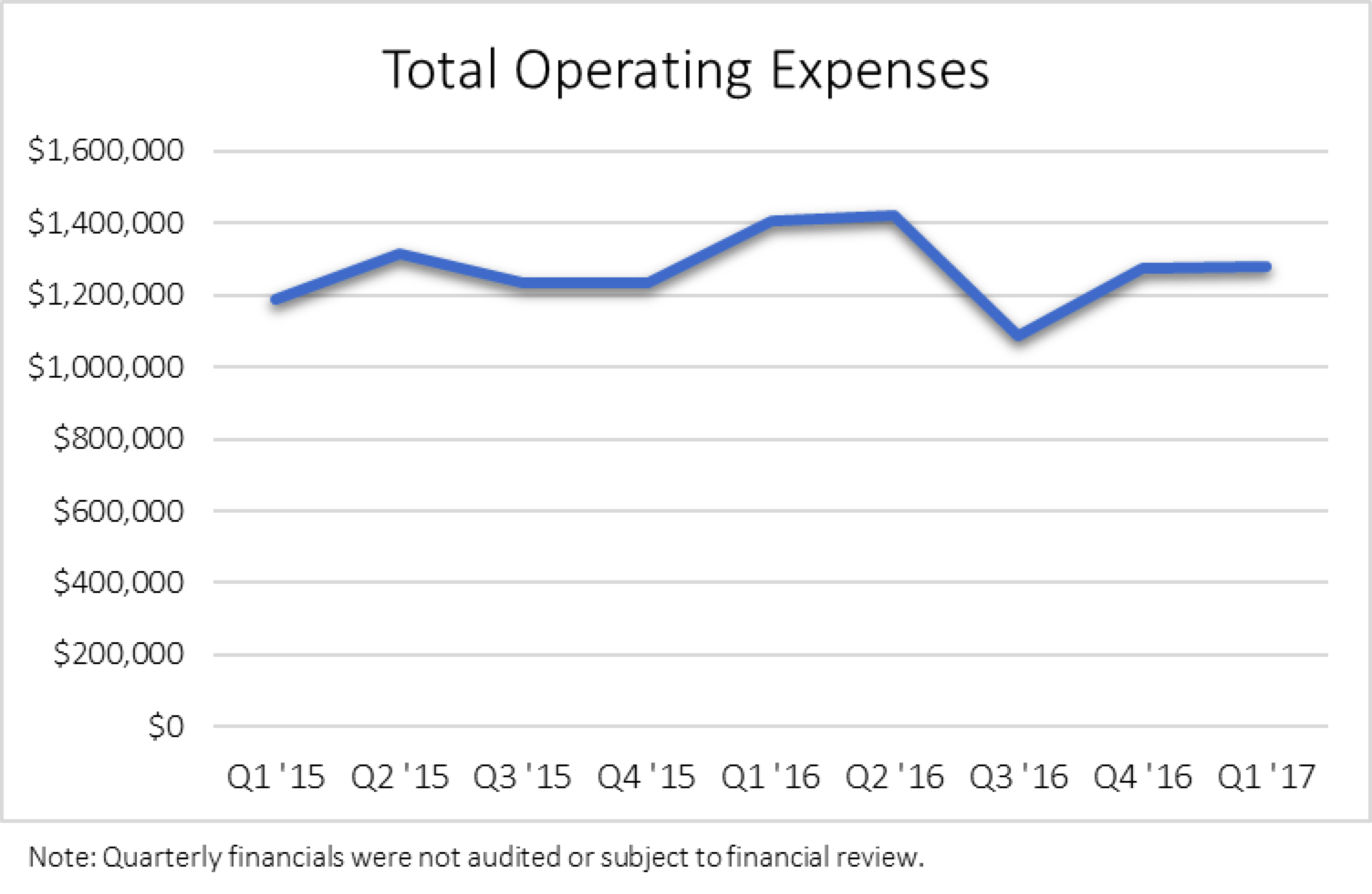 In 2016, GSVlabs had a net operating loss of about $1.89 million, compared to a net operating loss of over $2.81 million in 2015. The company generated a net operating profit in September 2016 due to revenue from the Pioneer Summit. November 2016 was also profitable because of reduced operating expenses (rent abatement and payroll restructuring). Year to date, as of April 2017, the company had a net operating loss of over $622,000, which is 22% less than the net loss from the same period in 2016.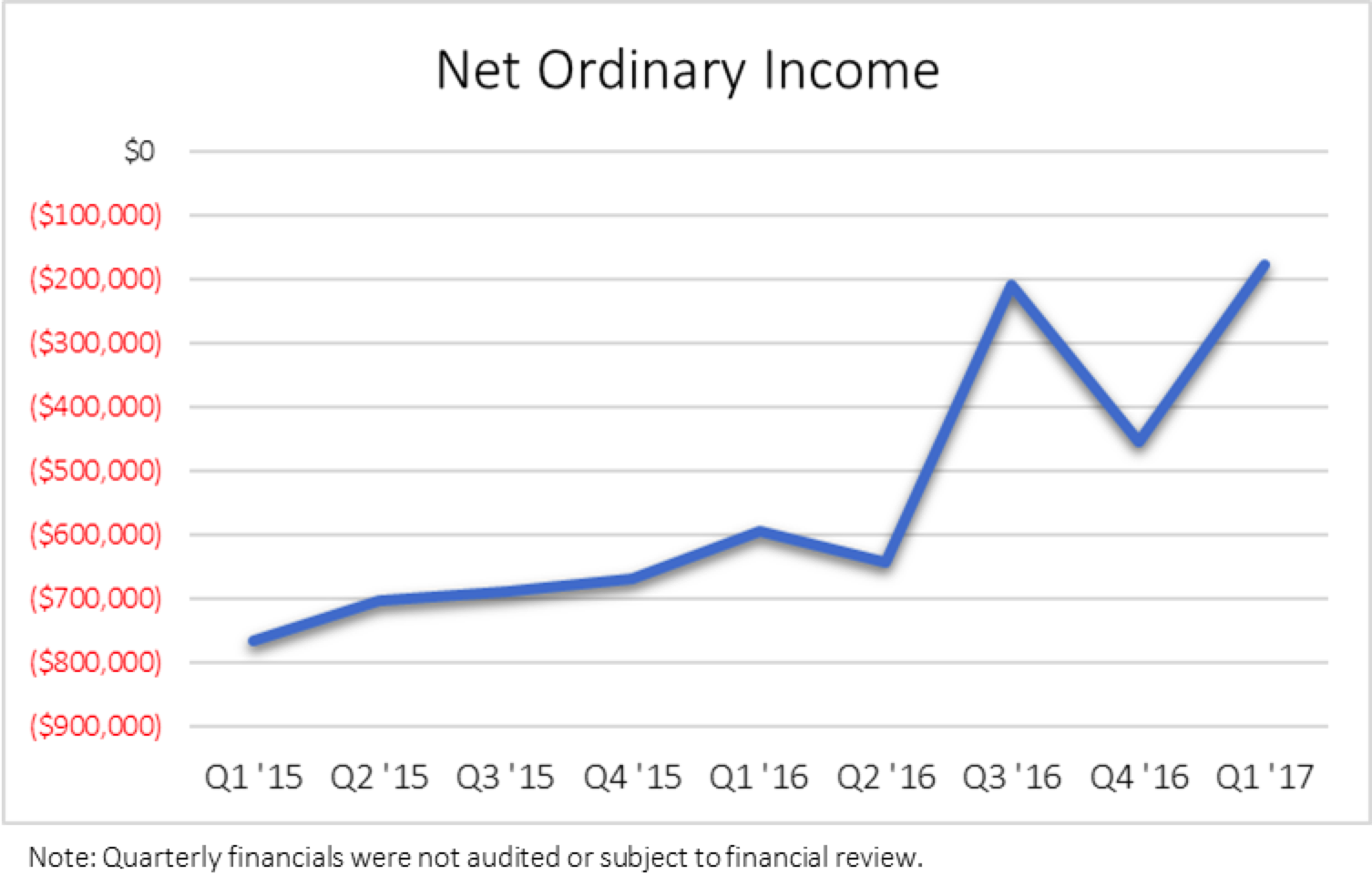 Industry and Market Analysis
Accelerators and incubators are programs that assist entrepreneurs in the early stages of company formation in areas like product development, marketing, product distribution, fundraising, and networking. While accelerators and incubators have similar connotations, they operate differently and each has a distinct goal or outcome.
Incubators are generally structured as mentorships, with relationships lasting more than a year. Incubators usually take little to no equity in the company and can afford to help because they do not provide upfront capital like accelerators. While some are independent, many incubators receive funding from universities, government entities, and large corporations. Participating startups may also pay to "lease" coworking space at the incubator's facility.
Conversely, an accelerator works with entrepreneurs for a short amount of time – typically three months.iii In addition to guidance, accelerators typically provide capital in exchange for 5% to 7% ownership in the company.iv Accelerators offer structured programming with curriculum and expert advice across a variety of business functions, including strategy, growth, and fundraising.
The number of U.S.-based accelerators has increased significantly over the last decade, growing from 16 programs in 2008 to over 170 in 2015. These accelerators have invested in over 5,000 U.S.-based startups, with a median investment of $100,000. Today, accelerator programs are in 54 metropolitan areas across 35 states.v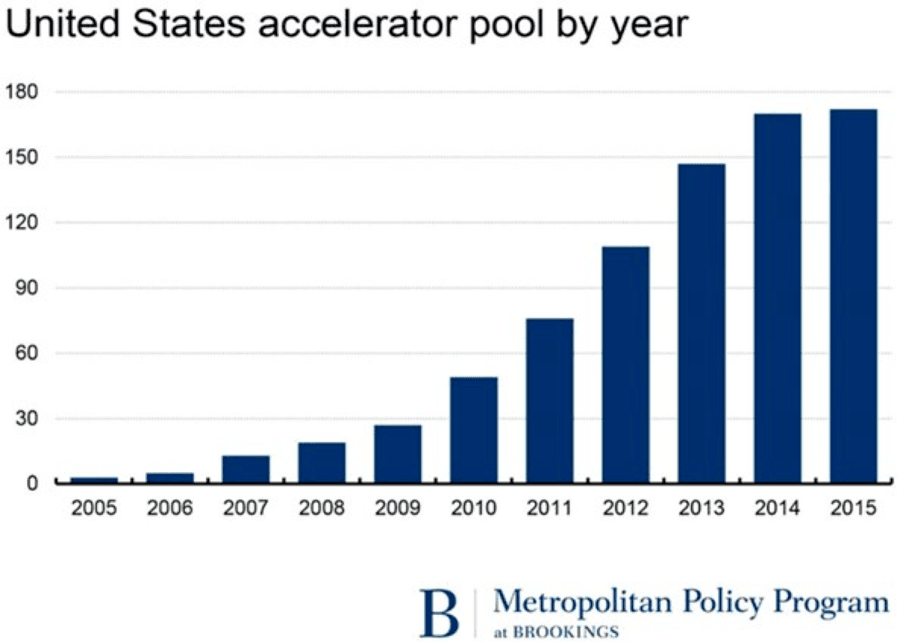 Traditionally, accelerators relied on startup exits to recoup their investments and generate profits. More recently, these types of programs have changed their business model and expanded into alternative revenue-generating services to fund operations prior to exits. This includes monetizing events, education workshops, mentorship, and office space. In 2015, the vast majority of accelerators around the globe (91%) were reliant on these additional services to remain solvent in the short term. Additionally, 75% of accelerators planned to continue utilizing this more comprehensive business model to support operations over the long term. Corporate partnerships and sponsorships have also been a notable source of financial support for accelerators.vi
Most accelerators are still fairly concentrated in the technology startup hubs like San Francisco-Silicon Valley, Boston-Cambridge, and New York. These regions are home to 40% of all accelerators in the U.S. and nearly two-thirds of accelerator-funded deals over the last 10 years.vii In 2016, Silicon Valley-based companies raised $24.9 billion across 1,484 deals. In 2015, those companies had raised $34.4 billion across 1,867 deals.viii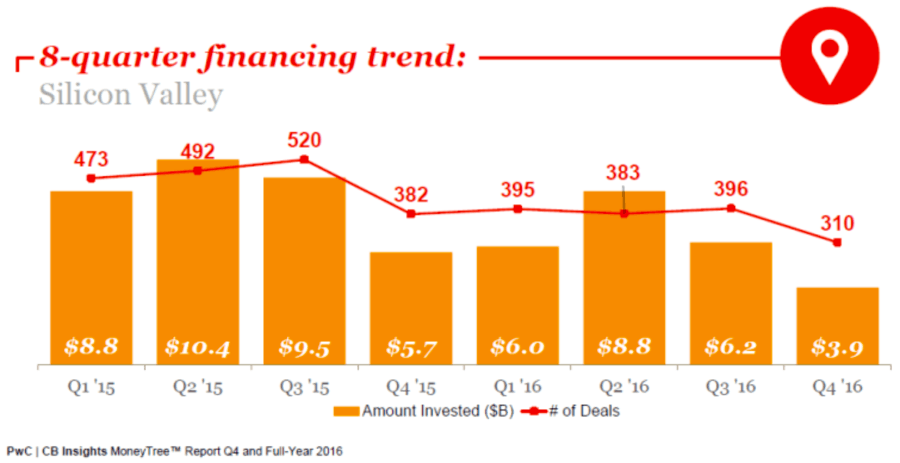 With over 29,000 startup headquarters, Silicon Valley is a dominant center of global innovation.ix The region is home to leading venture capitalists, such as Sequoia Capital, Benchmark Capital, Kleiner Perkins Caufield & Byers, Andreessen Horowitz, and Accel Partners, as well as world-changing companies like Apple, Google, Facebook, Uber, Palantir, and Tesla. Yet the entrepreneurial mindset that has made Silicon Valley a mecca for innovation is going global. In 2016, 13,665 startups from around the world completed financing rounds totaling $127.4 billion. While that amount is below the $140.6 billion invested in 2015, it is almost twice the total global VC investment seen just three years earlier.x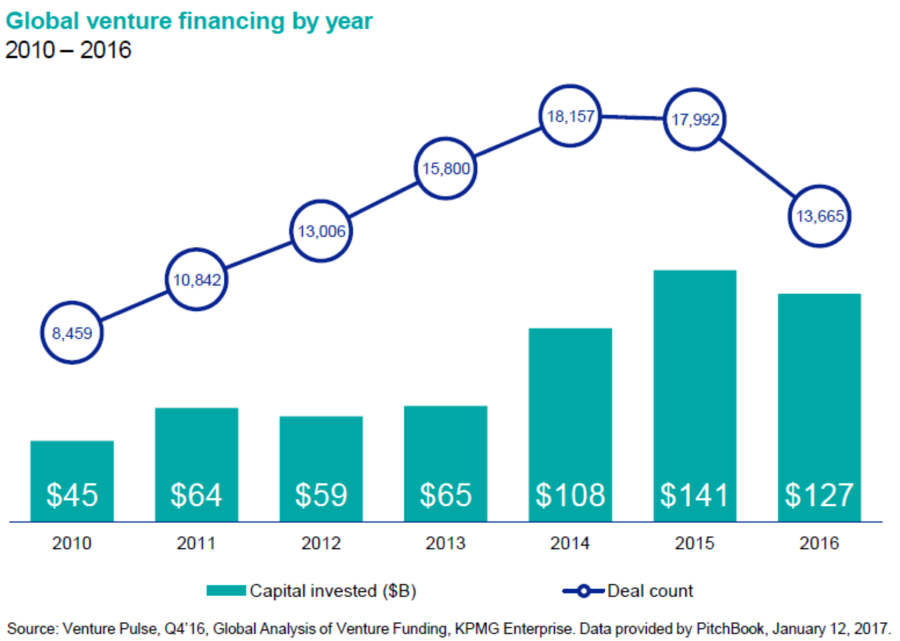 Competitors
500 Startups: Founded in 2010, 500 Startups is a global venture capital seed fund with a network of startup programs headquartered in Silicon Valley. The company offers four-month accelerator programs in both Mountain View and San Francisco, California, and, more recently, in Mexico City, Mexico. The accelerator investment is $112,500 net of fees (or $150,000 gross) for 6% of the company. To date, over 1,600 companies originating from over 60 countries have participated in 500 Startups' accelerator programs.xi Notable examples include Intercom, Talkdesk, Punchd (acquired by Google), 9GAG, ToutApp, BrightNest (acquired by Angie's List), Chalkable (acquired by STI), Le Tote, RealtyShares, TouristEye (acquired by Lonely Planet), Shippo, and Havenly.xii
Dreamit: Founded in 2008, Dreamit is an accelerator program for early-stage edtech and digital health startups. It specifically targets post-seed companies that have already established product market fit, some revenue, or early traction and need help to scale for a Series A round. The 14-week program includes a two-week, multi-city Customer Immersion Roadshow that includes customer meetings with venture capital firms, corporate venture groups, investor network, and potential customers. Upon acceptance into the program, startups issue Dreamit a $50,000 convertible note that will convert at the next financing round.xiii Dreamit's portfolio includes over 300 startups that have gone on to raise over $500 million in follow-on funding.xiv
Plug and Play Tech Center: Founded in 2006, Plug and Play offers an accelerator program and also makes seed- and early-stage venture Investments. The Plug and Play Startup Camp is a 10-week program for early-stage companies where qualified entrepreneurs are eligible to receive an investment of $25,000 upon acceptance into the program.xv The company also offers 12-week industry-specific programs. Plug and Play invests $25,000 to $500,000 in over 100 companies per year and syndicates funding rounds for startups through VC and angel investor networks.xvi Its startup community has collectively raised over $6 billion in venture funding.xvii
Techstars: Founded in 2006 in Boulder, Colorado, Techstars is a mentorship-driven startup accelerator. Currently, Techstars has 28 accelerator programs around the world.xviii A $100,000 convertible note is offered to all accepted startups, plus $20,000 in exchange for 6% common stock.xix Additionally, Techstars launched the Global Accelerator Network in 2011, which links over 70 accelerators across over 100 cities in six continents.xx It also has a venture capital fund, Techstars Ventures. Over 900 companies have participated in Techstars' accelerator programs; collectively, these companies have raised over $3.3 billion.xxi
Y Combinator: Y Combinator was founded in 2005 in Mountain View, California. It offers two 10-week accelerator programs per year, located in Silicon Valley, that culminate in a Demo Day in front of a select group of investors. Through each program, Y Combinator invests $120,000 per startup for a 7% equity stake.xxii Since inception, Y Combinator has funded over 1,464 startups that have a collective valuation of over $80 billion.xxiii Notable companies that have gone through the program include Airbnb, Dropbox, Reddit, Tilt, Twitch, DoorDash, Coinbase, and Gusto.xxiv
Executive Team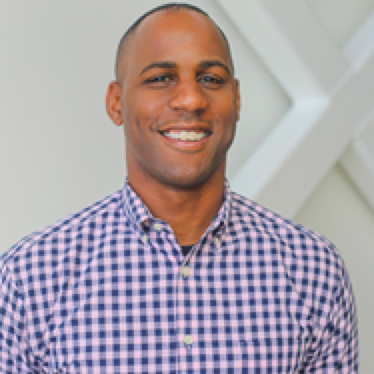 Marlon Evans, CEO: Prior to joining GSVlabs, Marlon served as a Director of Corporate Affairs at Hewlett Packard. There, his team implemented global community engagement programs, collaborating with the Stanford Institute of Design and facilitating company-driven hackathons in support of educational, health, and environmental innovation. Through his work and recognition at HP, KIPP Foundation, All Stars Helping Kids, and Playworks, Marlon remains devoted to driving community change and promoting diversity. Marlon received his BA in Political Science and MA in Sociology from Stanford University.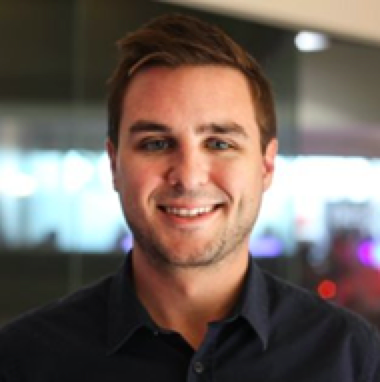 Alec Wright, COO: Prior to joining GSVlabs, Alec was the Principal Consultant at Andiron Strategies, where he advised startups regarding early validation, strategic growth, and financing. He started his career in law, working as a paralegal at the Lex International Law Firm and law clerk at Ward and Ward, before becoming a Legal Consultant at Grow VC Advisors. Alec earned Bachelor's degrees in Philosophy, Political Science, and Communications from New York University and a JD from Georgetown University.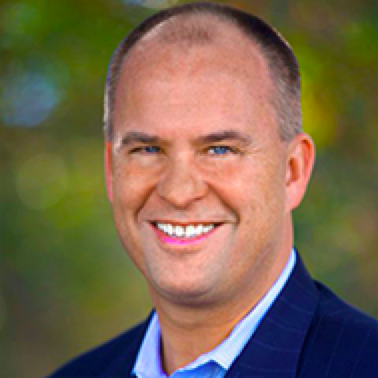 Michael Moe, Founder of GSV: Michael is the Founder of GSV and GSV Asset Management. He has also served as Chairman of the Board of Directors, CEO, and Chief Investment Officer of GSV Capital Corp. (NASDAQ: GSVC) since the company's inception in 2011. Prior to starting GSV, Michael Co-founded and served as Chairman and CEO of ThinkEquity Partners, an asset management and investment banking firm focused on venture capital, entrepreneurial, and emerging growth companies. Before ThinkEquity, he held positions as Head of Global Growth Research at Merrill Lynch and Head of Growth Research and Strategy at Montgomery Securities. Michael has a BA from the University of Minnesota and is a CFA® charterholder.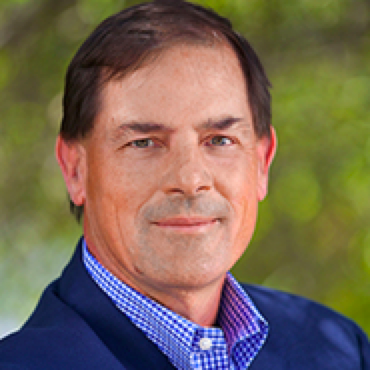 Mark Flynn, President of GSV Capital: Mark was named President of GSV Capital in May 2014. He is also Co-managing Partner of GSV Asset Management and has served as a member of the GSV Capital Board of Directors since 2011. Previously, Mark managed Trilogy Capital Partners, a California-based private investment and consulting firm, since its formation in 1997. Prior to forming Trilogy, he worked in various capacities in the investment banking groups at Salomon Brothers and Volpe, Brown & Whelan. Mark has served as a regent at St. John's University, as chairman of The Preserve Company, and as a member of the Board of Directors of the DAPER Fund at Stanford University as well as a number of privately held companies.
Investment Terms
Security Type: Crowd SAFE (Simple Agreement for Future Equity)
Round Size: Min: $50,000 Max: $1,070,000
Valuation Cap: $26,500,000
Conversion Provisions: In connection with an equity financing of at least $1,000,000, the Company has the option to convert the Crowd SAFE into shares of a series of non-voting preferred stock, at the price per share of the new preferred stock sold in the equity financing, or at a valuation cap of $26,500,000, whichever results in a lower conversion price. Please refer to the Crowd SAFE Form for a complete description of the terms of the Crowd SAFE, including the conversion provisions.
Endnotes