---
Highlights
Raised over $1.3 million on platforms such as Indiegogo and Kickstarteri

Appeared on the Season 8 premiere of Shark Tank

Available at Best Buy®, Brookstone, Target, Amazon, QVC, Total Wine & More, and Best Buy Canada

One of Brookstone®'s best-selling holiday items in 2015ii

Unlike other beer dispensers, there are no carbon dioxide cartridges, replacement parts, or ongoing consumable refills needed to operate the system
Perks
*You are investing in equity in this offering. Perks are meant to be a thank you from the company for investing. The perks below are NOT inclusive of lower dollar amount perks.
$200: $20 discount off Waytap purchase on www.fizzics.com
$500: $50 discount off Waytap purchase on www.fizzics.com
$1,000: $100 discount off Waytap purchase on www.fizzics.com
$3,000: Choice of Black or White Waytap
$10,000: One Limited Edition Copper Waytap and choice of Black, White, or Slate Grey Waytap, (2) Metal Tap handle accessory, and (2) carry case
Company Summary
Opportunity
Beer is American drinkers' beverage of choice, with 43% of Americans who drink alcohol preferring beer over liquor or wine. In 2015, U.S. beer sales totaled $105.9 billion.iii Although Americans prefer beer, it is hard to get the same smooth straight-from-the-draught taste at home from a hand pour.
Fizzics is a universal beer dispenser that delivers a fresh-from-the-tap experience from any can, bottle, or growler. Enjoying an expertly poured, quality draft beer is no longer limited to high-end craft beer bars. Fizzics' portable beer device is engineered through hard science and technology to stimulate the consumer's sense of smell and taste, making any store-bought beer taste better.
Product
The Original Fizzics Beer System (pictured below) is compatible with cans and bottles of all sizes and can accommodate up to a 64-ounce growler.

The newer Fizzics Waytap is a modern and compact design that takes up less counter/bar space and is more portable than the Original Fizzics. Waytap fits up to a 25-ounce can or a 12-ounce bottle and comes in three colors: Black, White, and Slate Grey. The Original Fizzics Beer System retails for $169.99 and the Fizzics Waytap retails for $129.99 on Fizzics' website. Fizzics also sells ancillary items, including a carry case ($35), beer glasses (set of 6 for $25), a branded growler ($25) and a aluminum tap handle ($25).

The Fizzics Micro-Foam Technology leverages fluid dynamics and sound. Users place a can or bottle of beer into the system and pull the handle forward to "tap" the beer at a controlled rate to maintain the carbonation within the body of the beer. Users then push the handle backwards to begin the "sonication process" which applies sound waves to control the process of converting the beer's natural carbonation into an ideal Micro-Foam. This Micro-Foam is comprised of uniformly sized bubbles with the perfect density that delivers enhanced aroma, flavor, and mouth-feel.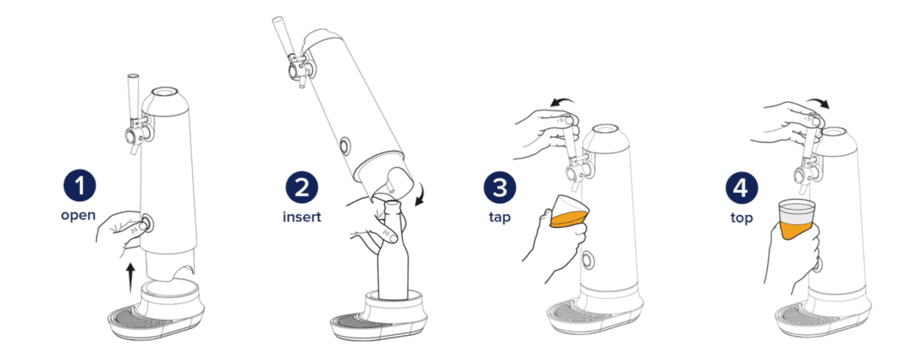 Fizzics controls pressure flow and utilizes sound to create a rich, creamy foam (head) that enhances the appearance, aroma, flavor, and a smooth bodied mouth-feel. Beer in a can, bottle, or barrel contains a lot of dissolved carbon dioxide under pressure. When beer is poured, the pressure is released and the carbon dioxide wants to escape. Fizzics assists in bubble retention to create ideal density foam, which allows the release of esters, a flavor compound naturally created in fermentation. Esters are fruity, flowery, or spicy and assist the nose in detecting different flavors. Fizzics encourages foam and carbonation to create the ideal mouth-feel. Fizzics allows consumers to choose their favorite level of foam head for each beer by adjusting the length of the pour when pulling the tap handle.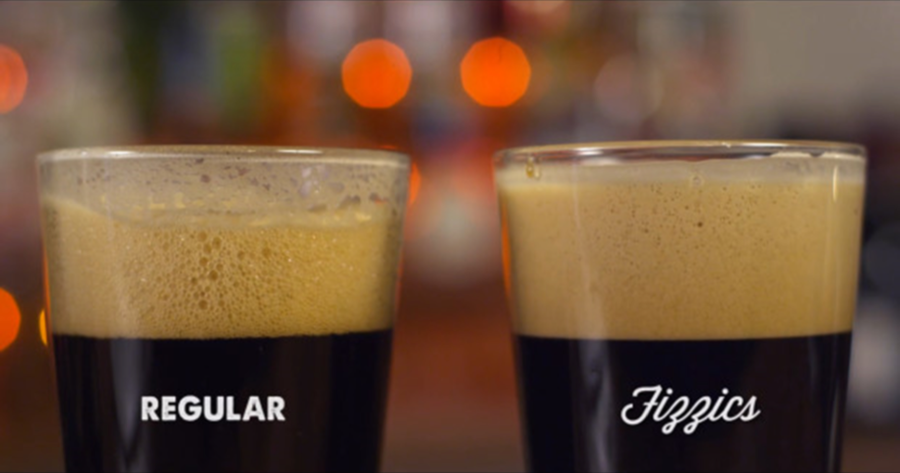 Fizzics creates ideal bubble formation by pressurizing the Fizzics canister and pouring the beer at a controlled rate. To counteract nucleation (the formation of large bubbles that dissipate quickly), Fizzics uses high-frequency sound waves and oscillation technology to diffuse gas and promote coagulation of malted proteins at the gas-liquid interface. Randomly packed bubbles of non-uniform shapes occupy more space and are thus less dense and frothy. Creaminess is achieved from gas-liquid formation where small bubbles are pressed against one another in a dense honeycomb-type structure (pictured on the right below).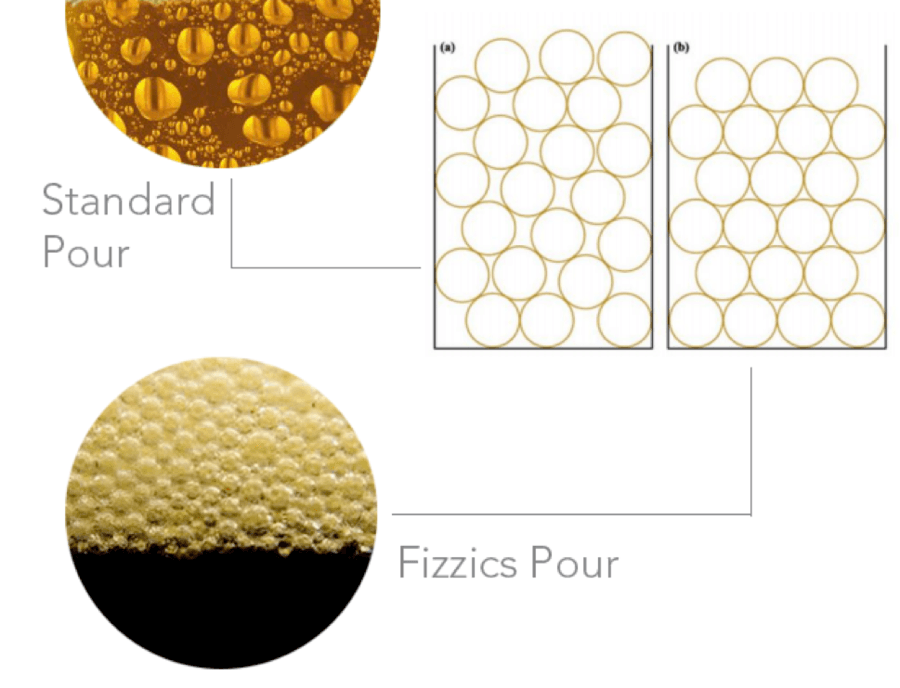 The system is compatible with all standard-size cans and bottles and can be used to enhance the flavor of all beer styles of carbonated beer, including IPAs, Hefeweizens, Pilsners, Brown Ales, Lagers, Stouts, Porters, etc.
The system is powered by four standard AA batteries. Unlike other beer dispensers, there are no carbon dioxide cartridges, replacement parts, or ongoing consumable refills needed to operate the system. The system is easy to clean. The antimicrobial drip mat and system canister separate for easing rinsing and washing with a glass of warm water.
Use of Proceeds and Product Roadmap
Fizzics plans to release two new products in 2017, the Waytap Savor+ and the Waytap Host. The Savor+ will feature premium materials and finishes. Fizzics plans to launch Savor+ in Q2 2017 and will target a minimum suggested retail price of $179. The Waytap Host will serve beers up to 64 ounces in size and feature a wall plug, temperature stabilization, and connection to a digital platform. Fizzics plans to launch the Host in Q3 2017 and will target a minimum suggested retail price of $299.
Business Model
Fizzics generates the majority of its revenue through selling its products wholesale to its retail partners. The gross margin on the Original Beer System is about 69% and the gross margin on the Waytap is about 61%.
Fizzics also sells its products direct to consumers on its website. For these sales, the gross margin on the Original Beer System is approximately 78% and the gross margin on the Waytap is approximately 75%.
User Traction
Fizzics launched an Indiegogo perks campaign in May 2015 and raised over $260,000.iv In September 2016, the company kicked off a perks campaign on Kickstarter where it raised over $1 million.v
Fizzics' retail partners include Amazon, Target, Best Buy, Best Buy Canada, Total Wine & More, Brookstone, and QVC. In 2016, Fizzics received over 86,000 purchase orders, a 405% increase from 16,450 in 2015. The company had over 14,000 purchase orders in January 2017.

In September 2016, Fizzics appeared on the season premiere of the ABC series Shark Tank, which helped spur additional growth.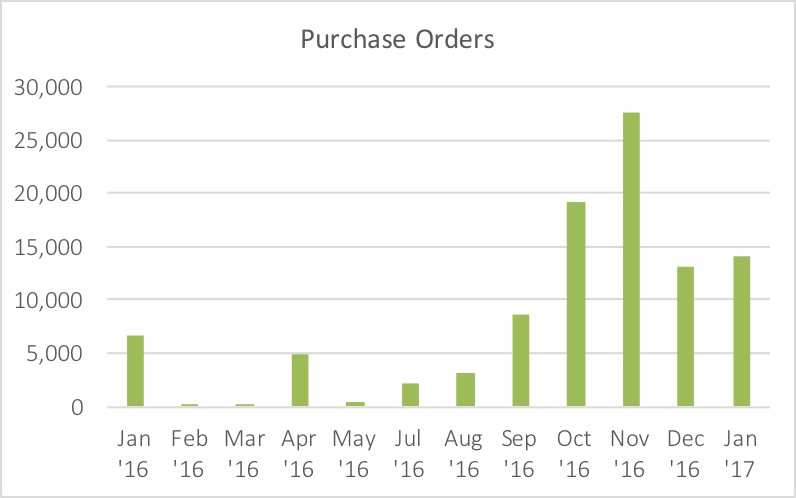 Historical Financials
In Q1 2017, Fizzics generated nearly $3.3 million in sales, over 5X as much as Q1 2016. Fizzics generated nearly $5.6 million in annual revenue in 2016, a 236% increase from nearly $1.7 million in 2015. 60% of 2016 revenue was made in the fourth quarter of 2016 alone.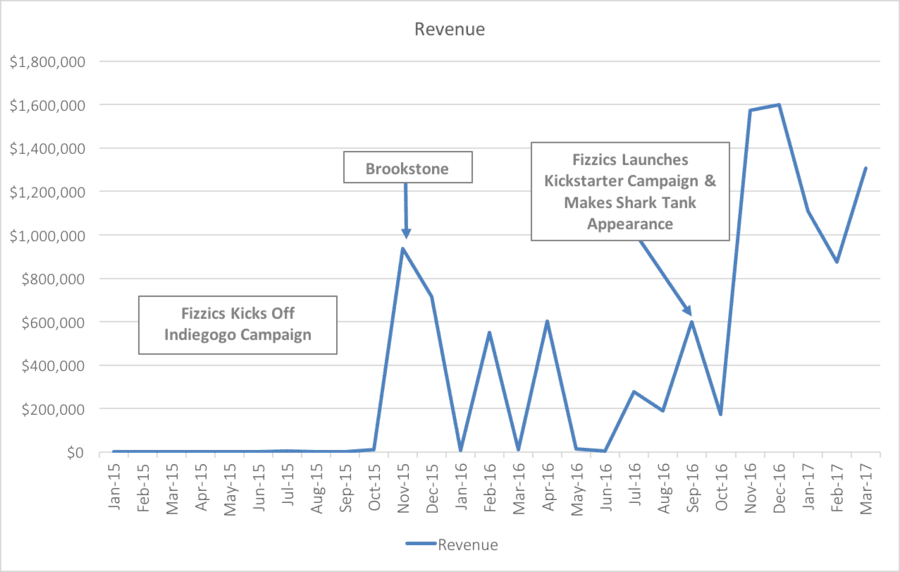 Based on unaudited financials no subjected to financial review
In 2016, Fizzics made nearly $5.6 million in revenue and cost of goods sold totaled nearly $2.9 million, resulting in a gross profit margin of 49%. In 2015, Fizzics made nearly $1.7 million in revenue and cost of goods sold totaled over $870,000, resulting in a gross profit margin of 48%.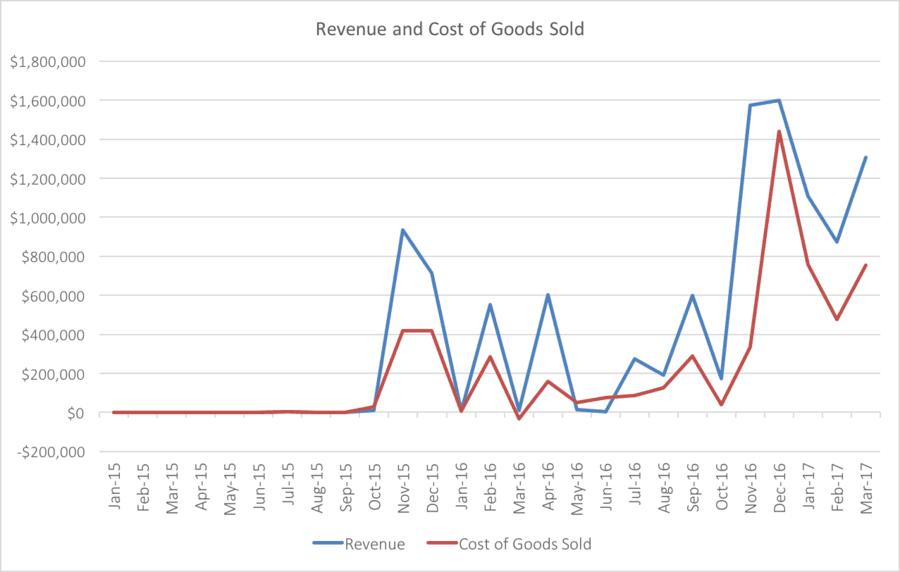 Based on unaudited financials not subjected to financial review
Fizzzics' operating expenses fell in Q1 2017 as the company spent less on advertising and promotion. Fizzics' operating expenses totaled nearly $3 million in in 2016 and the highest expense category was Other G& A expenses, which totaled over $1.4 million. In 2015, Fizzics' operating expenses totaled nearly $858,000 and the highest expense category was also Other G&A Expenses because the company spent nearly $118,000 on product development.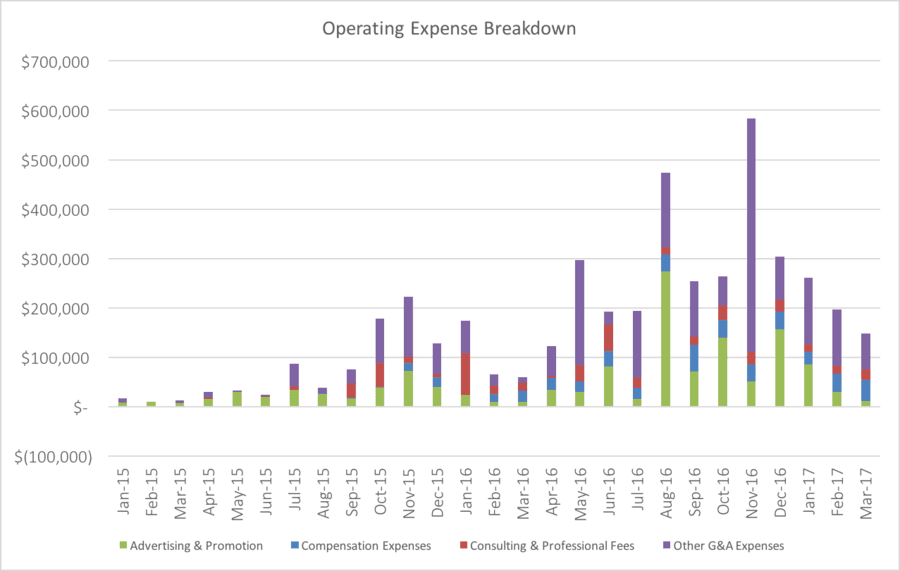 Based on unaudited financials not subjected to financial review
Fizzics generated net income of nearly $700,000 in Q1 2017, compared to about $11,000 in Q1 2016. Fizzics generated a net loss of over $256,000 in 2016, compared to a net loss of almost $65,000 in 2015.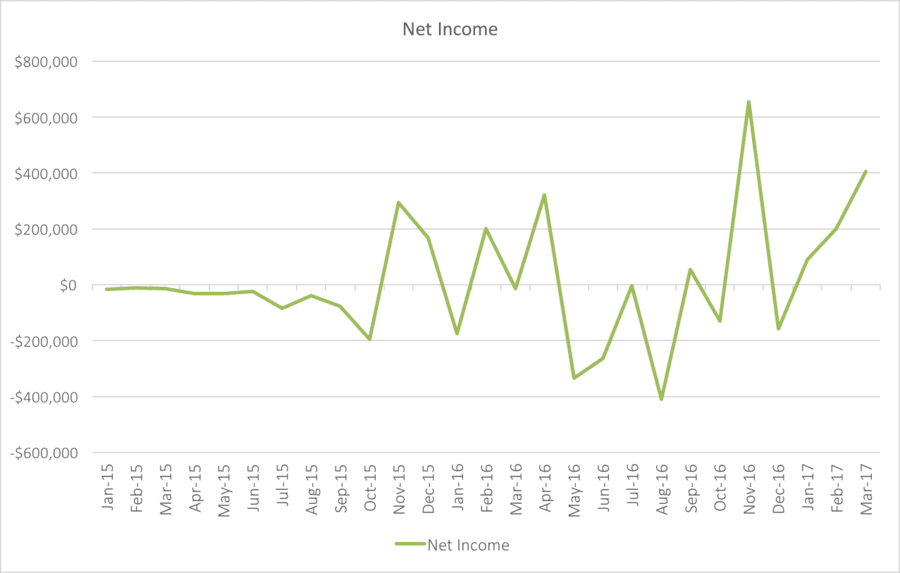 Based on unaudited financials not subjected to financial review
Industry and Market Analysis
According to Gallup®, approximately 65% of Americans drink alcohol.vi In 2015, alcoholic beverage sales totaled $219.52 billion in the U.S.vii American drinkers' beverage of choice is beer. In 2015, U.S. beer sales totaled $105.9 billion. Among Americans who drink alcohol, 43% drink beer more often than liquor or wine.viii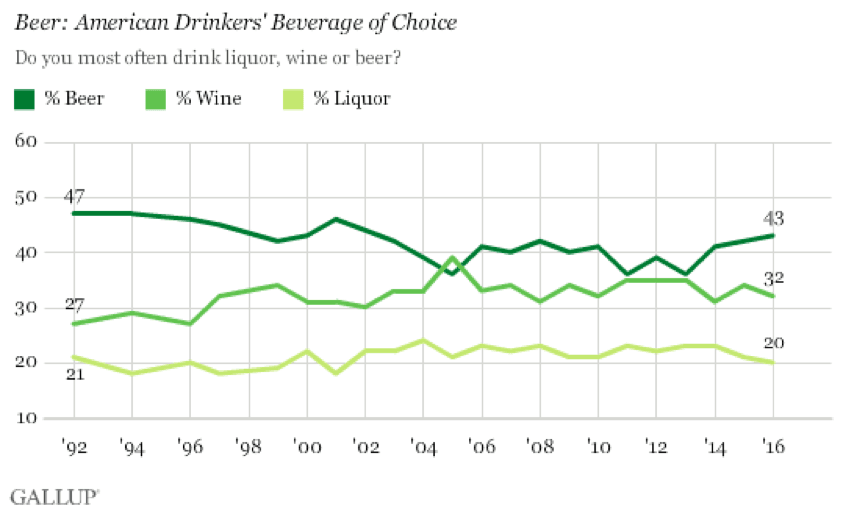 Americans' taste in alcohol has changed over the last few years, with craft beer driving most of the growth in the beer market.ix The number of operating U.S. breweries grew 15% in 2015 to 4,269—the highest in history. According to the Brewers Association, craft beer sales volume rose by 13% in 2015, with craft brewers producing over 24 million barrels of beer. The retail value for craft beer was estimated at $22.3 billion in 2015, accounting for 21% of the total beer market.x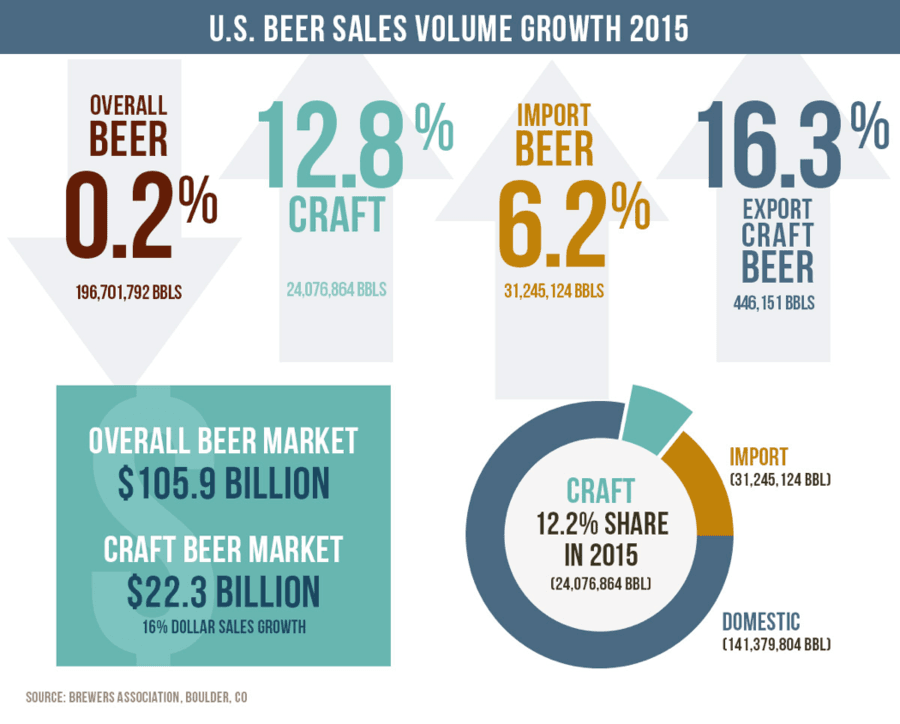 Competitors
SYNEK: Founded in 2013, SYNEK is a countertop beer dispenser that refrigerates, pressurizes, and dispenses beer from cartridges. Each cartridge holds one gallon and can be filled from a keg, tap, or inside a brewery's back room. The cartridge is pressurized by CO2, which helps the beer stay fresh longer and allows consumers to interchange the cartridges. The unit requires a CO2 canister and power outlet. SYNEK retails for $399 and comes with a 20-ounce refillable CO2 container, regulator, beer mat, tap handle, vented faucet, and growler adapter. Assembly is required. Replacement cartridges cost $9.99 for a pack of five.xi SYNEK raised over $645,000 from a 2014 Kickstarter campaignxii and $2.5 million from Arsenal Capital Management in 2015.xiii
Sonic Foamer: The Sonic Foamer uses ultrasonic vibrations that produce ideal-sized bubbles to enhance the head of users' beer of choice and bring out the flavors. The unit looks like a base of a blender and runs on batteries. To use, consumers add two teaspoons of water to the base, place a compatible glass of beer on the base, and press a button that turns on the ultrasonic waves. The Sonic Foamer retails for $29.99.xiv
BeerTender®: The BeerTender is an at-home mini kegerator manufactured by German kitchen appliance manufacturer Krups. The BeerTender was designed to exclusively work with the Heineken DraughtKeg system, which utilizes an internal carbonator pressure unit. The unit uses CO2 to keep the beer fresh for up to 30 days after tapping. To use, consumers run the keg's plastic tube to the BeerTender tap. The B100 BeerTender model retails for $391 on Amazon.xv The unit requires replacement tubes for each new keg loaded into the system which cost $9.99 for a set of 6.xvi
EdgeStar®: EdgeStar's deluxe mini kegerator and draft beer dispenser uses Heineken's DraughtKeg carbonator pressure technology. The unit has electronic temperature controls, which can be adjusted from 38 to 43 degrees Fahrenheit. It is compatible with the Heineken DraughtKeg and can be modified for any standard-size 5-liter keg using an optional CO2 accessory kit. The EdgeStar mini kegerator retails for $149.99.xvii The conversion kit retails for $44.99 and includes three mini CO2 cartridges, two reusable seals, a non-pressurized keg tap.xviii
SPT: The SPT mini kegerator and countertop beer dispenser uses thermoelectric cooling technology. The unit is equipped with a CO2 cartridge pressure system that can keep beer chilled for up to 30 days. The unit is compatible with standard 5-liter kegs and has a temperature range of 36 to 53 degree Fahrenheit. The product retails for $160 on Amazon and requires CO2 cartridges. Assembly is required.xix
Executive Team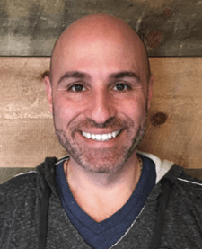 Philip Petracca, CEO and Co-founder: Philip is a technology industry executive with more than two decades of strategy, marketing, product, and business development experience. Previously, he worked as the Chief Product Development officer at EyeLock, where he was responsible for all aspects of product development, driving brand development, and the commercialization of EyeLock's iris-based identity authentication solutions. Before Eyelock, Philip was the Vice President of Brand Marketing and Product Development at consumer goods manufacturer DMC Worldwide. There, he facilitated a strategic operating plan for innovations, development, and subsequent marketing and sales. Philip studied Business Administration at Middlesex County College in conjunction with Rutgers University.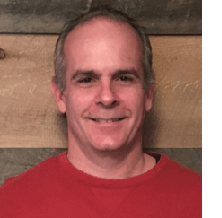 David McDonald: CTO and Co-founder: David is a mechanical engineer with over 25 years of experience in design and engineering of consumer, medical, industrial, military, aerospace, and automotive products. Previously, he worked as the Director of Mechanical Engineering at EyeLock, where he managed a small team of mechanical engineers in the design, development, prototyping, and production of iris-based biometric devices. David worked directly with a third-party industrial design firm in the development of EyeLock's first consumer-oriented device. Before EyeLock, he worked as a Principal and Engineering Director at JAM-Proactive, a small industrial design firm catering to medium- and large-sized companies. At JAM-Proactive, David managed all aspects of the engineering team and was responsible for the day-to-day business operations. He attended Northeastern University where he studied Mechanical Engineering.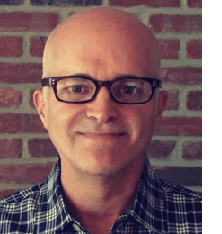 Tom Steckbeck, Chief Commerce Officer: Tom is a sales, marketing, distribution and business development executive with over 25 years of experience in bringing new technologies and products to market with companies such SiriusXM Radio, Panasonic, and Sony. As one of the original employees at SiriusXM (previously known as CD Radio), Tom was an integral part of pre-operational business and strategic and organizational planning for the satellite radio start-up which included raising $2 billion to launch the business. In addition, Tom was responsible for the negotiation and execution of agreements with receiver manufacturers including Panasonic, Delphi, Kenwood, Alpine, and Pioneer, as well as every key national and regional consumer electronics retailer in the country. Tom attended The University of Kansas where he studied Economics.
Investment Terms
Security Type: Series Seed Preferred Stock
Round Size: Min: $100,000 Max: $1 million
Pre-money Valuation: $18 million
Share Price: $2.00
Liquidation Preference: 1x
Conversion Provisions: Convertible into one share of Common (subject to proportional adjustments for stock splits, stock dividends and the like) at any time at the option of the holder.