---
Company Highlights
Field Guide To Evil is the highly anticipated follow-up movie from the creators of the cult classic ABCs of Death series. The ambitious global anthology will unveil a series of myths, lore, and folktales that have captivated, galvanized, and frightened communities throughout history.

Eight talented genre filmmakers from around the globe will bring these ominous tales to life.

Producers include Tim League, the founder of the Alamo Drafthouse Cinema, which was named the "Number One Theater in America" by Entertainment Weeklyi, and Ant Timpson, who produced the anthology series The ABCs of Death and feature films such as Turbo Kid, Deathgasm, Housebound, and The Greasy Strangler

This new entity will be backstopped by Drafthouse Films, the film distribution arm of the Alamo Drafthouse Cinema, which distributes films theatrically, through home video, video-on-demand (VOD), and direct-to-consumer platforms
Perks
*You are investing in equity in this offering. Perks are meant to be a thank you from the company for investing. All perks are inclusive of previous perks.
$100+ Digital Download
$250+ Blu-Ray/ DVD Special Edition (PLUS ABOVE)
$350+ Limited Edition Mondo Designed Shirt (PLUS ABOVE)
$500+ The Field Guide to Evil: The Illustrated Book (PLUS ABOVE)
$1,000+ Exclusive To Investors Only - Mondo Poster Variant (PLUS ABOVE)
$2,500+ Your name in the credits as an investor (PLUS ABOVE)
$5,000+ 4 tickets to the festival premiere party with Producers/Directors (location TBD) (PLUS ABOVE)
$10,000+ 2x sold-out VIP passes to Entire Fantastic Fest (limit one investor) (PLUS ABOVE)
$15,000+ Top Brass Victory status at Alamo Drafthouse for you and a guest for life (limit three investors) (PLUS ABOVE)
$20,000+ Co-Producer Credit (limit two investors) (PLUS ABOVE)
$25,000+ Screening for up to 50 of your friends in any Alamo Drafthouse market of The Field Guide to Evil with food and beverage included (limit one investor) (PLUS ABOVE)
$50,000+ Executive Producer Credit, Star in an Alamo Don't Talk PSA, Super Rare Mondo Pack with numerous sold-out items including posters, tees, pins, figurines, and LPs, 2x VIP passes to Entire Fantastic Fest, and an invitation to an exclusive luncheon at Tim League's home and filmmaker VIP dinner event during the festival (PLUS ABOVE)
$100,000+ (1) Executive Producer Credit, (1) Production Company Credit, Star in an Alamo Don't Talk PSA, Super Rare Mondo Pack with numerous sold-out items including posters, tees, pins, figurines, and LPs, 2x VIP passes to Entire Fantastic Fest, and an invitation to an exclusive luncheon at Tim League's home and filmmaker VIP dinner event during the festival (PLUS ABOVE) (Limit One)
Film Summary
Opportunity
Compared to other genres, horror movies may have a higher potential return on investment due to their typical low production cost. Typically, horror films don't hire expensive big-name movie stars, and complex special effects are usually kept to a minimum. Furthermore, horror movies, unlike other genres like comedy, translate well across all international markets – fear is a universal human emotion that captivates audiences across geographical borders. The Field Guide To Evil is an anthology horror film from an experienced team who have already set the benchmark once before in this domain.
The Field Guide To Evil is a spin-off from the creators of the ABCs of Death series, an acclaimed global anthology film series that made headlines around the world for its ambition and vision in 2013 and 2014. The ABCs of Death franchise was sold to all major territories and was on subscription-based on-demand platforms such as Netflix, Amazon, Comcast, and others. The brand has developed an avid following in the global horror community. The fan page has 140,000 likes on Facebook and the trailers for the films have been viewed by millions.
Fan Artwork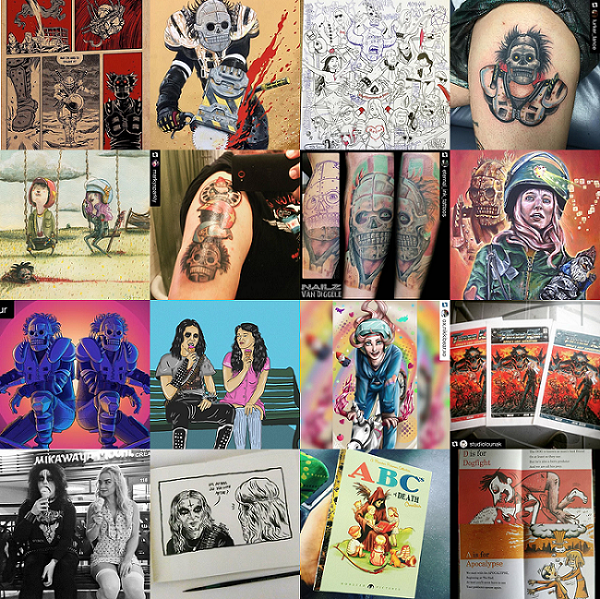 Ant Timpson, the producer behind such Sundance breakout hits as Turbo Kid and The Greasy Strangler, and Tim League, the CEO of the Alamo Drafthouse, have joined forces once again to bring something they think will excite fans around the world.
The Field Guide To Evil is a brand-new anthology, a feature-length film that will be directed by some of the world's most exciting new directorial voices including Veronika Franz and Severin Fiala (Goodnight Mommy), Peter Strickland (The Duke of Burgundy), Agnieszka Smoczynska (The Lure), Katrin Gebbe (Nothing Bad Can Happen), Can Evrenol (Baskin), Calvin Reeder (The Rambler), Ashim Ahluwalia (Miss Lovely), and Yannis Veslemes (Norway).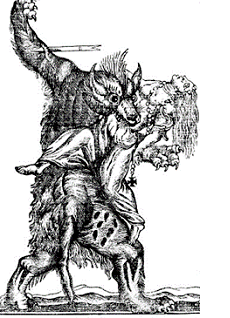 Synopsis
They are known as myths, lore, and folktales. Created to give logic to mankind's darkest fears, these stories laid the foundation for what we now know as the horror genre. We're going to be exploring the strange tales from all over the globe. Each filmmaker will be making a short about a myth from their country and it will all stitch together in a feature film.
Directors
Veronika Franz & Severin Fiala- Austria
Goodnight Mommy – 18 Wins/ 29 Nominations – Venice, Toronto, Rotterdam

Peter Strickland - Hungary
Berberian Sound Studio, The Duke of Burgundy

Agnieszka Smoczynska - Poland
The Lure – 12 Wins/ 7 Nominations – Sundance

Katrin Gebbe- Germany
Nothing Bad Can Happen – 8 Wins/ 10 Nominations – Cannes/German Film Awards

Can Evrenol - Turkey
Baskin – 3 Wins/ 2 Nominations – Toronto Film Festival, Fantastic Fest, Sitges

Calvin Reeder - U.S.
The Oregonian, The Rambler – Sundance, SXSW, Sitges

Ashim Ahluwalia - India
Miss Lovely – 3 Wins/ 6 Nominations – Cannes Un Certain Regard, Toronto Film Festival



Yannis Veslemes - Greece
Norway – 5 Wins/ Nominations – CPH Pix Grand PIX, Sitges

Use of Proceeds and Business Model
Use of Proceeds
Production expenses for the film are forecast to total approximately $482,000. Expenses are primarily driven by director fees, which are expected to total $280,000.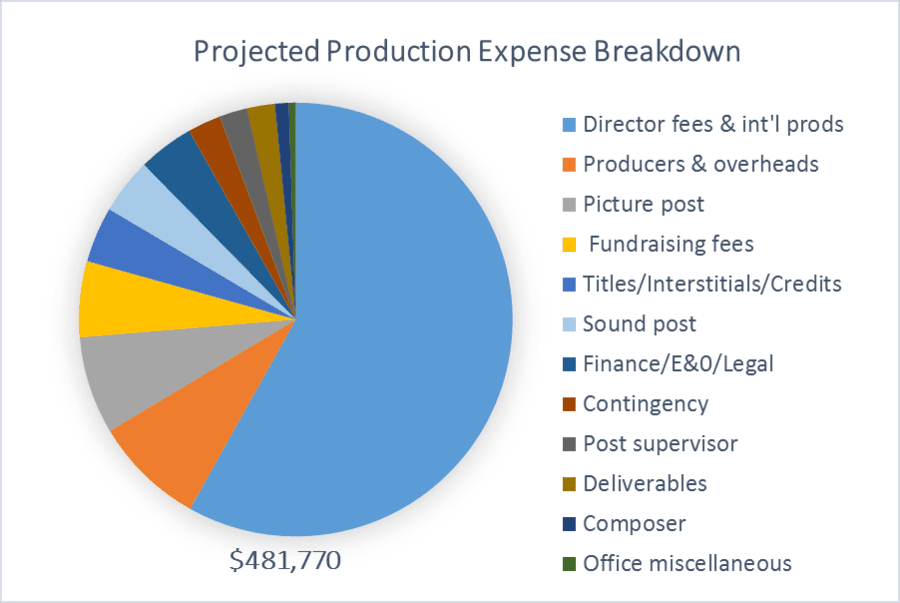 These financials have not been subjected to financial review.
Timeline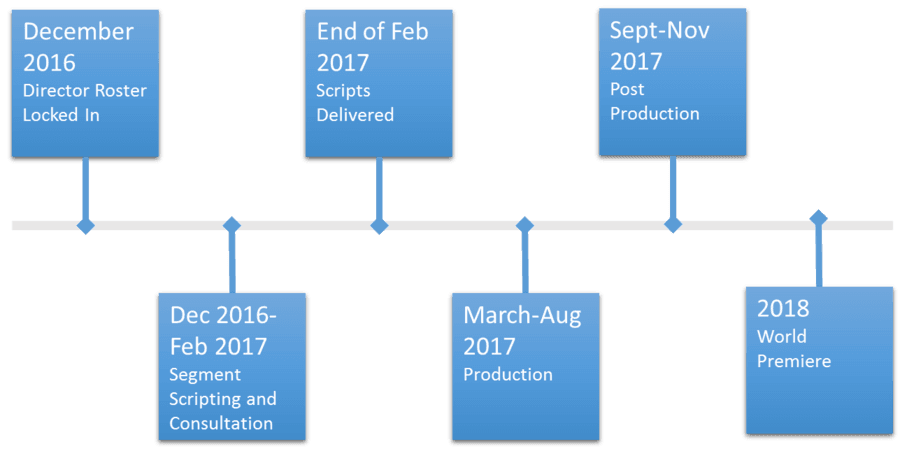 Note: Timeline dates are approximate and may shift depending on talent scheduling. Any lost time may be made up in other areas, resulting in a similar finish date.
Financial and Distribution Schedule
The first two ABCs of Death films were bold and ambitious in vision but followed a simple formula. The films were financed on low budgets but were produced with strong filmmaking talent with a clever marketing campaign alongside some savvy public relations. The ABCs of Death films were distributed and sold around the world by Magnolia Pictures. In the U.S. and Canada, the features had a limited release in independent theaters, including through the Alamo Drafthouse chain. The series has done well in digital and broadcast distribution, generating over $2,700,000 in gross receipts to date.
The Field Guide To Evil will be taken to major film festivals and markets to sell for global distribution and will also be backstopped by Drafthouse Films. Drafthouse Films, the film distribution arm of the Alamo Drafthouse Cinema, distributes films theatrically, through home video, video-on-demand (VOD), and direct-to-consumer platforms. The Alamo Drafthouse is a growing entertainment lifestyle brand, which, along with the Alamo Drafthouse Cinemas, includes Mondo, the collectible art boutique; Fantastic Fest, the largest international genre film festival in the U.S.; and the pop culture website Badass Digest. Since its debut in 2010, Drafthouse Films has released 36 films, including Bullhead, which was nominated for the Best Foreign Language Oscar in 2012, and The Act of Killing, which earned the strongest box office opening for a documentary in 2013.ii
Industry and Market Analysis
Unlike other genres, horror films don't require highly paid movie stars and typically don't utilize expensive special effects. Due to the fact they are relatively inexpensive to make, the potential return on investment for horror movies may be higher compared to other genres.
In an analysis of a selection of movies released between 1999 to 2014, where gross box-office revenue exceeded its budget, horror returned more on its investment than any other genre. One in five horror movies included in the analysis returned six times or more on its budget at the box office. In comparison, only one in 20 action movies made back six times or more on its budget. As seen in the chart below, horror films have a long tail compared to other genres, meaning they have the potential for a higher return on investment.iii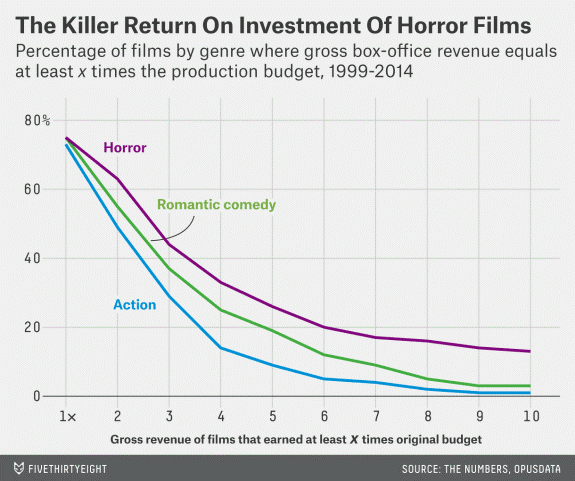 Due to the highly visual and emotional filmmaking of horror movies, they translate well to international markets. Unlike other genres like comedy, where humor differs across cultures, fear is a universal human emotion that translates to any geographical market.
From 2010 to 2015, the 10 most profitable movies—determined by comparing the ratio of a movie's production budget to the money earned at the worldwide box office—were horror films. The top three films were The Devil Inside, Insidious, and Paranormal Activity 2.iv
Comparables
V/H/S: V/H/S is an American anthology horror that features a series of found-footage shorts. A group of criminals are tasked with acquiring a VHS tape from a private house only to discover a pile of horrible videotapes, setting the context for the video footage shorts. The film was co-produced by Brad Miska, co-founder of horror website Bloody Disgusting. The North American rights to the film were acquired by film distributor Magnolia Pictures at Sundance Film Festival in 2012 for more than $1 million after winning a bidding war with three prospective buyers.v Sequels include V/H/S/2 which was released at Sundance in 2013 and V/H/S: Viral which was released on Video on Demand in 2014.
The ABCs of Death: The ABCs of Death is a compilation of 26 horror shorts from 26 different directors, each made for $5000.vi Each director was assigned a letter of the alphabet and given free rein to create a story involving death using a word that began with their letter—for instance "A is for Apocalypse." The first two films were distributed by Magnet, Magnolia Picture's genre division, in limited release independent theaters, including the Alamo. Part one did very well in North America through video-on-demand platforms. Both part one and part two are currently available on Netflix.
The Greasy Strangler: Released in October 2016, The Greasy Strangler is a comedy horror film about a father, who runs a Disco Walking tour, and his son. When a sexy, alluring woman comes to take the tour, a competition emerges between the father and son for the woman's attention. It also signals the appearance of an oily, slimy inhuman maniac, soon dubbed "The Greasy Strangler," who stalks the streets at night and strangles the innocent. The movie premiered in the 2016 Sundance Film Festival Midnight section and was sold around the world by Protagonist Pictures. The film was produced by Andy Starke, Ant Timpson, Elijah Wood, Daniel Noah, Josh Waller, Tim League, and Ben Wheatley. It won The Discovery Award at the 2016 British Independent Film Awards.
Southbound: Southbound is a 2015 American anthology horror film directed by filmmaking trio Radio Silence as well as Roxanne Benjamin, David Bruckner, and Patrick Horvath. Produced by V/H/S producer Brad Miska, the film premiered at the 2015 Toronto International Film Festival on September 16, 2015. In October 2015, The Orchard announced it had bought the North American distribution rights to Southbound.vii The film was released theatrically on February 5, 2016 in a limited release and to digital platforms shortly thereafter.
Turbo Kid: Turbo Kid is a post-apocalyptic comedy set in 1997. A retro-futuristic nostalgic tribute to 80's action-adventure films, the film follows a teenager who goes on an adventure to save the girl of his dreams. Turbo Kid was produced by EMA Films, Epic Pictures Group, and Timpson Films and directed by a Quebec trio known as RKSS. Released in 2015, the film won the "Midnighters" Audience Award at SXSW in 2015viii and the Saturn Award for Best International Film in 2016.ix Turbo Kid was distributed by Epic Pictures, Lionsgate, StudioCanal, and Transmission.
Executive Team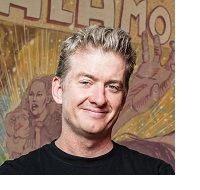 Tim League, Producer: Tim has worked in motion picture exhibition since 1994. He founded the Alamo Drafthouse Cinema, which was named by Entertainment Weekly as the best cinema in America. Tim also founded the Rolling Roadshow, a worldwide traveling outdoor cinema that shows famous movies in famous places, and is the founder of Fantastic Fest in Austin, Texas. Fantastic Fest was named as one of the "10 Festivals We Love" by Variety president Charlie Koones alongside industry heavy-hitters Cannes, Telluride, and Toronto.
TexasMonthly:An Interview With Tim League and Karrie League
Forbes:Turning Detractors Into Loyalists: An Interview With Alamo Drafthouse CEO Tim League
Deadline:How Tim League, George R. R. Martin & Indie Cinemas Helped Uncancel 'The Interview'
Nerdist:INTERVIEW: FOUNDER TIM LEAGUE ENSURES YOU'LL REMEMBER THE ALAMO (DRAFTHOUSE)
CreativeFuture:Q&A with Alamo Drafthouse Cinema's Tim League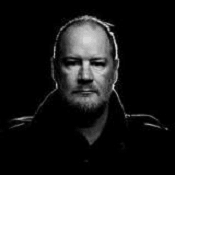 Ant Timpson, Producer: Ant was born in Auckland, New Zealand and grew up going to the cinema since an early age. Since his teenage years, he's had a lifelong career in all facets of the film industry. From the mid-1980s, Ant programmed cult films, started a distribution company, served as a Board Director on the Moving Image Centre of New Zealand, produced television specials, programmed for the MGM Channel, produced feature films, and has managed two since-devolved film funds for the New Zealand Film Commission. He also launched "The Incredibly Strange Film Festival" in 1994 and now programs The New Zealand International Film Festival. His national film event 48Hours began in 2003 now attracts over 10,000 participants and features Sir Peter Jackson as mentor. Ant conceived and produced the anthology series The ABCs of Death and has since produced feature films Turbo Kid, Deathgasm, Housebound, and The Greasy Strangler.
Stuff.co.nz: Ant Timpson: Cult connoisseur
Idealog:Cult movie-maker Ant Timpson on making movies, video nasties and the golden age of VHS
NZ Herald:Dominic Corry: Kiwi genre films Deathgasm and Turbo Kid kick butt at SXSW
Cult Projections: Q&A WITH ANT TIMPSON, PRODUCER OF THE ABCS OF DEATH AND HOUSEBOUND
Newshub: Ant Timpson - Full '10 film festival interview
Birth.Movies.Death.:A Bloody Conversation: Producers Ant Timpson And Tim League Talk ABCs OF DEATH 2
Monster Pictures:THE INCREDIBLY STRANGE WORLD OF ANT TIMPSON
Investment Terms
Security Type: Revenue Participation Rights
Round Size: Min: $200,000 Max: $500,000
Interest Rate: Adjusted gross proceeds sharing agreement which provides the investors 100% of the Company's adjusted gross proceeds up to the repayment amount of 115% of their investment, and 50% of any remaining adjusted gross proceeds thereafter
Length of Term: None
Conversion Provisions: None