---
Investment Documents
Investment Terms
Security Type: Crowd SAFE (Simple Agreement for Future Equity)
Round Size: Min: $50,000 Max: $300,000
Valuation Cap: $3 million
Conversion Provisions: In connection with an equity financing of at least $1,000,000, the Company has the option to convert the Crowd SAFE into shares of a series of non-voting preferred stock, at the price per share of the new preferred stock sold in the equity financing or a valuation cap of $3,000,000, whichever results in a lower conversion price. Please refer to the Crowd SAFE Form for a complete description of the terms of the Crowd SAFE, including the conversion provisions.
Company Highlights
Company Highlights
Since launching in May 2017, over 13,000 fans have downloaded and utilized the FanFood app
During the 2017 Formula 1 (F1) Grand Prix event at the Circuit of the Americas in Austin, Texas, FanFood generated over $40,000 in revenue in three days
Onboarded multiple venues, including one Major League Soccer stadium (Avaya Stadium, home of the San Jose Quake), one raceway (Circuit of the Americas), one minor league baseball stadium (Principal Park, home of the Iowa Cubs), two golf courses (Jimmy Clay and Roy Kizer golf courses through Golf ATX), and two music venues (Austin 360 and Seven Flags Event Center)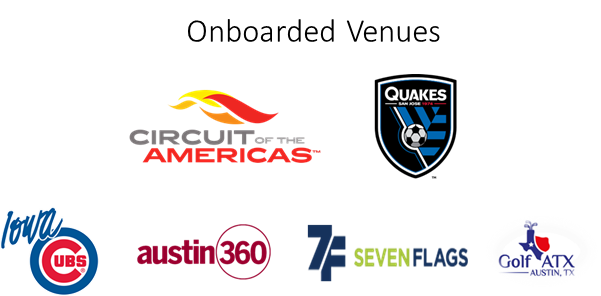 Company Summary
Opportunity
FanFood enhances the fan experience by allowing fans to watch more of the action and never miss the big play because they were stuck in long concession stand lines. FanFood makes it possible for sports fans, concertgoers, and anyone attending a live event to have food and beverages delivered directly to their seat. Fans can also choose to skip the entire line by ordering ahead and picking up their concessions via express line pick-up. With an easy-to-use mobile concession ordering platform and express delivery or pickup options, FanFood not only helps fans but also helps venue owners improve their business:
Improve wait times: FanFood enables quick ordering, express pickup lines, and delivery directly to the fan's location, decreasing the amount of time fans spend out of their seats and waiting in lines.
Increase sales: In 2016, 45% of fans said they left a long line at concessions at least once in the past year.1
Enhance fan experience: A better user experience encourages fans to consume more and increases the likelihood they will make future ticket purchases and generate positive feedback that may lead to new customers.
Alleviate congestion: Streamline and control concession flow through FanFood's delivery and logistic enhancements, reducing and/or eliminating long concession stand lines.
Get better concession data: Learn what items are being ordered most often for delivery or via quick grab- and-go pickup; test different menu items for how well they move through a mobile process versus through the traditional concession lines.
Product
Fans can download the FanFood mobile app for free, which is available for iOS and Android devices. Once a user downloads and signs up they can browse menu items, choose whether to have their order available for pickup in an express line or have their order delivered to their seat, and add multiple selections to a cart. Users then pay directly from their smartphone via Stripe.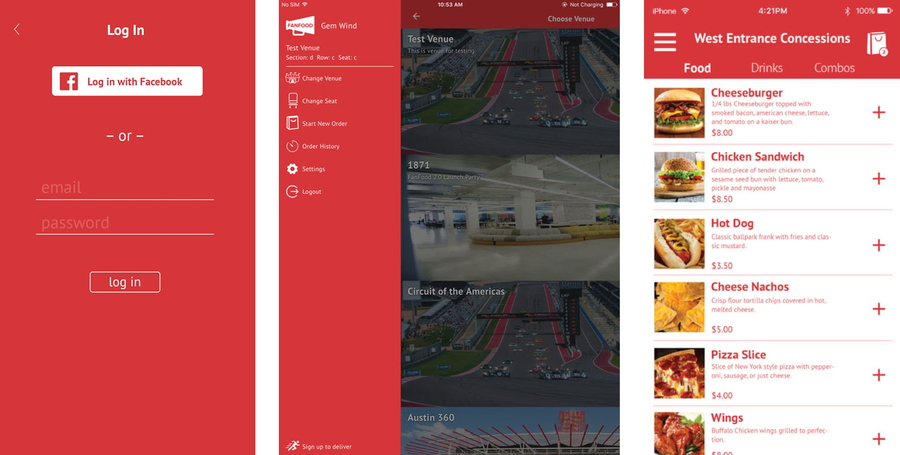 Orders are processed through FanFood's proprietary fulfillment technology that communicates directly with the concession vendor. FanFood also provides order tracking so users are notified every step of the way. While it varies based on the venue, FanFood's average order delivery time has been roughly five minutes. Venues can also provide fans with real-time push notifications for discounts, specials, and more.
The FanFood mobile admin platform is the backend queue management system that fulfills fans' orders. Venue managers can add inventory, customize menus and prices, generate reports, and view data analytics. Vendors can send out real-time messages to guests on the status of orders or send push notifications on specials and sale items. At the end of every game, managers can download reports that identify sales insights, product performance, and other key metrics.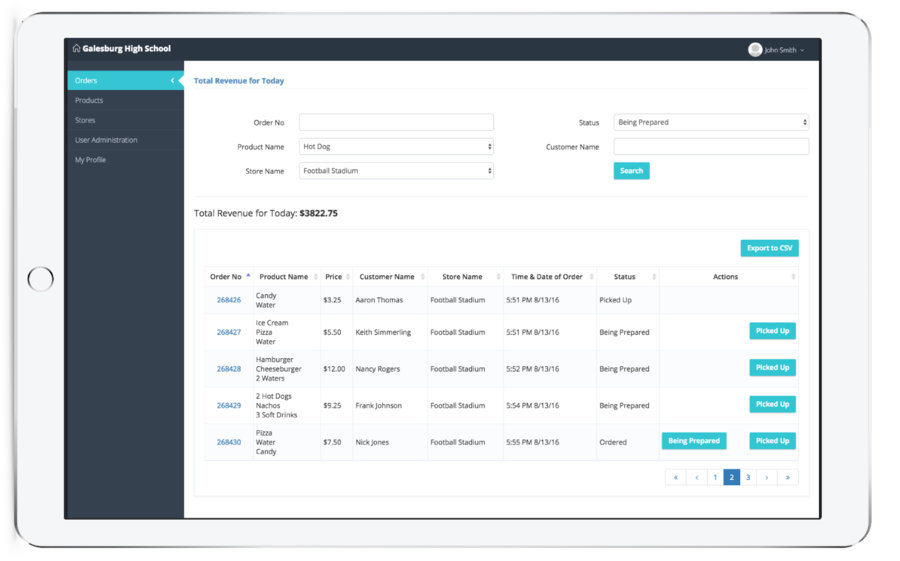 FanFood also provides a fulfillment app that helps "runners" deliver products to fans' seats. Runners can be provided directly by FanFood. Stadiums and other live events often don't have the ability or time to meet increased concession demand (e.g. shortage of staff to function as runners). FanFood will work directly with these venues to tailor its offering to make sure fans' needs are met.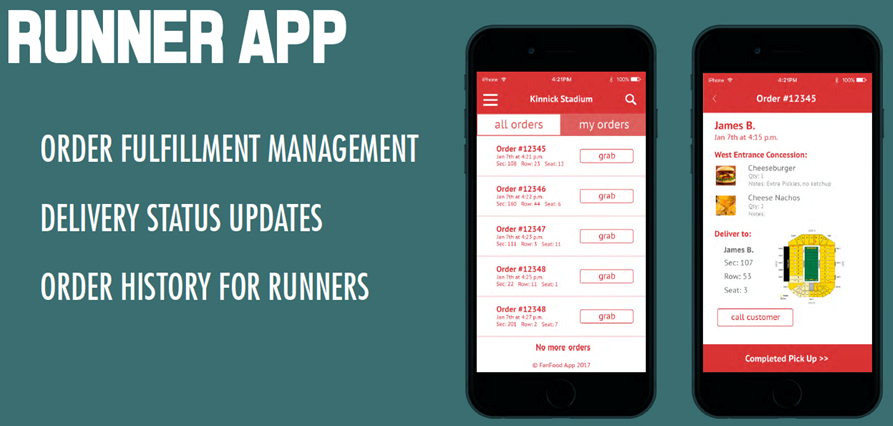 FanFood's mobile ordering platform is available for a wide range of venues, from stadiums to state fairs.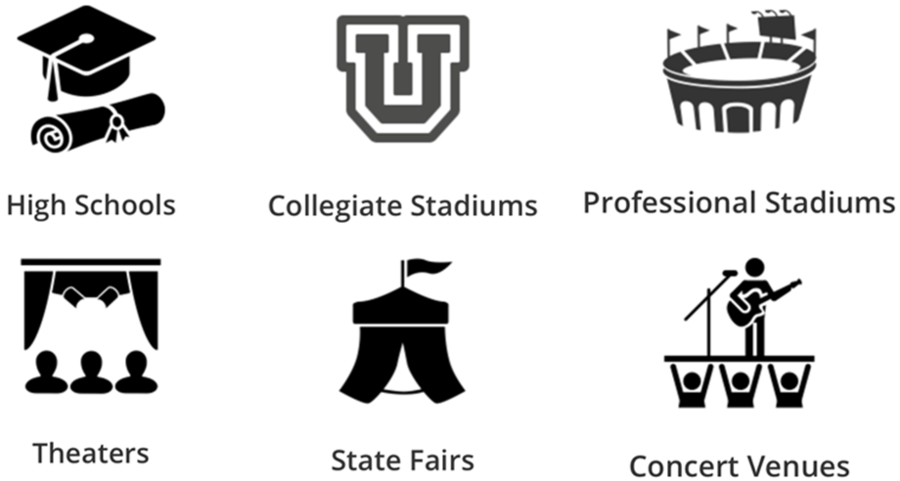 Use of Proceeds and Product Roadmap
In October 2017, the company announced plans to build a waiter app, web application, and make additional technology enhancements, all which are expected to be available in Q2 2018. A majority of the proceeds from this offering will be used to develop the new features and market the two new applications.
Waiter application: In-venue marketers will be able to place and process concession orders on behalf of customers already waiting in line and direct them back to their seat or to an express pick-up line to receive their concessions.
Web application: Fans at live events can elect to purchase concessions via an ecommerce website without downloading the FanFood mobile application.
Technology enhancements: Future builds that will allow FanFood to integrate with theaters and add advertisement opportunities, payment APIs, backend operational logic, data analytics, and customer insight.
Business Model
FanFood partners with the venue, working with the marketing department to craft the right message to get fans to sign up. Then the company works directly with concession vendors to set up the queue management system and provide the necessary staffing requirements. FanFood can elect to provide 100% of the staffing necessary to execute its product offering by hiring temporary staff to function as runners.
Primary: revenue share and convenience fee
On an average concession order of $20, FanFood generates roughly $5 per order:
Convenience fee: $2 to $4, depending on the method of order (express pickup vs. in-seat delivery). This fee will be incorporated into the price of each menu item.
Revenue share: 10% to 20%, depending on what additional services FanFood provides to venue (e.g. marketing, runners, etc.).
Secondary: installation revenue and sponsorship opportunities
The installation fees will cover the annual onboarding costs associated with capital, marketing signage, and software on an annual basis:
Installation costs: Depending on the venue size and requirements (e.g. iPads required to operate order fulfillment, in-venue sign up tents and signage, and food inventory), projected installation revenue is between $1,000 to $15,000 per year.
Sponsorships: FanFood will work with existing venue sponsors to provide on-site and digital co-branding activation opportunities.
User Traction
The FanFood platform launched in May 2017. Since then, over 13,000 fans have downloaded and utilized the FanFood app. The company has also onboarded multiple venues, one Major League Soccer stadium (Avaya Stadium, home of the San Jose Quake), one raceway (Circuit of the Americas), one minor league baseball stadium (Principal Park, home of the Iowa Cubs), two golf courses (Jimmy Clay and Roy Kizer golf courses through Golf ATX), and two music venues (Austin 360 and Seven Flags Event Center). Its two biggest clients are Avaya Stadium and the Circuit of the Americas.

Historical Financials
Since May 2017, FanFood has generated nearly $100,000 in revenue from live events. Of note, the company operated at the 2017 Formula 1 (F1) Grand Prix event at the Circuit of the Americas, where it generated over $40,000 over three days. FanFood generated minor revenue for its fiscal year 2016 (~$1,458), mostly from its pilot before its official launch this year.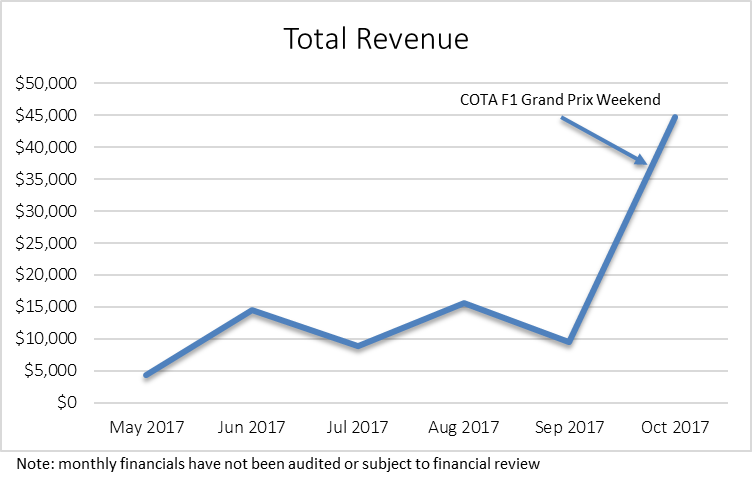 For fiscal year 2016, the company's operating expenses totaled $26,779. Year to date as of October 2017, the company had approximately $247,000 in total expenses, including cost of goods sold (~$99,000) and total operating expenses (~$148,000). Marketing (~$54,000) and general and administrative expenses (~$49,000) were the largest operating expenses.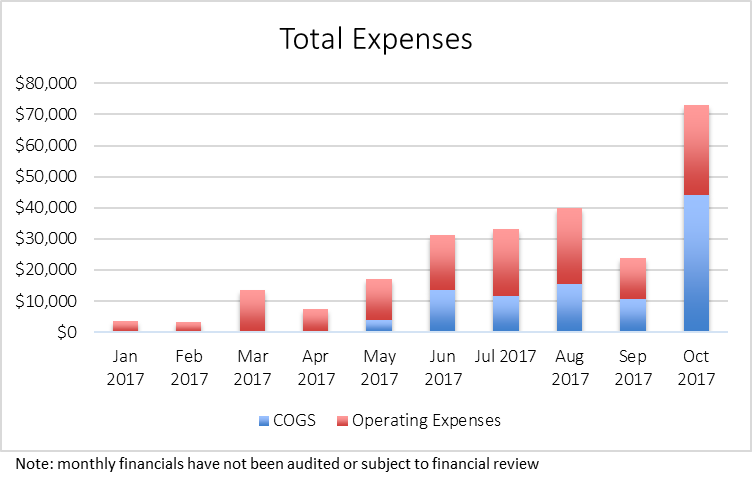 Year to date as of October 2017, FanFood had a net operating loss of $121,636. For its fiscal year 2016, its net operating loss was roughly $28,259. As of October 2017, the company had roughly $54,000 in cash assets.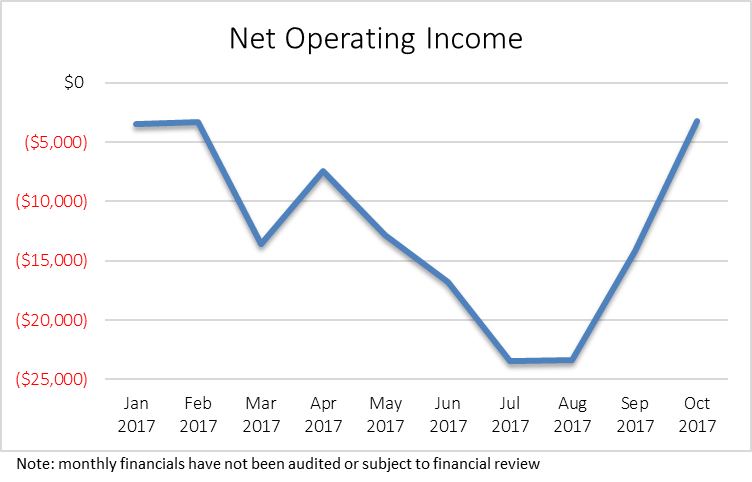 Industry and Market Analysis
Every year, millions of fans attend sports games in the U.S. The National Football League (NFL) attracted the highest average attendance in North America in the 2016-2017 season with an average of 69,487 fans attending each game. A total of 17.79 million fans attended a regular season NFL game, an increase from 17.26 million in 2015. Other sports also drew large audiences. On average, 30,013 fans attended a Major League Baseball (MLB) game, and a total of 73.16 million fans attended games during the most recent regular season. Major League Soccer (MLS) has also seen increased attendance with an average of 21,692 attending soccer games during the 2016-2017 season.ii
Surveys have shown that concessions sales are one of the most influential factors on a fan's experience. A 2016 survey released by Oracle Hospitality showed that 45% of sports fans have abandoned concession lines at least once in the last year because of long lines. Furthermore, out of the fans who infrequently or had never grabbed food at the stadium, 36% cited the speed of service for their decision not to buy the concessions. U.S. fans, on average, said they would spend an additional $20 for food and beverages if wait times were cut in half, representing a 42% increase the typical amount spent per person per game. According to the study, the average concession wait time in the U.S. was 30 minutes, and the average amount spent on concessions per person per game was $47.iii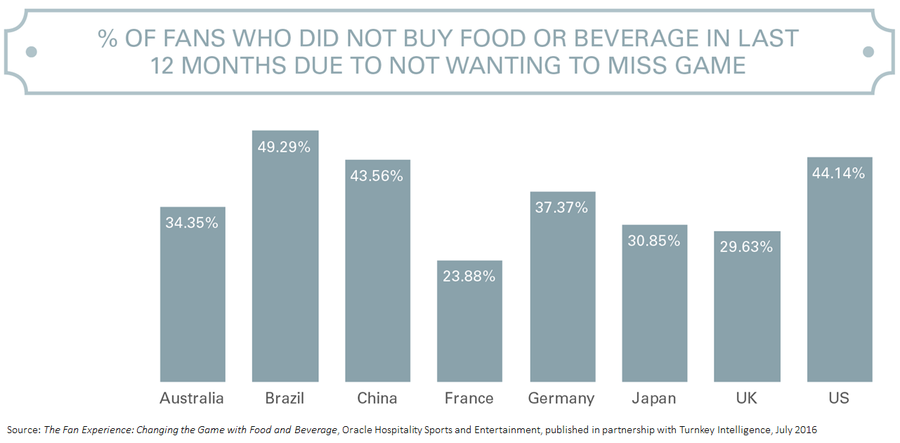 The Oracle study, which surveyed more than 3,500 sports fans in eight countries, also found that 64% of fans said they would "probably" or "definitely" use in-seat ordering if offered.iv "Mobile technologies have paved the way for a more personalized, engaging event experience…," said Mike Compitello, Director of Global Sports and Entertainment Infrastructure Services for IBM Global Technology Services.v Mobile technology has been leveraged by many live venue operators over the past few years to enhance the fan experience. However, many fans still don't have access to or are unaware of in-seat mobile ordering. Only 6.65% of fans surveyed by Oracle said they were currently using in-seat ordering, though an overwhelming majority of fans indicated interest in using the technology.vi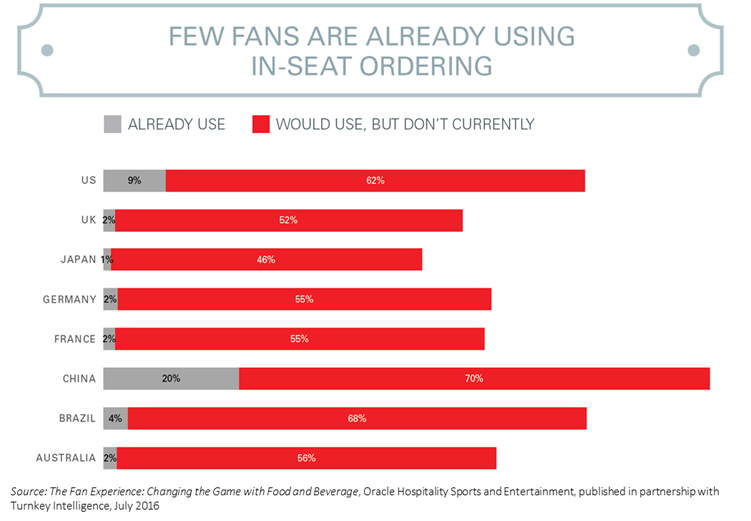 Competitors
Tapin2: Founded in 2011, Tapin2 is a mobile ordering platform that helps improve concessions and merchandise revenue at live events. SmartVenue is a platform powered by Tapin2 that retrofits live event locations into mobile-ready facilities without the burden of large upfront costs. The mobile marketplace allows for pre-ordering, in-seat delivery, and express pick up for customers. The system also provides inventory tracking and real-time analytics to benefit vendors.vii The Customer Mobile App and Software Development Kit (SDK) integrates the ordering capabilities directly into an enterprise's existing mobile app. Tapin2 has built systems to order and deliver concessions via mobile app in sections at the Cleveland Cavaliers' Quicken Loans Arena, for club seat sections at the Cincinnati Bengals' Paul Brown Stadium,viii and for MLS' LA Galaxy at the StubHub Center.ix
VenueNext: Founded in 2014, VenueNext provides a cloud-hosted platform that powers a broad range of applications for venues, including delivery services, content, and communications for guests and employees. Its context-aware mobile app, available for iOS and Android, can reconfigure based on the guest's location as well as on the type of event, such as a show, concert, or game. It helps connect and interoperate many systems guests access directly from the app (e.g. wayfinding, loyalty programs, food ordering, etc.). When the San Francisco 49ers opened Levi's Stadium in 2014, VenueNext helped them create an application that holds ticketing data and allows for merchandise, food, and beverage ordering and delivery.x Other clients include Yankee Stadium, Churchill Downs, the Minnesota Vikings' U.S. Bank Stadium, the Dallas Cowboys' AT&T Stadium, Belmont Park & Saratoga Springs, and the San Jose Sharks' SAP Center.xi In 2015, VenueNext raised $9 million in Series A funding with participation from Causeway Media Partners, Live Nation, and Twitter Ventures.xii In October 2016, the company announced it had received $15 million in Series B funding led by Causeway Media partners and joined by Compass Group and Sharks Sports & Entertainment.xiii
Qkr!: Qkr! allows users to securely order and pay for food and drinks and split bills with friends. Qkr uses MasterPass, MasterCard's secure digital wallet solution that accepts MasterCard, Visa, American Express, and Discover cards. The app has been used at sporting events including golf competitions The Open Championship and The Arnold Palmer Invitational and theh South American football tournament Copa América.xiv Qkr! is already live in Australia, Colombia, Mexico, and the U.K. In early 2017, MasterCard announced plans to launch the app in additional markets, including Brazil, Canada, Ireland, Singapore, South Africa, and the U.S.xv
Bypass Mobile: Founded in 2010, Bypass Mobile provides point-of-sale and commerce technology for over 300 sports and entertainment venues seeking to make the concessions systems more efficient.xvi Bypass Mobile provides a range of solutions, such as mobile ordering, back office management tools, point-of-sale registers, self-service kiosks, and data analytics. In 2010, it initially launched with a smartphone application that allowed fans to order and pay for concessions from their seats for a $0.99 convenience fee. In this beginning stage, Bypass Mobile worked with customers like the Round Rock Express, MLB's Texas Rangers, the Dallas Stars and Phoenix Coyotes from the National Hockey League (NHL) and the National Basketball Association's (NBA) Dallas Mavericks. In 2012, it shifted its business model away from a consumer-facing mobile app towards vendor software that works with computer tablets. In 2015, Bypass raised $5.5 million in funding from Cypress Growth Capital.xvii
SeatServe: Founded in 2014, SeatServe is an end-to-end solution for stadium concessions through which fans can order food, beverages, and merchandise from their smartphone and get it delivered directly to their seat. For vendors, SeatServe provides mobile devices for back-end order fulfillment and wayfinding devices to help servers bring orders to the customers. SeatServe also creates marketing solutions that include real-time active-response push notifications for food sales and merchandising discounts. Its primary business model is to offer its platform for free to stadiums and then take $2 to $8 per order depending on the type of event and the amount of goods being delivered. For smaller businesses and international venues, SeatServe plans to offer a SaaS solution where it charges $2 per seat per season to the stadium.xviii
Executive Team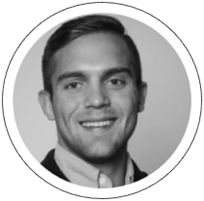 Carson Goodale, Co-founder and Chief Executive Officer: Carson brings a veteran mindset and leadership experience to help execute and navigate the challenging environment of running a startup. At FanFood, he has built strategic partnerships as well as developed and optimized the business model and go-to-market strategy. Carson graduated from the University of Iowa, Tippie College of Business with a BBA in Finance and is a Commissioned Officer in the United States Army. As a Detachment Commander in the 376th Financial Management Support Unit in the Army Reserves, Carson is responsible for the safety, training, discipline, combat/unit readiness, and morale of 25 soldiers.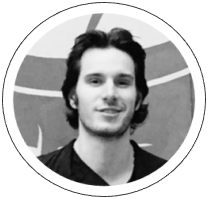 Elijah Doetsch, Co-founder and Chief Financial Officer: Elijah graduated from the University of Iowa in 2017 with a degree in Business Economics. During college, he wrote freelance statistical articles for Fox Sports and worked at the Chicago Board Options Exchange. In 2017, he transitioned to CFO, after serving as the company's Chief Marketing Officer since inception. As CFO, Elijah primarily focuses on leveraging data analytics to support strategic decision making and forecasting. Elijah is also in charge of accounting, budgeting, and resource allocation.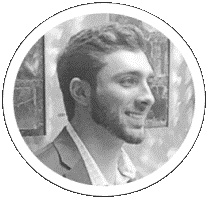 Will Anderson, Co-founder and Chief Operations Officer: Will is graduating from the University of Iowa in December 2017 with degrees in Entrepreneurial Management and Sport and Recreational Management. He has experience working in entrepreneurial environments, having worked with legal and marketing departments with a focus on operations. As COO, his responsibilities include daily operations, business development, logistics, and market analysis as well as strategically planning for long-term growth and monetization.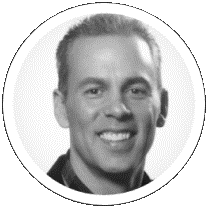 Grant Goodale, Co-founder and Chief Technology Officer: Grant has over 20 years of experience working as a software engineer and systems architect with world-class teams in both the startup and corporate environments. He successfully built and exited two software companies within the past decade. His ability to effectively manage the product lifecycle within the fast-paced startup environment allows him to focus on building the right technology for FanFood and its customers. Grant has a bachelor's degree in Computer Science from the University of Iowa.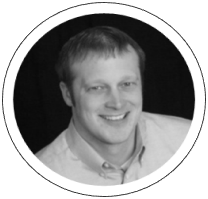 Dustin Hemesath, Co-founder and Chief Strategy Officer: For 13 years, Dustin has worked in leadership roles in retail, operations, and business-to-business (B2B) sales. Over the past five years, he has concentrated on building startups through the lean startup model. At FanFood, he is focused on building sound operations and sales processes. Dustin has a bachelor's degree from Iowa State University.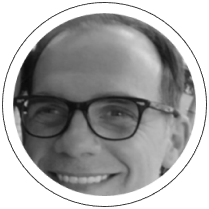 Brad Curry, Chief Commercial Officer: Brad has spent the better part of two decades working in strategic B2B sales with a focus on long sales cycles and complex contracting. His ability to bring multiple parties to the table to create win-win scenarios for all stakeholders involved has allowed him to develop a successful career in sales and business development.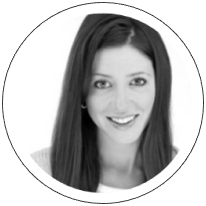 Alexa Lemmo, Director of Sales: Alexa has over 10 years of experience in business operations, staffing, account management, and experiential marketing. She spent the last four years scaling startups as they experienced hyper growth. As Director of Sales at FanFood, she spends her time managing existing client relationships, building new partnerships and sponsorships, and aligning the company vision with business operations.
Investment Terms
Security Type: Crowd SAFE (Simple Agreement for Future Equity)
Round Size: Min: $50,000 Max: $300,000
Valuation Cap: $3 million
Conversion Provisions: In connection with an equity financing of at least $1,000,000, the Company has the option to convert the Crowd SAFE into shares of a series of non-voting preferred stock, at the price per share of the new preferred stock sold in the equity financing or a valuation cap of $3,000,000, whichever results in a lower conversion price. Please refer to the Crowd SAFE Form for a complete description of the terms of the Crowd SAFE, including the conversion provisions.