---
Company Higlights
Accolades
Virginia Rum Distiller of The Year, New York International Spirits Competition, 2017i
Yorktown Silver Rum

Silver Medal, New York International Spirits Competition, 2017ii
Gold Medal, Micro Liquor Spirits Competition, 2016iii
Gold Medal, Los Angeles International Spirits Competition, 2016iv
Bronze Medal, American Distilling Institute, 2016v
Silver Medal, Denver International Spirits Competition, 2016vi

Jamestown Genever Gin

Best in Category and Gold Medal, American Distilling Institute, 2017vii
Triple Gold Medal, MicroLiquor Spirits Competition, 2016viii
Perks
*You are investing in convertible debt in this offering. Perks are meant to be a thank you from the company for investing. The perks below are inclusive of lower dollar amount perks. Alcohol perks are redeemable at the Eight Shires Distillery or investors can request it to be delivered, in which case they must pay a shipping fee that will be based on their state or country assuming that it is legal to ship to that destination.
$250+: Newsletter releases of upcoming events and comment line available to collaborate with the company on product development.
$500+: Invitation to the opening gala at Eight Shires new facility and all initial product releases, a special Eight Shires shot glass, and complementary pour whenever visiting Eight Shires distillery.
$1,000+: A signed, numbered bottle of any available spirit releases (except Jamestown Single Malt special release).
$5,000+: Club membership allowing exclusive access to purchase one of the initial numbered bottles of every new release, and 20% off any merchandise.
$10,000+: A signed bottle of Jamestown Single Malt special release (expected bottling year: 2019).
$50,000+: Invitation to join the annual corporate meetings and any new investor meetings. Private dinner provided prior to board meeting.
Company Summary
Opportunity
Williamsburg Distillery (doing business as Eight Shires Distillery) is a small craft distillery located in the Historic Triangle of Williamsburg, Virginia. Eight Shires' mission is to research, preserve, teach, and present the history of distillation from the Colonial American period (from the year 1600 to 1775). During the colonial period, distilling technology advanced substantially, creating new and more palatable craft spirits. Before products like rum and genever gin were developed, distilled spirits tasted more like moonshine. In addition, barrel aging during this period revolutionized the whiskey industry and paved the way for bourbon and scotch, spirits that would be developed only a few decades later.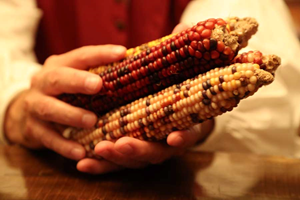 Eight Shires spirits are handcrafted using historic recipes and ingredients of the 17th and 18th century. One of the oldest varieties of corn, Indian maize was introduced to early colonists by Native Americans. Indian maize also gives Eight Shires wheat style bourbon a unique maple background taste. The genever style gin reflects the whiskey and herbal profiles of the Dutch precursors to modern London Dry Gins. The distillery also utilizes 18th century-style molasses for its rums, producing a spirit that is more full-bodied than modern day rums.
Products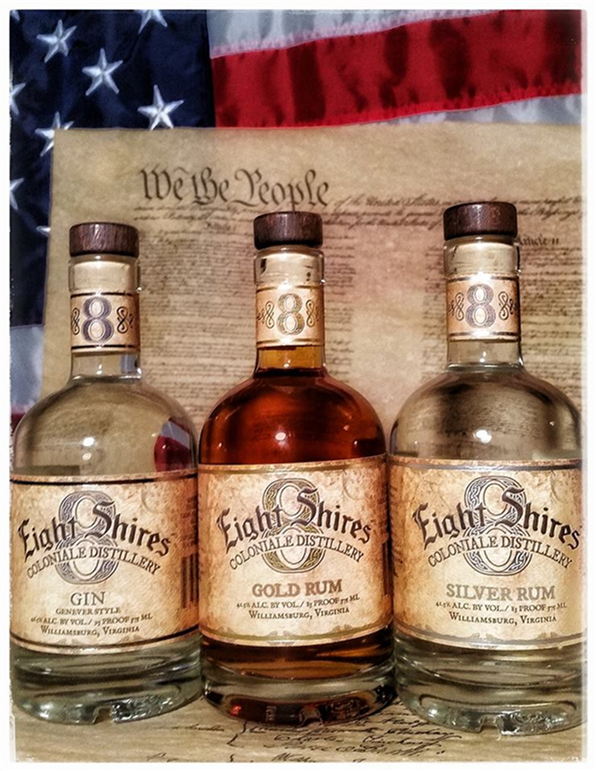 Genever Gin

Modern gins are essentially vodkas flavored with juniper and botanicals. Unlike modern gins, Eight Shires' Jamestown Genever Gin is whiskey based. Originally thought to have developed in Holland as an herbal medication,ix genever is the whiskey-based Dutch predecessor of gin. Its popularity rose when the Dutch King, William III, came to the throne in 1688 and later passed a law allowing distillation by anyone in England (and their colonies) as long as they used the domestic grain.x Eight Shires' Jamestown Genever Gin is unique because it uses heritage Indian corn as its base, just like colonial Americans did when they created the first corn whiskies. It features malty notes similar to whiskey with an herbal component common to gin. It is currently available at the distillery and as a special order in Virginia ABC stores.
Silver Rum

Modern rum is produced from sweet molasses or sugar and high ethanol engineered yeasts, creating a narrow flavor profile. Eight Shires Distillery uses full-bodied colonial-style molasses in its rum production. Inspired by William Rogers, a 1720s Yorktown bootlegger, Eight Shires' Silver Rum is made from period-style, organic, non-GMO sweet molasses. It is handcrafted just as it would have been made in 1720. It is currently available in Virginia ABC stores and at the distillery.
Gold Rum

Due to its superior taste relative to whiskey at the time, rum was king of the colonies before the Revolutionary War. Typically, it was made from molasses imported from the Caribbean. By 1770, the colonies had more than 140 rum distilleries, making about 4.8 million gallons annually.xi The Eight Shires Distillery Caribbean-style barrel-aged rum is unique because it uses 18th century-style molasses. Barrel aged, smooth and delicious, this is Eight Shire's owner's favorite spirit. Its first release sold out and the next release is anticipated for summer/fall 2018.
Future Releases:
Bourbon: Corn was first documented in mash production in 1620 in by famed Colonist George Thorpe. It's believed that Thorpe distilled corn beer, making what would later become known as Bourbon whiskey.xii Eight Shires Distillery is using heritage Indian corn as its base for its American Colonial wheat-style bourbon. Its next batch is expected to be released in 2019. If demand repeats the initial release, there will only be enough for a distillery release for the first year.
Spiced Rum: Many spices were discovered during the American Colonial period in the tropics of the Caribbean. Eight Shires Spiced Rum will feature a strong colonial spice blend and has a target release for summer 2018. This will be a limited volume release, with initially availability at the distillery, then as a special Virginia ABC release.
Period Rum: Another special edition rum ─ made as it was back in the late 1600s/early 1700s ─ using period style molasses, distilled in period stills, and released in hand blown colonial style bottles. This will be available only at the distillery.
Thorpe's Original: A reproduction of the grandfather of modern bourbon. Due in Spring 2018, this will be an unaged spirit. Availability will be limited to distillery and as a Virginia ABC special order.
Cordial: Distilled spirits were called cordials in early colonial times. Eight Shires anticipates two limited releases per year, each with a different flavor. The first batch is expected in summer 2018 and will be available at the distillery and as a Virginia ABC special order.
Single Malt: The initial release will a special release distilled in a reproduction of one of the first stills to be brought to Colonial America by famed colonist John Smith. The special release will be made from imported malt and ─ per an analysis by the Jamestown Rediscovery Foundation ─ the very first water believed to be drawn from a rediscovered Jamestown well dating from the early 17th century. Only 500 bottles in 2019 and 1,500 bottles in 2021 are planned to be released. Production following the special release will be with local well water. This will be a distillery release only and each special release bottle will cost a minimum of $800.
Use of Proceeds and Product Roadmap
Eight Shires intends to use proceeds from this raise to expand its operations and develop additional revenue streams. This includes building a more robust distilling space, expanding current distilling operations, and opening an associated tavern and whiskey tasting room. As the company finalizes its plans, the allocation of funds may shift as needed. The company has been evaluating potential sites for the expansion of distilling operations and the opening of a tavern and experience room. Provided the proper location is found, it is likely that Eight Shires will need to raise additional debt to fund such an expansion.

Business Model
Currently, Eight Shires can ship its spirits to Arkansas, Arizona, Colorado, Florida, Minnesota, Virginia, and Washington, D.C. Shipping costs a flat rate of $9.99 per order. The cost of each spirit is below:
Genever Gin: $34.89
Silver Rum: $28.99
Gold Rum: $32.99
For $100, Eight Shires offers a lifetime membership, which includes perks such as first access to barrel releases and limited releases, private parties and tastings, and a 20% lifetime discount on all merchandise.
Eight Shires also offers six cocktails at its distillery, ranging from classics like rum and coke to cocktails with a colonial twist like the Wicked Maiden. The distillery is open Wednesdays, Fridays, and Saturdays from 1 p.m. to 8 p.m. Tours are free of charge and are accompanied with a sample spirit of choice.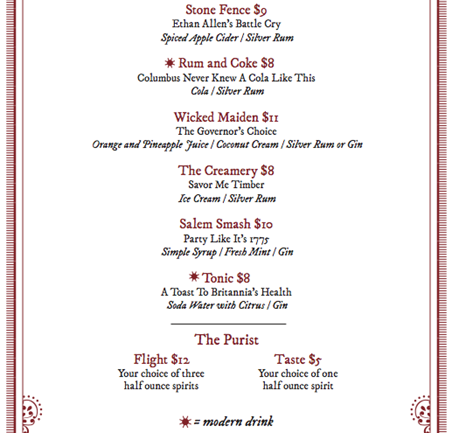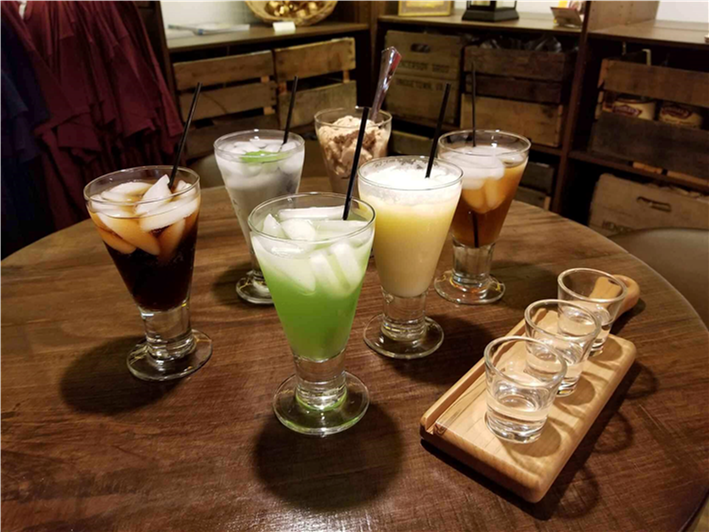 Historical Financials
In 2017, Eight Shires generated $131,328 in revenue, up 39% year over year. Its best selling product by volume was Silver Rum due to its availability, but the Bourbon and Gold Rum, which were limited in production volume, exceed sales expectations and quickly sold out. Monthly sales steadily increased from January to August 2017, peaking at nearly $20,000 in revenue. The spike in revenue in August was due to the initial release the Bourbon. The second spike in October was due to the second release of the Bourbon to the waitlisted crowd and other end-of-release sales.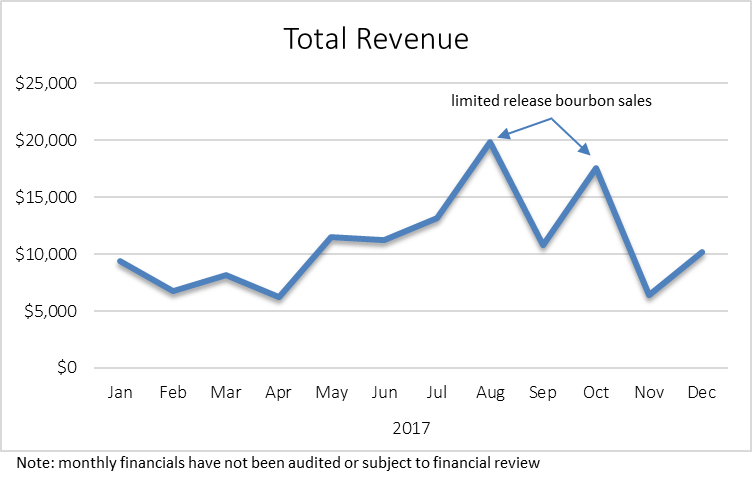 In 2017, Eight Shires' operating expenses totaled $192,686, up from $169,746 in 2016. Wages ($34,136) and marketing ($26,432) were the largest budget items in 2017. In December 2017, the company logged a $16,917 depreciation expense associated with major equipment, which accounts for the sharp increase in monthly expenses in the chart below.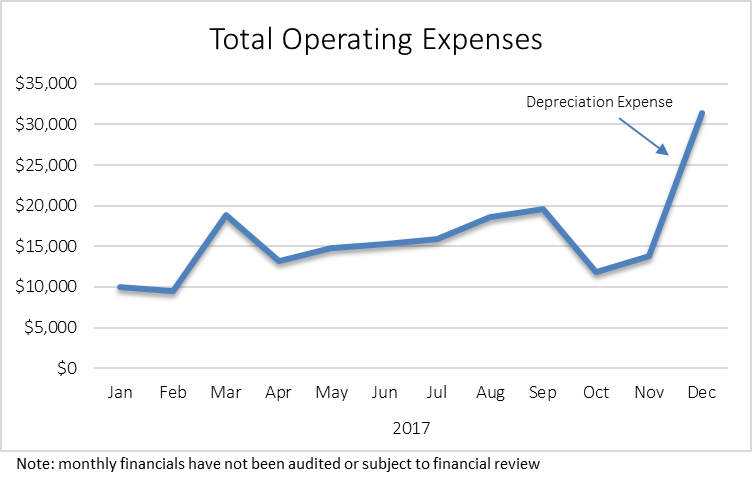 In 2017, Eight Shires generated a net loss of $161,785, versus a net loss of $160,841 in 2016. As of February 2018, the company had $3,005 in cash assets. Net Income declined in September, November, and December as the company had sold out of its limited release bourbon in the preceding months (August and October).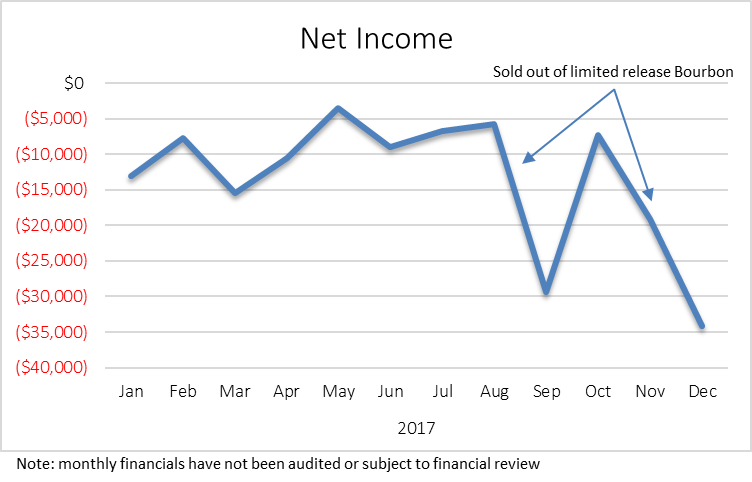 Industry and Market Analysis
Distilled spirits gained market share relative to beer for the eighth consecutive year in 2017. In 2017, suppliers reported that distilled spirits sales rose by 4% year over year, with total sales worth $26.2 billion. Total volume rose 2.6% to 226 million cases, up 5.8 million cases from the prior year. Furthermore, the distilled spirits market has been primarily driven by growth in high-end premium and super premium products – bottles that retail for at least $20.xiii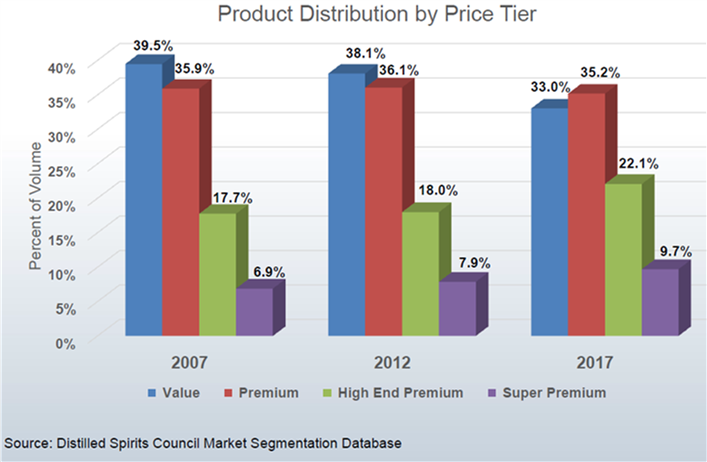 In 2017, vodka accounted for almost one-third of total spirits volume with 71.3 million cases sold. Total vodka sales generated $6.2 billion in revenue, up 3% year over year. American whiskey volume increased volume 6.4% to 23.2 million cases. Super premium American whiskey volumes increased 18.3% (to 2.4 million cases), while revenue jumped 18% year over year to $551 million. While overall volume for rum was down 0.4% year over year (to 24.6 million cases), super premium rum sales increased 10.2% in 2017 (to 546,000 cases) and generated $140,000. Similarly, in 2017, overall gin sales were down 0.6% year over year (to 9.9 million cases), but super gin sales increased 11.2% (to 159,000 cases) and generated $28 million.xiv
Local distilleries have contributed to the overall growth in the distilled spirits market. In 2016, the craft spirits industry generated roughly $3 billion in retail sales, up 25% year over year. Overall volume reached nearly 6 million cases in 2016, up 18.5% from 2015. There were 1,589 active craft distillers in the U.S., as of August 2017, up 20.8% over the prior 12 months.xv The largest concentrations of distilleries were primarily in the West (mostly in California, Washington, and Colorado) and in the South (mostly in Texas). Investments in craft distillery expansion has also increased notably. As of August 2017, total year-to-date investments reached $593 million for craft distillery expansions, up 49% from the $398 million invested for all of 2016.xvi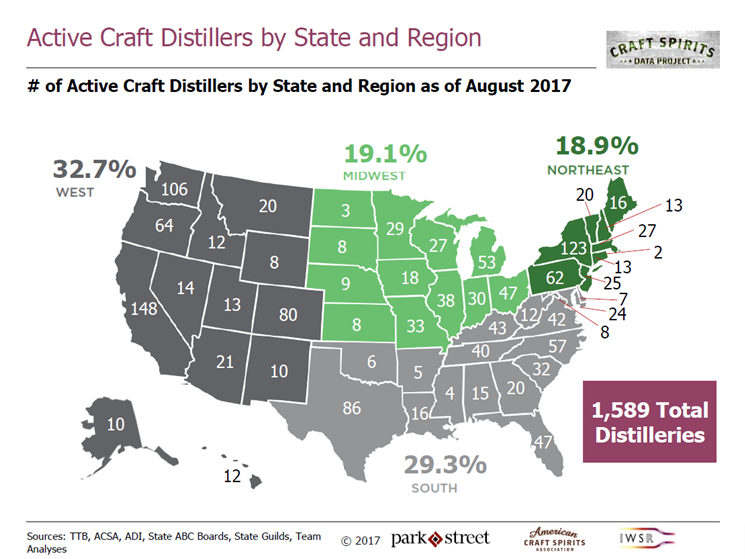 As of 2016, 92% of craft distillers were defined as small producers. Yet, because small distilleries produce a limited quantity of spirits – usually single batches at a time – they accounted for just 12.8% of the craft spirit cases sold. For these small distillers, generating revenue on premise (at the distillery) is especially important, as on-site sales make up 34% of their revenue on average. Of small craft producers' revenue, out-of-state sales account for less than 10% of total business sales.xvii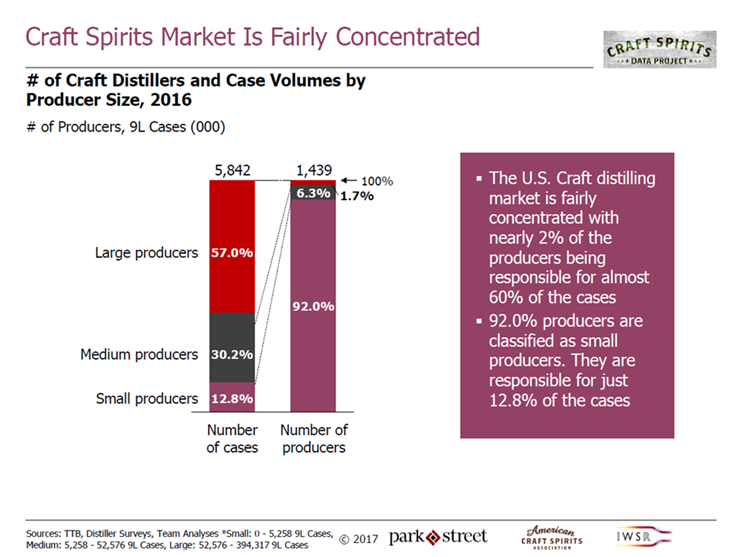 Virginia has had strict regulations on distilled spirits since Prohibition. For example, tastings at a craft distillery are limited to three ounces of liquor (either through half-ounce tastings or 1½-ounce cocktails) even though such limitations do not apply at breweries and wineries.xviii Also, craft distillers paid a larger percentage of sales to Virginia's ABC (Alcoholic Beverage Control) agency than that of breweries and wineries.xix Despite the restrictions, Virginia's distilled spirits industry has grown substantially. With 55 licensed distilleries operating in the state as of 2017 (up from 13 as of 2014), Virginia distilled spirits generated roughly $7.2 million in 2017, an increase of nearly $1 million from a year ago.xx Further, recent bills and legislation have begun to push back against restrictive regulations. In August 2016, Virginia ABC began allowing craft distilleries to directly sell to restaurants, bars, and other licensed purveyors.xxi Additionally, a new law that went into effect on July 1, 2017 allows craft distilleries to sell bottles at events licensed by the Virginia ABC Board as long as the purpose of the event is to educate consumers about the spirits.xxii
Competitors
In addition to competing against the major distributors of spirits in the U.S. (e.g. Diageo, Beam Suntory, Bacardi Limited, Pernod Ricard, etc.), Eight Shires directly competes with several Virginia-based distillers:
Copper Fox Distillery: Founded 2005, Copper Fox is a distillery that primarily produces American whiskey in Sperryville, Virginia. In 2016, it opened a second distillery in Williamsburg, Virginia. It produces single malt whiskies and ryes as well as gin. Prices range from $26.99 to $89.99 per bottle.xxiii
Ironclad Distillery: Founded in 2014, Ironclad is a craft distillery located in Newport News, Virginia. It produces small-batch Virginia bourbon made from local ingredients. A bottle of bourbon (375ML) costs $38.69.xxiv Ironclad plans to add additional products, including Straight Bourbon, Ericsson's New Make Whiskey, and bourbon finished in maple syrup casks.xxv
Blue Sky Distillery: Founded in 2016, Blue Sky Distillery is a microdistillery based in Carrollton, Virginia, with production operations located in Smithfield, Virginia. It released DOG STAR Vodka in July 2017 and BLACKBEARD'S POINT Premium Silver Rum in October 2017. The Dog Star Vodka sells for $23.79xxvi and the Blackbeard's Point Premium Silver Rum sells for $24.79.xxvii
Great Dismal Distillery: Founded in 2008, Great Dismal Distillery is located in Norfolk, Virginia. It produces Silverfox spirits, including Silverfox Vodka, Bourbon, and White Rum. Silverfox Vodka and Silverfox White Rum are available at 100 Virginia ABC stores, while Silverfox Bourbon is a special-order item available only in select ABC stores.xxviii Silver Fox Vodka is available for $17.99, Silver Fox Rum is available for $16.99.xxix
Dead Reckoning Distillery: Founded in 2017, Dead Reckoning Distillery is craft rum producer in Norfolk, Virginia. It produces Tidewater Rum – a medium bodied small-batch silver rum – in a handmade still. Tidewater Rum is available to purchase at select Virginia ABC stores for $24.99.xxx
Chesapeake Bay Distillery: Founded in 2005, Chesapeake Bay Distillery is a craft distillery located in Virginia Beach, Virginia. It produces Blue Ridge Vodka, Chick's Beach Rum, and Ghost Pepper Flavored Vodka. The Blue Ridge Vodka and Ghost Pepper Flavored Vodka are currently available through Virginia ABC stores and cost $21.99 and $19.99 per bottle, respectively.xxxi
Founder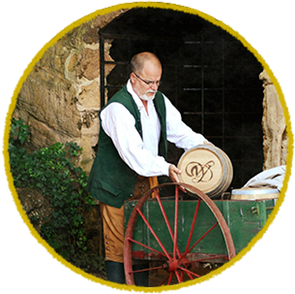 Dr. Bill Dodson, Founder: Dr. Dodson has had a creative and eclectic past, which has allowed him to develop a technical background, love of history, and a passion to distill fabulous tasting spirits. Following in his father's footsteps, he has been providing care for dental health in Suffolk and Newport News as an endodontist for over 16 years. Dr. Dodson attended the University of Florida for his dental degree and completed his post-doctorate in Endodontics at New York University. Prior to dentistry, he worked as an Aerospace Engineer for Hughes Aircraft and Pratt & Whitney. He has participated in numerous medical/dental missions efforts in Haiti, Panama, and Dominican Republic, as well as local projects such as Virginia's Mission of Mercy (MOM). Dr. Dodson holds degrees in Mathematics, Psychology, Aerospace Engineering, and Dentistry, as well as an advanced certificate in Endodontics.
Investment Terms
Security Type: Crowd Note
Round Size: Min: $50,000 Max: $1,070,000
Valuation Cap: $1.2 million
Discount: 20%
Conversion Provisions: In connection with an equity financing of at least $1,000,000, the Company has the option to convert the Crowd Note into shares of non-voting preferred stock (Conversion Shares) at a price based on the lower of A) a 20% discount to the price paid per share for Preferred Stock by the investors in the Qualified Equity Financing or (B) the price per share based on a $1.2 million valuation cap. Please refer to the Crowd Note for a complete description of the terms of the Crowd Note, including the conversion provisions.