---
Investment Documents
Investment Terms
Security Type: Class C Common Stock
Round Size: Min: $60,000 Max: $1,069,980
Price per Share: $6.00
Valuation: $6 million
Company Highlights
National retailers including Whole Foods® and Barnes & Noble as well as more than 400 other boutiques and specialty stores carry Darling Magazine
In Q1 2017, Darling generated nearly $417,000 in revenue ─ its best quarter to date ─ up roughly 46% from Q1 2016
Over 350,000 social media followers, growing at an average rate of 5,000 new followers per month
On Instagram, there are over 10 million photos tagged with the hashtags #thatsdarling and #darlingmovement
Advertising campaigns with brands such as Aerie (American Eagle), LuisaViaRoma, Madewell (J.Crew), and CB2
Perks
Darling Media will provide the following "perks" to investors in addition to the shares purchased, at each level of investment defined below, after shares are issued to the investor. All perk thresholds are inclusive of previous perk thresholds.
$120 (20 shares) or more:
Exclusive special edition #ThatsDarling pin
Virtual High Five plus a personalized "thank you" via one of Darling's social media handles
The investor's name will be featured in a special online article called "Our Wall of Gratitude" at the conclusion of the campaign
$240 (40 shares) or more:
The perks listed above, plus:
One-year subscription to Darling Magazine
$600 (100 shares) or more:
The perks listed above, plus:
A personalized 8x10 Darling mission statement print signed by Darling's Editor in Chief
Two-year subscription (not one year as with the $240 level) to Darling Magazine
$990 (165 shares) or more:
The perks listed above, plus:
An invitation to a quarterly Darling Panel discussion, hosted at the Darling Headquarters in Los Angeles with key members from the Darling editorial team and influential creators from Darling's Advisory Board (Travel to Darling's Los Angeles office and accommodations are not included)
$2,400 (400 shares) or more:
The perks listed above, plus:
Be a special guest on set of one Darling photo shoot, a one-day film shoot for a featured video, or an episode of a new show (Travel to Darling's Los Angeles office or the photo or film location and accommodations are not included)
Invitation to a wrap party for Darling's first show with the cast of the show and the Darling team
Inclusion in an Instagram story about why the investor feels video is important and what the investor would like to see Darling create in the future
$4,800 (800 shares) or more:
The perks listed above, plus:
A free two-hour workshop with the Editor in Chief and one additional member of the Darling Team of your choosing, such as a producer or social media expert (Travel to Darling's Los Angeles office and accommodations are not included). Workshops could be fulfilled in one trip or two separate trips
A featured interview, including the investor's own quote in the caption, published across each of Darling's social media platforms
$9,900 (1,650 shares) or more:
The perks listed above, plus:
Invitation for the investor and one guest to dinner with the Darling founders in Los Angeles (Travel to Darling's Los Angeles office and accommodations are not included)
$24,000 (4,000 shares) or more:
The perks listed above, plus:
Invitation for two to one Darling retreat
One styling session with a Darling stylist and a personal photo shoot with one of Darling's photographers
Travel to the retreat and Darling's Los Angeles office, with accommodations paid up to $2,500
$48,000 (8,000 shares) or more:
The perks listed above, plus:
The opportunity to pitch five ideas for an article – Darling will write a featured article on one of the investor's ideas or Darling will conduct an interview with the investor about the investor's company, the company of a friend, or a nonprofit of the investor's choice
Travel to the retreat and Darling's Los Angeles office, with accommodations paid up to $5,000
Company Summary
Opportunity
Darling Media ("Darling") is an empowering, classy, and uplifting new-wave media company for millennials that broadens the definition of beauty and seeks to instill purpose and character into women's lives. Darling embraces women of different ethnicities and body types, and, as such, none of its photographs are retouched to alter faces or bodies. The company aims to fill a niche in an influential market where there are too few identifiable brands for the millennial demographic that seek all-inclusive and meaningful content.
Product
Darling produces a quarterly print women's magazine focused on the empowerment of women. Darling Magazine was launched in May 2012 after raising funds via a Kickstarter campaign for its first print issue. Since the launch, Darling Magazine has published 19 issues, including digital copies, and has built a strong readership base with print circulation having increased at an average rate of 57% per year from 2012 to 2016.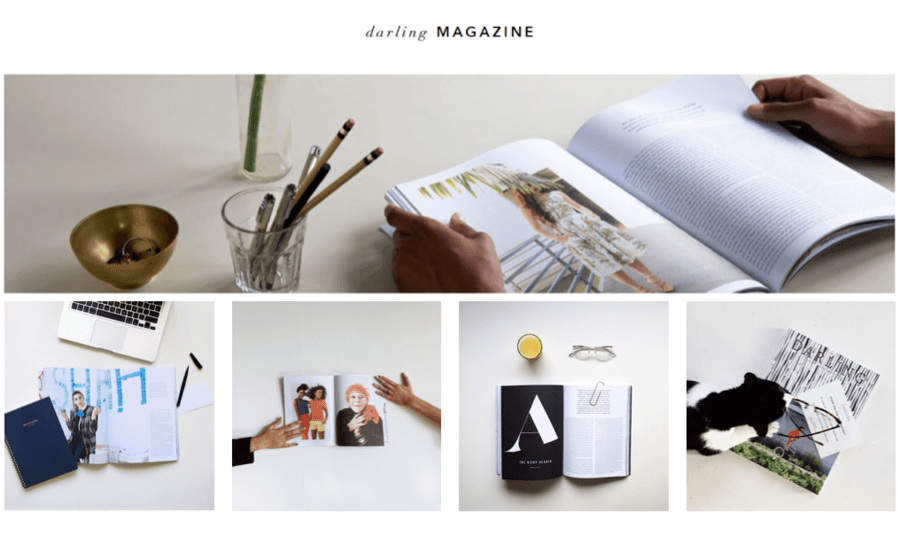 Darling Magazine includes articles about self-empowerment, self-improvement, career, relationships, style, and travel. It also includes interviews, features, and stories from a pool of selected creative contributors and celebrities.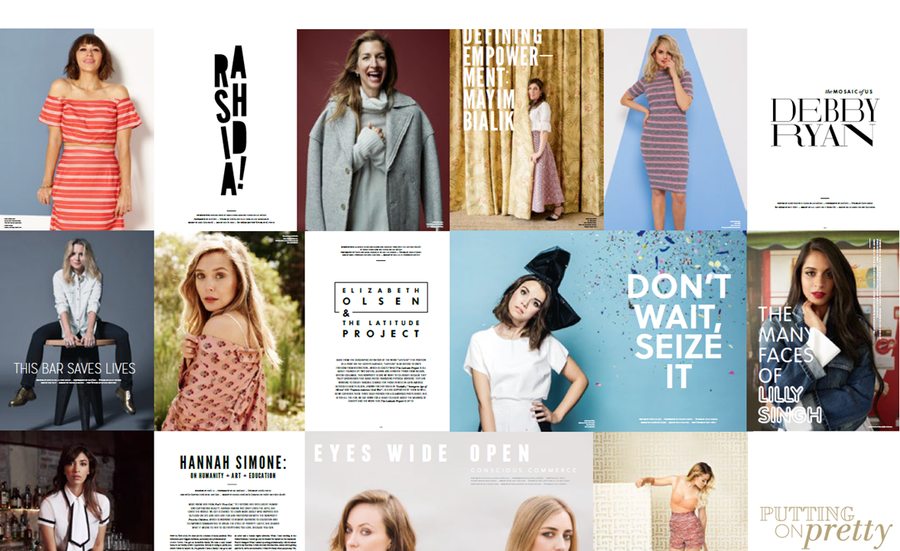 In addition to the print magazine, Darling has four other verticals: Darling Studios, Darlingmagazine.org, @Darling, and Darling Events.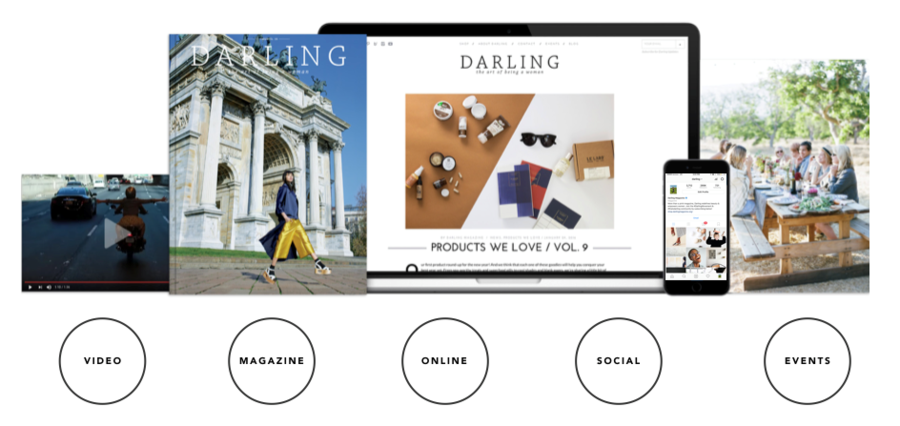 Darling Studios: Division producing a slate of custom creative shows that expand upon the art of being a woman and are promoted across the digital space
Darlingmagazine.org: A website with relevant, deep, and authentic content for millennial women; digital copies of the magazine are also available through the website
@Darling: Social media platform that promotes a broad definition of "beauty"
Darling Events: National events, dinners, and retreats to bring the Darling message to life
Mission
"Darling is… the art of being a woman. Darling holds the modern mold of women up to the fire to evoke a discussion on femininity and re-shape an authentic design. Darling is a catalyst for positive change; leading women to discover beauty apart from vanity, influence apart from manipulation, style apart from materialism, sweetness apart from passivity, and womanhood without degradation. Darling leads women to practice the arts of virtue, wit, modesty, and wisdom – all while creating beauty and embodying love. Darling says women are not only interesting, but original, not only good enough, but exceptional – not just here, but here for a purpose."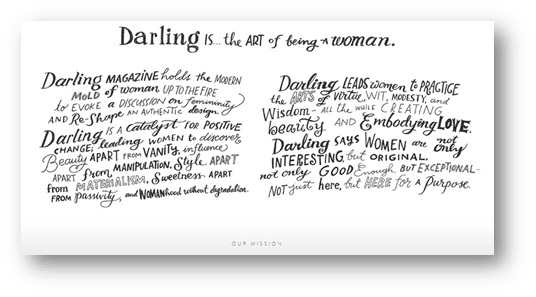 Darling Studios
Darling is launching a Studios division in 2017 with a schedule of custom, creative shows that expand on "the art of being a woman" and will be promoted across its digital platform. Studios will give existing Darling readers, followers, and new fans alike more of the authentic, high-quality content upon which the publication has been built. It will be comprised of original programming, with a variety of talent, influencers, and brands producing shows focused on love, beauty, adventure, culture, fashion, and more.
#SQUAD (10 episodes, 22 min. each): An unscripted documentary series that follows five fabulous and influential women around the world as they explore relevant issues that millennial women face today.
Darling Daily (200 episodes, 12 min. each): A pre-taped daily variety series covering a broad range of topics and issues that matter to millennial women. The fast-paced, four-woman show will include catchy mobile-friendly segments featuring celebrity and musical guests.
Edition (48 episodes, 5 min. each): A video magazine with in-depth features and behind-the-scenes views of Darling's quarterly print publication. Each video magazine will include a minimum of 12 weekly episodes that will lead up to and follow each Darling Magazine quarterly release.
ABCD - Anything Boys Can Do (10 episodes, 22 min. each): A show featuring adventurous women who push the boundaries of what the world thinks women can do. Each episode begins with a hidden camera "con" where unsuspecting men are pitted against undercover world-class female athletes and pros that humorously challenge gender gap biases.
Staples (12 episodes, 15 min. each): A seasonal show that highlights affordable fashion pieces that can transform a woman's wardrobe.
Adulting (52 episodes, 5 min. each): An engaging re-imagination of the home economics classes of yesteryear, featuring comedic hosts that stumble into great tips, tricks, and hacks on how to "adult."
Busted (26 episodes, 15 min. each): A show that will explore and expose popular beauty myths and provide easy, healthy alternatives.
Aware (26 episodes, 15 min. each): A show featuring award-winning female journalists, leaders, and celebrity activists. Aware will frame challenging global issues that women face around the world in an engaging and participatory format for millennial audiences.
Happyest (10 episodes, 22 min. each): A show that explores the different definitions of joy around the world. Featuring wisdom from authors, experts, and spiritual leaders, Happyest will provide a personal and practical guide to lasting happiness.
Pioneers (13 episodes, 22 min. each): A show that reveals the untold stories of powerful influential women, including who they are, where they came from, and how they got where they are today.

Use of Proceeds and Company Roadmap
Darling plans to use proceeds to scale its vertical market segments to compete with the large players in the women's media industry that already have full-time specialized staff. If the company reaches the minimum target offering amount of $60,000, it will use those funds for general working capital. If it raises above that target, the company plans to hire additional staff, pay down outstanding debt, and further develop its platform, including providing additional funds towards the Darling-branded digital and TV content (Darling Studios).
Darling's growth strategy in each of its verticals involves the following:
Darling Magazine: License deals to position Darling Magazine in international markets; expand into UK, Scandinavia, and Australia as well as translate versions for Japan, Korea, and China
Darlingmagazine.org: Expand website as a premiere destination for women to compete with other major women's digital publishers
@Darling Social Media: Grow and monetize Darling's social media channels
Darling Events: Increase partnerships with large brands for sponsored events, establish an annual Darling Conference, and expand Darling Retreats
Darling Studios: Develop Darling-branded digital and TV content
Business Model
Print copies of the Darling Magazine retail for $20. Digital copies of the magazine cost $4.99. A one-year, four-issue print subscription costs $60 and includes access to all prior digital issues.
Additionally, Darling monetizes its platform through advertiser campaigns across multiple verticals. The digital platform occasionally uses affiliate marketing links and receives a commission based upon sales made from the links.
User Traction
Darling is experiencing growth across several verticals. Darling Magazine has a readership of over 40,000. Circulation for the print magazine has increased at an average rate of 57% per year from 2012 to 2016. The magazine's demographic is 91% female, 61% single, and 65% young adults (between ages 21-40). Darling has been sold in national retailers including Whole Foods, Anthropologie, and Barnes & Noble as well as more than 400 other boutiques and specialty stores. Darling Magazine is also available through retailers in Australia, Canada, Japan, and New Zealand.

Darling has more than 350,000 social media followers and is growing at an average rate of 5,000 new followers per month. On Instagram, there are over 10 million photos tagged with the hashtags #thatsdarling and #darlingmovement.

In addition, Darling has gained the attention of major news outlets. Darling has been the subject of a CNN feature story, an NBC News spotlight segment, and was recently featured in Fast Company.

Darling has run advertising campaigns with recognizable brands and companies such as Aerie, LuisViaRoma, Madewell, CB2, and several others.

American Eagle has worked with Darling to promote its real-beauty brand Aerie. Similarly, J.Crew has marketed its Madewell brand through Darling.
Historical Financials
Darling Media Inc. is the surviving corporation of a recent merger between Darling, Inc. and Darling Studios, LLC. The Agreement of Merger was approved adopted, certified, executed, and acknowledged by each of the constituent corporations. Darling Media Inc. was incorporated on April 25, 2017. As such, Darling Media Inc. had no financial assets prior to that date. Darling Studios, LLC., one of the former entities, had a limited history as it was incorporated on August 22, 2016. Below is a summary of Darling Inc.'s historical financial performance.
Darling's annual revenue increased over 77% from 2014 to 2016, from $512,459 to $909,992. In 2016, the company began working with advertisers, the largest being LuisaViaRoma, Madewell, and Aerie.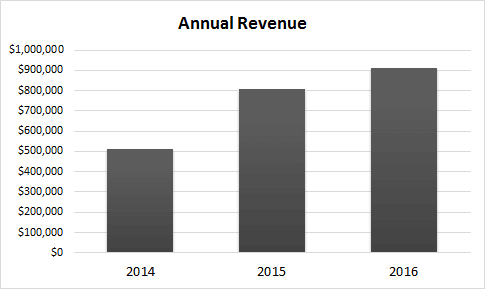 Darling usually experiences the highest revenue in Q4 with fall and holiday sales. However, 2016 did not follow the normal pattern. One of the main contributors to the downturn in Q4 2016 was the U.S. Presidential election. The adverse impact of this past U.S. election was not isolated to Darling's sales and was noted by consumersi and many businessesii across the retail market. In Q1 2017, the company generated nearly $417,000 ─ its best quarter to date ─ up roughly 46% from Q1 2016. The increase in sales was due to increased advertising revenue from new and existing clients. Specifically, the strong Q1 results represent the first invoices tied to a new campaign with existing client Aerie as well as an activation with a new client, UGG Australia.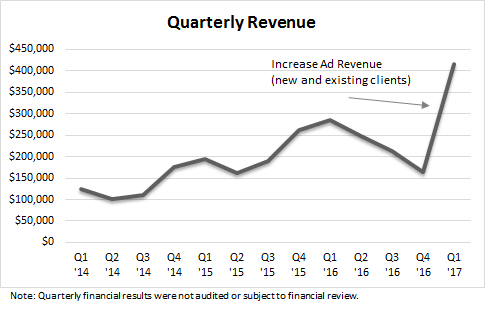 In 2016, costs of goods sold totaled $585,896, versus $556,964 in 2015. Darling's gross margin improved year over year, from 31.3% in 2015 to 35.6% in 2016. Due to its publishing cycle, Darling's holiday and spring magazine production costs both occur in Q1, which is why cost of goods sold are elevated at the beginning of the year.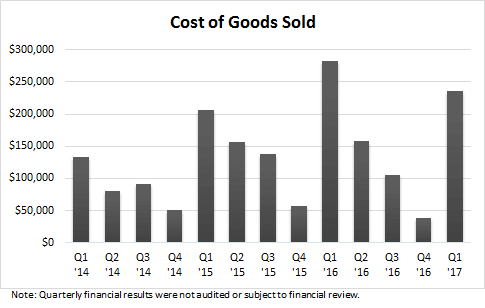 In 2016, operating expenses totaled $511,825, up 19% from 2015. Compensation (payroll) and employee benefits were roughly 63% of total operating expenses in 2016, followed by general & administrative expenses (~30%) and sales & marketing expenses (~7%).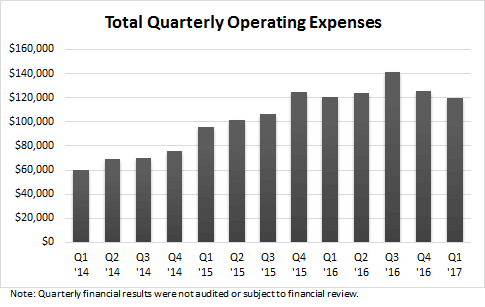 Darling had a net loss of $206,756 in 2016, compared to a net loss of $170,778 in 2015. Net income improved quarter over quarter in 2016 primarily due to Darling's publishing cycle, which books production costs from the holiday and spring issues in Q1. Darling generated a profit in Q1 2017 due to significant growth in advertising revenue.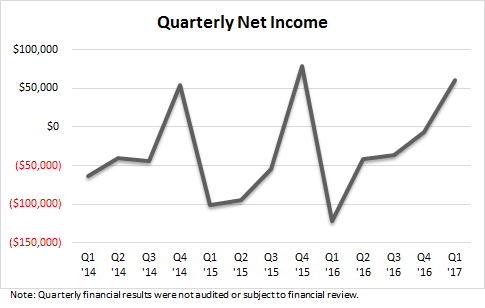 The company's monthly burn rate averaged over $17,000 in 2016. As of December 2016, the company had $25,043 in cash and cash equivalents on its balance sheet. As of March 2017, cash and cash equivalents were $96,943.
Notes Payable and Loan Agreements
As of December 2016, Darling had four outstanding notes payable/loan agreements to which payments ceased or were not paid back at maturity, resulting in defaults per the terms of the agreements. Two of the notes payable, with a combined outstanding balance of $68,327.45, were from the same angel investor; this angel investor allowed payments to cease as Darling Inc. restructured into Darling Media. The angel investor has the option to convert some or all of the outstanding principal into equity under the new entity, or may elect to resume principal and interest repayment in nine monthly installments beginning on July 1, 2017. If the investors elect the latter, the original default provision remains intact and will go into effect on July 1, 2017 if no payment is made or an additional extension is agreed upon. With a different angel investor, a 30-day term loan agreement (entered on September 26, 2016) in the amount of $11,428 was not paid at maturity; the principal was repaid in full in March 2017. Finally, a 45-day term loan (entered on November 9, 2016) in the amount of $10,000 from an equity partner of Darling Media was not repaid at maturity. This equity partner has expressed flexibility on the repayment timeline to allow Darling to transition into Darling Media and to complete the equity crowdfunding campaign.
Industry and Market Analysis
The U.S. magazine industry generated $27.42 billion in 2016, down 3.2% from the prior year.iii However, average monthly consumption of magazine content across all mediums (e.g. print, web, mobile, video) saw a year-over-year increase in 2016. The average monthly audience was up 6.4% from 2015, led by growth in mobile (+24.9%) and video content (+49.7%). The average audience for print and digital edition of magazines was just under 900 million readers per month in 2016.iv
Globally, magazine publishing generated $68.43 billion in 2015. By 2020, revenues are expected to drop slightly to $66.62 billion. By 2020, digital platform revenue will make up 30% of total consumer magazine revenue, up from 16% in 2015. Because advertisers pay less for digital ads relative to print ads, the increasing market share from digital revenue is unlikely to offset the decline in printed media revenue.v
Through the advent of radio, television, and the Internet, the magazine industry has proven resilient. Sixty-five print magazines have survived for more than 100 years, and over 185 print magazines have been around for more than 50 years.vi Millennials have also become active magazine readers; in 2015, 93% of Americans under the age of 35 had read a magazine in print or digital format within the last six months.vii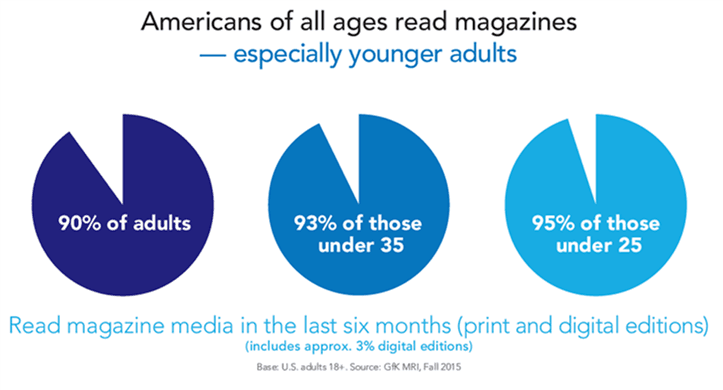 Print magazines have seen recent success by embracing niche markets ─ targeting specific products and/or demographics. Helped in part by using crowdfunding as a source of funding, niche market magazines have grown in popularity as audiences embrace these publications for their quality and focus on creation, curation, and credibility.viii While printed media remains an important point of engagement with readers, magazine publishers must still branch out to other mediums, including digital, mobile, and video.ix Hosting events has also become a viable source of income. Events can generate as much as 20% of a magazine publisher's total revenue. Further, they can help strengthen ties with readers, increase circulation, and help recruit advertisers.x
Competitors
Bustle: Launched in 2013, Bustle is an online women's magazine. The website feature articles on news, entertainment, beauty, fashion, lifestyle, and books. As of September 2016, the website had 50 million unique visitors per month, 36 million of whom were in the U.S.xi In 2016, the company was expected to have generated about $30 million in revenue, up from the $10 million in 2015.xii Bustle closed a $12 million Series D round in March 2017, led by prior investor GGV Capital. This brought total funding to $50.5 million and raised the company's post-money valuation to just under $200 million.xiii
Cosmopolitan: First published in 1886, Cosmopolitan is a women's international fashion magazine that focuses on celebrities, fashion, relationships, women's issues, sex, careers, self-improvement, and health. Cosmopolitan has over 18 million readers per monthxiv, 49% of whom are between the ages of 18 to 34.xv Cosmopolitan's advertising revenue, the company's primary source of income, grew from $367 million in 2006 to $423 million in 2013, an increase of over 15%.xvi The website has over 35 million unique visitors per month, while its social media outlets have 15 million followers. Cosmopolitan releases publications in over 80 countries across the world.xvii
Glamour: First published in 1939, Glamour is an international women's magazine that features articles about fashion, beauty, entertainment, relationships, sex, health, and living. Glamour has an audience of 11 million readers across all forms of media (e.g. print and digital), with over 2.3 million magazines in circulation. The magazine has approximately 4.6 million followers across Facebook and Twitter.xviii In 2013, Glamour launched its video channel, which has grown to include 49 video series.xix Glamour's advertising revenue grew from $309 million in 2006 to $338 million in 2013, a 9% increase.xx
O, The Oprah Magazine: First published in 2000, O is a magazine targeting women that was founded by Oprah Winfrey. O's articles focus on improving a woman's life and include topics such as fashion, health, food, beauty, and travel. As of 2016, O had over 18 million monthly users across the magazine, website, and social media platforms, with 2.4 million print copies in circulation.xxi In 2013, O generated approximately $159 million in advertising revenue. xxii O, is a co-venture between Harpo Print, LLC and Hearst Magazines, a unit of Hearst, one of the largest diversified media and information companies in the U.S.
Refinery29: Launched in 2005, Refinery29 is a digital-media company focused on women. As of August 2016, its website had 27 million unique visitors per month and the company had a global reach of 225 million individuals across all its platforms.xxiii Refinery29 offers a variety of lifestyle stories, original video programming, and social content. In August 2016, the company raised $45 million in funding, led by Turner Broadcasting, with participation from Scripps Networks Interactive. Scripps had co-led the company's prior round ─ a $50 million Series D round at a $290 million valuation ─ with WPP. To date, Refinery29 has raised $125.4 million.xxiv In 2015, it generated $80 million in revenue.xxv
Verily: First published in 2013, Verily is an independent web-based women's magazine focusing on empowering women to be the best versions of themselves. Verily's articles focus on fashion, beauty, relationships, culture, health, and lifestyle. Articles prominently feature images of women without using Photoshop to alter their bodies.xxvi In February 2014, the company stopped issuing print magazines and went completely digital.xxvii
Executive Team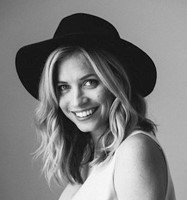 Sarah Dubbeldam Co-founder, CEO: Sarah has a background that includes more than seven years of experience as a professional model and actress with Wilhelmina, a top agency in Los Angeles. She has modeled in national campaigns for Target, InStyle Magazine, Budweiser, and many more. In this industry, she found a passion to broaden the idea of "beauty" and has now brought her extensive knowledge of photo shoots to Darling ─ creating a magazine that does not retouch women's bodies or skin and is a cultural leader in representation of all sizes of women. Sarah has been interviewed on outlets such as CNN, NBC, Refinery 29, and Huffington Post, and she speaks nationally on the movement of Darling.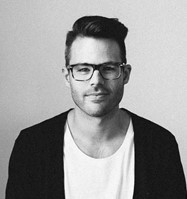 Steve Dubbeldam Co-founder, President: Over the last 10 years, Steve has founded six brands in the fashion, publishing, digital, and experiential design industries in partnership with international brands such as Hudson Jeans and large digital platforms such as Uncrate.com. His brands have been featured in GQ, Details, Nylon Magazine, Vogue, Seventeen, and many more. Steve has a background in building consumer brands with loyal and passionate followers, implementing disruptive and innovative marketing campaigns, and foreseeing new opportunities in the market.
Investment Terms
Security Type: Class C Common Stock
Round Size: Min: $60,000 Max: $1,069,980
Price per Share: $6.00
Valuation: $6 million
Deal sourced by

Endnotes