Overview
Opportunity
The Cuddle Clones® story began when Founder Jennifer Williams was lying down with her best pal in the world, her Great Dane Rufus. Jennifer thought to herself, "It would be great to have a stuffed animal of Rufus! Not a generic stuffed animal, but one that was 100% custom made to look just like him." Several years later, after Rufus passed away, Jennifer decided that she would finally pursue the idea she had never quite let go of and, in doing so, honor Rufus's memory. It was on this day in 2009 that Cuddle Clones was born.
Today, Cuddle Clones not only offers a unique, quality product to pet lovers everywhere but also gives back to the pet community whenever and wherever possible through pet-related causes and charities. A portion of the proceeds from each Cuddle Clone purchased goes to pet-related causes to help animals get the care and love they deserve. Cuddle Clones also offers a wide variety of custom pet products beyond stuffed animals and aims to become a place for pet lovers to indulge in their affection for and celebration of their pets. By making soft, adorable, customized stuffed animal versions of people's pets, Cuddle Clones seeks to capture the bond between people and their pets.
Product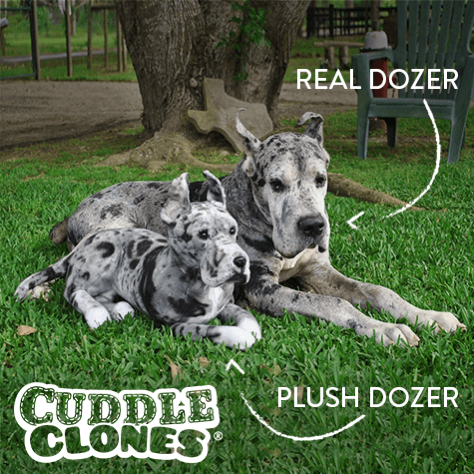 To build a Cuddle Clones stuffed animal, customers visit cuddleclones.com and simply upload photos of their pet, choose the stuffed animal's position, submit any distinguishing features – such as scars or moles, and checkout. Depending on the pet, customers can choose the body position (sitting, standing, or lying down), mouth, ear positions, eye colors, and tail position. Dog and cat Cuddle Clones are usually between 13 inches and 24 inches in length, depending on the breed.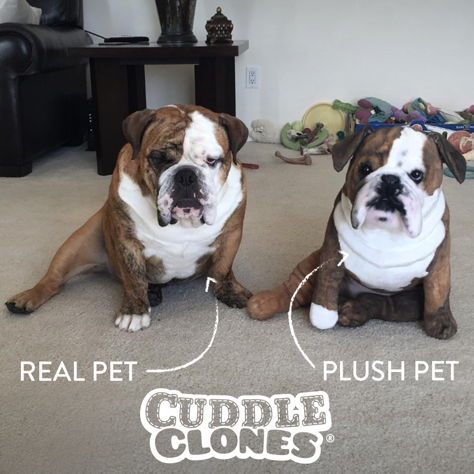 Cuddle Clones are handmade with premium plush materials, most commonly polyester and acrylic. Cuddle Clones also utilizes water-based airbrushing techniques to get certain color effects. Cuddle Clones offers a full refund to customers who are not satisfied with their product. Cuddle Clones' other plush products include a custom plush replica holiday stocking, slippers, and golf club head covers custom made to look like your pet.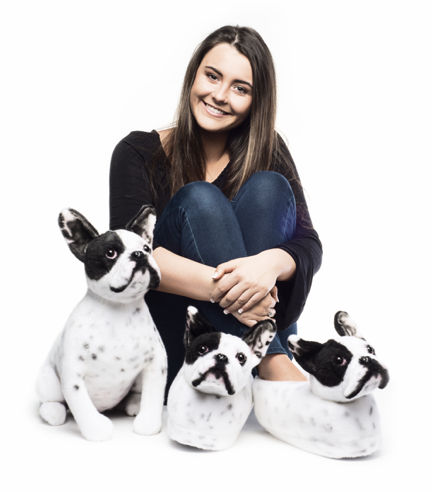 Non-plush products custom made to look like your pet include figurines, ornaments, necklaces, and even earrings. The company offers personalized pet memorials, including granite memorials, brass urns, and wood memorials, along with accessories such as custom collars. The company also offers the ability to create customized cartoons of your pet and put that "cartoonized" version of your pet on various products.
Use of Proceeds and Product Roadmap
Cuddle Clones intends to use the majority of proceeds from this round on the following:
Marketing: The company has seen a drop in the cost to acquire a customer since taking all digital marketing efforts in-house in Q3 2017. Consequentially the ROI on such campaigns has improved during that time. The company will invest in these existing campaigns with a portion of the investment raised in order to increase sales and maximize the capacity of their manufacturing workshop.
Product Expansion: This year's new product launch includes new plush products and other lower-priced custom offerings that will provide a unique way to celebrate customers' pets. These additional products are expected to increase the overall conversion rate and provide upsell and add-on opportunities to those customers buying plush products.
Increase Online Community: The company plans to increase engagement with its customer base on their website with additional interactive features, more pet and breed-specific content, and frequent contests and games. Users will also have an opportunity to submit a shelter for donation consideration, and search for local animal-related volunteer opportunities.
If the minimum $50,000 is raised, the majority of proceeds will be used for future wages ($36,500). If the maximum $1,070,000 is raised, the majority of proceeds will be used on general marketing ($400,00), future wages ($250,000), and general working capital ($250,000).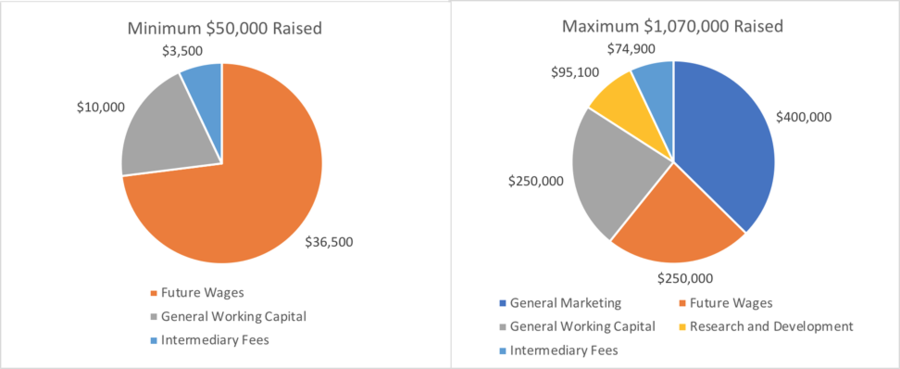 Business Model
The price for a dog, cat, or horse Cuddle Clones stuffed animal is $249. The price for a smaller stuffed animal, such as a rabbit or guinea pig, is $179. Customers can also pay extra to get expedited production. A typical plush Cuddle Clones order takes approximately eight weeks to process.
Cuddle Clones also sells many other custom pet products that range in price:
Other various plush products: $129 to 249
Figurines and ornaments: $89 to $119
Memorials: $89 to $139
Pet cartoon products: $5 to $50
Accessories: $19 to $40
User Traction
In all of 2017, the company sold more than 9,100 Cuddle Clones. The company has sold more than 30,000 Cuddle Clones since inception.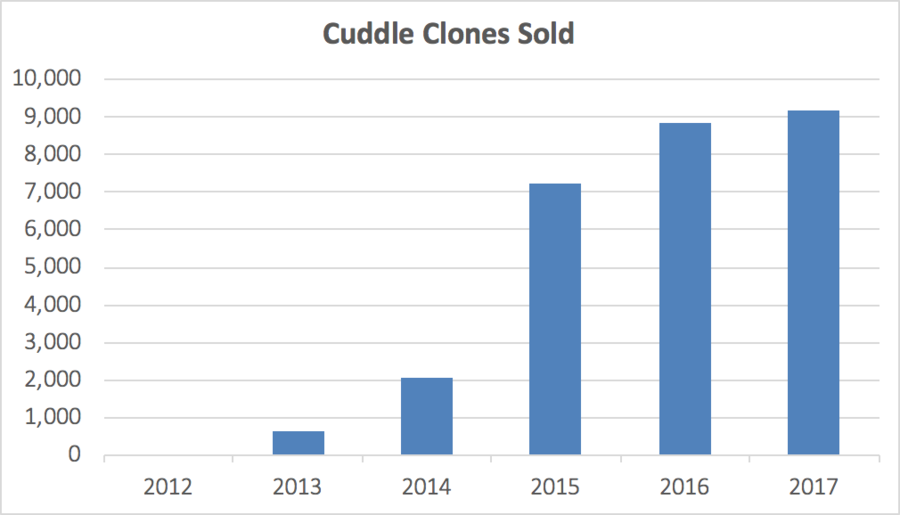 Historical Financials
2018 Metrics
In Q1 2018, the company sold 2,519 plush Cuddle Clones compared to 1,535 plush Cuddle Clones Q1 2017. That represents a 64% increase.
In Q1 2018, Cuddle Clones generated approximately $611,000 in revenue compared to approximately $394,000 in revenue in Q1 2017. This represents a 55% revenue increase. In Q1 2018, Cuddle Clones had a net loss of approximately $128,000 compared to a net loss of approximately $157,000 in Q1 of 2017, around a 23% improvement year-over-year.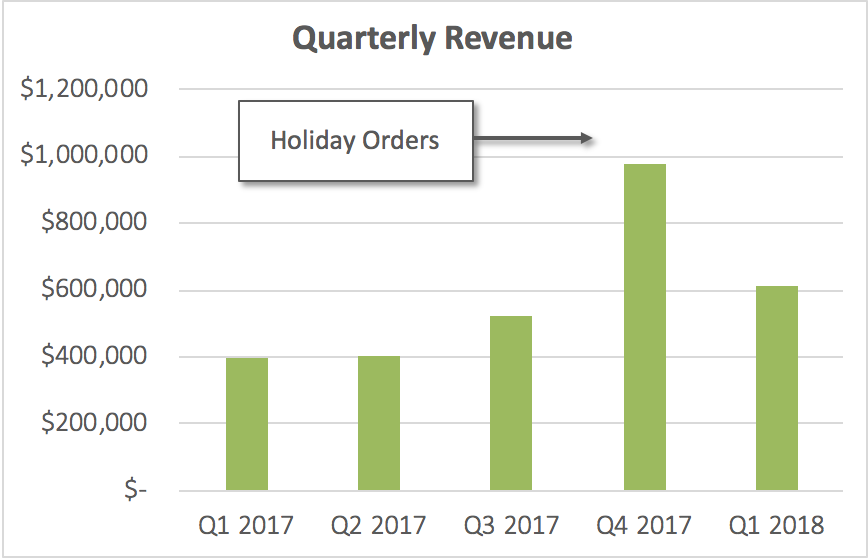 In May 2018, Cuddle Clones released a new website that is more user friendly and mobile responsive compared to their old website. The company expects this improvement will positively impact overall company performance going forward.
Revenue
The company generated more than $2.2 million in revenue in 2017, compared to more than $2.5 million in revenue in 2016. The difference in revenue is the result of when the product was shipped and revenue was recorded. In 2015, Q4 orders were significant and resulted in delivery of those orders being pushed into Q1 2016 and thus the revenue for Q4 2015 orders was recorded in 2016. The company improved production and delivery in Q4 2016, which has helped improve the timeliness of financial reporting.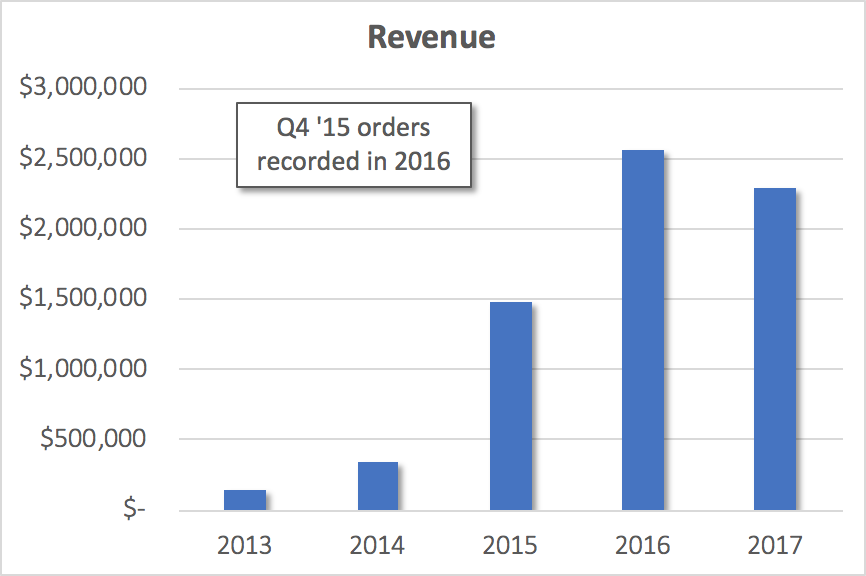 Expense Breakdown
In 2017, expenses totaled $2.4 million (~$1.3 million for cost of goods sold and ~$1.1 million for operating expenses). In 2016, expenses totaled almost $2.2 million (~$1.3 million for cost of goods sold and ~875,000 for operating expenses). In Q1 of 2018 the total expenses were $734,151 with COGS equaling $138,014 and operating expenses equaling $596,137. The company has invested in enhancements in the website and product development in Q1 that has made the percentage of operating costs a higher percentage than in past years.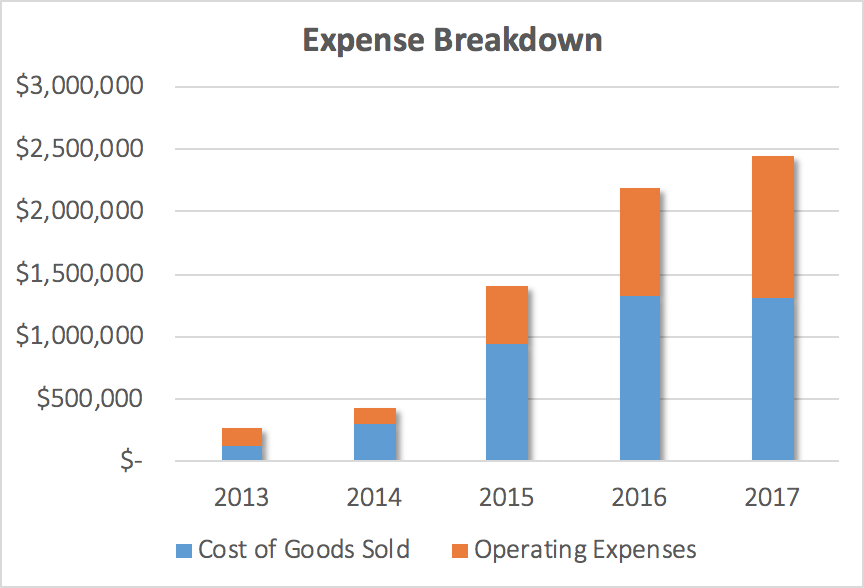 Net Income
In 2016 and 2015, the company was profitable, with a net profit of more than $387,000 and $73,000, respectively. In 2017 the company began investing significantly in building a new website, enhancing other digital properties and assets, intellectual properties, as well as extensive product development. This resulted in a net loss of approximately $138,000 for 2017.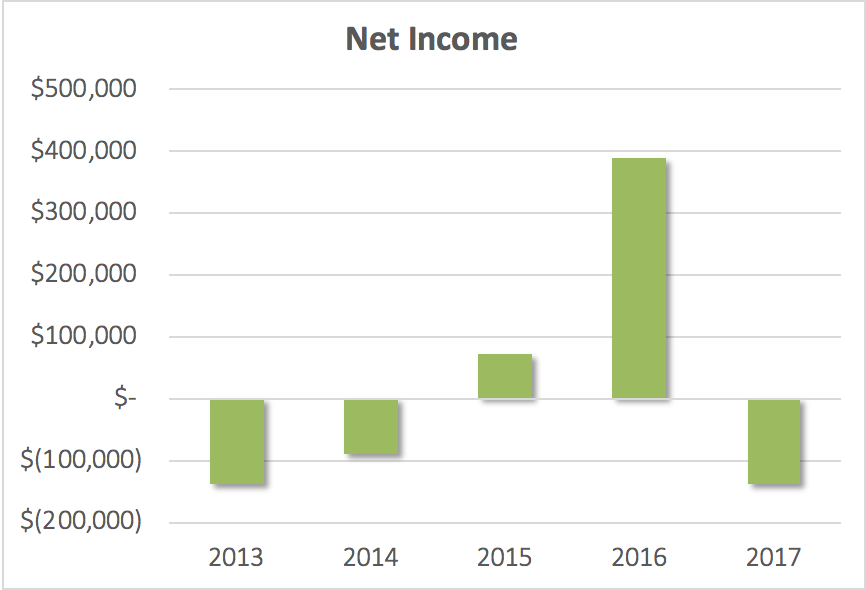 Press
HuffPost: Now You Can Clone Your Pet As A Stuffed Animal, If You're Into That
Buzzfeed: This Toy Company Will Make A Stuffed Animal Replica Of Your Pet
CNN: Beloved pets meet their toy lookalikes
Gizmodo: This Site Will Make a Stuffed Animal Clone of Your Pet
Fox Business: Creating custom stuffed animal clones of your pet
The Meredith Vieira Show: Something You Should Know: Cuddle Clones!
Louisville Business First: Louisville's fastest-growing company to boost jobs by nearly 5X
The Lane Report: Cuddle Clones announces new Louisville home
Lifehacker: Cuddle Clones Are Plush Replicas of Your Favorite Pets
USA TODAY: Cuddle Clones makes toys that look like your pets
MSNBC: Cuddle Clones: How the e-commerce stuffed animal business grew
Louisville Business First: Louisville plush pet toy company merges with cartoon customizer