---
Investment Documents
Investment Terms
Security Type: Series Seed Preferred Stock
Round Size: Min: $50,000 Max: $450,000
Price per Share: $10.00
Pre-Money Valuation: $1,000,000
Liquidation Preference: 1x
Conversion Provisions: Convertible into one share of Common Stock (subject to proportional adjustments for stock splits, stock dividends, and the like) at any time at the option of the holder.
Company Highlights
Five craft spirits: Colorado Coffee Whiskey, Idaho Springs Whiskey, Bourbon Whiskey, Miner's Moonshine, and Pink Bear Gin
The Colorado Coffee Whiskey won a Bronze medal at the 2017 Denver International Spirits competition in the Ultra-Premium, Flavored Whiskey categoryi
Since opening to the public in June 2016, over 1,140 bottles have been sold via retail and wholesale distribution
Five-star reviews across multiple platforms, including Facebookii, TripAdvisoriii and Grouponiv
Perks
Bouck Brothers Distilling will provide the following "perks" to investors in addition to the shares purchased, at each level of investment defined below, after shares are issued to the investor. All perk thresholds are inclusive of previous perk thresholds. Alcohol perks are redeemable at the Bouck Brothers Distillery or investors can request it to be delivered, in which case they must pay a shipping fee that will based on their state or country assuming that it is legal to ship to that destination.
25 shares ($250): Free tour and tasting, and invitations to next product release party
50 shares ($500): Name on Founders' Wall in tasting room
100 shares ($1,000): 20% off all purchases in the tasting room for one year
250 shares ($2,500): 750ml bottle of Bouck Brothers Bourbon signed by founders
500 shares ($5,000): Invitation to whiskey and dinner pairing at the Distillery
1,000 shares ($10,000): Participate in a barrel opening, initial tasting, and blending session
2,500 shares ($25,000): First drink free for you and a friend at each tasting room visit, plus first access to each product release
5,000 shares ($50,000): Private dinner for you and four guests with the founders, plus a bottle of Bouck Brothers' first Single Malt Whiskey
Company Summary
Opportunity
Over the past several years, there has been a shift in U.S. adult beverage drinking habits away from beer and towards spirits.v At the heart of this shift is the craft distilling boom, with whiskey production fueling the trend.vi Inspired by the craft boom, the Bouck brothers ─ Nick and Zak ─ decided to innovate the world of whiskies. Building upon their collective experience in homebrewing, the brothers spent years working for and meeting with established distilleries across the country before establishing their own distillery in 2015. Currently, Bouck Brothers whiskies are already stocked in every liquor store and in multiple bars and restaurants in Idaho Springs, Colorado. Its distillery and tasting room has become a highly rated travel destination for those visiting the Rocky Mountain town, which lies just 20 minutes west of Denver. In October 2016, Bouck Brothers also began distribution in liquor stores in Denver.
Bouck Brothers aims to take craft distilling to the next level by using innovative methods (e.g. aging bourbon in multiple casks) and flavors (e.g. infusing whiskey with coffee).
Product
Bouck Brothers Distilling produces grain-to-glass whiskey and unconventional spirits. Currently, it produces five craft spirits: the award-winning Colorado Coffee Whiskey, Idaho Springs Whiskey, Bourbon Whiskey, Miner's Moonshine, and Pink Bear Gin.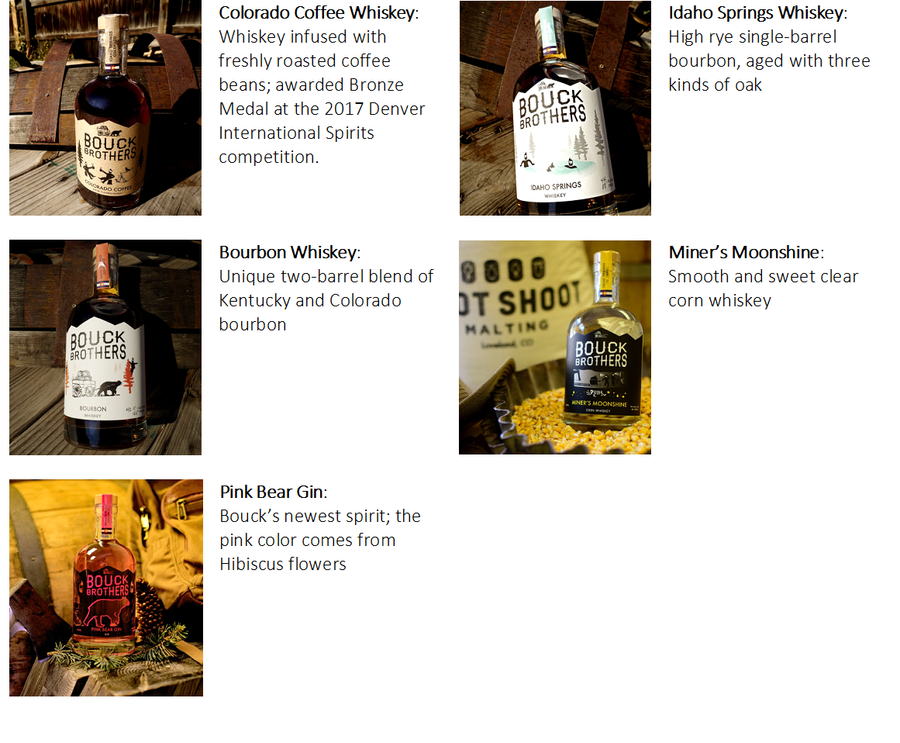 All Bouck Brothers spirits are distilled in a 100-gallon stainless steel Bain-marie column still, which has a copper column. The company partners with local Colorado farms (such as Root Shoot Malting) and local coffee roasters (such as Corvus Coffee Roasters) for its ingredients.
Bouck Brothers offers whiskey flights, cocktails, and guided tours at its tasting room and distillery. It is open Friday, Sunday, and Monday from 12:00 p.m. to 5:00 p.m. and on Saturday from 12:00 p.m. to 7:00 p.m. VIP tours or private group tours are available outside of normal business hours upon request. Branded merchandise is also available for purchase.

Use of Proceeds and Product Roadmap
If the minimum amount of $50,000 is raised, Bouck Brothers will allocate most of the proceeds towards equipment purchases (~$17,400) and general working capital (~$21,900). If the maximum amount of $450,000 is raised, the company will allocate most of the proceeds towards equipment purchases (~$150,000), general working capital (~$159,100), and wages (~$100,000). Bouck Brothers has discretion over the use of proceeds and may alter them depending upon prevailing business conditions and demand for its products.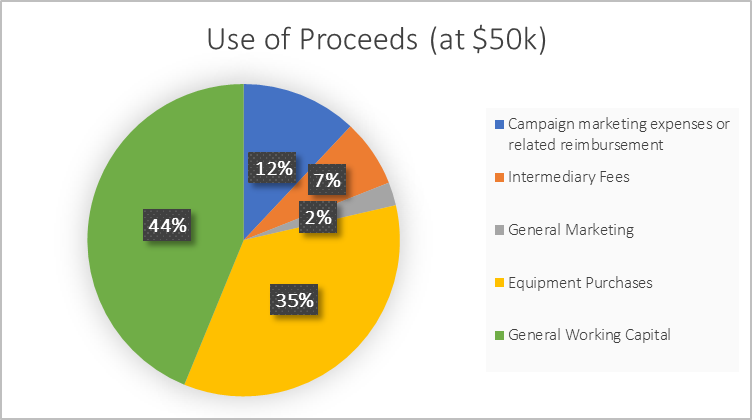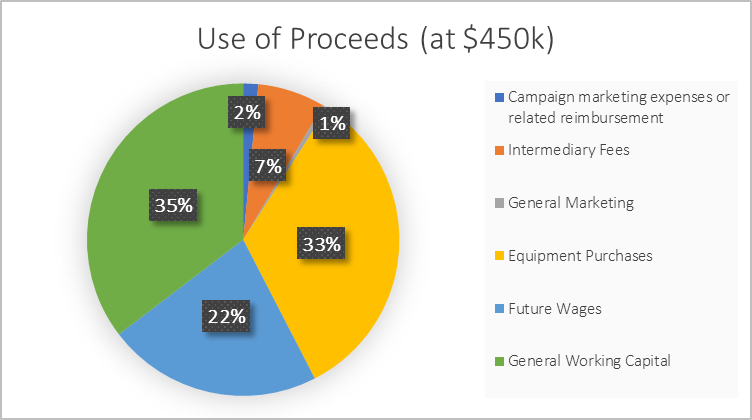 At the minimum raise level, Bouck plans to convert its electric system to steam by installing a boiler and converting the still. This would increase production by allowing the distillery to heat and cool the still quickly, reducing the time it takes to mash and distill. The company would also be able to do more production runs with the same equipment. At the maximum raise level, Bouck would upgrade to steam, install a larger still, and add a mash tun. This would allow the distillery to mash one batch while distilling another at the same time. This system would allow Bouck to fill one barrel per week.
Bouck Brothers plans to distribute its products across every bar, restaurant, and liquor store in Clear Creek County, Colorado, and then continue to grow its distribution to other areas, including Denver.
Business Model
Bouck Brothers sells direct to consumer in its tasting rooms, offering bottled spirits, cocktails, and branded merchandise for purchase. It also wholesales its spirits to bars, restaurants, and liquor stores.

A tour plus tasting (a flight of four samples) is $12 per person. A flight of four samples without the tour is $10 per person.
User Traction
Bouck Brothers Distillery opened to the public in June 2016 and began wholesale distribution in October 2016. In 2016, the company sold 341 bottles (274 retail and 67 wholesale). Miner's Moonshine, the distillery's first release, was the biggest seller in 2016, with 163 bottles sold via retail and 43 bottles sold via wholesale. Year to date as of September 2017, Bouck Brothers has sold 805 bottles (657 retail, 148 wholesale). Bouck Brothers' Bourbon Whiskey, which was released in January, has been the best seller thus far in 2017, with 251 bottles sold via retail and 81 bottles sold via wholesale.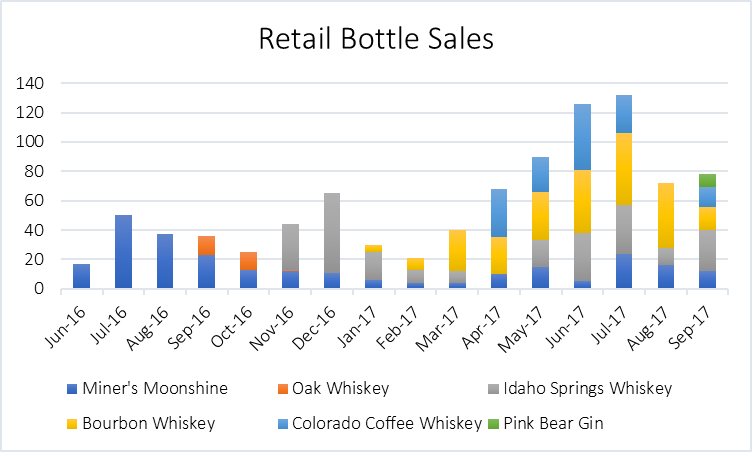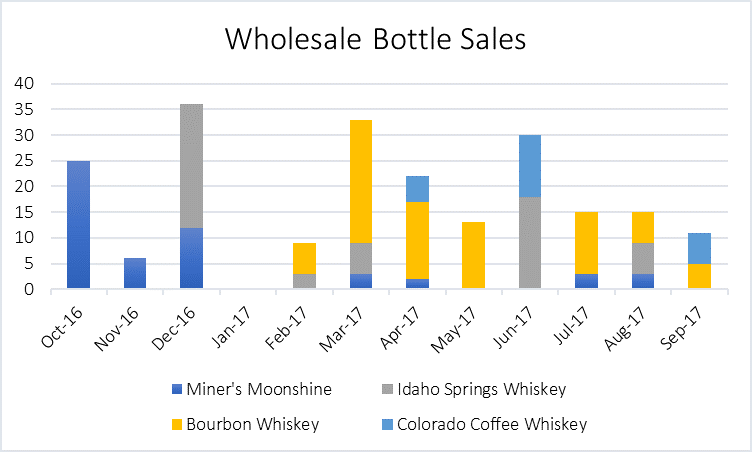 In addition to remaining bottle inventory, Bouck Brothers has several barrels currently aging, including three 30-gallon barrels of its Bourbon Whiskey, and two 30-gallon barrels of Idaho Springs Whiskey. Each 30-gallon barrel produces roughly 150 bottles (750ml each). At a wholesale price of $38 per bottle, Bouck's 30-gallon barrel inventory has a wholesale value of roughly $28,500.
Bouck also has one 10-gallon barrel of the company's next release, a Single Malt Whiskey.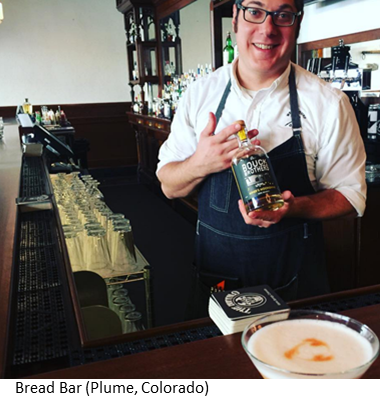 Outside of its tasting room, Bouck Brothers whiskey can be purchased at Mountain Moonshine and Clear Creek Discount Liquors in Idaho Springs, Colorado, and at four retail liquor stores in Denver (Argonaut Wine & Liquor, Mondo Vino, Marina Square Wine & Spirits, and Jerri's Tobacco Shop & Fine Wines). Consumers may also purchase Bouck Brothers whiskey by the glass at the following restaurants/bars: Coopers on the Creek (Georgetown, CO); Westbound & Down Brewing Company (Idaho Springs, CO); and Bread Bar (Plume, CO).
Historical Financials
In 2016, Bouck Brothers generated over $20,000 in sales. Year to date as of September 2017, the company has generated $73,954 in sales. Sales were strongest in the summer as the tourist traffic through Idaho Springs is highest in summer and winter; camping, rafting, and outdoor activities drive summer traffic, while ski season drives winter traffic. As such, Bouck stays open seven days a week during peak travel season and only four days a week during the offseason.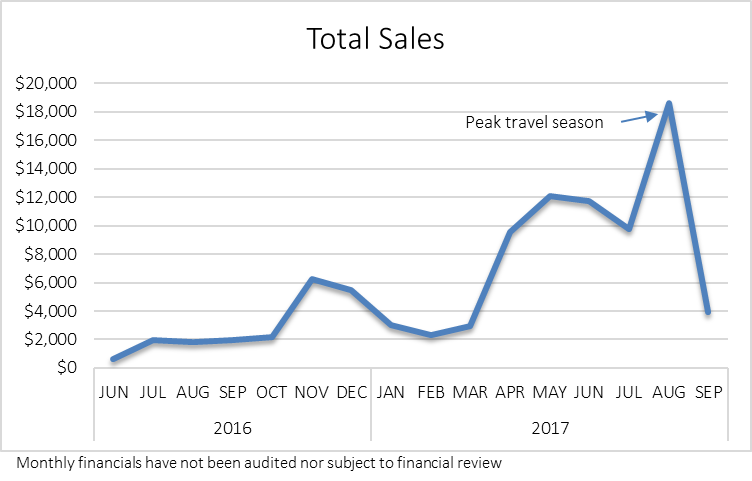 In 2016, total expenses (including costs of goods sold and operating expenses) totaled $61,033. Year to date as of September 2017, expenses have totaled $80,263. In 2017, the largest expenses thus far have been costs of goods sold ($37,118) and rent ($12,459). In December 2016, there were a few year-end accounting adjustments that decreased expenses by roughly $6,100 and made a corresponding increase to inventory.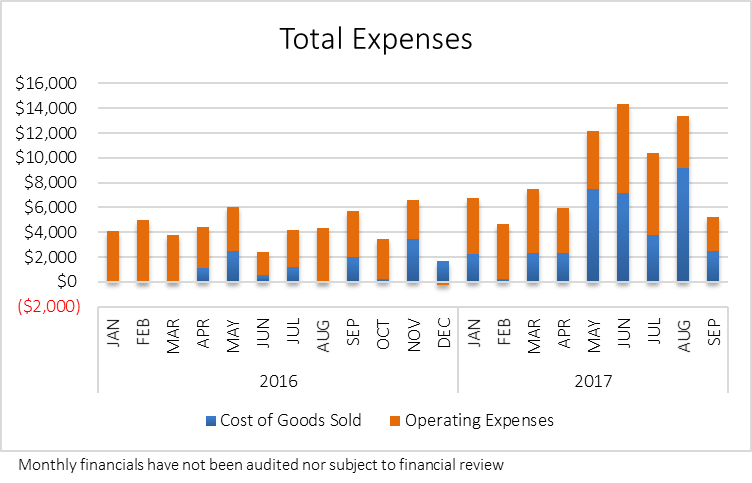 In 2016, Bouck Brothers generated a net operating loss of $40,818. Year to date as of September 2017, the company has a net operating loss of $6,309. During its best month to date (August 2017), Bouck generated a net operating profit of $5,255 from $18,606 in total sales. Year to date as of August 2017, the company has had an average monthly burn rate of just over $700.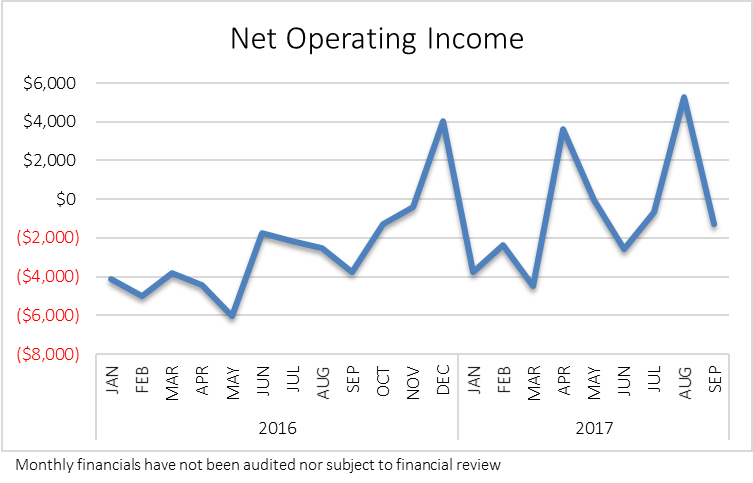 Industry and Market Analysis
In 2016, retail sales of U.S. distilled spirits were estimated at nearly $78 billion. Supplier (wholesale) sales to retailers increased 2.4% year over year to reach 220 million cases in 2016, worth $25.2 billion. This marked the seventh consecutive year that distilled spirits has gained market share relative to beer.vii Furthermore, the distilled spirits market has been primarily driven by growth in high-end premium and super premium products – bottles that retail for at least $20.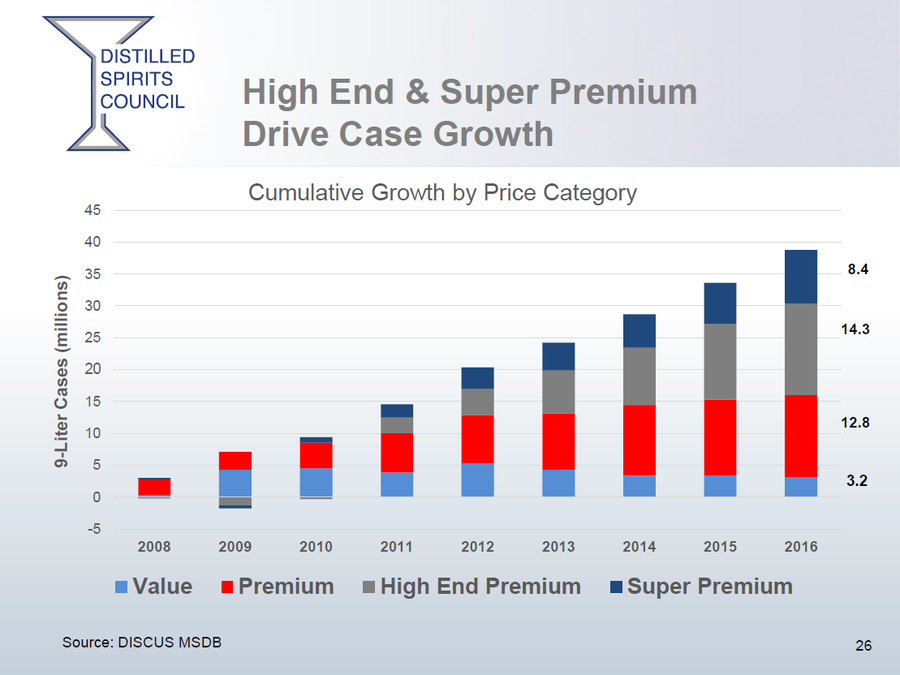 In 2016, vodka accounted for almost one-third of total spirits volume with 69.8 million cases sold. Total vodka sales generated $6 billion in revenue. Revenue from super premium vodka (bottles that retail for over $30) rose 13.1% year over year to reach $1.3 billion (6.3 million cases). There were 48.4 million cases of North American whiskey sold in 2016, worth $5.7 billion. Super premium American whiskey volumes increased 11.8% (to 2.1 million cases), while revenue jumped 13.5% year over year to $467 million. High-end premium American whiskey volumes rose 5% (to 10.4 million cases) and revenue rose 5.7% to $1.8 billion. Rye had the largest sales volume increase in 2016, growing nearly 17% year over year to 785,000 cases.viii
Local distilleries have contributed to the overall growth in the distilled spirits market. In 2015, the craft spirits industry generated roughly $2.4 billion in retail sales, with volume growing at a compound annual growth rate of 27.4% between 2010 and 2015.ix From 2010 to 2015, the number of craft distillers grew at a compound annual growth rate of 41.6%. As of August 2016, there were 1,315 craft distillers active in the U.S., with the largest concentrations located in the West (mostly in California, Washington, and Colorado) and in the South (mostly in Texas). In Colorado, there were 72 craft distilleries, the fourth-most by state. Based on a compound annual growth rate of 19.6%, the number of craft distillers could surpass 2,800 by 2020.x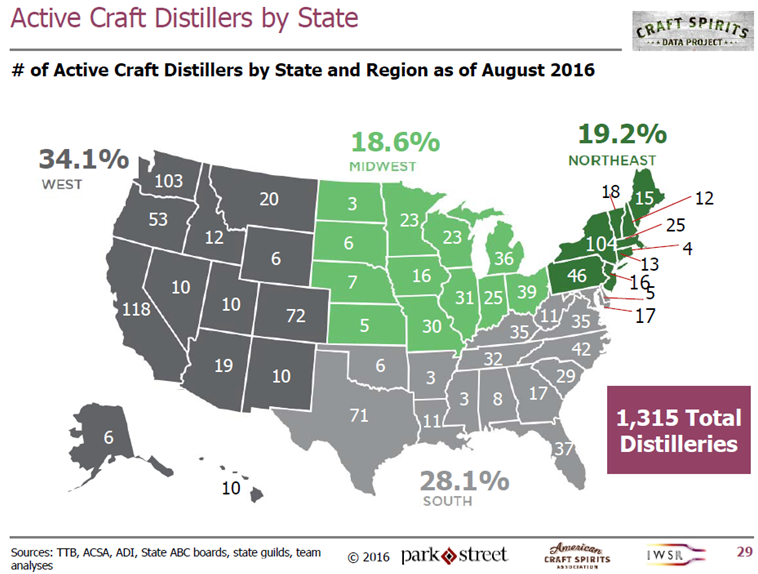 Out of those 1,315 craft distillers, 91.7% are defined as small producers. Yet because small distilleries produce a limited quantity of spirits – usually single batches at a time – they accounted for just 12.1% of the craft spirit cases sold in 2015. For these small distillers, generating revenue on premise (at the distillery) is especially important, as on-site sales make up 25% of their revenue on average. Of small craft producers' revenue, 67% is generated within the distillery's state of operation but outside the premise.xi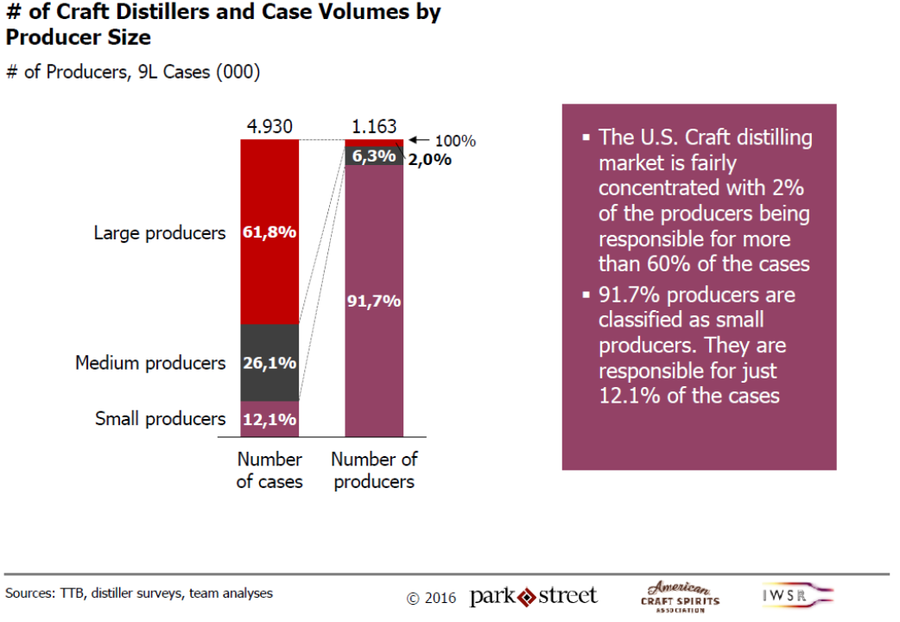 Competitors
There are several notable whiskey producers in the U.S., including, but not limited to: Blanton's, Buffalo Trace, Bulleit®, Four Roses®, Jack Daniels®, Jim Beam®, Knob Creek®, Maker's Mark®, and Woodford Reserve®.
Bouck Brothers Distilling directly competes with several local distillers in Colorado that also sell small-batch whiskies, including the following:
Leopold Bros: Established in 1999, Leopold Bros. is a family-owned and -operated distillery located in Denver, Colorado. Originally the company began distilling in 2001 in Ann Arbor, Michigan, but moved operations to Denver in 2008.xii The distillery produces whiskies, gins, vodka, liqueurs, fernet, absinthe, and aperitivo. Its products are available for purchase in 23 U.S. states and Washington, D.C.xiii It can also be purchased through online distributors in California, Illinois, and Colorado.xiv In 2015, it became one of the few distilleries in the U.S with its own operational malting floor.xv The same year, it was awarded the Distillery of the Year from the American Distilling Institute.xvi
Stranahan's® Colorado Whiskey: Founded in 2004, Stranahan's Colorado Whiskey was Colorado's first modern-day distillery and produced the state's first (legal) whiskey.xvii The distillery produces small-batch American single malt whiskies, including Stranahan's Colorado Whiskey, Diamond Peak, and the seasonal Snowflake single-malt whiskey. Its whiskeys are available online through ReserveBar: a 750ml bottle of Colorado Whiskey retails for $60.xviii In 2010, Stranahan's was acquired by New York-based Proximo Spirits.xix In 2012, it opened a new General Store and Tasting Room inside the distillery.xx
Laws Whiskey House: Established in 2006, Laws Whiskey House is a craft whiskey distillery in Denver, Colorado. Laws Whiskeys range from staples such as A.D. Laws Four Grain Straight Bourbon and A.D. Laws Four Grain Straight Bourbon Cask Strength to more limited seasonal whiskeys such as A.D. Laws Small Batch Secale Straight Rye and A.D Laws Single Barrel Secale Straight Rye. In 2017, Laws released two new products, Bonded Secale Straight Rye Whiskey and Bonded Four Grain Bourbon, the only Colorado whiskeys adhering to the Bottled-In-Bond regulatory status. Bottled-In-Bond whiskies must be aged for at least four years, must be stored in a government-bonded warehouse, and are cleaner, stronger, and more difficult to produce.xxi
Golden Moon Distillery: Founded in 2008, Golden Moon Distillery is a distillery that produces gin, absinthe, grappa, apple jack, whiskies, and specialty liqueurs. Currently, Golden Moon spirits are available for purchase domestically in nine states, plus Washington, D.C., and internationally in Italy.xxii The distillery also features the Golden Moon Speakeasy, a cocktail lounge and tasting room. Golden Moon spirits have won multiple awards over the past several years, including a Double Gold Medal for its Colorado Single Malt Whiskey and a Silver Medal for its Golden Moon REDUX Absinthe at the 2016 San Francisco World Spirits Competition.xxiii
Mile High Spirits: Established in 2011, Mile High Spirits is a micro-distillery located in Denver, Colorado, that produces private-label bottlings for businesses nationwide as well its own brand of spirits. Under its own label, it produces vodka, whiskey, gin, rum, tequila, and brandy. Mile High is one of the few distilleries in the world that uses an all-glass still for its distillation, which is used for its Elevate Vodka, Fireside Whiskey, Peg Leg Rum, and Denver Dry Gin.xxiv The distillery includes a tasting room that features live music and specialty craft cocktails.
Executive Team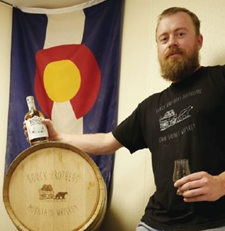 Nicholas Bouck, Co-founder: Nick started distilling in 2015 as an apprentice at Whistling Hare Distillery in Westminster, Colorado, as he and his brother went through the permitting process to open Bouck Brothers Distilling. He has a background in graphic design and created the Bouck Brothers logo, branding, and bottle designs. In addition, Nick worked to create the company's first spirits and, along with Zak, fill their first barrels. He is involved in all aspects of the distillery from giving tours, bartending, mashing, distilling, and pouring samples at events. He built the bar, shelving, and tables for the tasting room from repurposed materials.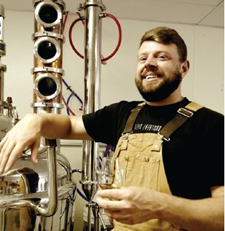 Zachary Bouck, Co-founder: Zak also started distilling in 2015 as an apprentice at Whistling Hare Distillery in Westminster, Colorado. Zak is a spirits enthusiast and loves unique one-of-a-kind spirits. He is passionate about discovering, tasting, and creating spirits, which led him to move from home brewing to distilling. Zak has been an entrepreneur since childhood and has worked as a financial advisor; he co-founded a financial advising and investing firm in 2011.
Investment Terms
Security Type: Series Seed Preferred Stock
Round Size: Min: $50,000 Max: $450,000
Price per Share: $10.00
Pre-Money Valuation: $1,000,000
Liquidation Preference: 1x
Conversion Provisions: Convertible into one share of Common Stock (subject to proportional adjustments for stock splits, stock dividends, and the like) at any time at the option of the holder.