Overview
Opportunity
Founded in August 2014, Because Learning's mission is to inspire students in the science, technology, engineering, and math (STEM) fields. Since then, Because Learning—formerly known as Ardusat—aims to excite kids about science through hands-on labs, experiments, and activities based on Next Generation Science Standards (NGSS) and other STEM skills. The Because Learning platform is designed to provide students and teachers online lessons and labs that pair with its high-end Arduino sensor kit to conduct experiments, analyze real-time data, and visualize real-life concepts in coding, engineering, science, technology, and math. Used in over 30 countries, Because Learning is on a mission to bring better STEM learning to students across the world. Because Learning is now seeking additional capital to fund its expansion into the fast-growing Chinese education market.
Product
For Schools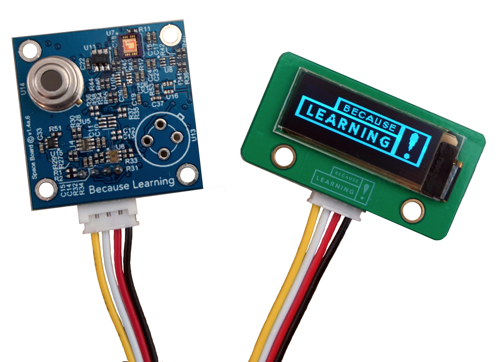 The company's NGSS-aligned curriculum spans all STEM subject levels—from elementary through higher education—and includes the Ardusat Space Program through an exclusive partnership with a satellite company in the Bay Area. Next Generation Science Standards (NGSS) are K­–12 science content standards developed by states to improve science education for all students
Because Learning provides a custom platform for teachers to run experiments, take courses, and track progress. This web-based software communicates with sensor kits given to students to track real-time experiment data. The Classroom Launch Pack includes 15 Sensor Kits and over 150 customizable lessons, with new lessons added each month. Other resources include teacher guides, student worksheets, unit videos with tips and suggestions for teaching, and professional development resources.
For Home
For users at home, Because Learning will send new educational experiences each month that are powered by its advanced Sensor Kit. While at home, children can choose what they want to learn, then follow carefully designed lessons. Every month, five new lessons are provided to continue each child's learning. Home users also gain access to Because Learning's resource of over 150 customizable lessons.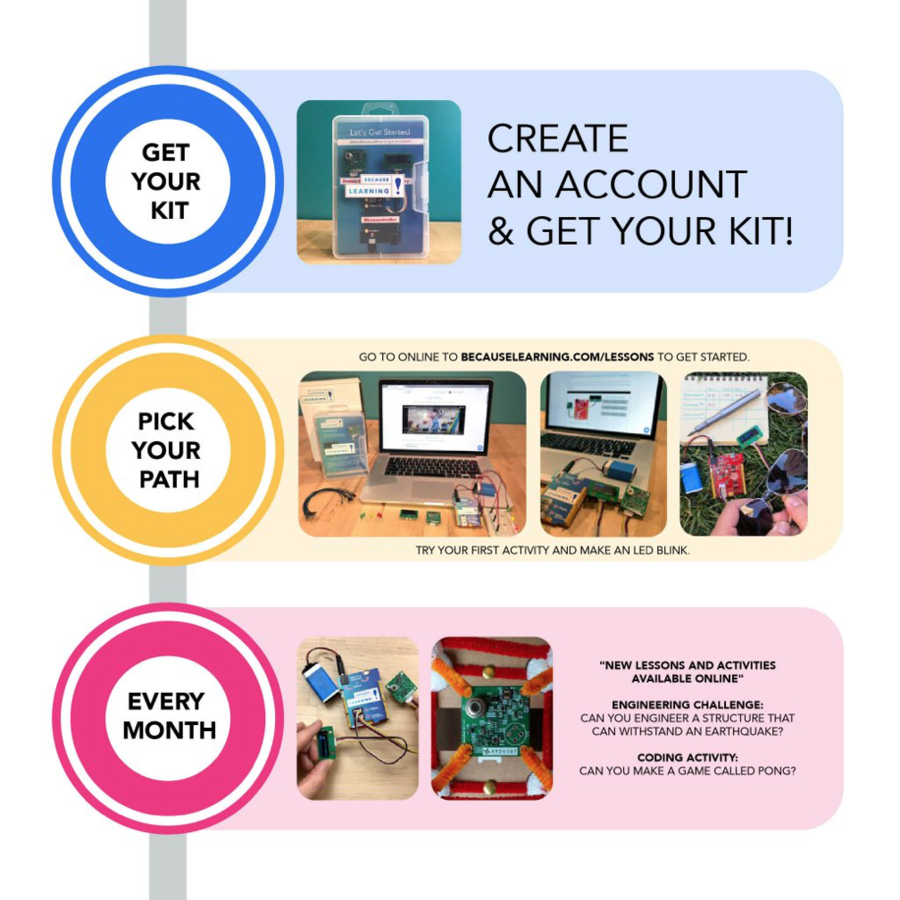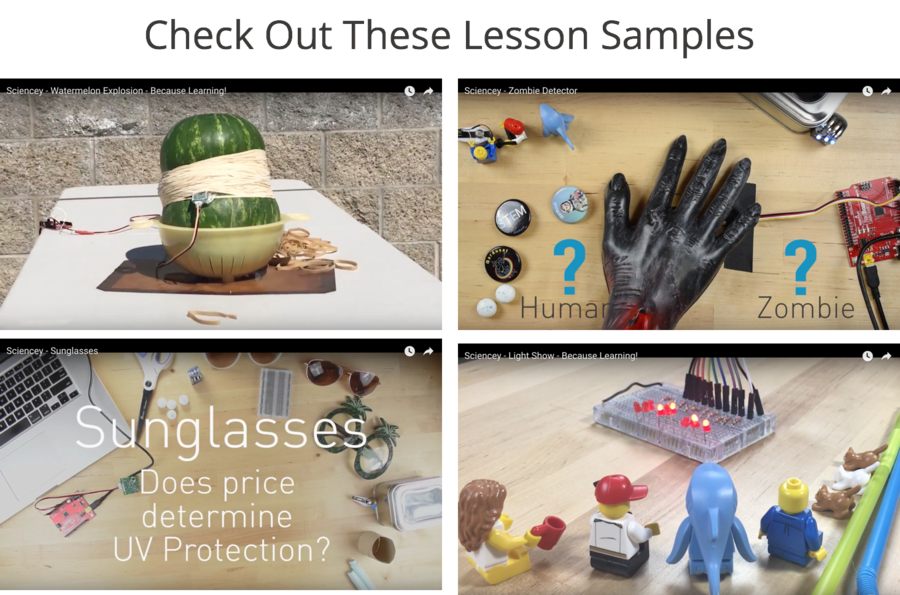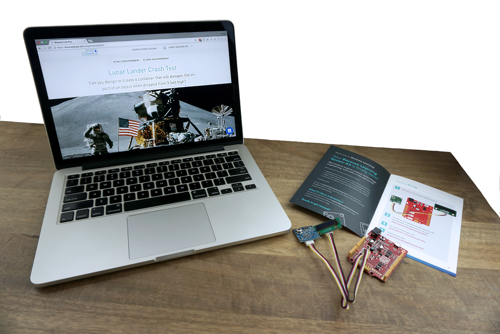 Lessons Platform
Students that already have their own experiment hardware can access Because Learning's Lessons Platform. The Lessons Platform helps students create live data streams, analyze data using data science tools, store and publish data, and subscribe to experiments published by other students throughout the world.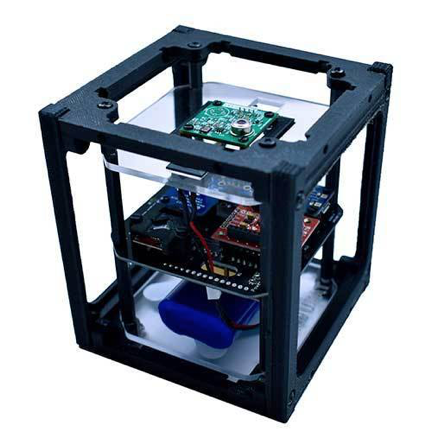 Space Program
Through the Ardusat Space Program, students can run experiments on actual in-orbit satellites to collect real space data. Because Learning's Mission Control team will help the students design their experiments, which include: choosing sensors, collection frequencies, and locations around the globe that will deliver the kind of data professional scientists work with. The experiments will be facilitated through the company's partnership with Spire, which will provide the data collected on its satellites. With the live satellite tracker, classes will be able to monitor experiments in real-time. See a real-time globe visualization of the current position of Spire's satellites running some of Ardusat's experiments in space.
Use of Proceeds and Product Roadmap
Because Learning has several opportunities with partners to expand its product line in China. Because Learning has an opportunity to enter as a U.S.-based EdTech company that offers a program for both the after school programs and traditional school models. The company has signed agreements with providers that sell into both markets.
The funds from this raise will be used to support the company's expansion into China, helping set up a China-based subsidiary and hiring an in-country manager. Because Learning also plans to use the funds to grow its domestic business by investing in marketing to help generate more leads and by hiring sales people to close deals.
If the minimum $25,000 is raised, Because Learning will spend the majority of funds to hire an in-country manager for China and manufacturing of additional inventory. If the maximum $107,000 is raised, Because Learning will also spend the majority of proceeds to hire an in-country manager for China and manufacturing of additional inventory.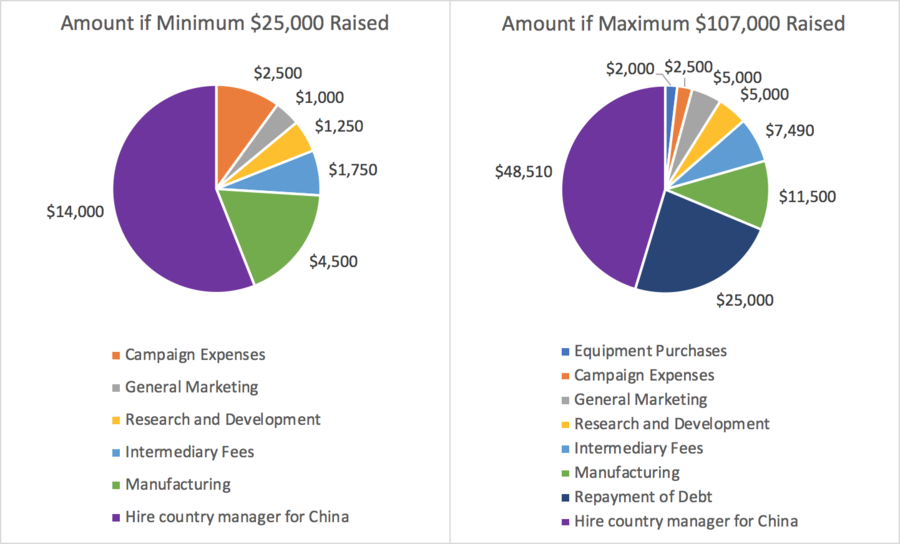 Business Model
Because Learning sells to both school and individuals.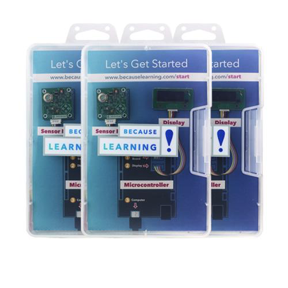 Schools
Classroom Launch Pack: $3,700
The Classroom Launch Pack provides teachers with resources that enable their students to conduct more than 150 hands-on experiments using the Sensor Kits—15 kits included per pack. The materials help students learn the fundamentals of remote sensing, coding, and other STEM related concepts. Teachers will have support from the Because Learning Support Team and access to materials that can help implement programs in their classroom. The pack also includes a one-year subscription to the Learning platform for an entire class. Annual renewal for the platform costs $1,500.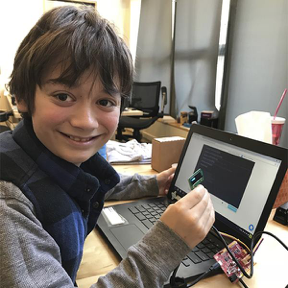 Individuals
Monthly, quarterly, or annual subscriptions: Starting at $18 per month, the subscription includes one sensor kit and access to more than 150 lessons which cover standards-based subjects like math, science, engineering, and more.
User Traction
The Because Learning lessons and sensor kits are used in 30 countries and 400 schools around the world.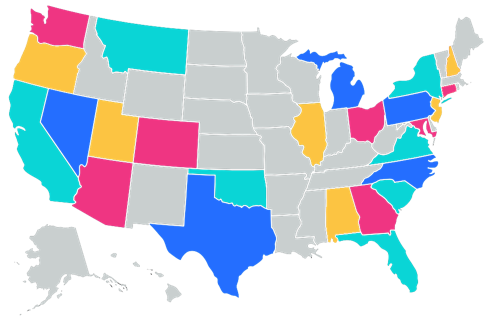 Because Learning has worked with partners such as the University of California Berkeley on a National Science Foundation grant, the Association of Space Explorers to bring learning experiences to students and educators, and satellite-powered data company Spire for space-to-cloud data analytics.

Because Learning has also signed agreements with two distributors—Astronautic Technology and Migo Edu—for its planned 2018 expansion into China.

Press
PR Newsire: Ardusat Rebrands as Because Learning, Expands Curriculum and Adds Subscription Model for Educators and Consumers
Tutorful: The 90 Hottest EdTech Tools According to Education Experts (Updated For 2018)
THE Journal: Open STEM Platform Expands Curriculum, Technology and Professional Development Content
KSL.com: Utah entrepreneur getting kids fired up about space science
EdSurge: Ardusat Launches Kids' Science Experiments on Space Odyssey
Historical Financials
In the first half of 2018, Because Learning generated approximately $138,000 in revenue. In 2017, the company generated roughly $272,000 in revenue, compared to more than $258,000 in revenue in 2016. Revenue growth flattened in 2017 as Because Learning shifted focus from a hardware-based revenue model to focus on recurring revenue. To drive this shift, the company released its eHub platform in late 2016 and started charging an annual site license fee to schools.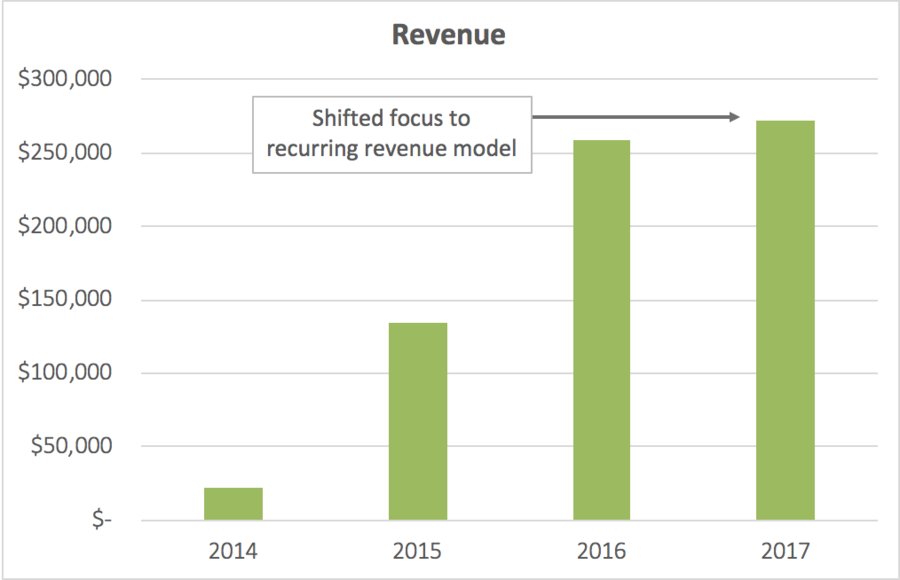 In the first half of 2018, cost of goods sold and operating expenses totaled approximately $16,000 and $301,000, respectively. In 2017, expenses totaled $1.01 million ~$110,000 for cost of goods sold and ~$900,000 for operating expenses). In 2016, expenses totaled almost $1.2 million (~$182,000 for cost of goods sold and ~$1.01 million for operating expenses). Payroll expenses were the primary contributor to operating expenses, generating 70%, 64%, and 66% in 2018, 2017, and 2016, respectively.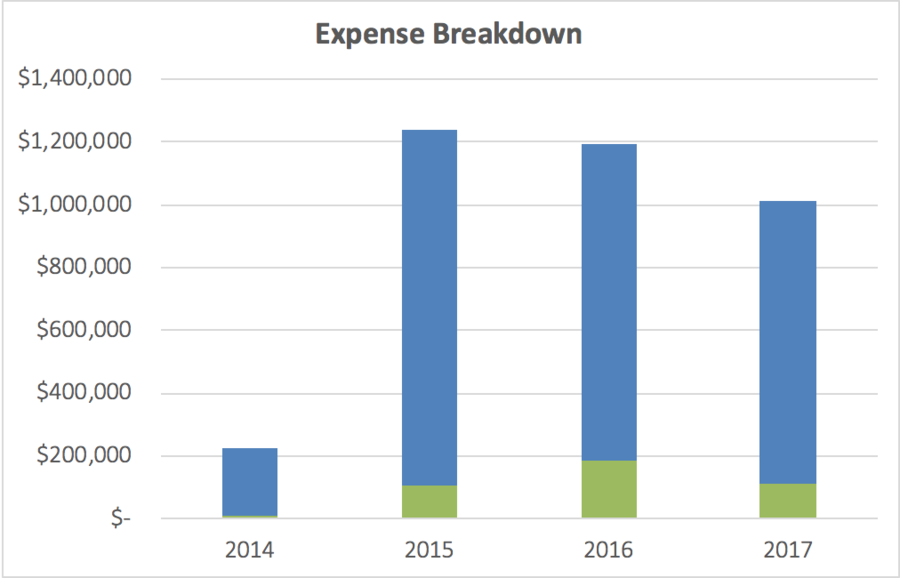 Because Learning had a net loss of close to $179,000 in the first half of 2018. In 2017, the company had a net loss of approximately $650,000. This was an improvement from 2016 when the company had a net loss of approximately $937,000.