---
Investment Documents
Investment Terms
Security Type: Crowd SAFE
Round Size: Min: $50,000 Max: $500,000
Valuation Cap: $6,000,000
Discount: 15%
Conversion Provisions: Please refer to the Crowd SAFE Form for a complete description of the terms of the Crowd SAFE, including the conversion provisions.
Company Highlights
Currently in Kickstart Accelerator (Zurich) to focus on enterprise expansion in Europe
Graduate of 500 Startups' accelerator program in 2014
Opened a research and development center in Spain in 2016 to further advance its products
Won Editor's Choice award at Maker Faire in 2015i
Total users have increased by 101% from August 2016 to August 2017
Total print jobs have increased by 186% from August 2016 to August 2017
Total print hours have increased by 222% from July 2016 to July 2017
Two fully-funded Kickstarter campaigns, with the second campaign funded in just three hours in May 2017ii
Perks
AstroPrint will provide the following "perks" to investors at each level of investment defined below. All perk thresholds are inclusive of previous perk thresholds with the exception of the $50,000+ threshold, which does not include the $25,000+ investment perk.
$500+
A 3D printable plaque design (STL file) showing that you are an investor in AstroPrint
Beta access to new AstroPrint products and features as they are released
$5,000+
The perks listed above, plus:
AstroPrint will customize the design (STL) for your plaque to include your name
$10,000+
The perks listed above, plus:
AstroBox Touch (when released)
$25,000+
The perks listed above, plus:
FlashForge Finder (or comparable) 3D Printer and an AstroPrint Pro Plan for life
$50,000+
The perks listed above, except for the $25,000+ investment perk, plus:
Lulzbot Mini (or comparable) 3D printer and an AstroPrint Pro Plan for life
Company Summary
Opportunity
3D printing has been available since the 1980s, but it has become far more publicized and mainstream within the past decade as the capabilities and advancements of the 3D printer are becoming realized.iii Coined as the third industrial revolution, 3D printing is fundamentally changing the means by which products are manufactured. Be it a jet-engine fuel nozzle that traditionally requires welding together 20 partsiv, a replica of a tumor to help doctors prepare for surgery, or an entire home that can withstand an 8.0 earthquakev, 3D printing is disrupting all walks of life.
Not only has 3D printing been growing in the commercial space, its popularity among consumers for personal use has also been on the rise. The technology is now being applied for personal use in areas including education, entertainment, photography, architecture, fashion, and jewelry.vi As the cost of 3D printing technologies has declined, adoption has increased across the board, giving more people access to this cutting-edge technology. Plus, with increased affordability and accessibility, individuals are now able to quickly turn ideas from digital designs into real, tangible products. With adoption increasing, the 3D printing market is expected to grow at a compound annual growth rate of 25.76% over the next few years to reach $32.78 billion by 2023.vii
AstroPrint aims to standardize the software and developer ecosystem for the 3D printing industry by simplifying the 3D printing process for consumers and enterprises alike. The company provides a product line that gives users the ability to manage their 3D printers from anywhere and with any device, aiming to drive the next wave of adoption in the 3D printing industry.
Product
With the goal of standardizing the 3D printing industry in order to simplify the 3D printing process, AstroPrint has developed a product line to facilitate this progression. The product line features: the AstroPrint software platform, the AstroBox Touch and Gateway, and the App Marketplace.viii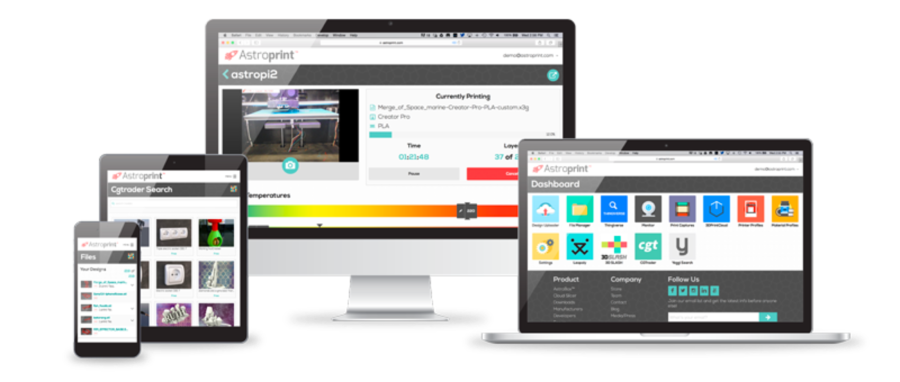 AstroPrint Software Platform
The AstroPrint software platform is compatible with many desktop 3D printers on the market and makes them simpler to operate. It is comprised of a suite of software applications that integrate with one another (via the cloud) to simplify the 3D printing process. The platform includes: desktop software, mobile apps, a web portal, and embeddable software.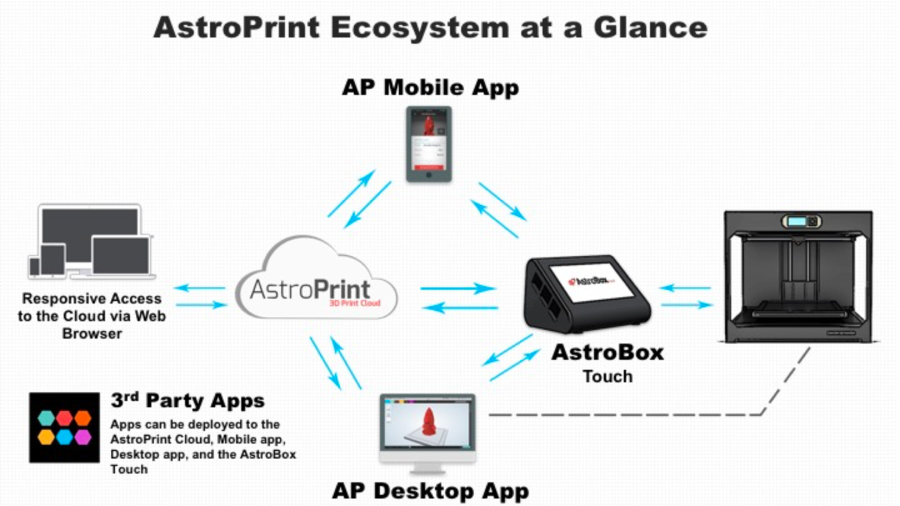 Overall features include:
Compatibility with many desktop 3D Printers
App store that can extend the capabilities of the software
A complete solution, including cloud, desktop, mobile, web, and touchscreen functionality
Simple, clean, intuitive interfaces
Branding capabilities for 3D printer manufacturers and/or resellers
Ability to manage multiple printers from anywhere with any device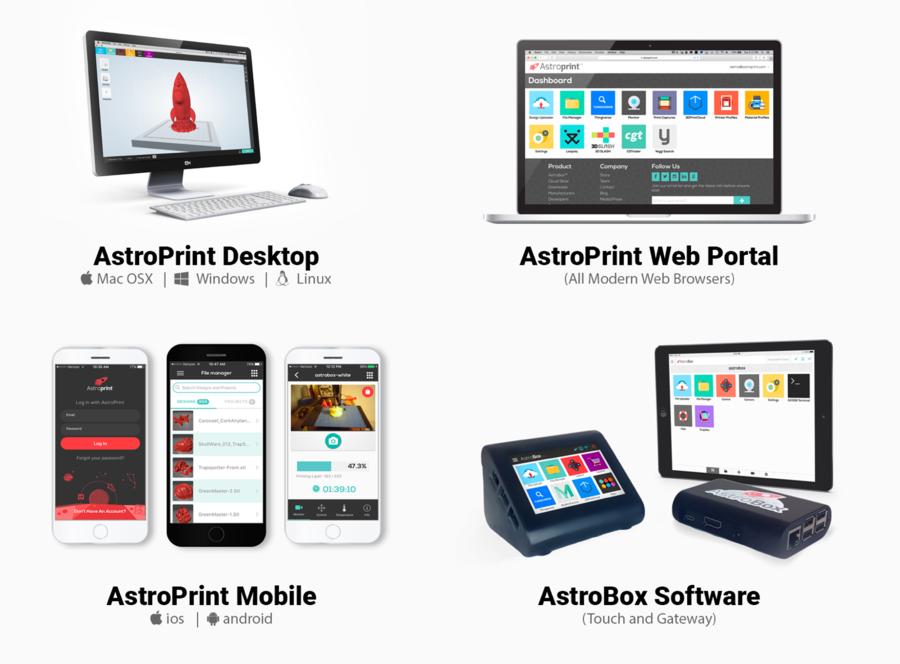 AstroBox Touch
Currently available for pre-order, the AstroBox Touch (version two of the AstroBox Gateway) is a simple, intuitive, cloud-based touchscreen for 3D printers. The Touch is a "plug and play" touchscreen that wirelessly connects a user's 3D printer to the cloud. There is no assembly or tinkering required; the Touch works right out of the box.

At a glance, the AstroBox Touch features:
Striking 3.5-inch touchscreen (480 x 320 pixels)
Simple, elegant user interface built with simplicity in mind
Compatibility with all printers running standard Marlin, Repetier, & Sailfish firmware
Plug and play capability – no self-assembly necessary
Wirelessly control 3D printers without the need of SD cards
Access to the AstroPrint ecosystem, which includes the AstroPrint cloud, developer application programming interface (API), desktop app(s), and mobile app(s)

The AstroBox Touch is not only designed for individual consumers but also for developers and 3D printer manufacturers. Developers will be able to create and deploy apps to the Touch as easily as they deploy apps to smartphones.

For 3D printing manufacturers, AstroBox Touch software can be embedded in their printers, along with a compatible touchscreen, prior to sale. This reduces software R&D/upkeep while also adding cloud functionality to the manufacturer's printer line. AstroPrint can build custom, fully branded (with the company's name and logo) builds of the AstroBox Touch software for each manufacturer.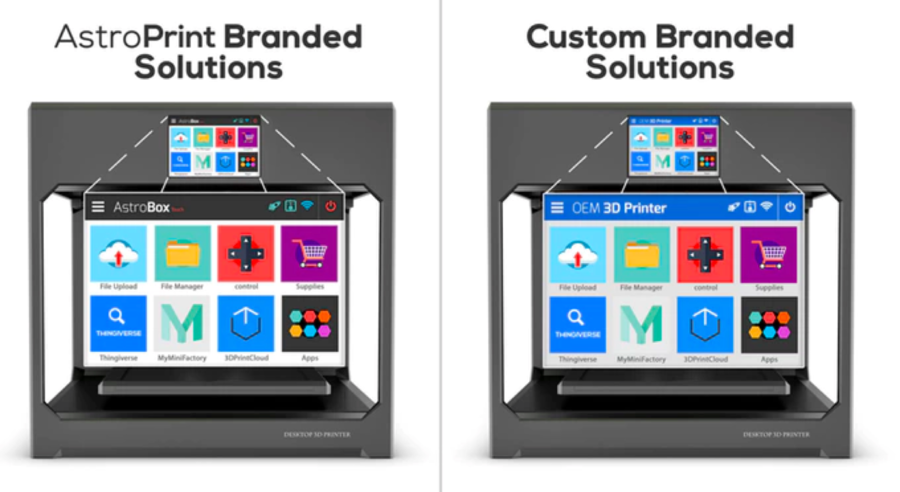 AstroBox Gateway
The AstroBox Gateway is an add-on for desktop 3D printers. Users simply plug the box into their compatible 3D printer via USB, automatically making it Wi-Fi enabled and cloud connected. Once the AstroBox is installed, users can manage their 3D printer from their phone, tablet, or any web-enabled device. When the unit is logged into the AstroPrint cloud, users can manage their 3D printers from anywhere with real-time video monitoring.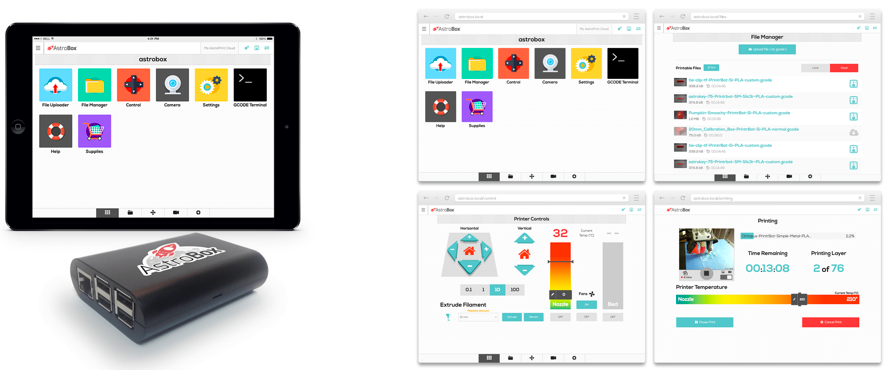 Overall features include:
Remote monitoring of prints
Ability to slice designs on the cloud
Wireless management of 3D printers (no cables necessary)
No need for a laptop/computer to be connected to the printer
Automatic updates
Simple, clean, and intuitive interface
Mobile friendly that works on any web-enabled device
No more secure digital (SD) cards to load stereolithography (STL) files
The AstroBox Gateway comes as a Kit, with a Raspberry Pi 3, Wi-Fi dongle, pre-flashed 8GB microSD card with AstroBox software pre-installed, power supply, case, stickers, and instructions.
App Marketplace and APIs.
With the AstroPrint App Marketplace, software developers can build apps that are used on 3D printers as easily as they develop apps that are used on smartphones. Some example apps include: Model repositories (such as MyMiniFactory and Thingiverse), design customizers (3DSlash and Leopoly), and engineering tools (Materialise model repair). There are over 25 additional apps currently in development by third parties.

For APIs, developers can build AstroPrint functionality into their existing applications. Currently, one of the most popular applications is the Cloud Slicing API. Other APIs allow developers to build in functionality such as remote monitoring, 3D to 2D rendering, printer access/settings, print queue management, starting/stopping prints, and more.
3D Printing APIs currently in use include:
Cloud Slicing: Process designs through Cura Engine, Slic3r, and others. Use pre-sets, customized settings, and post-processors
Storage: Securely export, update, and import designs (STLs) and print files (GCODE/X3G)
Reporting: Monitor user's printer models, devices, designs, materials, successful/failed prints, and other activities
Access: Access user data (when authorized): printers, printer settings, material settings, designs, print files, and more
Rendering: 3D à 2D rendering engine. Thumbnail generation, image generation
Real-time API: Securely maintain connection and monitor all activity on an authorized user's 3D printer. Start and stop prints, video stream, view printbed, and more

Use of Proceeds and Product Roadmap
$50,000+: Funds will be directed towards product development and distribution of the AstroBox Touch. More specifically, the proceeds will be spent on unit production, marketing for direct sales, and creating reseller opportunities.
$150,000+: Additional proceeds will allow AstroPrint to expand the sales/business development team, as well as the team's budget. The company aims to increase adoption rates of AstroPrint in the market and drive revenue growth through reseller opportunities and contracts with manufacturers and multi-printer facilities.
$300,000+: Raising over $300,000 will allow AstroPrint to extend its runway, fund research and development/product development, and also consider new key hires. New key hires may include, but are not limited to, sales/business development personnel, a Chief Revenue Officer, designers, growth hackers, customer support personnel, and/or software engineers.
Business Model
AstroPrint generates revenue primarily from commercial licensing, API licensing, professional services, app sales, and AstroBox sales.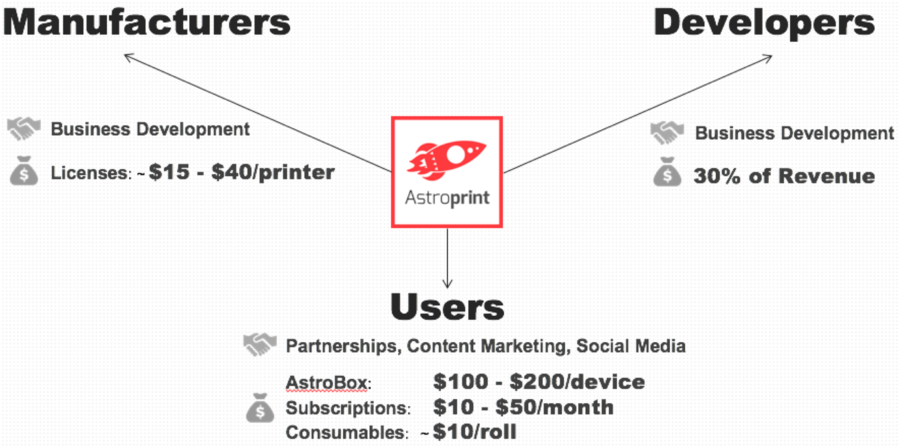 User Traction
Total numbers as of Aug 31, 2017:

Partners and clients include:

Historical Financials
Note: the following financials have not been reviewed by a CPA. Please refer to the Form C for the CPA-reviewed financials.
Year to date, as of June 2017, AstroPrint had generated over $87,000 in revenue, representing a 96% increase over the same period in 2016 and a 56% increase from 2016 annual revenue. In 2016, revenue totaled over $56,000, a 55% decrease from 2015.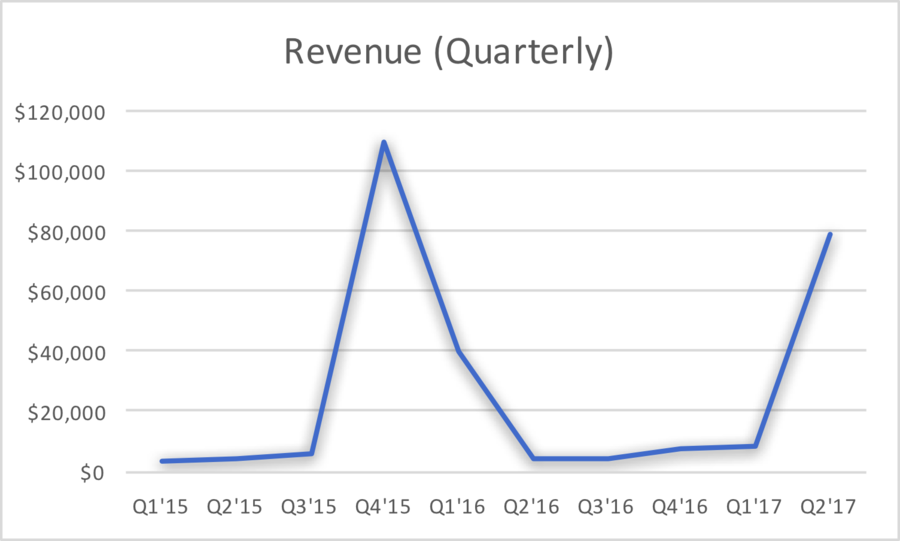 Year to date, as of June 2017, expenses have totaled over $196,000, representing a 2% increase over the same period in 2016. In 2016, expenses totaled over $367,000, representing a 69% increase from 2015. Expenses spiked in 2016 due to the opening of AstroPrint's research and development (R&D) center in Spain. Payroll has been the largest budget item (42%), followed by the R&D center (38%).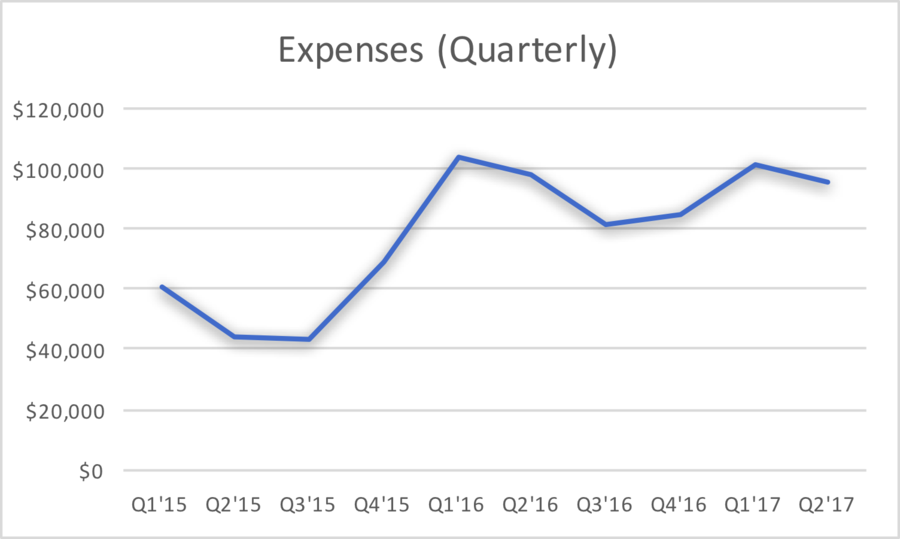 Year to date, as of June 2017, net losses have totaled over $109,000, representing a 30% decrease from the same period in 2016. In 2016, net losses totaled around $311,000, compared to around $94,000 in 2015. The monthly average net burn rate for 2017 has been around $18,000, compared to a monthly average net burn rate of around $26,000 in 2016.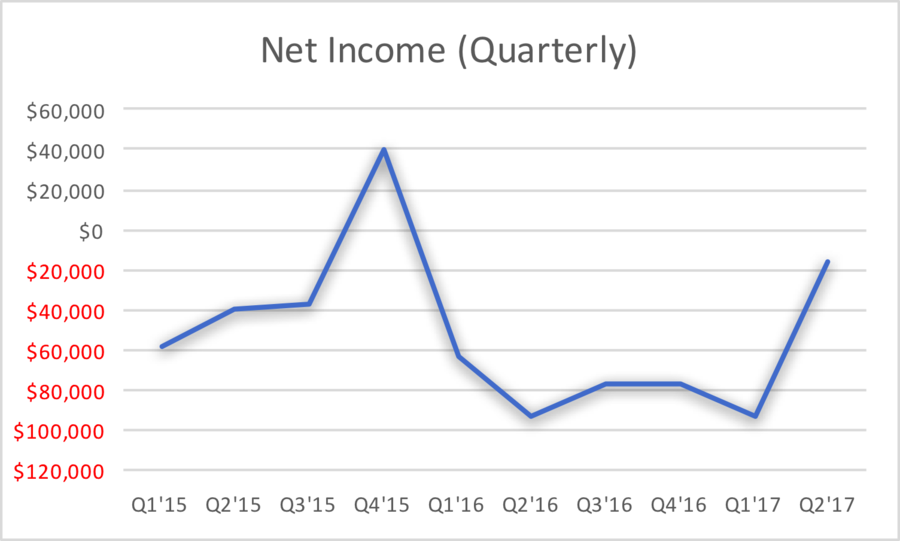 Industry and Market Analysis
The 3D printing industry is experiencing an inflection point in growth as falling costs and technological advances have made 3D printing accessible to more people.ix The 3D printing market is forecasted to grow at a compound annual growth rate of 25.76% to reach $32.78 billion by 2023. Growth is expected to be driven by the ability to easily produce customized items, the potential to reduce manufacturing costs, and government investments in the industry. In 2016, North America accounted for the largest share of the 3D printing market, followed by Europe and Asia Pacific. The most popular 3D printing material was plastic, followed by metal.x
According to a 2016 Ernst & Young study, nearly one-fourth of companies already had experience with 3D printing and 12% were considering adopting it. Just under half of all companies believed 3D printing would benefit their business in the next four years. In addition, one in four companies believed the adoption of 3D printing would give their company a competitive advantage.xi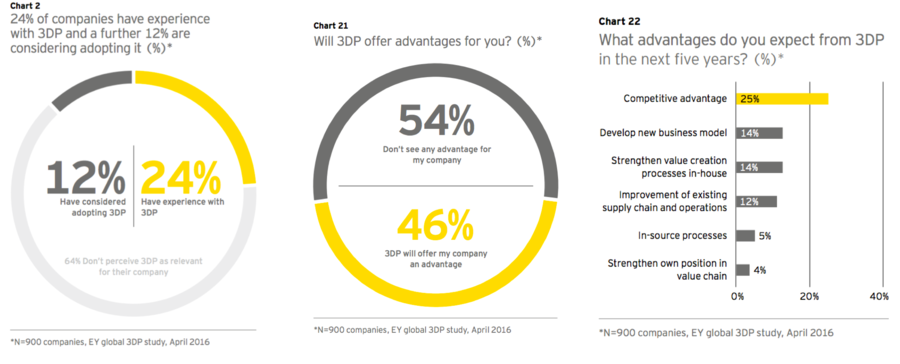 One in two companies in China and South Korea reportedly plan to use additive manufacturing for end-use production by 2021. Both countries' governments support 3D printing technology development due to its potential to create a competitive advantage for their country. Alternatively, one in three companies in the U.S. reportedly plan to use additive manufacturing for end-use production by 2021.xii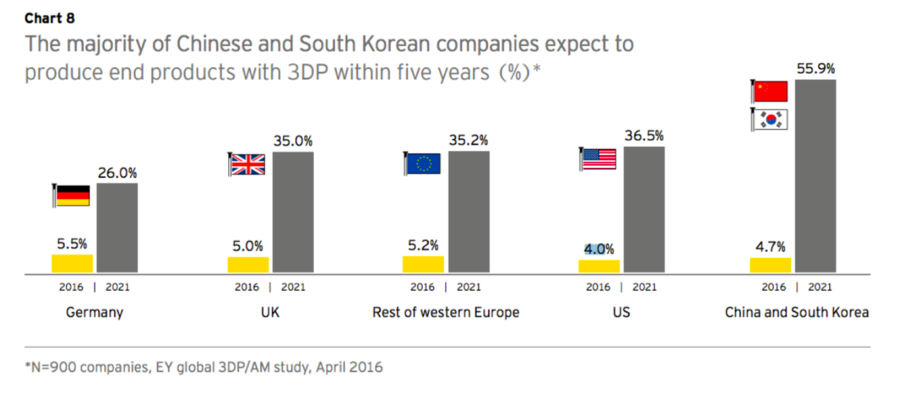 According to a 2016 Gartner report, the number of 3D printers sold is projected to reach 6.7 million by 2020, representing an approximate 15X increase from the 450,000 units sold in 2016.xiii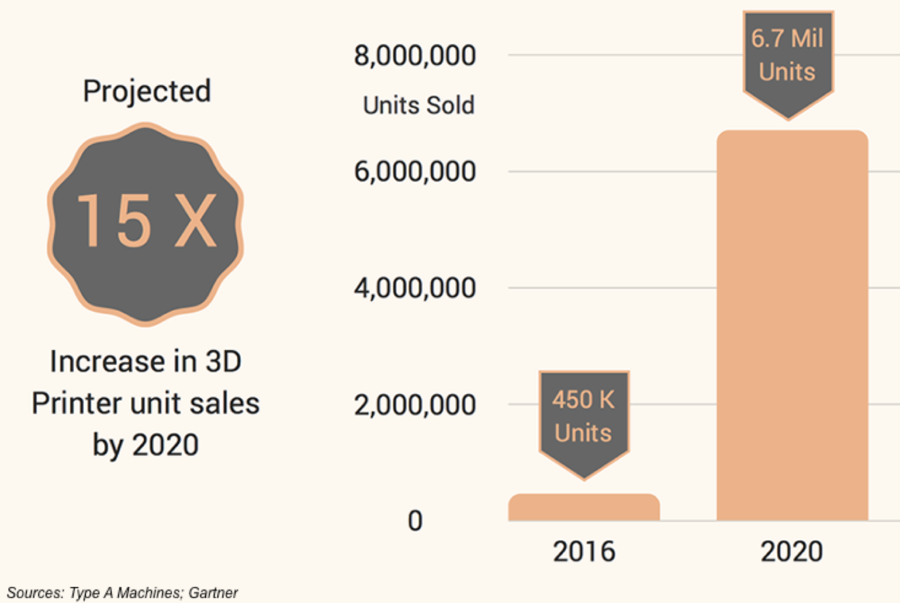 Competitors
3DPrinterOS™: Founded in 2013, 3DPrinterOS is a cloud-based management platform for 3D printers. Through its platform, users can prepare, fix, store, and stream 3D designs to printers as well as track and analyze data. The company offers four pricing levels: Starter for free, Premium for $200 per year per user, Educational, and Enterprise – the latter two have negotiated pricing. Every plan includes STL editing, version control files/projects, animated GIFs of completed prints, cloud slicing, and granular permissions.xiv Investors include Vulcan Capital, Alchemist Accelerator, Zillionize, and Ian McNish of LinkedIn.xv
Printr: Established in 2014 in Amsterdam, Printr develops tools and software for 3D printing. Its cloud-based 3D printing platform, Formide, allows users to upload and organize .STL files and Gcode; view, optimize, and animate Gcode; and queue, monitor, and control print jobs remotely. Additionally, Formide includes a built-in cloud slicer, which allows users to modify and choose their materials and slice profiles. The company offers a free basic plan with 1 GB of storage and a pro plan with 10 GB of storage for €6/month, which comes with priority slicing, device sharing, model exploration, region settings, and premium customer care.xvi In 2015, the company received $820,000 in seed funding.xvii
OctoPrint: Established in 2012, OctoPrint is a free and open source web interface that allows users to remotely control and monitor all aspects of their 3D printers. Furthermore, it enables users to perform tasks such as time-lapse recordings of prints, slice STL files, and configure event hooks. OctoPrint is compatible with many consumer 3D printers, and its functionality extends through its plugin system to integrate with other tools such as Slack or Pushbullet.xviii By running the software on small embedded devices such as Raspberry Pi, a user's 3D printer can become Wi-Fi enabled. The project was funded by Mundo Reader S.L. until April 2016 and has since turned to community funding on Patreon.xix
PrintToPeer: Founded in 2013, PrintToPeer provides a web-based dashboard that allows users to remotely control their 3D printer. As an open source project, PrintToPeer offers print automation, real-time business analytics, and operational efficiency. Users can track the duration, material usage, and costs in order to calculate real-time print expenditures by project, team, or business unit.
Repetier: Started in 2011, Repetier offers free software solutions for 3D printers. With the Repetier-Host software, users can import, place, slice, preview, and print 3D models as well as gain full control over their printers remotely via the Repetier-Server. Repetier-Host works with most 3D printers and has been installed on over 500,000 computers. Additionally, the software offers multi-extruder support, multi-slicer support, multi-part printing, and the Repetier-Informer app to receive printer status messages.xx
Executive Team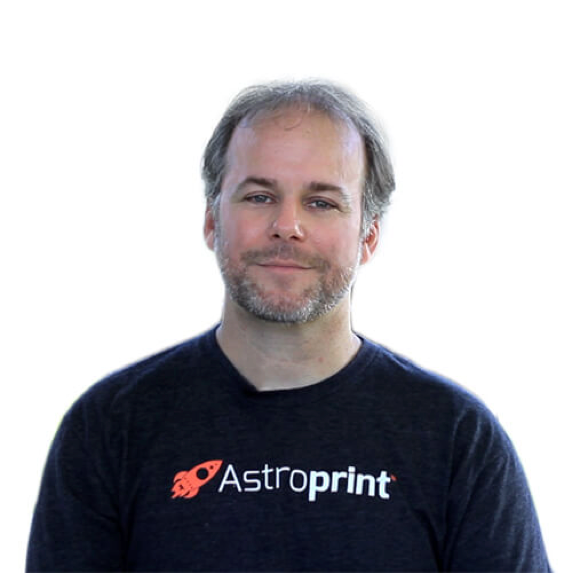 Drew Taylor, CEO and Co-founder: As an established thought leader in the 3D printing industry, Drew is a sought-after speaker who lectures globally on the subjects of mass adoption of 3D printing technologies as well as on the role of cloud infrastructures in driving adoption. Drew is a serial entrepreneur who builds platform-focused companies. Previous ventures include a yoga class search engine with 20,000 classes listed daily, an email marketing technology platform, and a face-to-face (f2f) social engagement platform. Roughly four years ago he fell in love with 3D printing technologies and decided to solve the problems holding the industry back from mass adoption. Prior to his career in technology, Drew worked in sports medicine for professional ice hockey and soccer teams, had several brick-and-mortar medical clinics, and was a professor in a master's degree program in the healthcare industry.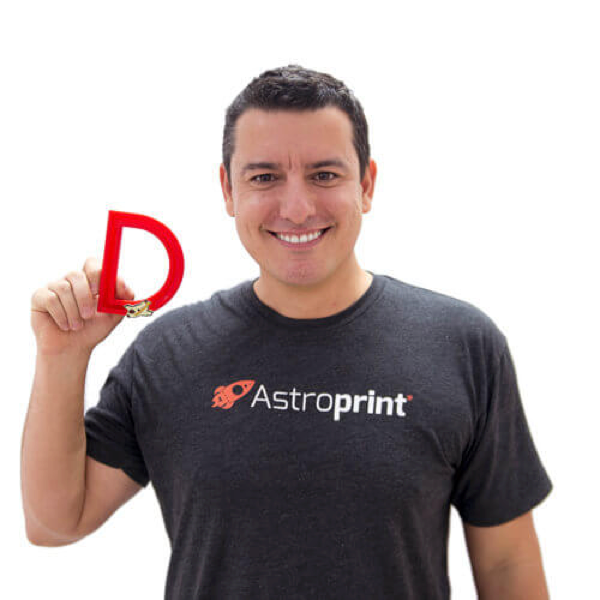 Daniel Arroyo, CTO and Co-founder: Daniel has over 18 years of experience developing embedded and cloud systems due to his work at companies like Nokia, Qualcomm, and Broadcom. While at Nokia, Daniel was on the team that developed the Symbian OS, which was deployed in hundreds of millions of smartphones. In addition, he led developer evangelism initiatives to drive adoption of the platform. From his experience on the front lines of the platform-wars in the smartphone industry, he learned what it takes to create, scale, and drive adoption of large software platforms. Daniel is on a mission to take that experience and use it to build the dominant software platform for the 3D printing industry. In addition to being CTO, Daniel serves as President of AstroPrint and is considered a second CEO for the company. His business acumen was honed by The Founders Institute as well as his experiences with the startups Flaretag, which he founded, and Tappy, which was acquired by Tinder. Daniel is a rare "double threat" in that he has the skills of a CTO and the business mind of a CEO.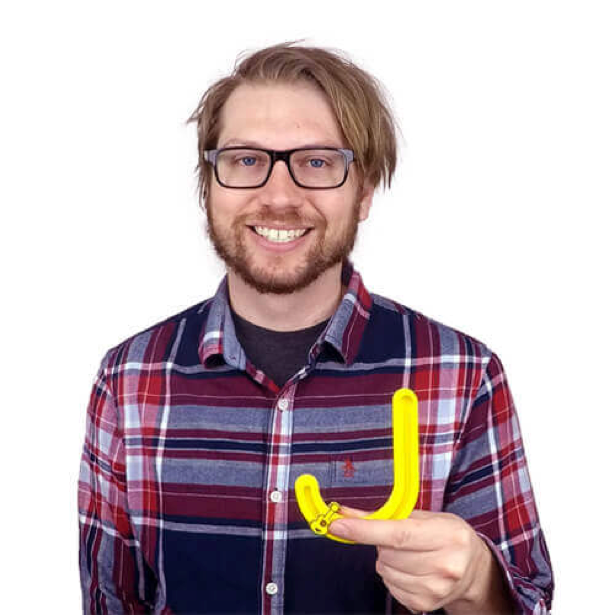 Joshua White, CDO and Co-founder: As Chief Design Officer, Josh is the heart and soul of the AstroPrint User Experience. His interest in intersecting business with creativity began with a BA in Music Industry, then shifted to UI/UX/web design and front-end development/optimization. Prior to founding AstroPrint, he managed multimillion dollar SEO accounts and also worked in 3D animation and video editing. His love of 3D printing began with the desire to bring his 3D characters to life and has led him to become an expert in desktop 3D printing processes. He is on a mission to use his creative skills to simplify the 3D printing process, empower other creatives to use 3D printers, and ultimately bring 3D printing to the masses.
Investment Terms
Security Type: Crowd SAFE
Round Size: Min: $50,000 Max: $500,000
Valuation Cap: $6,000,000
Discount: 15%
Conversion Provisions: The Company has the option to convert the Crowd SAFE into shares of non-voting preferred stock, at a discount of 15% of the price per share of the new preferred stock sold in the equity financing or a valuation cap of $6,000,000, whichever results in a lower conversion price. Please refer to the Crowd SAFE form for a complete description of the terms, including the conversion provisions.