---
Investment Documents
Company Highlights
100,000 downloads in just seven months, averaging over 16,500 downloads per month
Received investments from four current or former NBA players: Steve Blake, Anthony Tolliver, Caron Butler, and Ty Lawson
Received $100,000 from TEDCO, Maryland's state technology development corporation
Selected to be part of the 2017 Accelerate Baltimore™ program, a joint initiative between Baltimore incubator ETC (Emerging Technology Centers) and The Abell Foundation
Perks
*You are investing in equity in this offering. Perks are meant to be a thank you from the company for investing. The perks below are NOT inclusive of lower dollar amount perks. Travel and related expenses are not included unless otherwise stated.
$5,000: Signed basketball by player of your choice (Steve Blake, Anthony Tolliver, Caron Butler, or Ty Lawson)
$10,000: Signed jersey from player of your choice (Steve Blake, Anthony Tolliver, Caron Butler, or Ty Lawson)
$25,000: VIP Tickets to Pistons game and chance to meet Anthony Tolliver after game (game to be determined) and signed basketball or jersey from player of your choice (Steve Blake, Anthony Tolliver, Caron Butler, or Ty Lawson)
$50,000: Dinner with player of your choice (Steve Blake, Anthony Tolliver, Caron Butler, or Ty Lawson), travel credits worth up to $1,000, and signed basketball or jersey from player of your choice (max 3)
$100,000: Dinner with player of your choice (Steve Blake, Anthony Tolliver, Caron Butler, or Ty Lawson), travel credits worth up to $1,000, VIP Tickets to Pistons game and chance to meet Anthony Tolliver after game (game to be determined), signed jersey from player of your choice, and signed basketball by player of your choice (max 1)
Company Summary
Opportunity
Polls are an invaluable form of research for many industries; they can do everything from provide insight into consumer behavior to track the popularity of high-ranking dignitaries. However, many brands are moving away from expensive once-a-year research projects, which can no longer keep up with the fast pace of the modern work environment and can even suffer from sampling bias or too-generic results.i Instead, tools that are more engaging are needed to gather and track authentic, on-demand feedback.
With mobile devices, polls can better target key consumer segments in their most engagement moments, gain more immediate feedback, and give both businesses and individuals the real-time insights they need. Arbit, available on the App Store and Google Play Store, couples mobile polling with a social network-like platform. Used by both global brands and public figures, the app facilitates direct interactions between users such as sports stars, celebrities, and fans through its unique polling interface.
Product
Arbit is a mobile marketing application that aggregates real-time consumer sentiment around products and services. Combining social engagement with a powerful analytics layer, the platform gives athletes, celebrities, and brands instantaneous answers to any question they may have via side-by-side picture polling.
Users upload images from their phone to create a poll that asks their followers to vote up one of two options. Questions range from which team will win the big game tonight to which city you would rather live in. Topics span a wide range of subjects such as sports, pop culture, news, food, home, travel, music, fashion, and celebrities. Once users cast their vote they can instantly see the results of the poll.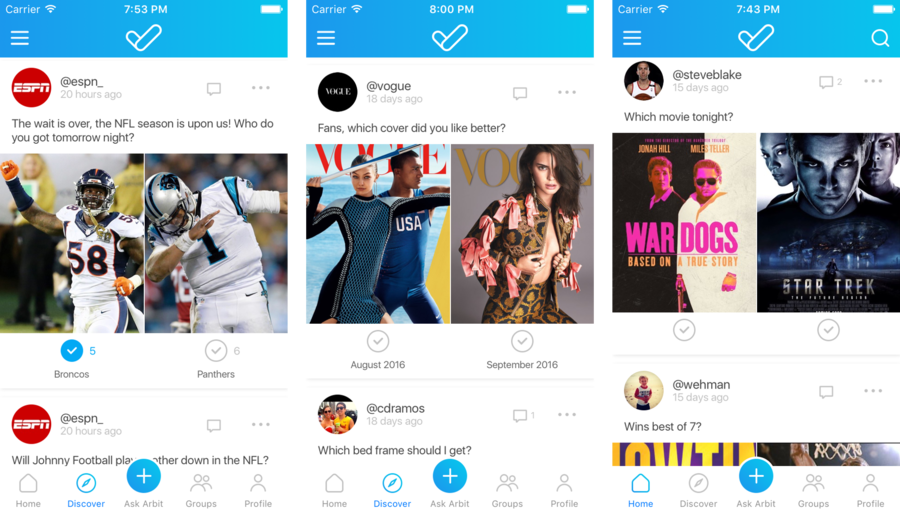 Users can post polls for all their followers to vote up and comment on, or alternatively, create a private group that only sends the poll to a select group of people. Users who keep their profiles public may have their posts appear on the Discover feed, which allows everyone on the app to search by topic and explore posts from accounts they don't yet follow.
Analytics
Arbit aggregates the data behind its polls to give users valuable insight and to expose trends that might have been missed. Companies can utilize this information and effectively market their product to that new target audience. For example, in a recent case study for professional basketball player Dwayne Wade, Arbit showed two pairs of his new shoes and asked users to vote up their favorite. In the study, Arbit found that 60% of the female respondents for one of the shoes were between the ages of 13 to 17 and predominantly based on the East Coast. With this information, the shoe company that sponsors Dwayne Wade can now make strategic business decisions to market the product to that particular demographic.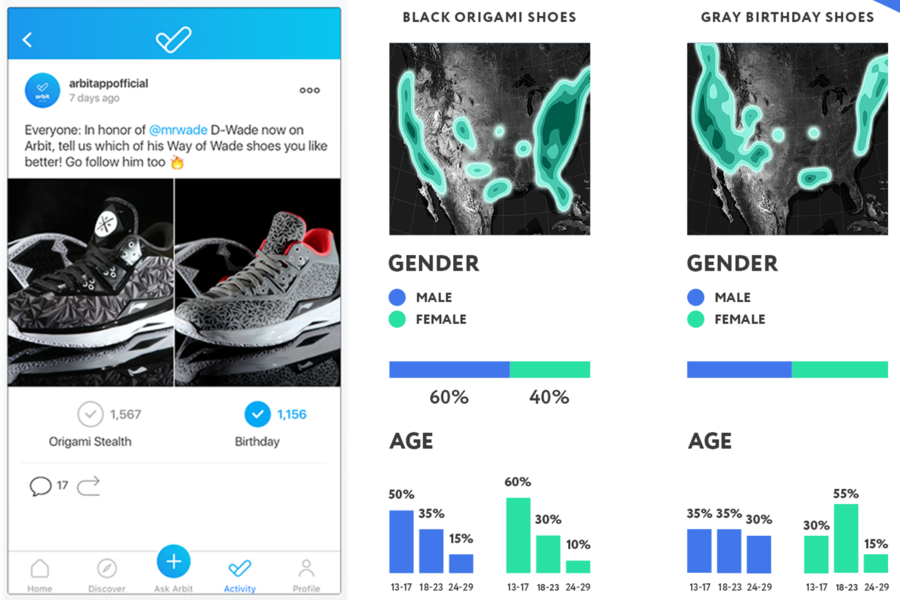 Use of Proceeds and Product Roadmap
Arbit plans to use the majority of the proceeds on technology development. The company is currently building out a way for businesses to license its technology, allowing Arbit to become more than just a mobile app. Businesses will be able to create polls on Arbit and embed them on their own websites, in email campaigns, and add them as links on their social media. Their target audience will be able to seamlessly vote on these Arbit-powered polls without having to download a separate app. The extracted polls technology and a company analytics dashboard are both expected to be rolled out in September 2017. Arbit also intends to roll out live event polling giving users the ability to debate major live events in real time and live video debates where users can record videos and debate with other users in real time. Both of these features are expected to be rolled out in early 2018.
Business Model
Arbit's primary source of revenue is polling and data subscription plans. The company is also currently earning revenue from in-app purchases and intends to collect commissions on direct purchases.
Primary: polling and data subscription plans
Users pay a monthly fee to sponsor polls seen by all Arbit users and to see the data and analytics behind those polls
Fee structure for in-app sponsored polls is as follows:
Basic $399/month – three polls with up to 1,000 responses with analytics
Pro $499/month – five polls with up to 3,000 responses with analytics
Enterprise ($999 min) – quote based on customer needs
As Airbit develops the platform to export polls, it plans to start pricing at:
Basic $799/month – three polls with up to 3,000 responses with analytics
Pro $999/month – five polls with up to 5,000 responses with analytics
Enterprise ($1,500 min) – quote based on customer needs
Secondary: In-App Purchases
Due to users' desire to receive more votes on their Arbit polls, users can purchase a poll 'boost' that allows a user's poll to be seen by more people
Fee structure is as follows:
One boost – $4.99
Three boosts – $9.99
Five boosts – $12.99
10 boosts – $19.99
Secondary: Commission on direct purchases
Arbit plans to take a 10% commission on all purchases made by customers through direct-link purchases from Arbit polls
User Traction
Arbit began development on its app in October 2015 and launched a private beta in the summer of 2016. In December 2016, the company launched its public beta, which gained over 100,000 downloads in the span of seven months.

From December 2016 to June 2017, Arbit has averaged over 16,500 downloads per month.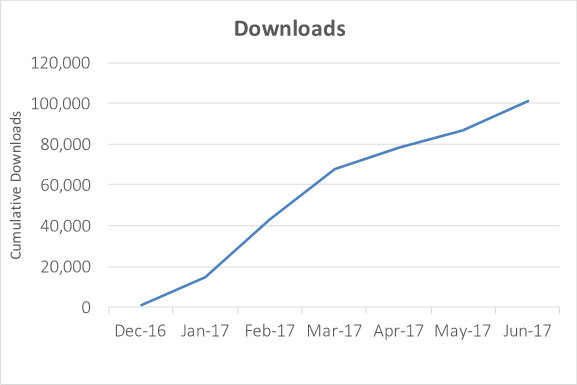 Historical Financials
Arbit was in private beta testing up until April 2017 and just began collecting revenue in June 2017. The company made $825 in June from sponsored polls and analytics and iTunes in-app purchases.
Year to date as of June 2017, Arbit has incurred over $118,000 in expenses. The largest expense category has been development costs, which made up 40% of total expenses (over $47,000), followed by advertising, which made up 36% of total expenses (over $42,000). From June to December 2016, Arbit incurred over $88,400 in expenses. The largest expense category in 2016 was expenses for advisor services, which made up 48% of total expenses.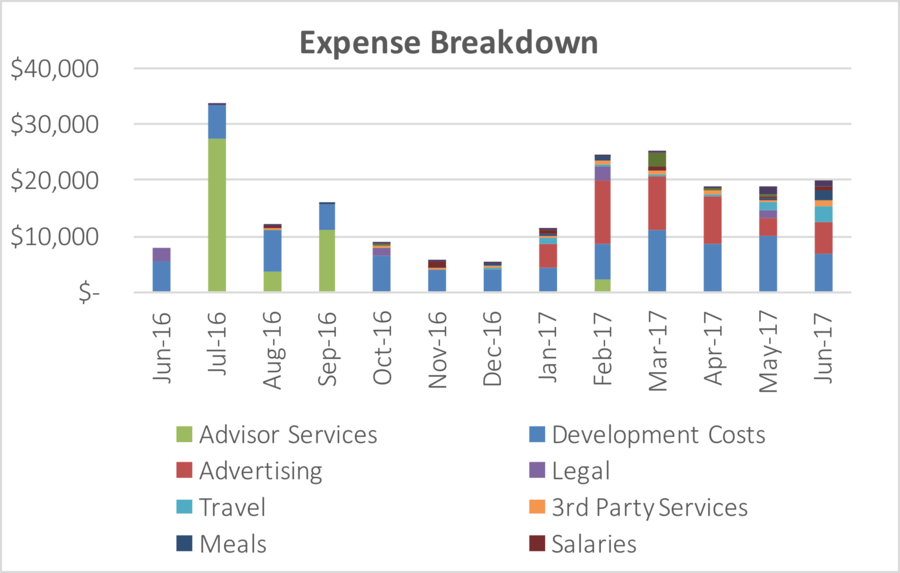 Financials have not been audited or subjected to financial review
Industry and Market Analysis
Social media marketing is one of the most effective advertising channels – 96% of businesses in the world advertised through social media in 2015,ii and global social network advertising revenue is forecasted to total $41 billion in 2017.iii Spending is expected to grow 20% per year and will be worth $50.2 billion by 2019, surpassing advertising spending on newspapersiv and accounting for more than 20% of total marketing budgets by 2020.v
The U.S. is the largest market, spending more than $9.4 billion on social media advertising in 2015.vi Over two billion people worldwide were using social media in 2016, spending an average of 109 minutes per day online. It's expected that by 2020, roughly one-third of the Earth's entire population, or 2.95 billion people, will be utilizing social media.vii In the U.S., 81% of the population currently has at least one social networking profile.viii At the end of 2016, U.S. consumers spent an increased average of five hours per day on their mobile devices, with more than half of that duration spent on social media apps.ix
An overwhelming 66% of social media consumption occurs on smartphones, predominantly through smartphone apps. Another 12% takes place on tablets.x Global mobile social ad spending is anticipated to reach $23.39 billion by the end of 2017.xi
Despite the amount of money thrown at digital advertising, over half of digital advertisements don't leave lasting impressions.xii In 2016, a Statista survey showed only 36% of people purchased a product or service advertised on social networking sites.xiii Social media analytics can improve an organization's advertising effectiveness through data generation and interpretation to understand consumer behaviors and interests. The global social media analytics market was worth $2.91 billion in 2016 and is anticipated to grow to $18.67 billion by the end of 2022, supported by a compound annual growth rate (CAGR) of 36.27%.xiv This continuous surge in growth is driven by increased smartphone and social network penetration along with a shift in analytics tactics. North America is expected to continue being the largest market for the next five years, followed by Europe.xv
Competitors
Twitter (NYSE: TWTR): Although Twitter was created in 2006, its free polling feature launched in 2015, with the polls directly embedded into tweets. These polls are limited to four options with a lifespan of up to seven days. Individual votes aren't shared publicly, so brands can't analyze results or target specific users. Like normal tweets, users can only use up to 140 characters per poll question and 25 characters per option. Additionally, visuals can't be added onto polls.xvi Since this feature was released, users have created more than 30 million polls and cast more than 1.7 billion votes.xvii
SurveyMonkey: Founded in 1999 in San Mateo, California, SurveyMonkey is survey platform that collects 2.8 million survey responses per day.xviii The company offers four different plans, from the free Basic membership to the $99/month Premier membership. The Premier plan allows unlimited responses and questions per survey as well as customized surveys, advanced data exports, and analyses.xix As of October 2016, SurveyMonkey had raised $700 million and was reportedly valued at $2 billion.xx
Wishbone: Launched in 2015 and based in California, Wishbone is a polling app for iOS and Android devices. It allows individual users (mainly those under 18 years old) and brands to create polls and vote on the app's "Daily Dozen" and "Nightly Dozen," two series of popular culture-based questions with two choices in pictures.xxi After voting, users can see how their friends voted. The app is operated by the incubator Science, which has invested in companies like Dollar Shave Club and DogVacay.xxii
Voice Polls: Founded in 2014 and headquartered in New York City, the Voice Polls app (formerly Poutsch) allows users to create, participate in, and embed polls anywhere online. Through its iOS or Android app, users can receive real-time analytics on any poll.xxiii Voice Polls focuses on tracking users' answers to provide information to marketers. Additionally, marketers can host polls where users can earn money by answering their questions.xxiv
Wedgies: Created in 2012 in Las Vegas, Wedgies offers interactive polls that work on tablet, mobile, or desktop devices and can be embedded in many different websites, such as Facebook, Twitter, and WordPress. Its plans range from Starter at $15/month to Enterprise starting at $1,000/month. Its most advanced plan offers Advanced Analytics, a Poll Content Strategist, API Access, and content management system (CMS) and app integrations, among other features.xxv The company has worked with several high-profile events, including the 2015 State of the Union livestream page. In 2015, Wedgies received $1.2 million in a seed round led by Greycroft Partners, bringing its total funding to more than $1.8 million.xxvi
QuestionPro: Established in 2002 in San Francisco, QuestionPro is an online survey and market research software that includes tools for creation, distribution, social network integration, analysis, and data visualization of surveys. For individuals, the service is free and includes the ability to upgrade to additional features for $15 or $75/month, depending on the type of subscription. The company also has team and enterprise editions that include features such as SalesForce and API Integrations, Google Analytics, report consolidations, and survey encryption.xxvii QuestionPro services are also available through iOS and Android apps.
Executive Team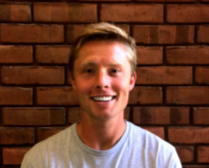 Alex Bullington, CEO and Co-founder: Alex has been working on Arbit full time for the past one and a half years. As an avid sports fan, he's spent the last five years studying how professional athletes and brands engage with their audience on social media, discovering the glaring problem that led to the founding of Arbit. He is an active CPA. He is responsible for hiring the development and design team that built Arbit based on his original idea, and he has brought four NBA investors on board: Steve Blake, Anthony Tolliver, Caron Butler, and Ty Lawson. Alex raised $170,000 in outside capital and successfully launched the mobile application in December 2016.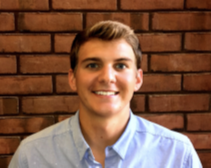 Greg DiNardo, COO and Co-founder: Greg is an active CPA and has worked in both public accounting and finance, notably at MicroVentures. He grew the Arbit user base from 1,000 users in December 2016 to over 100,000 users as of July 2017, dozens of which are NBA players, celebrities, social influencers, and brands. His operational and marketing skills paved the way for a 2,000% increase in the number of downloads in one month. He was also instrumental in raising outside capital and launching the app. Greg has a bachelor's degree in Accounting from Loyola University Maryland.
Investment Terms
Security Type: Crowd SAFE (Simple Agreement for Future Equity)
Round Size: Min: $50,000 Max: $425,000
Valuation Cap: $5 million
Discount: 20%
Conversion Provisions: In connection with an equity financing of at least $1,000,000, the Company has the option to convert the Crowd SAFE into shares of a series of non-voting preferred stock, at a discount of 20% of the price per share of the new preferred stock sold in the equity financing or a valuation cap of $5,000,000, whichever results in a lower conversion price. Please refer to the Crowd SAFE Form for a complete description of the terms of the Crowd SAFE, including the conversion provisions.
Press