---
Investment Terms
Security Type: Series Seed Preferred Stock
Round Size: Min: $50,000 Max: $500,000
Price per share: $0.07
Pre-money valuation: $1,000,000
Liquidation preference: 1x
Conversion Provisions: Convertible into one share of Common Stock (subject to proportional adjustments for stock splits, stock dividends and the like) at any time at the option of the holder.
Company Highlights
Its patented vertical farming system allows farmers to grow up to three times more produce in a given area than other vertical growing systems and to reduce water usage by 75% compared to conventional farming methods
One issued patent for its growing system and 20 patents pending
Patent was demonstrated through a proof-of-concept farm in Boulder, CO
Has leased land in Pueblo, CO with the option to purchase; plans to operate its first farm there in 2018
Company Summary
Opportunity
According to the Food and Agriculture Organization (FAO), global hunger is on the rise, affecting 11% of the global population. The number of undernourished people on the planet has increased to 815 million, up from 777 million in 2015.i
Unfortunately, according to the U.S. Farm Income Outlook for 2017, net farm income for 2017 ─ a key indicator of the health of the U.S. farm system ─ is forecast to be the second lowest in inflation-adjusted terms since 2003.ii In addition, crop production levels steadily decreased between 2012 and 2015.iii
Farming is also one of the major consumers of resources in the U.S. Agriculture accounts for about 80% of the water used in the U.S.iv, contributes to greenhouse gas emissions, and occupies over half of the total acreage in U.S..v Wages, salaries, and contract labor expenses represent roughly 17% of total variable farm costs and as much as 40% of costs in labor-intensive crops such as fruit, vegetables, and nursery products.vi This inefficient and demanding field is why Apex Farms Corp. was founded.
With a vision of building efficient farming systems that address the world's practical food needs, Apex Farms Corp. has developed a system that cuts down on land, water, and energy use, and reduces labor and costs, while boosting production and helping to promote healthier foods. Its vertical farming system uses patented technology to allow farmers to grow up to three times more produce in a given area than other vertical growing systems. After being tested over three years, the system was also found to reduce water usage by about 75% compared to conventional farming methods.
Product
The Apex Vertical Farming System uses patent-pending technology to grow a wide variety of plants, including vine plants, root plants, flowers, and greens. The vertical hydroponic system ─ meaning plants are grown without soil by exposing roots to mineral nutrient solutions in a water solvent ─ aims to reduce expenses associated with energy, water, space, and labor.
The Apex Vertical Farming System is comprised of one reservoir, one water pump, and multiple rows of cylindrical pipes used to flow nutrient-rich water for growing plants. The rows are stacked to reduce overall land, water, and energy usage but are fully accessible for harvesting from the ground – no need for conveyor belts, scaffolding, or complex machinery. Effective for both indoor and outdoor use, the system can be scaled to accommodate different sized plants and root systems.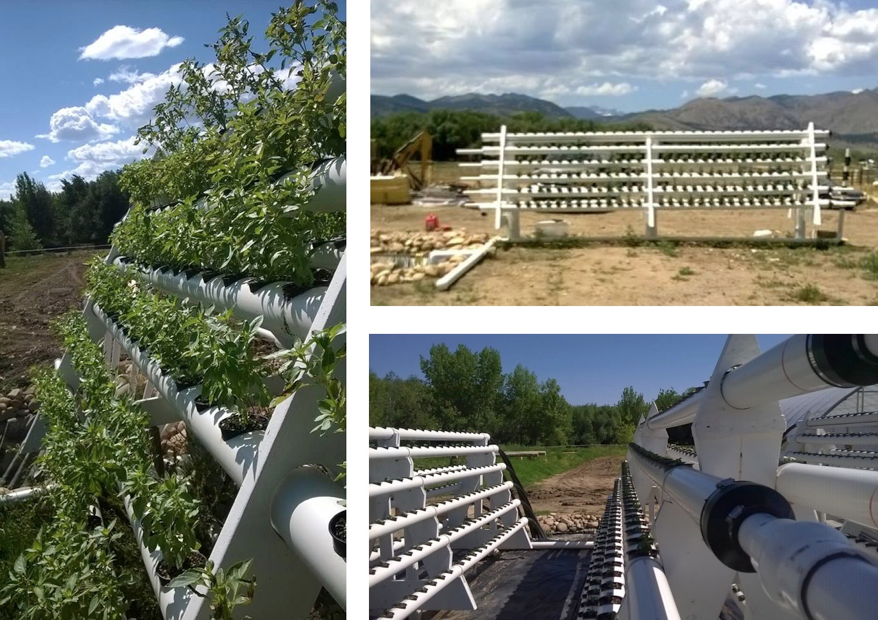 Apex Farms offers two options for setting up the Vertical Farming System:
Setup Services: For those who wish to purchase one or multiple systems directly from Apex Farms, the company offers setup services where, once the purchase is complete, Apex Farms oversees everything from transport and delivery to completion of the build. Once the setup is finished, a final test is completed on each system to make sure everything is in working order and that the client is satisfied with the quality of the system.
Licensing: For those with the resources to build their own systems, Apex Farms offers licensing opportunities with technical support. Licensing rights are available in one- and two-year periods, plus renewal options. Additionally, Apex Farms provides a senior-level consultant to assist clients with setup from start to finish, including everything from assessing the proper contract, finding the right construction crews, and troubleshooting potential issues.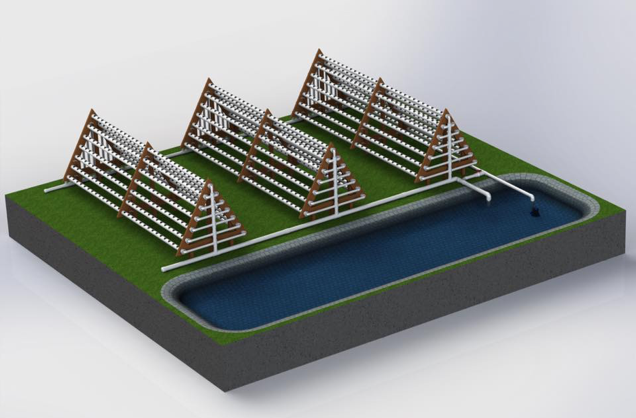 Apex Farms also offers a yearly tech support plan, which allows clients access to a team of professional support staff that can provide in-person support if issues arise, and networking services that assist clients in finding local restaurants, wholesale distribution, or even floral shops to bring clients' products to market.
Use of Proceeds and Product Roadmap
If the minimum $50,000 is raised, the majority of proceeds will be used on raw materials, building materials, and labor ($24,500). If the maximum $500,000 is raised, the majority of proceeds will be used on raw materials, building materials, and labor ($235,00); working capital and general corporate expenses including management and advisor compensation ($123,00); and general marketing ($100,000).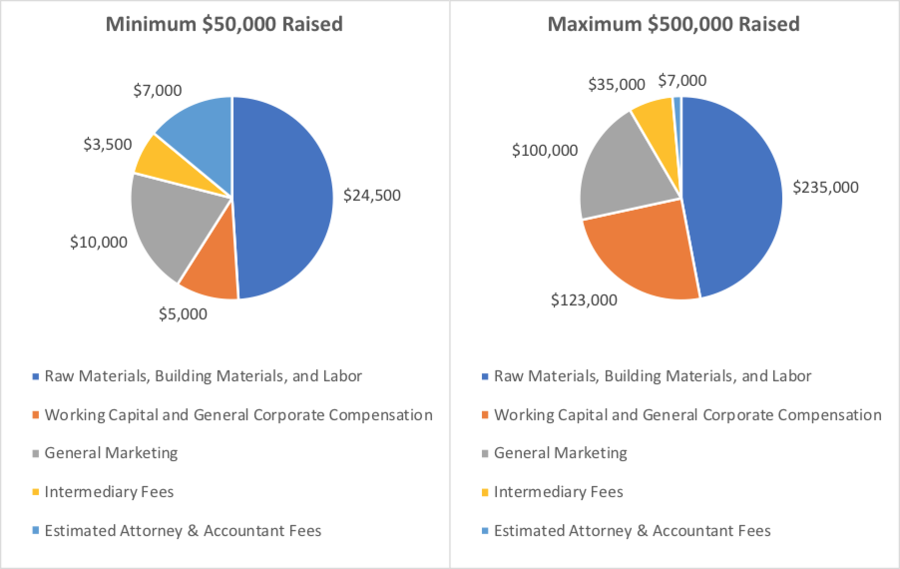 Apex Farms' Vertical Farming System has been through almost four years of research and development up to this point. That being said, the company continues to make new enhancements as money permits and just recently added a new method to prefabrication and transport by making the supports to the system collapsible. The company's next goal includes expanding on its ability to scale the system with much more ease and efficiency. Ultimately, the company desires efficiency to be as near perfect as possible and the ability for clients to fully customize their farm with as few restrictions as possible.
Business Model
Apex Farms plans to generate revenue through the sale of its vertical growing systems, construction of the systems, and recurring maintenance fees. Long term, the company plans to transition to a higher-margin licensing model. In addition, Apex Farms also plans to generate revenue through the operation of its own farms and the sale of related produce.
Vertical growing system: Apex Farms plans to sell its Vertical Farming Systems to farmers and produce growers. The company plans to sell its system for $10,000 with a 15% discount for its first customers and at scale. The company manufactures all of its systems on and off site and utilizes materials purchased in bulk from outsourced manufacturers. Materials cost $4,500 per system and are expected to decline at scale.
Construction: The company plans to charge a $7,000 construction fee per system.
Recurring maintenance fee: The company will also give clients the option to purchase a service/support plan and plans to charge $150 to $200 per month for recurring maintenance fees.
Apex Farms also plans to acquire or lease its own land and build its own vertical farms and sell produce. In addition, the company plans to offer land owners joint venture opportunities where the company can establish farms on customers' properties and provide them with profit-sharing opportunities.
User Traction & Historical Financials
Apex Farms has two working farms it uses as a proof of concept. The company is growing Italian basil on 2,000 square feet of urban space in Wilmington, Delaware, and on 40 acres in Boone, Colorado. It expects to produce 3,200 pounds of basil between June and December 2018. It will use these farms as a test base for systems and as a live sales tool.
Apex Farms does not plan to begin generating revenue until the end of 2018 and has not had any significant expense outlays up to this point.
Industry and Market Analysis
According to Global Market Insights, Inc., the global vertical farming market is expected to grow at a compound annual growth rate of 27%, from $2 billion in 2017 to over $13 billion by 2024.vii Growth in vertical farming is being driven by low labor costs, the proximity of vertical farms to consumer bases, accessibility to fresh produce, and the lack of pesticide usage.viii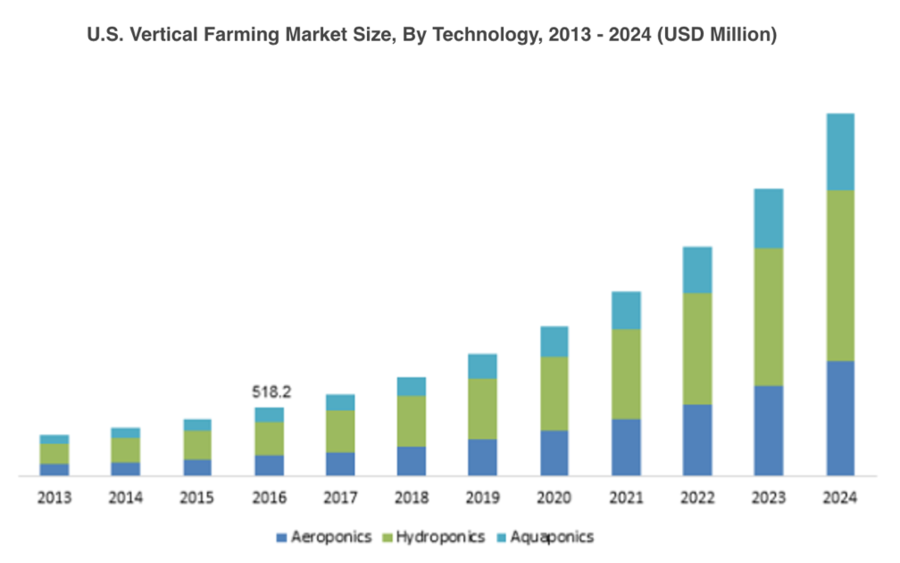 Source: Global Market Insights, Inc.
The three main segments of vertical farming are hydroponics (the process of growing plants in sand, gravel, or liquid, with added nutrients but without soil), aeroponics (process of growing plants in an air or mist environment without the use of soil), and aquaponics (waste produced by farmed fish or other aquatic animals supplies nutrients for plants grown hydroponically, which in turn purify the water). While hydroponics technology is expected to continue to dominate the market over the next few years, aeroponics and aquaponics are expected to show rapid growth due to the lower water usage of the former and the rising adoption of the latter by small-scale systems due to cost benefits.ix
Vertical farming has grown at a rapid pace in Asia-Pacific due to declining food self-sufficiency and arable lands in Singapore, China, and Japan. The Asia-Pacific vertical farming market is expected to reach $4 billion by 2024. Much of this growth will be due to Asian governments' support of indoor agriculture ranging from national policy initiatives to subsidies.x
As of November 2017, over $700 million had been invested in the agriculture ("ag") technology space, and funding was on track to beat the previous two years combined. The largest increase was in venture capital interest in the space, which nearly doubled in 2017 from 2016.xi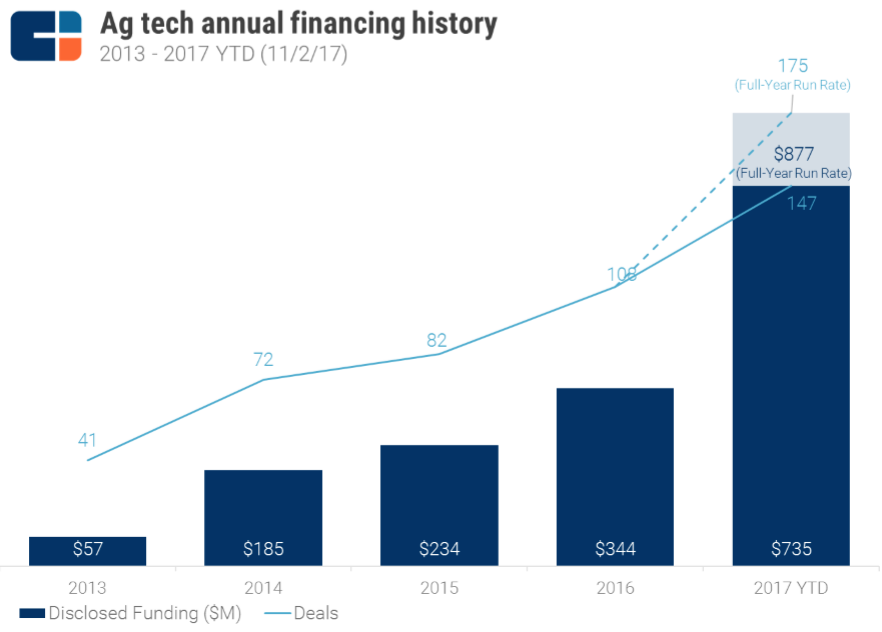 Source: CB Insights
Competitors
AeroFarms®: Founded in 2004, AeroFarms is an indoor agriculture group that uses aeroponics, LED lights, and growth algorithms. Its patented aeroponics growing system is a closed-loop system that does not use natural light or soil. The company claims the system uses 95% less water than field farming and 40% less than hydroponics.xii AeroFarms closed a $40 million Series D round in October 2017 with participation from IKEA Group, David Chang of the Momofuku Group, and retired U.S. Army General David Petraeus, bringing its total funding to over $130 million. The company just completed its ninth indoor farm in New Jersey and plans add to its 120-strong team of plant biologists, pathologists, microbiologists, mechanical engineers, system engineers, data scientists, and more.xiii
Freight Farms: Launched in 2010, Freight Farms provides physical and digital solutions for creating local produce ecosystems. The company's flagship product, The Leafy Green Machine™, is a complete hydroponic growing system capable of producing a variety of lettuces, herbs, and hearty greens. Assembled inside an upcycled shipping container, the prebuilt system includes all necessary components for commercial food production and enables anyone to grow fresh produce year round. Leafy Green Machines can be monitored in real time from any location, and users can purchase supplies directly from their mobile devices. Freight Farms completed a $7.3 million Series B round in June 2017 with participation from Spark Capital.xiv As of December 2017, the company has sold over 160 Leafy Green Machines.xv
BrightFarms: BrightFarms designs, finances, builds, and operates hydroponic greenhouses at, or near, grocery retailers ─ cutting time, distance, and cost from the produce supply chain. Founded in 2011, the company claims its system uses 80% less water, 90% less land, and 95% less shipping fuel than long-distance field-grown produce.xvi The company currently has three farms located in Illinois, Virginia, and Pennsylvania and is in the process of opening a new location in Ohio.xvii In September 2016, BrightFarms announced it had raised $30 million in Series C funding with participation from Catalyst Ventures.xviii
Edenworks: Founded in 2013, Edenworks is creating a scalable local food supply. It operates aquaponic ecosystems that it claims use 95% less water than conventional farms, no pesticides, and no genetically modified organisms.xix The Brooklyn-based company services the local Whole Foods with two varietals of microgreens. As of June 2017, Edenworks had raised $2.5 million in funding with plans to move to a larger facility and roll out additional product lines.xx
Executive Team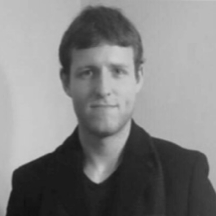 Alex Leo, Founder and CEO: Alex has been at the helm of both private and public companies since 2013. With over 15 years of computer technology experience and over seven years of sales and marketing experience, he has spent the last four years consulting for micro and small-cap companies to help them attain greater performance, bolster connections, and pursue merger and acquisition strategies.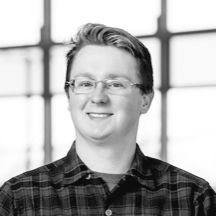 Rob White, Vice President of Prefabrication: Rob has worked as a staff master carpenter at Temple University for two and a half years. With over 16 years carpentry experience and over 5 years welding experience, he has spent the last 11 years working in professional theatre companies designing structural sets. Rob has specific specialty experience with off site constructional logistics and transporting said structures prefabricated to location for assembly.
Investment Terms
Security Type: Series Seed Preferred Stock
Round Size: Min: $50,000 Max: $500,000
Price per share: $0.07
Pre-money valuation: $1,000,000
Liquidation preference: 1x
Conversion Provisions: Convertible into one share of Common Stock (subject to proportional adjustments for stock splits, stock dividends and the like) at any time at the option of the holder.
Endnotes