---
Company Highlights
Users can easily turn their favorite fruit into craft cider or mead in approximately two weeks
Patent-pending technology and proprietary algorithms take the guesswork out of the fermentation process
Air-tight device self-sanitizes using a built-in, medical-grade UVC-LED light to prevent contamination
Other "smart" homebrewers lack an integrated mobile app platform, and most primarily focus on brewing beer, not hard cider
The Alchema device can hold 0.6 gallons (2.4 liters), or about three bottles of wine, when using fresh juice
Alchema raised $344,231 from 899 backers on Kickstarter in 2016i
Perks
Individuals in the United States, Canada, and Taiwan who invest more than $2,000 will receive one Alchema smart homebrewer at no additional cost. The package will also include a three-pack of yeast: one packet for sparkling cider, one for fruitier concoctions, and one for recipes with higher alcohol content. Due to shipping logistics and different electrical and safety standards, Alchema is unable to deliver to other countries. Individuals from other countries who wish to ship to the device to the U.S., Canada, or Taiwan may do so. Alchema expects to begin shipping devices in Q3 2017. Additionally, investors outside of the U.S., Canada or Taiwan can have their shipment held until there is a version that is usable in their specific country.
Company Summary
Product
Alchema is a smart device and mobile App platform that provides customers with a hassle-free solution for making creative hard ciders, meads, wines, and other alcoholic brews. Its patent-pending technology solves the typical problems faced by homebrewers and takes the guesswork out of the fermentation process.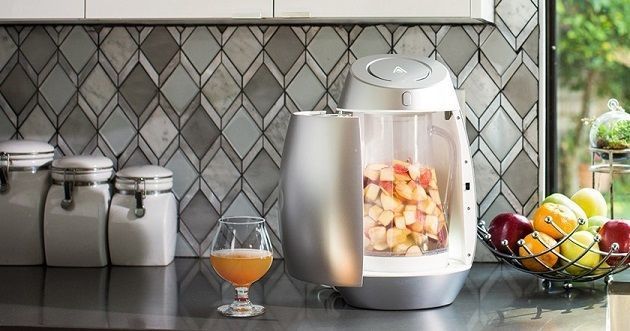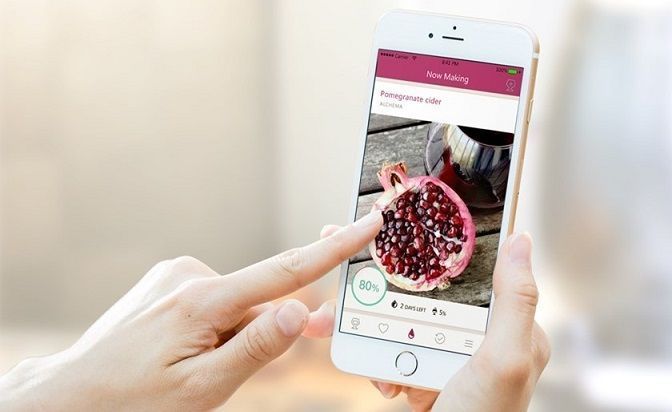 The Alchema device has an air-tight seal and self-sanitizes to prevent contamination. The device has a built-in, medical-grade UVC-LED light that generates ultraviolet light at the specific wavelength range that kills bacteria. The device has valves to release gas as needed during the fermentation process, and its built-in sensors monitor all the important parameters of the brewing process. The weight sensor measures the ingredients and users are notified via the mobile App when the target levels are hit. The mobile App will be available for iOS (8.0 or later) and Android (5.0 or later) smart devices. The App notifies users when the alcohol content and sweetness has reached the desired status, if the Wi-Fi connection to the device is disconnected, or if temperature/pressure levels are abnormal. A proprietary algorithm developed by the Alchema team calculates the best time to end fermentation.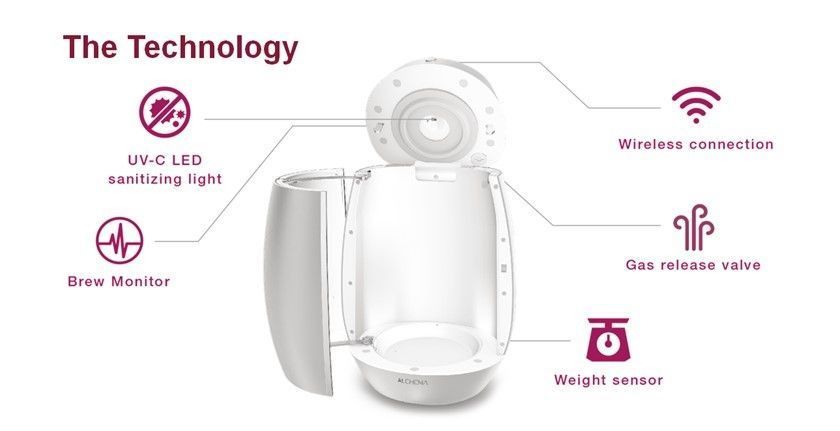 From the App, users will also be able to choose from hundreds of recipes or create their own by setting a desired sweetness and alcohol content. Custom recipes can then be shared with other users through the App's social media-sharing feature.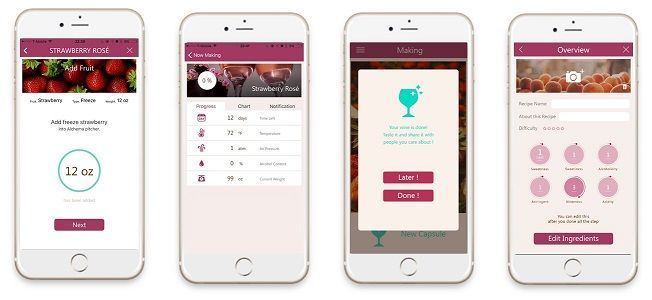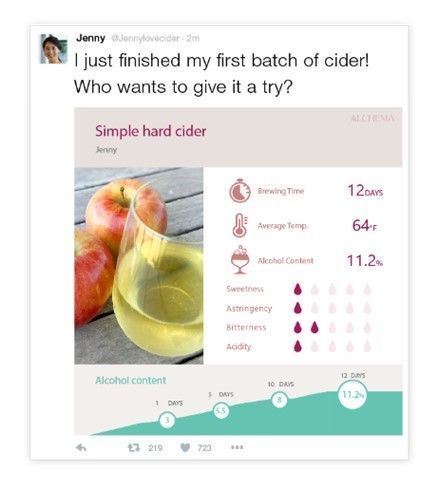 The Alchema device can hold 0.6 gallons (2.4 liters), or about three bottles of wine, when using fresh juice; with fresh fruit, users can get about 0.52 gallons (2 liters). A batch of cider typically takes one to two weeks to ferment, depending on the fruit and recipe. Mead can be made in less than a week, while wine takes at least 16 weeks to age properly. The Alchema device can also ferment wort (the liquid extracted from the mashing process) for beer. The App's initial release will not feature beer or wine recipes.
Opportunity
A key factor for successful homebrewing is fermentation, which is the natural process where yeast transforms sugar into alcohol. Unfortunately, there are three primary reasons why fermentation is difficult for beginners:
Sanitization: If the container is not fully sanitized and sealed, it will get contaminated and the brew will taste bad. Even for veteran brewers, sanitization is a big problem, and it is a challenge to remain contaminate-free on a consistent basis.
Experience: Amateur homebrewers often lack the experience to be able tell when to end the fermentation process, which can result in a brew that doesn't reach its intended flavor profile, and may even taste bad
Air Pressure Control: Yeast produces gas during fermentation. If the air pressure is not well controlled, the brew may spill and make a mess.
Traditional at-home fermentation tools do not tell the brewer when the fermentation is finished. The user must either rely on his or her experience or retrieve a sample to measure the alcoholic content using a hydrometer, which risks contaminating the brew. Alchema's built-in sensors and algorithm will remove the guesswork and eliminate the risk of contamination. With Alchema, people can enjoy the fun and creativity of homebrewing without having to worry about creating bad-tasting drinks or having to clean up a mess. Within two weeks, users can easily turn their favorite fruit into a craft cider or mead.
There are 18 million U.S households that drink ciderii, yet very few homebrewing devices cater to the $500 million cider retail market.iii Alchema aims to disrupt the industry, by not only making a smart homebrewing cider system, but by also collecting data through its mobile App platform that will allow the company to build a custom database of individuals' taste preferences. This data could then be used to build unique products, such as all-in-one flavor packets, that the company can then sell through its platform.
Use of Proceeds and Product Roadmap
Proceeds from the convertible note will be used towards final pilot testing for the Alchema device, shipping and manufacturing costs, and advertising.
The Alchema device is currently available for pre-order, and the company expects to begin shipping in fall 2017. The company plans to roll out additional accessories (e.g. all-in-one ingredient packets) in early 2018. Other future devices the company is considering include a kombucha maker and a homebrew system for vinegar and enzyme-brewed beverages.
Business Model
Alchema was incorporated in November 2015. It began marketing its product in July 2016 on Kickstarter, where it launched a pre-order campaign. Through the campaign, it raised $344,231 from 899 backers.iv The next phase of its go-to-market strategy will focus on business-to-consumer online channels (e.g. Touch of Modern and Amazon). The Alchema device is currently available for pre-order via the company's website for customers in the U.S., Canada, and Taiwan. Pre-orders are also available via Indiegogo's InDemand platform and BackerKit, a website that allows customers to pre-order post-crowdfunded projects. If demand increases sufficiently enough to drive down the manufacturing costs through scale, the company plans to sell its device to brick-and-mortar specialty stores (e.g. Williams Sonoma and Brookstone®) and big-box retailers (e.g. Best Buy® and Bed Bath & Beyond®).
Alchema's business model is divided into three segments: 1) Device and ingredients, 2) Accessories, 3) Company-branded beverages.
Device and ingredients: The Alchema device retails for $499 but is currently available for pre-order at $429. The mobile App is free. An extra pitcher will retail for $70, and yeast packets will cost $4 for a set of three.
Accessories: By early 2018, Alchema plans to produce all-in-one ingredient packets as well as other brewing accessories, such as kegs.
Company-branded beverages: Alchema will be able to collect a variety of data points on users' drinking preferences via its mobile App. Using that data to identify the most popular flavors and mixes, Alchema plans to release its own line of hard ciders in 2019.
User Traction
Alchema launched a Kickstarter campaign on July 26, 2016. Through the campaign, it raised $344,231 from 899 backers.v 738 devices were pre-ordered through Kickstarter. In September 2016, at the conclusion of the Kickstarter campaign, the company made its device available for pre-order via Indiegogo's InDemand platform. Per Alchema, as of January 22, 2017, 34 devices have been pre-ordered through InDemand and an additional 28 pre-orders have been received through BackerKit.
Historical Financials
In 2016, Alchema's operating expenses totaled $169,543. Over half of that operating budget ($86,344) was spent on advertising. The other top expenses were programming ($50,000), and marketing ($10,470).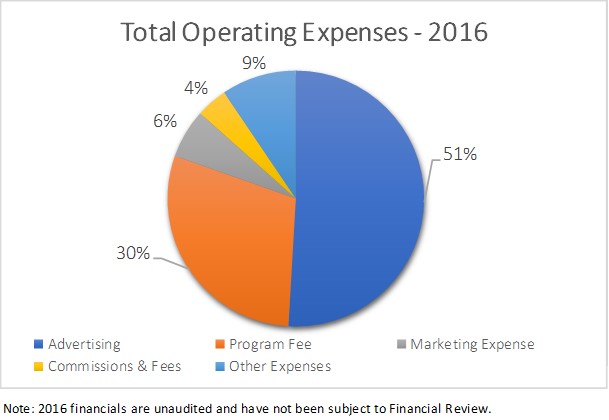 The average monthly burn rate in 2016 was around $20,000. The company expects total expenses to increase in 2017 as they complete pilot testing and begin the manufacturing process for the devices. As of December 31, 2016, Alchema had $371,723 in cash assets on its balance sheet.
Industry and Market Analysis
In the U.S., there are an estimated 1.2 million homebrewers that collectively brew more than 2 million barrels per year.vi The number of brick-and-mortar shops that supply the homebrew industry in the U.S. peaked at 820 in early 2016. Over the past few years, revenue growth has slowed in the homebrewing supply industry, and revenues declined in 2015. However, 41% of regular craft beer drinkers, primarily millennials, who don't already homebrew have expressed strong interest in picking it up.vii Additionally, one of the world's largest beer producers has entered the homebrewing industry. In October 2016, Anheuser-Busch InBev announced it was buying one of the largest homebrewing suppliers, Northern Brewer, for an undisclosed sum.viii
Compared to beer, hard cider is a relatively untapped market for homebrewers. Yet the cider industry has grown rapidly over the past five years. Since 2012, the number of U.S. households with cider drinkers rose to 18 million from 6 million. Cider is also popular overseas-in the UK, cider accounts for 22% of the beer market, versus just 1% in the U.S.ix In 2015, U.S. cider sales increased 10.8% to $523.6 million. Revenue growth has cooled down from prior years, with revenue growing 89% and 71% in 2013 and 2014, respectively.x However, craft ciders and regionally-brewed ciders are not well represented in those figures, which rely primarily on supermarket and drugstore sales.xi Craft cider insiders say sales remain strong despite the decline in sales from major brands.xii By 2020, the global cider market is projected to reach $12.9 billion. While Europe is expected to remain the largest cider market, the U.S. is forecast to experience the highest growth, with an estimated 13.9% compound annual growth rate.xiii
Competitors
Alchema's direct competitors are traditional homebrewing starter kits. These kits come with all the equipment needed to brew hard cider and other alcoholic beverages, yet lack the smart technology that makes the process more streamlined and user friendly.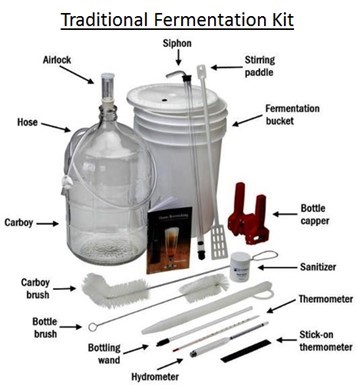 There are several "smart" homebrewing products on the market. However, unlike Alchema, some lack an integrated mobile app platform, and most primarily focus on brewing beer, not hard cider. Some of the notable products are:
Brewbot: Brewbot uses sensor technology to track and automate the brewing process. Brewbot includes ingredients for the first brew, a full brewing and cleaning kit, digital scales, and a manual. The Brewbot iOS app monitors the entire process, allowing users to understand what is happening and why. Users can also find recipes designed by Brewbot's master brewer or special, featured recipes from renowned breweries from around the world. The company behind the BrewBot, Cargo, launched a Kickstarter campaign in the UK on September 2013. Through that campaign, 381 backers pledged £114,368.xiv In 2014, the company relocated to Austin, Texas, to participate in the Techstars accelerator program, after which it raised over $1.5 million in a seed round from investors.xv The Brewbot is still on pre-order through the company's website. As of January 2017, the company was seeking additional seed funding for production of the devices.xvi
iGulu: iGulu, originally Artbrew, is a smart homebrewing device that produces high-quality craft beer. Users load their list of ingredients in the iGulu's MiniKeg with the specified amount of water. To begin brewing, users press start on the machine or via the mobile App. The iGulu will automatically boil the malts, mix in the hops, add in the yeast, and ferment for one to three weeks. Users can choose from iGulu's library of over 50 recipes. Users can also make their own recipe and will be able to charge a fee to other people that use it.xvii The iGulu is available for pre-order for $999.99.xviii iGulu launched a Kickstarter campaign in March 2016, through which 1,221 backers pledged $701,416.xix Additionally, the company is on Indiegogo's InDemand platform. In total, iGulu has raised over $1 million between the two platforms.xx
MiniBrew: MiniBrew is a compact all-in-one craft beer brewing machine. It uses ready-to-brew ingredient packs created by a master brewer and renowned craft breweries from around the world. The mobile app (available for iOS 8 or higher devices) monitors the entire brewing process from mashing stage to fermentation, notifies users when their attention is required, and provides a range of recipes. MiniBrew is currently in manufacturing stage and the first machines are expected to be available mid Spring 2017.xxi The device is available for pre-order via Indiegogo for $899. Through Indiegogo, Minibrew has raised $287,581 from 308 backers.xxii The normal retail price is expected to be $1,199, excluding taxes and shipping.xxiii
Picobrew Pico: PicoBrew's newest product, Pico, makes brewing beer at home easy for anyone-even someone who has never brewed before. With Pico, users can recreate craft beer from breweries around the world using quality ingredients that are contained in the pre-packaged, all-in-one PicoPaks. Pico's brew cycle takes a little over two hours to complete, depending on the specific PicoPak recipe. After the brew cycle is finished the beer will need to ferment for an average of five days. Users can create their own recipes by customizing PicoPaks, allowing them to select which hops, grains, and yeast they like and the amounts of each for the recipe.xxiv The Pico costs $799 through the company's marketplacexxv, while the PicoPaks range between $19 and $30.xxvi The device is also available at Williams Sonoma, Sur La Table, and Bloomingdales.
Executive Team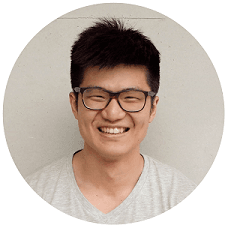 Oscar Chang, CEO: Oscar's background is in Electrical Engineering, and he earned his PhD at the National Chiao Tung University (NCTU). He co-founded Alchema because of his passion for solving technical problems and bringing a little more joy to people's lives. When he's not running Alchema or making cider, he enjoys weight training and jogging.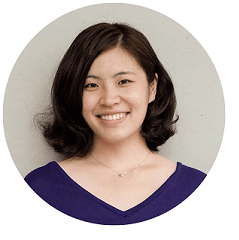 Angel Huang, COO: Angel is currently a graduate student at Taipei National University of the Arts (TNUA), majoring in filmmaking. She joined Alchema will to help promote the brand and build stronger bonds between people. Angel earned her Bachelor's degree in Nanotechnology at the National Chiao Tung University (NCTU). In her free time, she enjoys Latin dancing, watching movies, and traveling.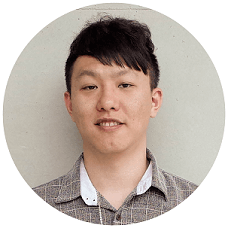 Young Yang, CTO: Young is a PhD candidate in Electrical Engineering at National Chiao Tung University (NCTU). He has a passion for using technology to improve everyday life. He joined the Alchema team because he believes its ease-of-use will make it a truly special product. Young is excited to transform Alchema from idea and prototype into a product for people's homes. When he's not at work, he likes to play guitar and study the news on other tech products.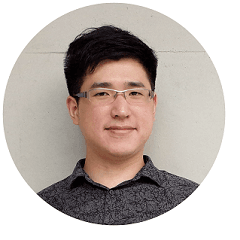 Hanning Tung, Brewing Director: Hanning earned a Master of Science in Microbrewing from the University of Sheffield-beer and cider making processes was his major. He joined Alchema to help people discover the beauty of the drinking culture. For Hanning, Alchema is more than enjoying alcoholic beverages; sharing homebrewed cider is a reflection of a good life. He has designed different recipes with diverse fruits to make craft cider using the Alchema brewing system. When he's not researching, Hanning enjoys cooking, reading, movies, and traveling.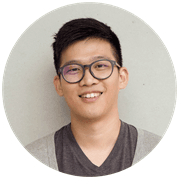 Jack Chiu, Software Director: Jack is a PhD candidate at the Institute of Communications Engineering at National Chiao Tung University (NCTU). He loves to develop beautiful and useful apps that people want to use. He joined the Alchema team to develop an App that can revolutionize the world of hard cider making. When he's not coding, Jack enjoys listening to music, watching movies, and spending time with friends and family.
Investment Terms
Security Type: Crowd SAFE (Simple Agreement for Future Equity)
Round Size: Min: $50,000 Max: $500,000
Interest Rate: N/A
Length of Term: N/A
Valuation Cap: $3,000,000
Discount: 20%
Conversion Provisions: In connection with an equity financing of at least $1,000,000, the Company has the option to convert the Crowd SAFE into shares of a series of non-voting preferred stock, at a discount of 20% of the price per share of the new preferred stock sold in the equity financing, or at a valuation cap of $3,000,000, whichever results in a lower conversion price. Please refer to the Crowd SAFE Form for a complete description of the terms of the Crowd SAFE, including the conversion provisions.